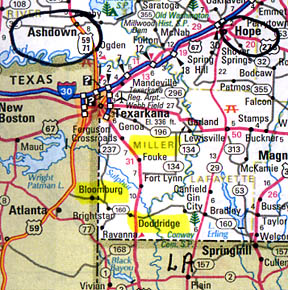 April 12, 2005  Doddridge, Arkansas – Rancher Ricky Lummus is 43-years-old. He has been raising animals for half his life. Nine years ago, he and his family moved on to 90 acres in southwestern Arkansas between Bloomberg, Texas, and Doddridge, Arkansas, very near the "T-border" where Texas, Arkansas and Louisiana come together. He runs his cattle with cow dogs. Recently he added two male puppies about two-months-old to his other five dogs for a total of seven.
Further north in Ashdown and Hope, Arkansas, there have been several unusual cattle deaths over the past several decades. [See: An Alien Harvest and Glimpses of Other Realities, Vol. I: Facts & Eyewitnesses by Linda Moulton Howe in Earthfiles Shop.] But the Lummus family had never seen such deaths on their property or anywhere else in the surrounding community – until Sunday morning, April 10, 2005, around 10:20 a.m. CST. Ricky Lummus was leaving for church. His wife, a Sunday school teacher, had gone earlier with their daughters.
---
Interview:
Ricky Lummus, Rancher, Heavy Construction and Timber Equipment Wholesaler, Pipe Fitter and Rodeo Bull Raiser, Doddridge, Arkansas: "I saw low flying buzzards, kind of flying low and I knew they were looking at something. Since I have cattle, I always check. That's when I found the dog after I made a U-turn and came back. When I drove up, I could see immediately that he had been cut with a very sharp instrument. The ground was not even disturbed. I've seen a lot of animals, a lot of dead. This just baffles me! No blood whatsoever.
The first thing I noticed was part of his spine, his back bone. It looked like a 2 to 2.5 inch section of his spine was cut out some way (later veterinarian necropsy confirmed about 6 inches excised). It was just like you would cut a piece of board out and remove it. That's the first thing I noticed on his spine, that a section was gone!
WAS THE CUT VERY SMOOTH?
Yes, the cut on the spine ­ there were no splinters. It was even on both sides and not any tears or splinters in the bone.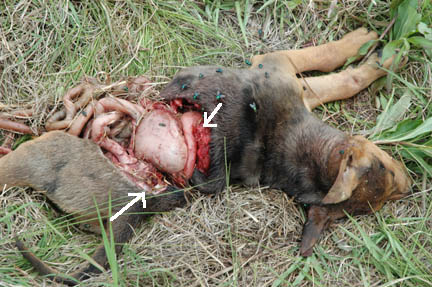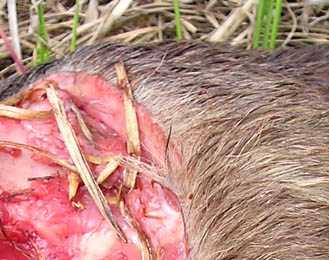 IT ALMOST LOOKS AS IF THE ANIMAL WAS LAID DOWN IN THE PASTURE IN THIS CONDITION.
Well, that was the odd thing. It's my hay meadow. When I drive or walk out there, the grass lays down so you can see tracks. You can't walk out there without leaving some sign of ­ if you rode a bicycle out there, you'd probably leave a trail. Where the dog was, I could not figure it out because the first thing I looked for were signs of tracks or 4-wheeler tracks or a vehicle or foot or something ­ and nothing, just nothing. I called my brother. He came down. We searched and searched for some kind of clues where they came in whoever, or whatever. We couldn't find no sign of nobody coming on my property. I have a dirt road coming in. You leave tracks on a dirt road. There were no tracks out of the ordinary. That's strange.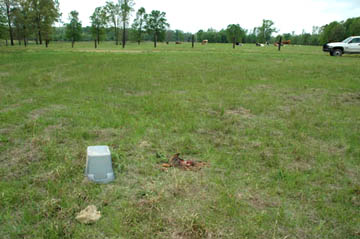 YES, IT IS, AND IF I UNDERSTAND THIS WAS A 2-MONTH-OLD COW (PUPPY) DOG?
Yes, I work my cattle with dogs. I have working dogs. I pen my cattle and work them with dogs and I have real good cow dogs and this puppy was one I was going to keep out of this set of cow dogs (puppies) I have. And he was a good one, or was going to be a good one. He really wasn't old enough yet, but I could tell. He was a smart little dog.
He also had two holes in his head, real clean holes – one right above his (left) eye and the other was up on the head.
WAS THERE ANY KIND OF LIQUID COMING FROM THOSE HOLES OR WERE THEY DRY?
They were basically dry. [Editor's Note: There were two more holes at the throat where the hair was stained with blood. They penetrated only about an inch to the jaw bone.]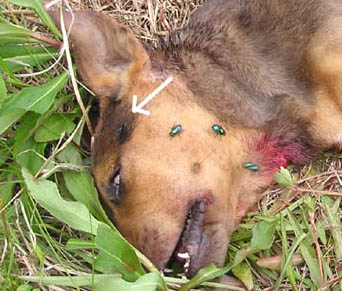 I had to pry his mouth open because I wanted to see if there might have been a bullet because I automatically thought it was a bullet hole and thought maybe a bullet had hung in his mouth. I pried his mouth open and his tongue was gone. And there was some kind of substance – like someone took a handful of sawdust and put it in his mouth.
Puppy Was Alive and Well Night Before,
But Dogs Barked At 1 a.m.
WHEN WAS THE LAST YOU AND YOUR FAMILY SAW AND PLAYED WITH HIM?
About 8:30 or 9 o'clock Saturday night.
EVERYTHING WAS FINE?
Yes, my daughters played with him in the yard until dark like they do every day. It was just a pretty sad situation.
DID YOU HEAR ANY BARKING?
Yes, approximately 1 a.m. I have two dogs here who are really good watchdogs. They was barking about 1 o'clock. I didn't investigate as much as I should have. But they did bark. Sometimes they bark at my cows or a rabbit. Two of the dogs was barking.
THE TEXARKANA-GAZETTE WROTE: 'LUMMUS SAID HE WOULD NORMALLY SHINE A SPOTLIGHT ON THE AREA, BUT WAS NOT ABLE TO DO SO BECAUSE THE BATTERIES FOR THE SPOTLIGHT WERE DEAD."
Exactly, I've got a big spotlight and it lights up the world. I did go to investigate when the dogs were barking and the battery was down on the spotlight. This was a big spotlight. The batteries was down and I didn't have any way to see what the dogs were barking at. So I just brushed it off. That's the only time ­ I always investigate when my dogs are barking or something is going on. But for some reason that night, the batteries in my spotlight would not work. I didn't see no lights and didn't hear anything.
DID YOU LOOK UP IN THE SKY?
No. I did not.
HAVE YOU HEARD ABOUT MUTILATIONS HAPPENING IN YOUR AREA BEFORE?
No, not close to here. I've heard about it up in Hope and Little River County in Arkansas, a few years back. The Sheriff's deputies said it has happened before, but I never saw it. I heard a little bit about the mutilations, but I'm kind of like everyone else ­ just kind of brushed off and skeptical about it. But I'm not any more. Because when it happens to you, you see what happens, it changes your mind.
BECAUSE IT'S SO WEIRD.
Yes, it is, real weird! If the dog had been out in the pasture and just been shot or there had been tracks or blood everywhere or he looked like animals had attacked. It's hard to kill a dog or an animal. they are going to try to drag themselves around. You can usually see where the ground is disturbed where an animal died because they don't die easy.
Not a blade of grass out of the ordinary and that's what just gets me.
WHAT DID YOU DO WITH THE DOG?
I took the dog and wrapped him. I put him in a plastic bag and I put him in a freezer because I wanted to preserve him and that's the only way I knew. I knew this was out of the ordinary and I knew this was something I probably needed to check into a little further. So, I took him and wrapped him up and froze him."
Two deputies from the Miller County Sheriff's office visited the scene with Ricky Lummus. Their attitude was casual. The deputies did not take any photographs and told Mr. Lummus the puppy had been killed by "devil worshippers." But Ricky Lummus was not satisfied with that lack of investigation and contacted his local veterinarian, Michael Dodd, D.V.M. to do a necropsy.
Necropsy Performed By Veterinarian
Michael Dodd, D.V.M. On April 12, 2005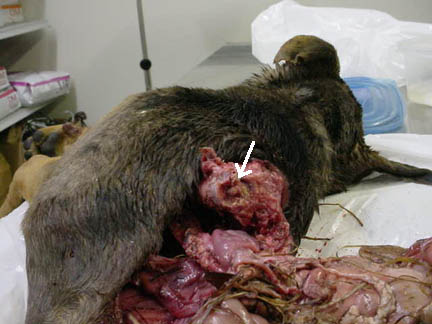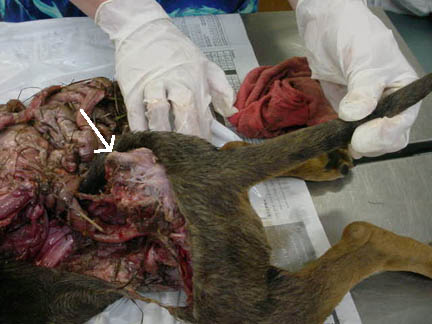 Ricky Lummus: "We laid him out and the vet started examining him and he said that the spleen, the kidneys, the liver and one lung were gone, were removed, wasn't there. About 5.5 to 6 inches of spine was completely gone, separated at the discs. It was pretty obvious there. [Ribs had also been severed.]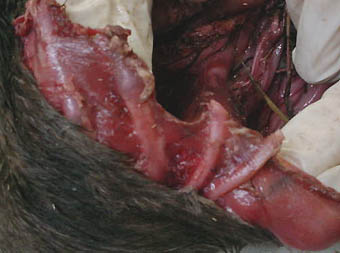 DID HE SHOW YOU ANYTHING ABOUT HOW THE SPLEEN, KIDNEYS, LIVER AND LUNG HAD BEEN REMOVED?
Not in great detail. We did look real close and there was not any sign of pieces of them there.
WERE THEY SURGICALLY REMOVED?
They were removed, yes, with something sharp. The membrane around the intestine ­ he called it the amnion membrane ­ was gone completely, no sign of it. [Editor's Note: A colon-like structure enveloped by amnion tissue.]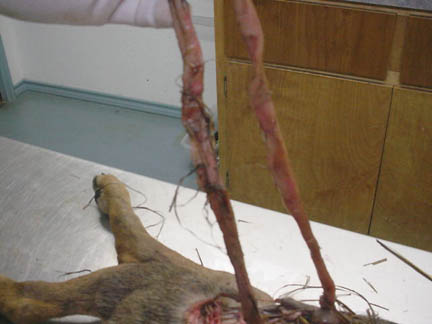 But the heart was still there. He had no explanation for the spine. He'd never seen anything like that. He couldn't explain the spine being gone.
Head Holes Not Bullet Holes
The holes in the head were not gunshot wounds. We took x-rays and there were no fragments and the holes were not all the way through. They went to the skull and stopped. The skull was not fractured.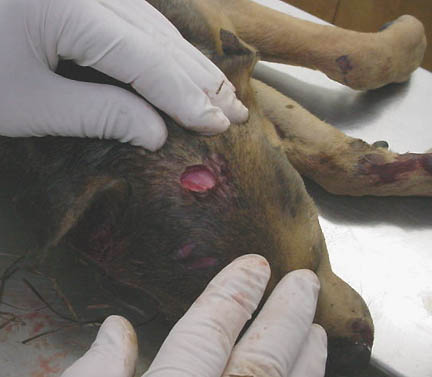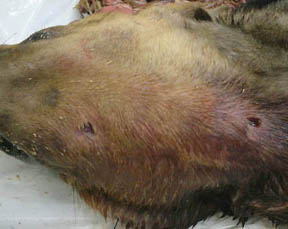 WHEN HE DID X-RAYS, THAT WAS SPECIFICALLY TO LOOK AT THE HOLES IN THE HEAD TO SEE IF THERE HAD BEEN SOMETHING THAT HAD PENETRATED THOSE HOLES?
Mainly to look for bullet fragments. He said if it was gunshot wounds, there would definitely be some type of fragments. When he got the x-ray back, the holes went through the muscle. The holes did stop at the skull, at the bone. They did not go all the way through like I thought they would.
He said the whole case was very unusual to him. He said the way the spine was gone and no sign of anything ­ that is really strange.
"Sawdust" Probably Insect Eggs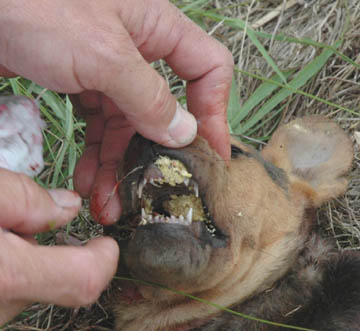 WHAT ABOUT THE SUBSTANCE IN THE MOUTH?
Dr. Dodd thinks it's some type of larvae or eggs, maybe flies. We found it in the mouth and in the abdominal cavity a little bit. [Editor's Note: No explanation about why larvae would be concentrated in the puppy's mouth only hours after its death.]
DID HE EXAMINE WHERE THE TONGUE HAD BEEN CUT?
He said the tongue looked like it had been chewed, a little more jagged. But I kind of had a different opinion about that. He said it could have been cut, but it wasn't cut with the precision that everything else was cut."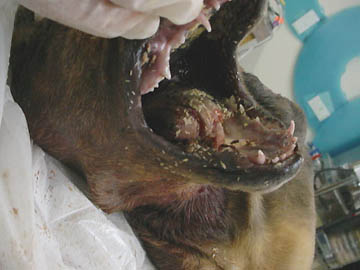 Other Strange Animal Deaths
Near Ricky Lummus Pastures
Since I posted this report at Earthfiles.com this week, Ricky Lummus has now learned from neighboring ranchers within a couple miles of his ranch, that within the last four weeks a 2,000 pound bull was found on top of a log pile. The bull's owner told Mr. Lummus that it was "as if something had dropped the bull from the sky." And yet, that rancher had not reported the strange discovery to anyone until now. Another ranch neighbor told Mr. Lummus that also in the past four weeks, one of his young calves was found completely stripped of its hide. But he did not report that animal either. Stripped hide has been reported many times in areas where the more classic animal mutilations are simultaneously occurring.
If anyone has any information about what's happening to animals in southwestern Arkansas right now ­ or knows about any similar incidents anywhere else in the United States or other countries ­ please contact me at my e-mail address which is: [email protected]
---
More Information:

The Derry Journal is the second oldest newspaper still in circulation in Ireland, launched on June 3, 1772. On April 12, 2005, the Derry Journal published an animal death news update partially excerpted below.
"Mystery As Feeny Sheep Mutilated
More than 300 sheep and lambs have died on a Feeny (Ireland) farm in the past 14 years after apparently having their tongues severed. According to farmer, Gerard McLaughlin of Glenshane road, several more ewes and lambs had been mutilated over the weekend. He stated that the tongues had been cut from all of the animals and one ewe also had a broken jaw.
The (recent) attacks were said to have happened from April 8 to April 11, 2005, with three sheep having to be put down on Saturday, April 9. The last sheep was attacked on Monday morning and Claudy police was called to the scene. Mr. McLaughlin claims 339 sheep have been culled over 14 years in a sustained and brutal series of attacks.
… The attacks purportedly happened both during the day and at nighttime on lambs aged only a week old up to fully grown animals."
See other Earthfiles reports about unusual, worldwide animal deaths
02/21/2005 —  Updated – Bull and Cow Mutilations Northwest of Corpus Christi, Texas
01/15/2005 —  Bull and Cow Mutilations Northwest of Corpus Christi, Texas
12/22/2004 —  Part 2: "Reasons Why U.S. Government CAN'T Release Truth About UFOs!"
12/22/2004 —  Part 1: "Reasons Why U.S. Government CAN'T Release Truth About UFOs!"
12/10/2004 —  Part 4: "Peculiar Phenomena," V-2 Rockets – and UFOB Retaliation?
12/10/2004 —  Part 3: "Peculiar Phenomena," V-2 Rockets – and UFOB Retaliation?
12/07/2004 —  Part 2: "Peculiar Phenomena," V-2 Rockets – and UFOB Retaliation?
12/04/2004 —  Part 1: "Peculiar Phenomena," V-2 Rockets – and UFOB Retaliation?
09/25/2004 —  Part 6: "Clearview" Report Investigation of UFO Experiences on A Rocky Mountain Ranch
09/13/2004 —  Part 1: "Clearview" Report Investigation of UFO Experiences on A Rocky Mountain Ranch
08/11/2004 —  Newborn Heifer Mutilation in Anderson, California, on August 7, 2004
07/27/2004 —  Part 12: UFO Crash/Retrievals – Status Report VI © July 1991 by Leonard H. Stringfield
07/21/2004 —  The Apollo Program, Cape Canaveral and UFOs
04/26/2004 —  Update About Microbiologist Dan Burisch, Ph.D.
02/24/2004 —  Part 1: UFO Crash/Retrievals – Status Report VI © July 1991 by Leonard H. Stringfield
01/24/2004 —  Oregon Man's Experiences with High Strangeness
12/21/2003 —  Part 4 – UFO Crash/Retrievals, Status Report VII by Len Stringfield
10/28/2003 —  Part 2 – U. S. Presidents and UFO Investigations
09/12/2003 —  More Domestic Cat Mutilations – Again in Bothell, Washington
08/01/2003 —  Field Notes About English Animal Mutilations
07/01/2003 —  40 Small Animal Mutilations in Denver and 11 in Salt Lake City
05/28/2003 —  Cat and Dog Mutilations in Salt Lake City; $6,500 Reward
04/19/2003 —  Unusual Animal Deaths in Valparaiso, Nebraska
03/08/2003 —  Cattle Mutilation – The Unthinkable Truth, Chapter 3, Part Two
02/03/2003 —  Cattle Mutilation – The Unthinkable Truth, Chapter 3, Part One
12/07/2002 —  Cattle Mutilation – The Unthinkable Truth, Chapter 1, Part Three
11/16/2002 —  More Cat and Cow Mutilations: Colorado, Utah and Missouri
11/05/2002 —  Canadian Crop Circles and Mysterious Lights in Saskatchewan
10/15/2002 —  Chapter 8 – Mystery Stalks The Prairie
10/05/2002 —  Part 1 – Two Scientists Describe An Extraterrestrial Biological Entity Called "J-Rod"
10/05/2002 —  Part 2 – J-Rod and Microbiologist Danny B Burisch, Ph.D.
09/07/2002 —  High Strangeness Continues in Argentina
08/31/2002 —  One ET Experiencer's Reaction to the Winchester Formation
07/19/2002 —  Unusual Animal Deaths and Unidentified Aerial Lights Persist in Argentina
07/02/2002 —  Argentina's SENASA Blames Mouse for Animal Mutilations
06/22/2002 —  Argentina Animal Mutilation Count Rising Above 100
06/17/2002 —  Part 3 – Deer and Cattle Mutilations in Oregon
06/15/2002 —  Cattle Mutilations In LaPampa, Argentina
05/18/2002 —  A Bull Mutilation in Christmas Valley, Oregon
03/16/2002 —  Part 1 – 'Huge Saucer Armada' Shocked Farmington, New Mexico 52 Years Ago
01/12/2002 —  Part 1 – Update On 2001 Montana Cattle Mutilations
10/13/2001 —  Heifer Mutilation and Mysterious Light in Mantario, Saskatchewan, Canada
08/24/2001 —  Part 2 – Unusual Montana Mutilation of Live Bull
07/28/2001 —  Pure Hemoglobin Confirmed On Alabama Mutilated Cow
07/22/2001 —  Mutilated Bull Calf in Missouri
06/09/2001 —  Environmental Updates and Colt Mutilated in Leitchfield, Kentucky
05/11/2001 —  Horse Slashings and Deaths in Calgary, Alberta, Canada
10/15/2000 —  Mutilated Heifer Found Near Boulder, Colorado
10/15/2000 —  Part 1 – Hardened Bovine Hemoglobin Found On California Mutilated Bull
04/16/2000 —  A Close Encounter with a Disc in Wyoming
03/29/2000 —  Mysterious Calf Deaths In Brothers, Oregon
02/06/2000 —  Large Yellow Sphere In Snohomish, Washington
12/26/1999 —  Hubble Repair, Gamma Ray Bursts and Unidentified Aerial Objects
12/22/1999 —  Update – Unidentified "Arrowhead"-Shaped Object in California Sky
09/12/1999 —  Unusual Animal Deaths, Part 1: Nevada
08/25/1999 —  Unusual Animal Deaths in Australia and London, England
01/24/1999 —  Nuclear Sabotage in Maryland; Bull Mutilation in Colorado; and Global Warming


© 1998 - 2023 by Linda Moulton Howe.
All Rights Reserved.