"…I am certain that there is some other form of intelligence, either on this planet or visiting the crops from somewhere else. I have no doubt about that after seeing what I saw."
– Mike Booth, Marlborough, U. K. Resident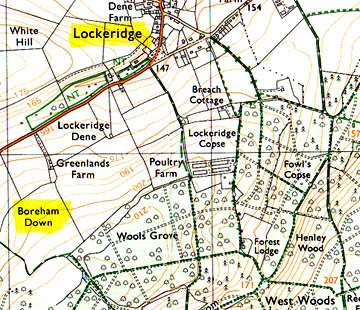 July 1, 2005  Lockeridge, Wiltshire, England – Mike Booth has spent much of his forty-five years designing for race cars and planes. He received his British National Diploma in Art from Buckinghamshire's Amersham School of Art and Design in 1979. In his spare time, he also writes songs and tries every other night to ride his mountain bike from his home near Marlborough out the road from Lockeridge, past Boreham Down and the West Woods on to Alton Barnes. The road goes right through the heart of Wiltshire's crop circle country, but Mike had never seen anything especially unusual until 6:30 p.m. on Tuesday, June 21, 2005, as he was riding next to Boreham Down.
---
Interview:
Mike Booth, Designer, Artist and Musician, Marlborough, Wiltshire, England: "My attention was caught by three objects in the field on the left hand side of the road. I immediately stopped because I realized straight away that I was looking at something that I had never seen before.
These objects were about 4 feet wide, about 6 feet in length with about two to three feet of a curved top showing above the tops of the wheat where they were. At this point in time in the U. K., the wheat is green. So, it was very obvious that these white, metallic objects, as I would describe them, were very noticeable in the green crop.
THEY WERE ABOUT 2 TO 3 FEET ABOVE THE CROP?
No, they were sort of within the tops of the crop. It was obvious to me that they were not on the ground. The field actually slopes away up to my left, so it was very easy to see these objects, or craft, or whatever they were.
DO YOU MEAN THEY WERE SORT OF DOWN INSIDE THE WHEAT HEADS THEMSELVES?
Yes, I would say they were suspended. They weren't on the ground, but they were about 6 to 9 inches down into the top of the crop. They were brushing the wheat heads down very slowly and making a trail in the crop ­ not in any particular pattern. Two of the craft were no more than 30 feet apart. A third one was about 50 yards further to my right as I'm looking up the hill. There might have been a fourth one because the following day (Wednesday, June 22) when I went back to take some photographs, there was a fourth path in the wheat that I couldn't see before because of the lay of the land.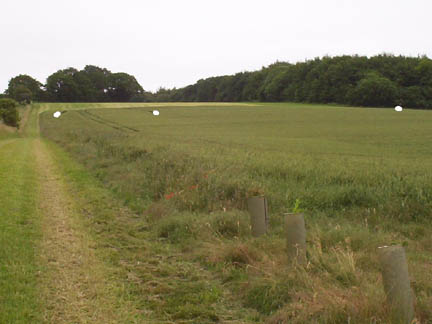 YOU WERE SEEING THE WHEAT GOING DOWN FLAT?
Not flat. The machines were brushing through the top depressing the heads of the wheat, so there was a very obvious trail about 9 or 10 inches lower than the rest of the crop in the field.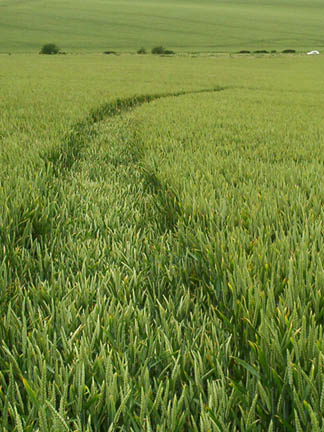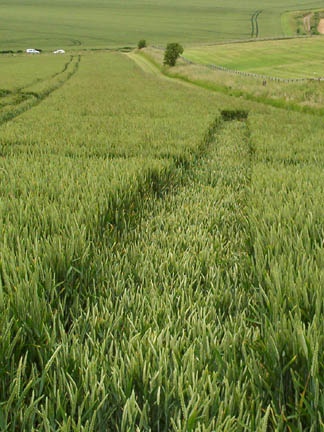 COULD YOU DESCRIBE THE THREE OBJECTS MORE?
They were very simple form. No edges or contours. They were slightly oblong in shape. They were longer than wide, about 4 feet wide and about 6 feet long. The best way to describe them, the best analogy is over here in England ­ I'm sure you have them in the States ­ we have what we call 'top boxes' on the roof rack of cars. It was very similar to that shape, sort of oblong but in a domed, almost molded form. I've done a great deal of molding work and back-forming in the past in my design work. And they looked exactly like they had been molded. No edges, smooth contours ­ not unlike the mouse you get for a PC or MAC keyboard. That kind of form.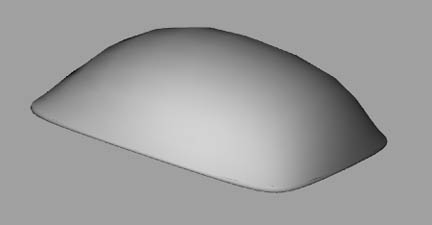 COLOR?
Apparent white, but with a metallic hue to it. It was a beautiful evening and the sun was reflecting off them. I've seen nothing like it. I've done a great deal of flying myself in the past, so I'm very conscious of the fact that categorically what I saw, I have never seen the likes of before. I considered the possibilities that they were farming equipment or scientific test equipment or even hoaxers underneath some form of molded structure.
But it was very apparent to me that it was none of those. It's very evident that the vehicles or objects weren't on the ground because the wheat was leaning over, but if the objects had been on the ground the way they were manipulating the wheat, it would have flattened the stems. Two craft in particular were on either side of the (tramline) track. So, I'm thinking no farmer would break down his own crop just randomly.
Next Day, Boreham Down Crop Formation Reported
The objects I saw were NOT making a crop circle at that time on Tuesday night like the one that was reported subsequently in that field. I've had an open mind over the years with regards to crop circles. You know, some of them are huge and complicated and I personally fail to see how people could do that at night with lasers or ropes.
But the objects I was looking at, I cannot relate directly to that Boreham Down crop circle, but they were moving down the hill slowly and pushing down the wheat behind. There's no doubt about that. I've got the photos to prove it.
What I did was drive my car back the next day and stop in exactly the same spot that I sat on my mountain bike and took photos from that perspective at the trails that were still there in the wheat. Then I walked up the side of the hill, wishing I had done that at the time (the craft were there) and realized how close I would have gotten to the objects, to certainly one of them. Then I walked around to the rear of where the trails started because as I described to you before, it's set aside land so it's just grass on the sides of the wheat. You can actually walk around the back where these craft or vehicles entered the wheat. I took some pictures looking down the trail with my car in the background to give some scale and show exactly the position of where I was in the distance (on my bike) from the objects.
And those objects were doing something completely different than making crop circles. They were in the wheat leaving a trail behind them, but they weren't making a designated shape. When I went back to take the photographs, the trails were no further progressed in the wheat than when I left them (on Tuesday, June 21, at 6:30 p.m.). It kind of raises the question: where did they go? Did they reverse? Why isn't the wheat laying back the other way? And the only other option is they could go up. The trails stop within the crop and there is nothing else that disturbs beside or in front of the trails.
DID YOU SEE ANYTHING LEAVE THE FIELD?
No, I took one last glance as I was riding away and saw the third object ­ I noticed it still had not moved. What I missed out is that they were moving down the hill when I first saw them and I became very aware of the fact that they stopped ­ particularly two of them. I got a sense that they, or It, became aware of the fact that I was at the bottom of the hill and that's why they stopped. That's how it felt at the time. When I rode on further and I had to ride up the side of a very large hill, I considered when I got to the top looking back to see if they were still there ­ but unfortunately again, because of the lay of the land and the hills and valleys, when I got to the top of the hill I could not see the field that the three white objects had been in.
I then just continued my ride back to Marlborough the way I do. I would not have been able to see the crop circle that is there now, even if it was there Tuesday night. It's only when you turn around on the road about half a mile further along and come back towards Marlborough (opposite of the way I was going) that you can see the shallow dip in the field.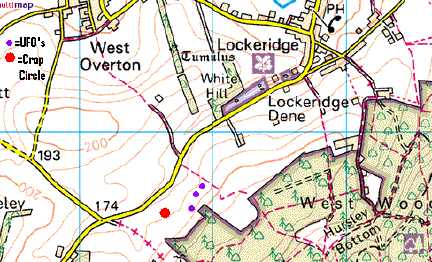 Mike Booth Wonders Why He Did Not Approach the Strange Objects
The other thing that has become apparent to me is the fact that I'm naturally a very analytical inquirer. So, I can't understand why I made the decisions I made. I was so passive about the whole thing. Yet, I had a cell phone in my pocket with a camera. But I didn't take any pictures, even though I vaguely considered doing that. Aside from the fact that I was looking at something I'd never seen before, but also we have a lot of 'set aside' policy in farming here where they reduce the size of fields down so it's not all crop. There's about several yards on either side of the boundaries where they leave it to reduce the overall output. This was just normal grass and it would have been incredibly easy to get off my back and walk up the side of the field and get within just a few feet of one of these objects. But I cannot understand why every time I considered this, I just in a passive sense thought, 'No, I won't do that.'
Ultimately, I rode off on my bike after about three minutes of observing what was going on. I was in such an accepting mood. I could not understand it. This has really troubled me since because I'm not of that nature, you know ­ especially if you see something you've never seen before! It sounds almost comical now. I should have photographed it.
MIKE, HOW FAR WERE YOU FROM THE THREE OBJECTS?
No further away than 200 yards at the very most. The slope was rising up, the gradient, so it's not as if they were like sort of flat. They were on the hill and very easy to see, perfectly in a position to see on the side of a hill like that. So it was very close. I think that's one of the things that made me stop in my tracks and made me think that I wasn't going to walk up the side of the hill. I could have touched one of them if I wanted to because they were within the crop only about 6 or 8 feet away from the boundary where the crop stops from this set aside land.
THAT YOU COULD HAVE WALKED UP TO GET CLOSER, BUT SOMETHING KEPT YOU FROM DOING THAT?
Yes, and that's what unsettled me. With the background I've had in design and engineering, I'm naturally inquiring. If it was anything else, I would like to know what size engine it had and how it was made and the rest of it. I cannot understand why I was so passive and accepting about the whole thing.
AS IF YOU HAD BEEN CONTROLLED BY SOMETHING OUT OF YOUR WILL.
Absolutely. I offset that against my own mind saying to me, 'Mike, you are not going to be able to cope with what you are looking at if you get that close, so just leave it alone and carry on riding.' It could be that, or manipulation (from outside). I don't know. It's completely out of character for me to accept something that I'm looking at that I've never seen before and continue on a leisure ride in the evening.
IF ONLY YOU HAD PICKED UP YOUR CELL PHONE AND TAKEN A PHOTOGRAPH OF THOSE THINGS.
I know. I could have kicked myself afterward. I can laugh at it now, as I do a huge amount of photography and I, like anyone else, would have wanted the defining photo of some sort of craft that says we are being visited by another intelligence. Although I didn't take the pictures this time with no understanding why I didn't do that – I assure you the story is true, it happened, and it's left me feeling perplexed. But also I am certain that there is some other form of intelligence, either on this planet or visiting the crops from somewhere else. I have no doubt about that after seeing what I saw."
---
More Information:
See more information about Wiltshire, England crop formations in Earthfiles Archives:
05/20/2005 —  May 2005 Crop Formation Update in Six Countries
08/10/2004 —  Updated Aerial Photos of West Overton, Wiltshire "Serpent"
08/04/2004 —  Silbury Hill Design and Aztec God, Xochipilli 
08/03/2004 —  Crop Formations: Fifteen in Southern England Since July 20, 2004.
07/24/2004 —  Part 2: Crop Formations and Mysterious Lights in Wiltshire, England, July 2004
07/24/2004 —  Part 3 – Crop Formations and Mysterious Lights in Wiltshire, England, July 2004
06/16/2004 —  England: 2004 Crop Formations and 2003 Research
05/22/2004 —  2004 Overview of Crop Formations in Six Countries
05/09/2004 —  2003 English Crop Formations on DVDs
09/03/2003 —  Helicopter "Attacks" Wiltshire, England, Residents At Knap Hill on August 26, 2003
08/29/2003 —  Part 1 – Why Do Military Helicopters Focus On Crop Formations?
08/21/2003 —  Avebury Eyewitnesses Follow Aerial Disk to Field East of Cherhill
08/20/2003 —  Rotating Disk Hovered Over Avebury Stone Circles August 16, 2003
11/2003 —  Field Notes from Wiltshire, England Crop Circles
08/05/2003 —  Field Notes from Morgan's Hill Crop Circle
08/01/2003 —  Field Notes About English Animal Mutilations
07/31/2003 —  Field Notes from English Crop Circles
07/21/2003 —  Strange Orange Lightning and A Sampling of Recent English Crop Formations
07/17/2003 —  Land Surveyor Comments About Ogbourne St. George, U.K. Crop Formation
07/08/2003 —  Mysterious Lights Videotaped Emerging from Ogbourne St. George, England Crop Formation
06/18/2003 —  Ogbourne St. George, Wiltshire Wheat Formation
05/02/2003 —  First 2003 English Crop Formations
09/28/2002 —  Part 1 – September 2002 Maize Circles Update: England
09/02/2002 —  Blue Lights and Helicopters in Wiltshire's East Field
08/19/2002 —  Inside the Winchester, Hampshire Formation
07/20/2002 —  Mysterious Lights Seen Above Field Where Nautilus Formation Emerged
07/12/2002 —  New Crop Formation in England
07/06/2002 —  Stonehenge 4th of July Formation Echoes Hackpen Hill 1999 4th of July Spiral
6/26/2002 —  Part 1 – New Crop Formations in England, Holland and Germany
06/04/2002 —  New 2002 Crop Formations in Wiltshire and Sussex, England
05/11/2002 —  First 2002 Crop Formation In Wiltshire, England
09/27/2001 —  Scientific Report: Crop Formations at Milk Hill and Chilbolton "Face" and "Code"
08/30/2001 —  Part 2 – Ground Details of Chilbolton "Code"
08/29/2001 —  Part 1 – Ground Details of Chilbolton "Face"
08/25/2001 —  Are Crop Formations at Chilbolton Observatory A Response to 1974 Earth Transmission?
08/22/2001 —  Milk Hill 2001 – 409 Circles, Most For Any Crop Formation So Far
06/16/2001 —  Beyond Stonehenge with Astronomer Gerald Hawkins
06/06/2001 —  New Crop Formations Reported in Serbia and U. K.
05/31/2001 —  More Crop Formations in England
05/19/2001 —  Part 1 – New Crop Formations in Holland, Germany and England
03/02/2001 —  Mysterious Lights and Crop Circles – A Book Excerpt
09/30/2000 —  Unidentified Moving Spiral of Light Photographed in Crop Formation
08/29/2000 —  Black Triangle, Red Lights and Spinning Disc Over Wiltshire, England Crops
08/26/2000 —  Pulsing, Jumping Light in West Stowell, England Field
08/23/2000 —  Intelligence Sensed In Mysterious Lights Associated With Crop Formations
08/20/2000 —  Updated – Close Encounter with Unidentified Aerial Craft and Helicopter in East Kennett
08/19/2000 —  White Balls of Light and Helicopter Videotaped in Woodborough Hill Field
08/17/2000 —  Mysterious Light Near Woodborough Hill Night Before August 13, 2000 Formation
07/16/2000 —  Multiple Crop Formations Same Day in Wiltshire and Hampshire, U. K., July 16, 2000
---
Websites:
http://www.cropcircleconnector.com
http://www.kornkreise-forschung.de
http://www.cropcircleresearch.com
http://www.temporarytemples.co.uk
http://www.CropCircleAnswers.com
http://www.ukcropcircles.co.uk/?page=home

© 1998 - 2023 by Linda Moulton Howe.
All Rights Reserved.