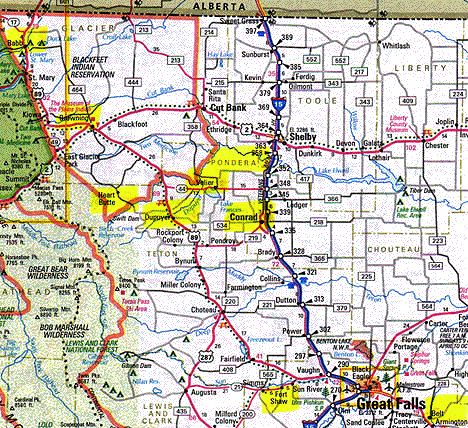 14 Cattle Mutilations Reported to Pondera County Sheriff's Office
(6 more unofficially reported) in 2001:
­ June 12, 2001 – Don Reishus, Depuyer (Pondera County) – Mutilated cow.
­ June 12, 2001 – Karl Rappold, Depuyer (Pondera County) – Alive bull with severed tail.
­ June 26, 2001 – Mark Taliaferro, Depuyer (Pondera County) – Mutilated cow with blue-green color on jaw tissue.
­ August 6, 2001 – Steve Young, Fort Shaw (Cascade County) – Mutilated cow.
­ August 15, 2001 – Larry Elings, Browning (Glacier County) – Mutilated yearling.
­ August 15, 2001 – Doug Banka, Belt (Cascade County) – Mutilated cow.
­ August 31, 2001 – Gerald Miller, Conrad (Pondera County) – Mutilated cow.
­ September 24, 2001 – Jim Vandenbos, Conrad (Pondera County ) – Mutilated cow with "burned off" hair.
­ October 6, 2001 – Everett King, Valier (Pondera County) – Mutilated Charolais cow in impact crater.
­ October 21, 2001 – New Miami Hutterite Colony, Dupuyer (Pondera County) – TWO mutilated cows.
­ October 28, 2001 – Robert Lettenga, Conrad (Pondera County) – Mutilated cow.
­ November 1, 2001 – Glen Bouma, Conrad (Pondera County) – Mutilated 8-month-old steer calf.
­ December 8, 2001 – Dan Majerus, Conrad (Pondera County) – Mutilated 13-year-old cow.
August 3, 2005 Conrad, Montana – Cattle mutilations have started again in Pondera County, Montana. Back in 2001, the county's sheriff had received fourteen official reports, knew that other surrounding counties were experiencing the phenomenon, and suspected that many more mutilations had occurred in the Pondera region that were not being officially reported. One of the Pondera County ranching families, Mark and Sara Taliaferro, had an unusual cow death in June 2001 on their Depuyer, Montana ranch west of Conrad. [ See 011202 Earthfiles, 2-part report. ]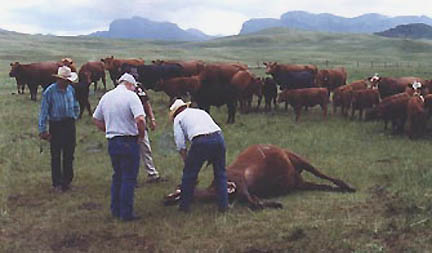 Then on June 9, 2005, Mark found one of his steer calves dead in a pasture less than two miles from his family's ranch house. He called the Pondera Sheriff's office and Sheriff Tom Kuka visited to see the animal and take photographs. Sheriff Kuka was elected in November 2004, and has worked in law enforcement the past twenty-two years after attending the Law Enforcement Academy in Bozman, Montana. He called me last week in frustration about the many animals lost to the mutilation phenomenon four years ago, now another steer calf, and the question: how many more could die with the bizarre, bloodless cuts yet this year?
---
Interview:
Sheriff Thomas A. Kuka, Pondera County Sheriff's Office, Conrad, Montana: "This latest June 2005, mutilated steer calf was also on the Mark Taliaferro ranch in Depuyer, but a little south of that last one there in June 2001. This one was still within less than two miles from their ranch house. This seems to be common. Even though the mutilations are close to a residence, no one seems to see or hear anything. Or at least nothing out of the ordinary and nothing to alarm them at the time.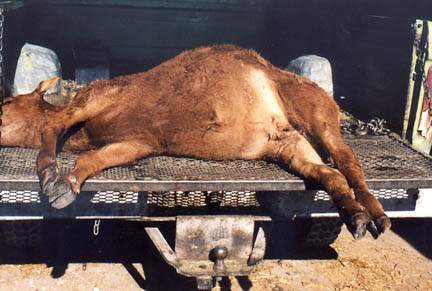 As I was walking up to the truck, it seemed to be a fairly recent death. There wasn't much rigor set in. The animal was not swollen or changed much from being alive. They must have found it very recently. There weren't any flies. That seemed odd to me. It was a sunny morning when I got there and it was fairly warm out. There should have been more flies around.
WHAT DID MARK TALIAFERRO AND SARA TELL YOU ABOUT WHEN THEY HAD LAST SEEN THE STEER CALF ALIVE AND HOW LONG THEY THOUGHT IT HAD BEEN DEAD?
The steer calf was with a lot of other ones and I'm not sure they actually saw this one. If you look at one of the photos, he has an I.D. in his ear '304.' If they saw calf 304, they didn't know when that was. But all the cattle had been in that pasture together and the Taliaferros had put them up pretty recently. That was probably a breeding pasture and they would have been keeping a close watch over them. In fact, the ranchers were fixing fence up there and that's why they noticed it right away when they saw it was down.
In fact, I think it was the mother of the calf that was causing all sorts of commotion and brought attention to herself and they checked out what she was doing and found the dead calf.
IF IT WERE A WEEK OLD, THE LACK OF FLIES AND THE GOOD PRESERVATION OF THE CALF WOULD BE REMARKABLE. IF IT WAS JUST THE NIGHT BEFORE, THEN THAT WOULD PLACE THE UNUSUAL DEATH BETWEEN JUNE 8 AND JUNE 9, 2005?
My idea when I handled the animal was that it happened the night before the death because there was no rigor, there was nothing. We had that other one at Taliaferros back in 2001 and they seemed to decompose quite a bit by the time we've always gotten to them before, where this one had not. So, it had to be relatively fresh. There was no bad odors yet. It was quite fresh.
Circular, Deep Excision of Rectal Tissue – Cauterized?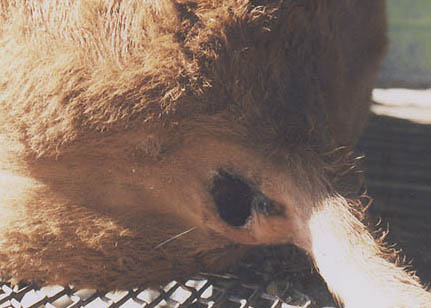 My photograph of the rectum area of the calf – the hole was shifted somewhat by the way the animal was laying on that tailgate. But to me, it was just an almost perfectly round, surgical cut. It was almost as if it was cauterized. There was no bleeding and didn't appear to be any disturbance of other tissues ­ just straight in as far as we could see into it.
THE HOLE APPEARS TO HAVE A DARKENED EDGE?
It did. It's almost as if they were cutting and cauterized it. Is there equipment available to do that?
THAT'S ALWAYS BEEN ONE OF THE CONFUSIONS BECAUSE WHEN DR. JOHN ALTSHULER IN DENVER WAS HELPING ME DO ANALYSIS ON MUTILATED ANIMAL TISSUES, HE WENT TO A GYNECOLOGIST TO GET SLIDES OF KNOWN LASER SURGERY. WHEN WE LOOKED UNDER A MICROSCOPE AND COMPARED THE KNOWN LASER SURGERY TO THE TISSUE I WAS COLLECTING FROM THE FIELD, THIS WAS THE PUZZLE. WE ALWAYS FOUND CARBON RESIDUE IN THE SURGERIES THAT HAD BEEN DONE BY KNOWN LASER EQUIPMENT. BUT IN THE ANIMAL MUTILATIONS, WE NEVER FOUND CARBON RESIDUE. THAT PROVOKED DR. ALTSHULER TO SAY HE DID NOT KNOW WHAT THE CUTTING INSTRUMENT IS.
It looks odd to me. I grew up on a ranch. I've seen what happens to these animals after birds of prey, coyotes or whatever else you might have around there. There is never any damage like that. Nothing that those animals do look like this photograph. There would have been way more cutting marks. I think there would have been blood and other tissues destroyed. But there was nothing else touched or damaged. You have to have quite a bit of precision to do that.
Hole Where Castrated Scrotum Had Been.
Was Penis Removed Also?
Another photo I took is of the groin area of the steer calf. It was rather odd that they chose to make a hole there. Once again, you can see by the way the animal is laying there that the hole was probably more rounded when I was there to look at it, but in the photograph, they had moved the calf. But this animal had been castrated shortly after birth. I think they put a rubber band on the testicles and there would have been nothing there.
Those four small teats, steers still have small, undeveloped teats. They never develop more than what's in the photo. But the scrotum and testicles were gone and I'm not sure what the mutilators were trying to get there. If the penis was gone, too, I'm not medically inclined enough to go in there and look, I guess. In the photo, I'm casting a shadow on the belly where the penis should have been with my hand. It's hard to see. If it's there or not, I wish I could say and studied more.
THE PENIS ITSELF WOULD HAVE EXITED THE CALF FROM WHERE YOUR HAND SHADOW IS, SORT OF NEAR THE MID-BELLY. BUT THE QUESTION IS WHETHER OR NOT THE HOLE WHERE THE UNDEVELOPED TEATS ARE WOULD HAVE BEEN USED TO PULL THE PENIS OUT AND CUT IT OFF?
Right, but even the picture of the calf on the tailgate where you can see the whole calf – if you look dead center, you can see where the tuft of hair is around urination hole. But I don't know if penis was there or not.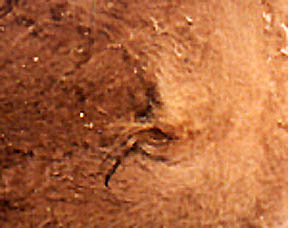 The way we castrate our calves, we leave that scrotum in place. We have a device that cuts the cord off to the testicles while they are still intact and leaves the scrotum there and eventually, they disintegrate inside there.
But you can feel right above the testicles (going toward mid-belly) where the penis is and you have to be extremely careful not to pinch that with the testicle cord-cutting device or you'll stop the urination tract and the animal will die. So, it's very important not to crush there and that's right where the hole is in the calf in the photograph.
Right Eyeball, Optic Nerve and Bone "Cored Out"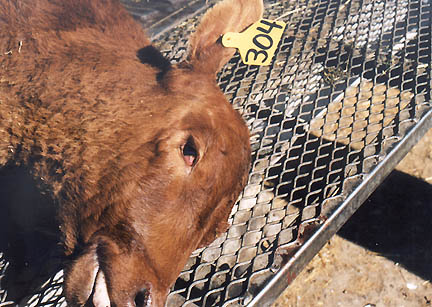 If you look at the photo that shows the head with the ear tag, 304, on it, that right eye is gone. We also rolled the steer over and out of that empty eye socket poured 8 ccs approximately of blood. That was odd because all the other mutilated animals I've worked with never had any blood in the eye sockets. Once again, it was like the same tool was used in the eye. It was precisely, surgically removed, it appeared to me. It was a very round, cylindrical cut straight in – the mutilators would have gotten the eyeball and maybe some of the nerve behind it? Is that a common practice they do?
YES, NECROPSIES ON OTHER MUTILATED ANIMALS HAVE CONFIRMED THE OPTIC NERVE WAS TAKEN AS WELL AS EYEBALL.
I don't know if you are familiar with a hole saw you would use to drill a hole in a door to put a doorknob in? It was something similar to that. It looked as though an instrument went in, cut, cauterized, and removed this like a core sample from this animal. It apparently caused some bleeding because when we rolled it over, the blood poured out.
ONLY FROM THE EYE.
Only from the eye.
WHEN YOU LOOKED DOWN INSIDE THE EYE SOCKET, IT LOOKED AS IF SOMETHING LIKE A BIOPSY INSTRUMENT HAD PENETRATED INTO THE SOCKET BONE BEHIND THE EYEBALL TISSUE?
Yes, everything was removed. I've hunted all my life and had to field dress animals. I've cut animals for the meat and steaks. All of these cuts ­ nothing could I do that would duplicate this! When they drilled in there, they cut it off and removed a core and then it did not bleed, or very little. They did it so symmetrically there is no way a human could do it with a knife. You would need pretty precise equipment.
From my own experience, you can't remove anything like that in that exact size without doing other damage to that head area. The hole went down in there at least 3 inches, if not further. You can't just stick a knife in there and cut around that hole and remove it that way because you are going to pry on the edge and the eyelid is going to get damaged. It's physically impossible, at least for me to do it.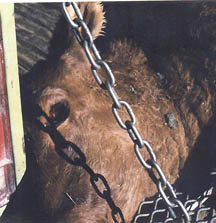 The other thing I noticed on this animal was that no hide skin was missing on the head or neck. All the other animals we have investigated always had that missing hide from the jaw ­ I guess it was the left side usually?
IT COULD BE THE LEFT SIDE OR RIGHT SIDE. BUT I AGREE THAT IN THE CLASSIC MUTILATIONS OF THE PAST 50 YEARS, ALMOST ALWAYS SOME OF THE TISSUE IS TAKEN FROM ONE SIDE OF THE JAW, OR BOTH SIDES, OR AROUND THE MUZZLE. BUT IN THIS STEER CALF, THE FACE IS SO CLEAN AND IT APPEARS THAT ONLY THE EYE ON THE RIGHT SIDE HAS BEEN REMOVED, ALONG WITH THE OPTIC NERVE AND BONE GOING INSIDE. BUT THERE IS ALSO THE SEVERED TONGUE.
Tip of Tongue Cut Off At 45 Degree Angle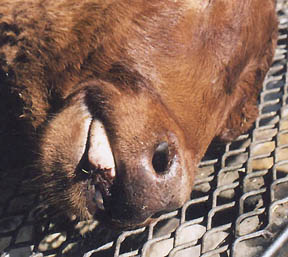 Yes, the tongue was interesting. It was cut at almost a 45 degree angle across there. Sorry my photo doesn't show it so clearly. The other mutilations we have seen, the tongues were gone completely deep in the throat. Why did they just take the tip of this one and at that angle? I'm at a loss again.
INSTEAD OF A SHARP INSTRUMENT CUTTING THE TONGUE AT A 45 DEGREE ANGLE, COULD IT HAVE BEEN A MAGPIE?
No, no. I don't see any reason to believe a natural predator could have done that.
Law Enforcement Theories About Mutilators?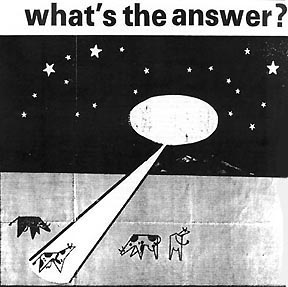 WHEN YOU ARE TOGETHER WITH OTHER DEPUTIES AND SHERIFFS, WHAT DO YOU PRIVATELY TALK ABOUT AS POSSIBLE PERPETRATORS BEHIND THE UNUSUAL ANIMAL DEATHS?
Of course, there is always the idea that it's aliens. Usually there is a lot of joking about it going on.
DO YOU THINK THERE IS ENOUGH HIGH STRANGENESS TO JUSTIFY THAT AS AN EXPLANATION?
I do, yes. I guess I'm not thoroughly convinced of it, but there has to be some sort of explanation for this. That certainly is possible. Where we are is a fairly sparsely populated area. There could be a lot of things that happen and nobody ever sees it. But where this is going on is right next to these peoples' houses. There are no obstructions due to trees. A little bit of rolling hills. But if you weren't flying, you would have to use the roads that go right by the houses. The people would notice. There would be evidence of vehicles. But there is no evidence of that here.
USUALLY RANCHERS HAVE DOGS. ONE OF THE THINGS THAT HAS IMPRESSED ME IS HOW MANY TIMES THERE HAVE BEEN MUTILATIONS FOUND CLOSE TO RANCH HOUSES WHERE THERE WERE DOGS IN THE HOUSE AT NIGHT. BUT THE DOGS DON'T BARK.
Nothing has brought attention in the mutilations here either. In this instance of the steer calf, it was the mother's crying and agitation that caused the ranchers to pay attention while they were fixing the fence. The biggest thing I want to know is: what could you possibly gain from this? I guess that's my biggest thing: why is this happening?
WHY HAS IT BEEN HAPPENING FOR SO LONG TOTALLY UNSTOPPED AND THERE HAS NOT BEEN A SINGLE ARREST OR ARRAIGNMENT IN ANY COUNTRY ON THIS PLANET ON A CATTLE MUTILATION CHARGE. THE OTHER SUGGESTION HAS BEEN THAT THE REASON FOR THIS, IF WE ARE DEALING WITH ANOTHER INTELLIGENCE, IS A GENETIC HARVEST. THAT'S WHAT THEY WANT, THE GENETIC MATERIAL OR FOOD.
Why return the animal? Why not take the whole thing?
IT'S AN EXCELLENT QUESTION. I BEGAN ASKING THE SAME THING 26 YEARS AGO AND THE ONLY CONSENSUS AMONG LAW ENFORCEMENT I'VE TALKED TO AND AMONG OTHER RESEARCHERS IS IT'S LIKE A CALLING CARD, A COMMUNICATION, THAT WHATEVER IS DOING THIS IS SAYING, 'THIS IS WHAT WE CAN DO AND THERE IS NOTHING YOU CAN DO TO STOP IT.' SO IT'S SORT OF INTIMIDATING.
Very possible. I don't know."
---
More Information:
See other Earthfiles reports about Montana region animal mutilations in Earthfiles Archives.
08/28/2004 — Cow Mutilation and Loud, Unidentified Sound in Farnam, Nebraska

11/16/2002 — More Cat and Cow Mutilations: Colorado, Utah and Missouri

10/15/2002 — Chapter 8 – Mystery Stalks The Prairie

09/22/2002 — Chapter 3 – Mystery Stalks The Prairie

01/18/2002 — Part 2 – Cattle Mutilation Cases from the Pondera County, Montana Sheriff's Office

01/12/2002 — Part 1 – Update On 2001 Montana Cattle Mutilations
Also, see my books and documentaries about the worldwide animal mutilation mystery in Earthfiles Shop.

© 1998 - 2023 by Linda Moulton Howe.
All Rights Reserved.