"The pilot said that the missiles had all exploded before they hit the
unidentified aerial object (shielded?). Then he said the UFO turned on a
blue beam and it was rotating and the beam was starting to move
toward him. …Searchers never found anything ­ no wreckage, nothing."
 – "Hawk," USAF Geophysicist
January 20, 2006  Thurmont, Maryland – Some of the startling facts that are emerging from research about the V-2 rocket history at White Sands Proving Ground in the late 1940s are New Mexico and Texas newspaper headlines about the "peculiar phenomena" that were interfering with those early rocket launches. The peculiar phenomena were causing the rockets to veer off course. Photographs showed the peculiar phenomena were circular discs that instantaneously appeared next to the V-2s right before the rockets went off course and crashed to the ground. General Nathan Twining even referred to the discs as an "enemy weapons system," according to government insiders who have leaked information in the past ten years.
That was not known to those 1947 newspaper reporters. They also did not know that the Truman administration had secretly ordered the American military to shoot down the disc technology. United States pilots tried shooting at many of the discs, but there was retaliation. The retaliation has allegedly included plane crashes and reports of beams that can capture a plane and pilot in midair and cause them to vanish. According to off-the-record testimonies and leaked documents, such mid-air captures were even watched on radar.
Now, for the first time, UFO investigator, Bruce Maccabee, Ph.D. – who has worked more than 30 years as a research physicist at the U. S. Naval Surface Warfare Center in Dahlgren, Virginia – is reporting information he learned from an American Air Force officer in late 1985 to early 1986, which includes American aggression against a UFO and retaliation. Dr. Maccabee and I know the true identity of the source, but at the present time, the man will be called "Hawk." In the late 1950s, Hawk became a weather officer for the U. S. Air Force. Then he studied geology and by the mid-1960s, was doing geological measurements related to underground atomic bomb tests. A decade later in the 1970s, Hawk was working in the advanced physics branch of the Foreign Technology Division at Wright-Patterson Air Force Base in Ohio.
Hawk was known to another Wright-Patterson scientist named Robert Collins, co-author of the 2005 book entitled Exempt from Disclosure, written with former Air Force Office of Special Investigations (AFOSI) counter-intelligence agent, Richard C. Doty. Hawk's knowledge about UFOs is discussed in the book, which provoked Dr. Maccabee to finally release the details of his own discussion with Hawk twenty years ago. Ironically, it was Robert Collins back then who arranged the meeting between Bruce Maccabee and Hawk.
Hawk, through Dr. Maccabee, provides important insights about our government's knowledge of the UFO phenomenon ­ despite official denials in the interest of national security. This Part 1 begins with Hawk's own firsthand experiences with UFOs as he first described them to Dr. Maccabee in mid-November 1985.
---
Interview:
Bruce S. Maccabee, Ph.D., Research Physicist, U. S. Naval Surface Warfare Center, Dahlgren Division; Author, The UFO/FBI Connection, The Secret History of the Government's Cover-Up © 2000; Abduction In My Life © 2001; Thurmont, Maryland:
March 1954, Wright-Patterson AFB, Dayton, Ohio
"Hawk was in the Air Force Reserve Officer Training Corp (AF ROTC) and was about to go regular Air Force. They gave him a tour of Wright-Patterson AFB. At various buildings there, he described how he was with a small group of guys who somehow wandered off on their own away from the main tour group while they were in a wind tunnel test facility. In order to catch up, they decided to cut through some temporary rooms which had been set up inside the large wind tunnel building by movable wall-type things that you can put up to have instantaneous rooms.
So, they are going through one and they find some models of craft there. I guess some were conventional aircraft and some were far out like a flying wing. I believe he said there was a cigar shape, but what attracted him was a disc-shaped thing ­ one or two discs that were very carefully made out of wood.
He described it as being a pancake-shaped disc with a tail coming up in the back. What popped in my mind was the picture in Case 10 of Special Report 14, by Project Blue Book at the Batelle Memorial Institute (Iowa Sate Univ., Ames Iowa.)
[ Editor's Note: An in-depth report about the Rogue River case with Bruce Maccabee is in Earthfiles 041705.]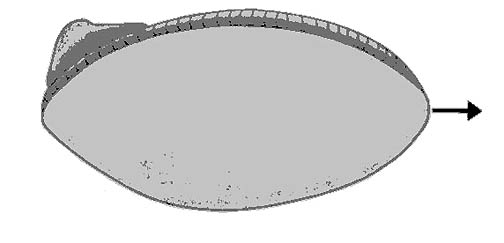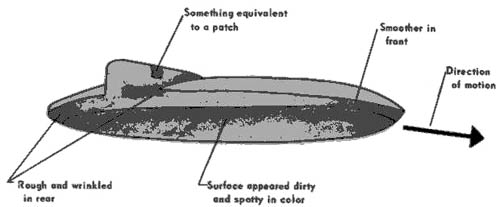 Case 10 was an object seen by five witnesses who are fishing the Rogue River in Oregon in May of 1949. Two of the guys worked for the Ames Research Laboratory in San Francisco, where they did aeronautics research of various types. They looked at this object through binoculars and it was a flat disc-shaped thing with a tail on the back.
I sent a copy of this picture to Hawk and he said it was like what he had seen. Then he drew his own version of what he saw and it was a carefully drawn circular-shaped object with something like a flat dome on top and a tail fin or vertical stabilizer on the back end.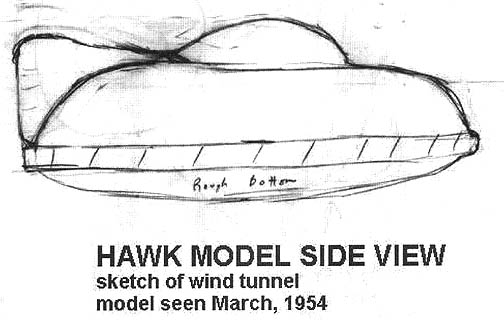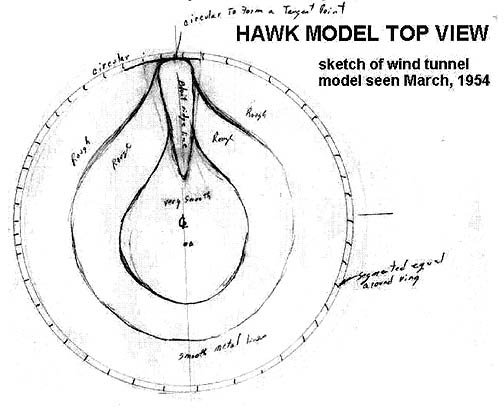 The people who saw the round object near the Rogue River described it as coming along, hovering over the river, not making any sound at all, rotating on its vertical axis and then accelerating to the speed of a jet in a few seconds and never making any sound.
So, whatever the Rogue River people saw was pretty bizarre and that may well have been the inspiration for the model that Hawk said he saw with his friends (at Wright-Patterson AFB). He also said that one of the buddies who was with him recognized these things. This other kid said this is what his father had been telling him about, flying saucers.
THE FATHER WAS AN AIR FORCE OFFICER STATIONED AT WRIGHT-PATTERSON AFB IN OHIO.
Right. Then the next thing that happened to him was really a bizarre story.
AND THAT WAS SPRING OF 1959.
USAF Attacks UFO Which Retaliates with Blue Beam
Spring of 1959, 8th USAF Headquarters, Misawa, Japan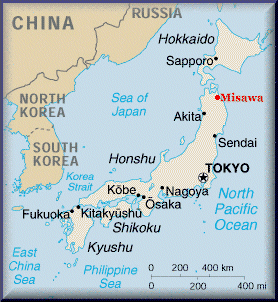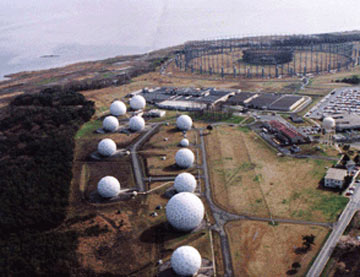 Hawk was stationed at the 8th Air Force Headquarters in Misawa, Japan (northeastern Honshu Island). He had taken courses in meteorology. At this time, he was the meteorologist who was providing weather reports for the Air Traffic Control Center, radar control center at this air force base in Japan.
While he was there one day, they were giving him a tour of this radar control center. He had been there for a few months and he was now being given a tour. He was standing there talking with some person who was giving him a tour when suddenly things started to happen. How he gets this information, some how words are being handed back and forth verbally by these people watching radar screens. The guy who is in charge of the whole operation ­ some word comes, 'They're back again!'
Hawk asks his friend, 'Who's back?'
And his friend says, 'These things happen often. One or two objects will come toward Japan and then set up in a holding pattern or stay there stationary for a period of time and then suddenly take off and head west. He said this was somewhat approximately over the area between the north and south islands of Japan.
THE COMMANDER SAYS, 'WE'LL SCRAMBLE!' WHAT HAPPENED?
These objects had become stationary and the question was: what do we do about it? Apparently this thing had happened before ­ at least something like it had happened before ­ and so, the guy who was in charge decided to send up aircraft to investigate. Hawk said he had been told there were two specially instrumented F-106s. He thought at the time that was strange because the F-106 had barely been introduced in the United States. If you actually look up the history of F-106s, I think the first one was in 1955 or 1956.
By the way, a search was made by Don Berliner (Fund for UFO Research) to find out if there were any missing F-106s. I believe he did find four that they could not account for.
THE IMPLICATION WAS THAT A BRAND NEW AIRPLANE THAT WAS DESIGNED FOR FIGHTING HAD BEEN ESPECIALLY EQUIPPED TO ATTACK "ALIEN FLYING MACHINES" OR UFOS?
I don't know if you would say special devices for attacking. But I got the impression that these were special devices for instruments to make measurements. They obviously had weapons on the airplanes as well. According to Hawk, he was told there were two specially instrumented aircraft and that when they decided to scramble, one guy could not get his special intstruments to work, so the other guy ­ they only scrambled one aircraft.
Then Hawk was asked to provide a weather report ­ what would the pilot see in terms of the weather. Hawk said it was a full moon up above a uniform cloud cover at 10,000 feet, or something like that. As soon as the guy broke through the cloud cover, he would have clear visibility.
Hawk said he could not hear the radar operators talking into their microphones next to their desks. But they had put the voice of the pilot onto a loud speaker so that everybody could hear it. The pilot talked about climbing up through the clouds and then seeing lo' and behold, this object ­ I don't know if it was a light or structured craft or something five or ten miles away, some distance away. He asked what to do and was told to go into a holding pattern. So, I guess he started flying around in circles until they told him what to do.
Hawk said at this point, the commander in charge of the radar installation put through a call to Washington, D. C. to find out what to do. Hawk was impressed because the guy got a very quick response using what was then a new form of radar, a radio transmission known as 'single side band transmission.' Hawk said that he was in weather forecasting and had to have quick responses on things like monsoons that might start up and create bad weather. So he was accustomed to getting a response, but even his responses might take him fifteen or twenty minutes or an hour to come back. He was impressed because they got a response almost within minutes. It was obviously a pretty important thing that somebody in Washington, D. C. was prepared for, I guess.
Anyway, the word came back to 'roll in' and basically attack this object – which basically meant he was now heading towards the object and he was firing all his missiles, however many that might have been. I presume they were early versions of the Sidewinder missile, which was a heat-seeking missile.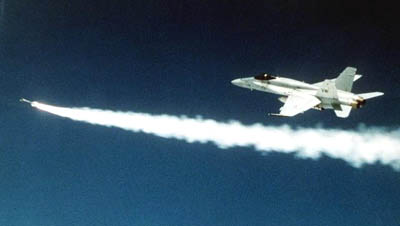 There would be some period of time in which the missiles were traveling. The pilot said that the missiles had all exploded before they hit the unidentified aerial object (shielded?). Then he said the UFO turned on a blue beam and it was rotating and the beam was starting to move toward him.
At that point, he went into a dive and Hawk said he was impressed at the voice of the pilot. It suddenly went up into this high falsetto, an indication of controlled fear. The pilot was turning and trying to go away from the object and on the radar scope, Hawk said he could see the spots getting closer to one another. Then they merged and there was just one dot on the radar and the radar people didn't know what to do. All of a sudden, that dot disappeared. Hawk said for the next 48 hours, he was giving weather forecasts as to what they would find while they were doing the search. According to Hawk, searchers never found anything ­ no wreckage, nothing.
THIS ISSUE OF AGGRESSION, ATTACK ON ORDERS BY OUR MILITARY AGAINST THE FLYING DISC PHENOMENON, GOES BACK ALL THE WAY TO THE V-2 ROCKET MISSILE LAUNCHES WE WERE DOING AT WHITE SANDS. THEN WE WERE GETTING RETALIATION THEN, IT APPEARS, AND THE BASE COMMANDER AT WHITE SANDS IN MAY OF 1947 FIRST CALLED THEM, 'PECULIAR PHENOMENA,' AND THEY WERE BEING PHOTOGRAPHED AS DISCS.
AS I READ THIS MANUSCRIPT, BRUCE, IT SEEMED THAT ONE OF THE MOST IMPORTANT INSIGHTS FROM THIS MAN – WHO WAS WORKING AT A CLASSIFIED LEVEL INSIDE OF OUR GOVERNMENT WITH SOME KNOWLEDGE ABOUT UNIDENTIFIED FLYING OBJECTS AND THEIR OCCUPANTS – WAS THAT HE KNEW FIRSTHAND THAT WE TRIED TO ATTACK AND THERE WAS RETALIATION.
Right. He and others were told officially that it never happened. The plane was lost, but for some other reason. He asked if the event were classified and he was told, 'No, because it did not happen.' And you can't classify something that didn't happen. (laughs) So that's sort of how they got away with it. There is no supporting information ­ only the people who were there at the time and they are not going to talk.
Hawk Learns More About E.T.s and UFO Technology in Albuquerque, New Mexico
COULD YOU EXPLAIN THEN FROM JAPAN HOW HAWK CAME TO BE CONVINCED THAT WE ACTUALLY WERE DEALING WITH EXTRATERRESTRIAL BIOLOGICAL ENTITIES?
I think that convincing probably came during the late 1970s into the 1980s, based on what people had told him. but you get the impression from (Robert) Collins's book that Hawk knew a lot more than he told me. What he told me was sort of like the tip of the iceberg. He started off with his own experiences and then went into what other people had told him.
Now his third semi-direct personal experience occurred in the middle 1960s when he was at a conference in Albuquerque. My understanding is that the conference had to do with his geological work in monitoring the underground nuclear explosions, often called UGTs ­ underground tests.
He was at a conference there with a buddy of his. He and some other people were invited to go to a facility which is south southeast of Kirtland AFB and I believe the buildings are still there. It was a facility where they did nuclear tests on animals. The way he described it was they had animal pens around this facility and they would take them into a building where they would put the animal in a room. Then they had a radioactive source of nuclear radiation that was in an underground vault to minimize the radiation hazard to people who worked there. After the animal was inside this presumably radiation-shielded room, they would then bring up this, raise the source of radiation to where it was irradiating the animal for some period of time. They would put it (the radiation source) back down in the ground.
So, Hawk was invited along with some other guys to go and see this facility. He went there and he described how the various men had various rankings and degrees. While his group was there, they noticed there was another small group of guys from the Navy and he said they were saying, 'You think that the Air Force guys have a lot of degrees. There are guys in the Navy who have several doctorates. They are doctors and have Ph.D.s and other degrees. Somebody asked, 'Why do they need all that?' – all those degrees to do whatever it is they are doing. According to Hawk, the reason was because they were working on aliens.
EXTRATERRESTRIAL BIOLOGICAL ENTITIES. (laughs)
Hawk says word goes around, 'That must be bullshit.' But nevertheless, his friend Bob got interested and decided to see if he could get in on the work. Bob was told, 'You don't ask them. They invite you.'
AND BOB HIPPLER WAS…
Bob Hippler becomes a real person if you read what I wrote. You know the effect on me of finding his name in a document written by Jim McDonald. (laughs) My eyes were going across the page reading fast and I hit that word and my eyeballs just stopped moving. It was like I was frozen in space! I never expected to find a real person connected with this guy Bob Hippler! (laughs)
WHO IS, WAS, BOB HIPPLER?
I don't know what Hippler's rank was at the time in the Air Force. Hippler told about a number of facilities in the Albuquerque area and Kirtland AFB where research was done on aliens. Some pretty strange things, like he said the tramway ­ what's that called? [ Editor's Note: Lt. Col.Robert Hippler.]
IT'S CALLED THE SANDIA TRAMWAY.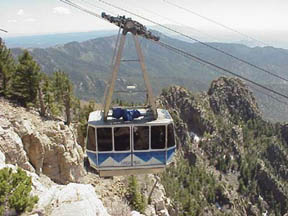 Sandia Tramway Company – "Cut Out" Cover for MJ-12 Meetings?
The Sandia Tramway Company was actually a cover for an organization to build a meeting place for people who were controlling the information having to do with aliens that you might call MJ-12. But Hawk did not use that terminology.
There were some other buildings in the Albuquerque area that were associated with this project having to do with aliens, according to Hawk. But again, this is according to what Hawk was told back in the middle 1960s. He and Bob Hippler drove around Albuquerque actually finding these various places confirming the actual places existed. Of course, they could not confirm what was going on.
So, after this conference was over, Hippler and Hawk went their separate ways. It was a couple of years later that he ran into Bob Hippler and said, 'Did you ever get the job you wanted to join this work on aliens?'
Hawk recalls Hippler saying ­ because he said it three times – 'I'm now a member of the real Project Blue Book. I'm now a member of the real Project Blue Book.' And Hawk remembers him saying it three times. He did not know what Blue Book was, but he remembers Hippler referring to it three times and saying it was the real one."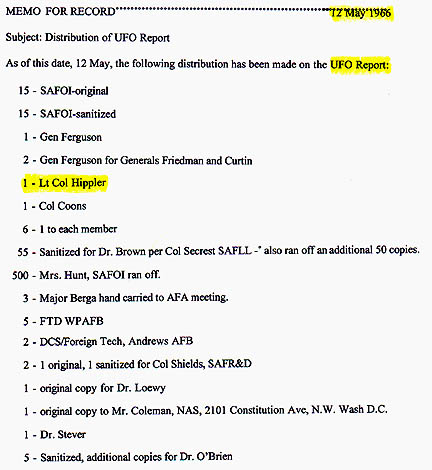 Back in 1986, Dr. Maccabee talked to UFO researcher/author, Bill Moore, about the Hawk interview and Bob Hippler's revelation. Moore tracked Hippler down by phone. But all the real Project Blue Book investigator said was that it happened a long time ago, he didn't want to talk about it, goodbye. And click, hung up the phone.
The Jim McDonald that Dr. Maccabee references was Dr. James E. McDonald, the senior physicist at the Institute for Atmospheric Physics and Professor in the Dept. of Meteorology at the University of Arizona in Tucson. Throughout the 1960s, Dr. McDonald interviewed hundreds of UFO witnesses and uncovered many government documents related to the phenomenon. He testified before Congress during the 1968 UFO hearings called by Cong. Gerald Ford. Dr. McDonald was highly critical of the United States Air Force's Project Blue Book Condon Report which dismissed UFOs as largely misidentifications. Dr. McDonald and serious UFO investigators thought the Condon report was phony ­ a government attempt to white wash the REAL phenomenon.
Now, Dr. Maccabee has reinforced that contention with Hawk's revelation that there was another real Project Blue Book that Bob Hippler worked for, probably under the MJ-12 Special Studies Group. It was like a shell game ­ there were two Project Blue Books: a phony one to keep the public and media away from the real Blue Book investigation.
Continued Earthfiles Part 2 – E.T. autopsies and disappearance of military security guards.
---
More Information:
For more about American military aggression against UFOs, crash/retrievals and UFO retaliation, please see reports below in Earthfiles Archives :
01/17/2006 —  Part 9 – Peculiar Phenomenon: Early United States Efforts to Collect and Analyze Flying Discs

01/09/2006 —  Part 8 – Peculiar Phenomenon: Early United States Efforts to Collect and Analyze Flying Discs

01/03/2006 —  Part 7 – Peculiar Phenomenon: Early United States Efforts to Collect and Analyze Flying Discs

12/31/2005 —  Part 6 – Peculiar Phenomenon: Early United States Efforts to Collect and Analyze Flying Discs

12/27/2005 —  Part 5 – Peculiar Phenomenon: Early United States Efforts to Collect and Analyze Flying Discs

12/24/2005 —  Part 4 – Peculiar Phenomenon: Early United States Efforts to Collect and Analyze Flying Discs

12/24/2005 —  Part 3 – Peculiar Phenomenon: Early United States Efforts to Collect and Analyze Flying Discs

12/21/2005 —  Part 2 – Peculiar Phenomenon, Early United States Efforts to Collect and Analyze Flying Discs

12/19/2005 —  Part 1 – Peculiar Phenomenon: Early United States Efforts to Collect and Analyze Flying Discs

05/03/2005 —  Part 3: Japan Air Lines Pilot Interview About November 1986 UFO Encounter

05/03/2005 —  Part 2: Japan Air Lines Pilot Interview About November 1986 UFO Encounter
05/02/2005 —  Part 1: Japan Air Lines and Mile-Diameter UFO, November 1986, Drawings and Transcript

04/17/2005 —  1949 Aerial Disc Covered-Up By Project Blue Book As "Kite"

04/14/2005 —  "Battle of Los Angeles" On February 25, 1942: America Fired At A UFO

02/11/2005 —  Story Behind "Inflation-Theory Implications for Extraterrestrial Visitation"
12/30/2004 —  Audience Feedback About Earthfiles "September 12, 1952: America's 'Secret War'?"

12/30/2004 —  September 12, 1952: America's "Secret War"? Part 3: Nuclear Physicist Stanton Friedman

12/30/2004 —  September 12, 1952: America's "Secret War"? Part 2: USAF Starfire Disappeared

12/30/2004 —  September 12, 1952: America's "Secret War"? Part 1: UFO Retrieval in Flatwoods, W. Va.

12/22/2004 —  Part 2: "Reasons Why U.S. Government CAN'T Release Truth About UFOs!"

12/22/2004 —  Part 1: "Reasons Why U.S. Government CAN'T Release Truth About UFOs!"

12/10/2004 —  Part 3: "Peculiar Phenomena," V-2 Rockets – and UFOB Retaliation?
12/07/2004 —  Part 2: "Peculiar Phenomena," V-2 Rockets – and UFOB Retaliation?

12/04/2004 —  Part 1: "Peculiar Phenomena," V-2 Rockets – and UFOB Retaliation?

11/12/2004 —  Strange Metal Pieces from Plains of San Agustin Alleged UFO Crash Site Analyzed.
10/23/2004 —  1948 Aztec, New Mexico UFO Crash: Policemen, Disk and Humanoids

08/18/2004 —  New Mexico Gov. Bill Richardson Wants More Investigation of 1947 Roswell UFO Crash

05/04/2001 —  Part 3 – Retired Army Sergeant Describes 1969 Film of Unidentified Craft

04/30/2001 —  Part 2 – Former U.S. Army Sergeant Describes 1969 Film of Non-Human Entities

04/29/2001 —  Part 1 – Former Army Sergeant Describes 1969 Film of Alien Craft and Entities
04/02/2000 —  Secret Radar Stations in New Mexico, Part 2
04/02/2000 —  Secret Radar Stations in New Mexico, Part 1
---
Websites:
Bruce Maccabee, Ph.D.: http://brumac.8k.com (Contains entire 1985 -1986 interview with Hawk.)
MJ-12 Documents: http://www.majesticdocuments.com


© 1998 - 2019 by Linda Moulton Howe.
All Rights Reserved.