"It's still unknown what the H5N1 virus could or will do, but we suggest the HA receptor switch is a possible route that the H5N1 virus could get a foothold in the human population."
  – Ian Wilson, Molecular Biologist, Scripps Research Institute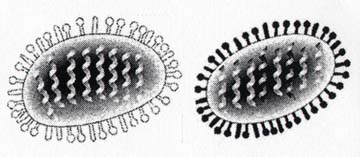 March 21, 2006  Lajolla, California –  The World Health Organization (W.H.O.) in Geneva, Switzerland, is concerned that with each new case of bird flu in humans, the possibility that the virus could mutate into a form transmissible from human-to-human increases. Once that happens, it's a worldwide influenza pandemic. It happened in 1918 and that pandemic killed fifty to one hundred million people around our planet, depending on various sources. Modern research on skeletons of some of those victims has revealed that the binding sites of the 1918 influenza virus had similar characteristics to those in the new lethal strain of H5N1 bird flu. It's also educated medical opinion that the 1918 pandemic flu strain first originated in birds and mutated inside human hosts to move person-to-person.
"With continued outbreaks of the H5N1 virus in poultry and wild birds, further human cases are likely. The potential for the emergence of a human-adapted H5 virus, either by re-assortment or mutation, is a clear threat to public health worldwide," says Ian Wilson, D. Phil., a Scripps Research professor of molecular biology and head of the laboratory that conducted recent research on a technology called the glycan microarray. The microarray is more efficient in searching for virus binder shifts and the goal is to take the array to various H5N1-infected parts of the world and efficiently look for any H5N1 mutations that could signal easier transmission in humans.
In the March 16, 2006, issue of the journal, Science, Dr. Wilson explained his new research with the glycan microarray and its investigation of the hemagglutinin (HA) binders in the Viet04 strain of H5N1 that killed a 10-year-old Vietnamese boy in 2004. That strain is referred to as: A/Vietnam/1203/2004 (Viet04).
How Influenza Viruses Take Hold in Bodies
Animal and human cells have what are called "receptors." Viruses get a foothold in bodies by creating sites on their surfaces which can bind to specific cell receptors. The virus does that by changing, or mutating, its hemagglutinin (HA) binders to match whatever host cell receptor the virus is trying to bind. The hemagglutinin (HA) structure of the Viet04 H5N1 virus has been found to be closely related to the HA structure of the 1918 pandemic influenza virus.
Avian viruses, such as H5N1, first go after bird intestinal epithelial cells. In contrast, human influenza viruses first go after epithelial cells in the lungs and upper respiratory tract. Once the respective viruses have bound to their respective host cells, the viral genetic material can be transferred into the host. The result is influenza infection in either animals or humans.
Recent Discovery of One Method H5N1 Could Adapt to Humans
Now molecular biologist, Ian Wilson,  reports that "once a foothold in a new host species is made, the virus HA can optimize its specificity to the new host. Our recombinant approach to the structural analysis of the Viet04 virus showed that when we inserted HA mutations that had already been shown to shift receptor preference in H3 HAs to the human respiratory tract, the mutations increased receptor preference of the Viet04 HA towards specific human glycans that could serve as receptors on lung epithelial cells. The effect of these mutations on the Viet04 HA increases the likelihood of binding to, and infection of, susceptible epithelial cells."
In other words, small mutations in the H5N1 HA binder could be one way the bird flu virus changes to adapt to human hosts. But Ian Wilson stresses that there could be other unknown, "unidentified mutations," which could develop and allow H5N1 human-to-human transmission. Researchers at Scripps hope the glycan microarray will at least be able to quickly identify new strains of the H5N1 virus that might be on the verge of adapting to human cell receptors.
---
Interview: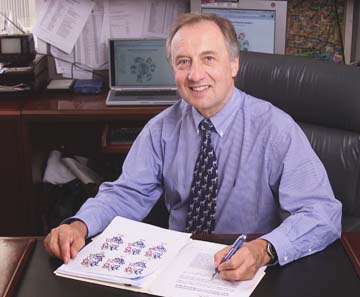 Ian Wilson, D. Phil., Oxford University, U.K.;  Prof. of Molecular Biology, Dept. of Molecular Biology, Scripps Research Institute, La Jolla, California: "In 1918, we don't know when the first virus of that strain emerged and how long it took to switch its receptors. But we have discovered in our lab that some minor sequence changes can help the H5N1 virus bind to human receptors. The question is: Could those minor sequence changes in the H5N1 be how the virus accomplishes human-to-human transmission?
What we suggested in our Science paper is indeed we saw some receptors (on H5N1 virus) change by switching ony two mutations. But it wasn't as dramatic a switch as in the 1918 or 1968 pandemic viruses, their ability to switch receptor specificity. It's still unknown what the H5N1 virus could or will do, but we suggest this HA receptor switch is a possible route that the H5N1 virus could get a foothold in the human population.
HOW LONG MIGHT IT BE BEFORE YOUR LABAORATORY RECEIVES SOME OF THE MORE CURRENT STRAINS OF H5N1 THAT HAVE BEEN KILLING PEOPLE IN AZERBAIJAN, EGYPT, TURKEY AND OTHER COUNTRIES?
Probably within the next few weeks, I imagine we'll be able to get some samples.
ON THE BASIS OF THE WORK YOU HAVE DONE ON VIET 04, WILL YOU THEN BE ABLE TO HAVE A FASTER 'BIG PICTURE' OF WHAT HAS HAPPENED WITH THE VIRUS AND HOW IT MIGHT BE CHANGING IN THESE LATEST HUMAN DEATHS?
Glycan Microarray
Yes. At least as far as looking at the receptor binding specificity, which is what we're really looking at. We can see if there has been any switch in ability to bind to human cells. We can do that using this glycan microarray that was developed here by the Center for Functional Glycomics, which is headed by Jim Paulson. That array could be of great use in determining whether the viruses bind to more avian-like receptors or more human-like receptors. We can look for that in the more current viruses.
IF YOU SAW THAT IT WAS MOVING IN A HUMAN RECEPTOR TREND IN THE NEXT FEW WEEKS, THAT MIGHT ACCELERATE THE PROPOSAL NOW TO TRY TO USE H5N1 EXISTING VACCINES IN POPULATIONS THAT ARE ESPECIALLY THREATENED, SUCH AS POULTRY WORKERS?
If a virus came along that looked like it had acquired the ability to bind to human cells, that would definitely become a candidate for a vaccine. It's not just change in receptor binding that goes on. Mutations are acquired elsewhere in the virus and the virus does that so it can escape our immune system. So, the antibodies are produced against previous viruses. That is why we have to be immunized with a different vaccine strain every two or three years because even though it is the same H3 virus, for example, we're being immunized against – as it changes, we have to change the vaccine, too. So, similarly H5N1 viruses have changed over the (past 9) years and you would obviously get less protection from a vaccine strain that was used several years ago compared to what the current strain would be.
WHY IS H5N1 SO LETHAL TO BIRDS AND TO THE HUMANS THAT GET IT?
I don't think we understand all the correlates of why a particular virus is so lethal. For example, this virus is similar to other viruses in that it has a very polybasic sequence which is very easily cleaved in order to make the virus infectious. We haven't seen such a virus in the human population yet. This is the first with that type of sequence. So there is that and a number of other correlates that we probably don't fully understand yet that are likely to be responsible.
IF THE PANDEMIC TAKES OFF AND IT IS A VIRUS MUTATION FOR WHICH NONE OF THE VACCINES OR ANTIVIRALS WORK, WHAT WOULD THE WORSE CASE BE?
The worst case scenario would be if a virus came along for which we did not have a vaccine strain currently available and that none of the Tamiflu or other antivirals would work. But I think because of the enormous surveillance that is going on, we are getting very quick feedback on what the viruses are, their make-up and properties. One should be optimistic that the virologists are on top of this and isolating and characterizing these viruses very quickly.
WOULD YOUR LAB BE ONE OF THE FIRST IN THE WORLD TO KNOW IF H5N1 CHANGES TO ADAPT TO HUMAN RECEPTORS?
Not necessarily. It depends on the people in the field who are isolating the viruses. What would we like to do is use the glycan microarray technology to be able to get out into the field to be able to aascertain if the virus were changing receptor specificity. In that case, we would know fairly early on."
---
More Information:
For more information about H5N1, please see the following reports in  Earthfiles Archives:
03/10/2006 — The Rapid Spread of H5N1 Bird Flu Virus
02/03/2006 — Trends 2006
11/13/2005 — H5N1 Avian Flu Has Infected 21st Person in Thailand. 13 Have Died.
10/26/2005 — Updated – H5N1 Bird Flu – The Next Pandemic?
08/05/2005 — Scientists Puzzled by "Bizarre" Pacific Coast Die-offs in 2005
07/22/2005 — H5N1 Bird Flu Virus Kills Three Indonesians
06/21/2005 — CDC Reports First 2005 Human Case of West Nile Virus in Kansas
06/21/2005 — Vietnamese Doctor Studying H5N1 Bird Flu Falls Victim to Virus
06/03/2005 — West Nile and Bird Flu: Two Increasingly Dangerous Viruses
03/12/2005 — Could Avian Flu H5N1 Cause the Next Pandemic?
01/29/2004 — Unprecedented Outbreak of Avian Flu Has Killed Ten People in Asia
01/13/2004 — Updated: SARS and Bird Flu Back in Asia
03/18/2003 — Updated – SARS Pneumonia Tentatively Identified as Paramyxoviridae Virus
09/24/2000 — Infectious Diseases – A Global Threat
---
Websites:
Scripps Research Institute:   http://www.scripps.edu/e_index.html
Journal of Virology:  http://jvi.asm.org/cgi/reprint/78/18/9954.pdf

© 1998 - 2019 by Linda Moulton Howe.
All Rights Reserved.