"It's still unknown what the H5N1 virus could or will do, but we suggest the HA receptor switch is a possible route that the H5N1 virus could get a foothold in the human population."
  - Ian Wilson, Molecular Biologist, Scripps Research Institute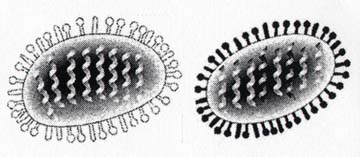 March 21, 2006  Lajolla, California -  The World Health Organization (W.H.O.) in Geneva, Switzerland, is concerned that with each new case of bird flu in humans, the possibility that the virus could mutate into a form transmissible from human-to-human increases. Once that happens, it's a worldwide influenza pandemic. It happened in 1918 and that pandemic killed fifty to one hundred million people around our planet, depending on various sources. Modern research on skeletons of some of those victims has revealed that the binding sites of the 1918 influenza virus had similar characteristics to those in the new lethal strain of H5N1 bird flu. It's also educated medical opinion that the 1918 pandemic flu strain first originated in birds and mutated inside human hosts to move person-to-person.
Click here to subscribe and get instant access to read this report.
Click here to check your existing subscription status.
Existing members, login below:

© 1998 - 2023 by Linda Moulton Howe.
All Rights Reserved.