"Right now, the data is telling us that this Huntingburg wheat formation was not mechanically man-made."
– Jeffrey Wilson, Director, ICCRA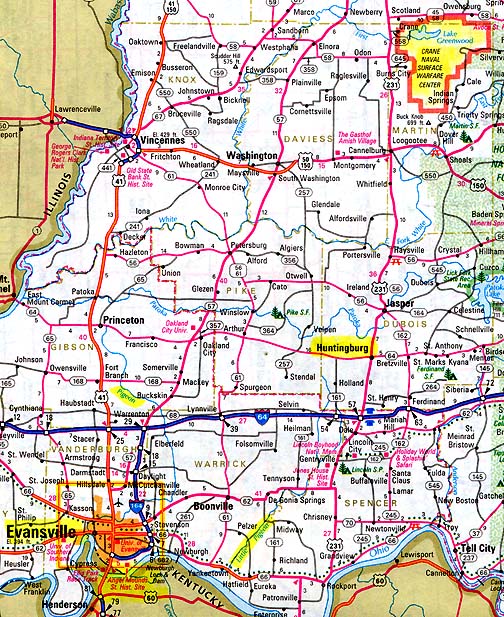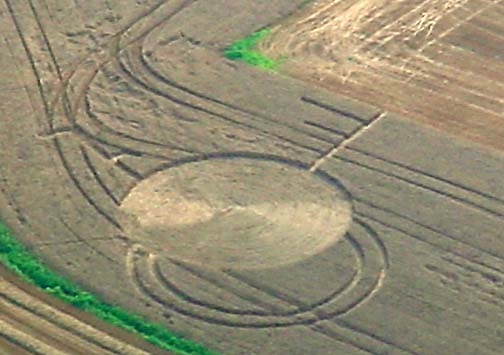 July 7, 2006  Williamsburg, Ohio – Another earth mystery has been unfolding amid all the earth mounds in southwestern Indiana. Find Evansville, Indiana, on the map above. A little southeast of the city is the Angel Mounds Historic Site. Several miles northeast of Angel Mounds in Dubois County is the farming community of Huntingburg. Further northeast is the Crane Naval Surface Warfare Center, worth noting because the military has long been interested in crop formations. [See: 10/03/2003 Earthfiles and 09/12/03 Earthfiles and 08/29/03 Earthfiles and 09/04/03 Earthfiles. ]
On Sunday, June 25th, wheat farmer David Ring was running his harvester into the last field. Suddenly he realized a big, flat circle was neatly laid down in his crop. He told me the plants "looked combed down in a swirl." He and one of his farmhands got off the harvester and discovered there were also odd patterns coming off the big circle. One looked like a backward F and the other was a straight line with two short lines coming off of it. There were also two big loops coming off one side of the circle that looked a bit like their own tractor tramlines, but Mr. Ring knew he had not made the loops. The width of each of the loops, or three-quarter rings, varied from 1 foot 6 inches to 3 feet 8 inches.
David Ring was puzzled. "It was my last field to harvest, I'm a farmer and I wanted to get as much of that wheat as I could." He noticed that when he ran his harvester over the formation, most of the flattened circle wheat went into his machine. But the backward "F", the other strange glyph and the double rings all seemed to be more tightly flattened to the ground and did not chop up into his harvester. He also noticed that where the rings and appendages came into the circle, the flattened plants angled right and left in a zigzag pattern.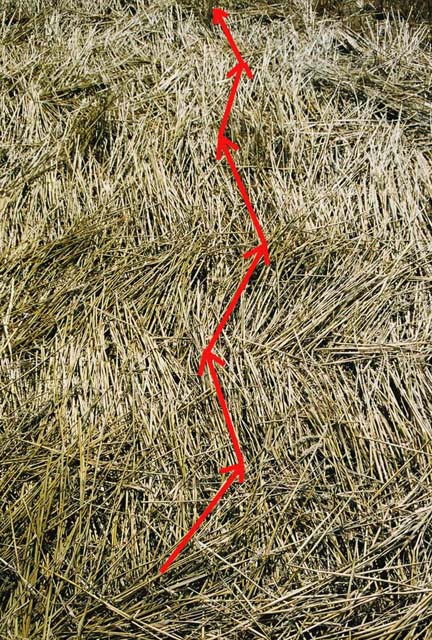 That was Sunday, June 25th. The next morning, the manager of the local Huntingburg Airport flew over the wheat formation and took photographs. By Thursday, June 29, crop circle investigator Ted Robertson – with the Independent Crop Circle Researchers' Association (ICCRA) – got to the field to take measurements and make a diagram. The next day, Jeffrey Wilson, Director of the ICCRA, along with other ICCRA field researchers Roger Sugden, Charles Lietzau, Ph.D., Delsey Wilson and Ted Robertson, met at the formation site to gather plant samples and measure the pattern with a new magnetometer, Broadband TriField EM Meter, Natural TriField EM meter, compass, and Gamma-Scout radiation detector.
Anomalies
So far, the apical growth nodes in the collected wheat samples are statistically elongated, which means that some kind of complex energy interacted with the plants. Elongated growth nodes have been found in crop formations around the world for the past fifteen years and are not an anomaly that can be produced by hoaxers.
Also, the radiation in the crop pattern was two to three times higher than background. The radiation level is not harmful, but is statistically significant and has been measured in other mysterious crop formations over the years. "Right now," Jeff said, "the data is telling us that this Huntingburg wheat formation was not mechanically man-made."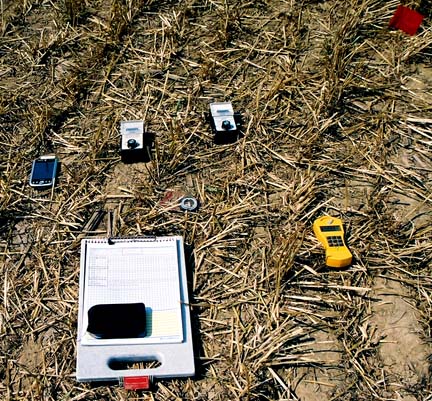 Jeff Wilson, who has investigated dozens of crop formations in the United States over the past decade, told me that at first glance the pattern in the aerial photographs did not appear to be very sophisticated. But when he and his team began to study what was left after the harvester, they found many fascinating anomalies – including one never seen in an American crop formation before.
---
Interview:
Jeffrey Wilson, Director, Independent Crop Circle Researchers Association (ICCRA), Williamsburg, Ohio:  "Where the rings touch the circle on both sides of this formation, the flattening of the ring pathways flows into the circle on both sides. That was a real puzzle to us when we were first walking the perimeter of the circle because how can the rings both flow into the circle on both sides?
It turned out that there is divergence in the flow from near the center point of the rings. It's off the centerline a little bit. But the whole formation is laid out on a slope. Where this divergence occurred, the flow goes up the hill into the circle and the flow goes down the hill and into the circle – both ways, so it divides them back and forth.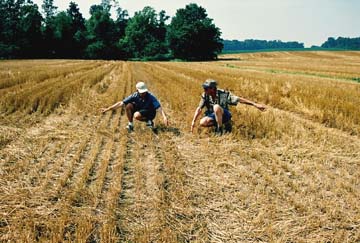 YOU FOUND THAT 'HAIRLINE PART' IN THE TWO-RING HANDLE. THEN YOU ALSO DISCOVERED ANOTHER LITTLE PIECE THAT SEEMS TO BE A KEYSTONE OR CENTER POINT THAT LINES UP WITH THE CIRCLE CENTER AND WHERE THE RINGS PART IN TWO DIRECTIONS?
Yes, that is something we spotted on the aerial photograph. There is sort of to the north-northeast of the main body of the formation, there was an area of randomly downed, flattened wheat. In that section, there was a little L-shaped, kind of notch, or flattened area. That appears to be part of the geometry of the formation itself. That is like the keystone to unraveling how the rest of the geometry works inside the rest of the formation. So, that lies on that centerline that divides the part in the two rings, but also goes through the center point of the flattened circle and through this little keystone pathway. All the rest of the geometry flows and is connected to that point.
HOW MANY TIMES IN AMERICAN FORMATIONS HAVE YOU FOUND SOMETHING LIKE A KEYSTONE SOME DISTANCE OUTSIDE OF A PATTERN?
I would say I couldn't think of a particular formation in which this occurred.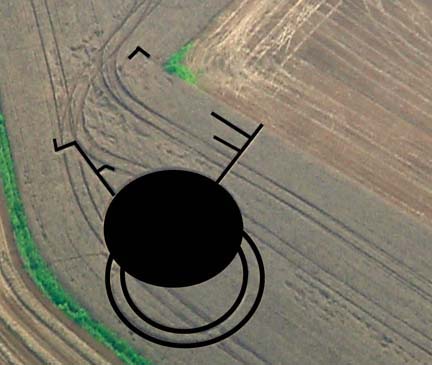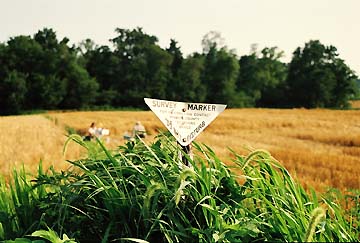 I CAN'T EITHER. THE ONLY ONE THAT REALLY COMES TO MIND IS THE ONE IN ENGLAND ABOUT THREE YEARS AGO WHERE THERE WAS A LAND SURVEY MARKER THAT WAS 200 OR 300 YEARS OLD. IT APPEARED TO BE A KEYSTONE FOR THAT FORMATION, BUT AGAIN IT WAS MANY METERS FROM THE MAIN FORMATION. EVERYTHING LINED UP AROUND THAT SURVEY MARKER.
I would say that nearly every complex formation we've looked at has something unique and unusual that we've learned from. Although this one is unprecedented, it's not unusual to find something new to discover and to learn from.
It's interesting, too, that you mention that other U. K. formation that had that survey marker as a keystone because right adjacent to this little keystone (in Indiana) is an actual survey marker, a geodesic survey marker, is in the field right at that corner point right next to it.
Power Dimming in Huntingburg, Indiana, on June 22, 2006
THE FARMER FOUND THIS I BELIEVE ON JUNE 25TH AND THOUGHT IT MIGHT HAVE BEEN THERE LONGER. I UNDERSTAND THERE WAS A POWER FAILURE IN THAT AREA AROUND JUNE 22ND, THREE DAYS BEFORE, PERHAPS LINKED TO A THUNDERSTORM. BUT SOMETIMES POWER FAILURES HAVE BEEN LINKED TO TIMES WHEN CROP FORMATIONS OCCUR, AT LEAST IN ENGLAND AND SOME PLACES.
That's a good point. During the rain showers, the local neighborhood, the houses nearby including the house in which David Ring's son and daughter-in-law lived, and the local airport which is adjacent to this field – all of those people reported NOT a power outage, but a voltage loss. The power dimmed dramatically, so much so that they said their light bulbs were just barely flickering on. They called and reported this to the power company, but it seemed to be fairly widespread within the immediate area surrounding the formation that there was this power dimming. It was not exactly a power outage.
But power outages or power dimming do seem to be somewhat related to the times that crop circle formations are reported in a local area. A lot of people have reported this in the past.
The area in which this occurred, there are not a whole lot of residential buildings nearby. It's in a pretty rural area and it's mostly farmland. I would say within visual distance, there are maybe three houses total. None of them are at all close to where this occurred.
The formation itself is also about at least 400 feet from the closest road, but it's also hidden by a bit of a rise. That's the slope it's on, on the backside of the slope from the road. No one could really see it from a vantage point of driving past. Even though it's close to the airport, it's in a place that's perpendicular to the runways. So as planes are approaching the runways or taking off from the runways, they are not flying over this spot exactly. They are coming in at a completely different angle, so it didn't surprise me that nobody from any of the airplanes had reported this before the farmer found it while harvesting. It's also kind of shielded from the airport by a pretty tall grove of trees, so anybody flying low in or out of the runways would have blocked their vision also.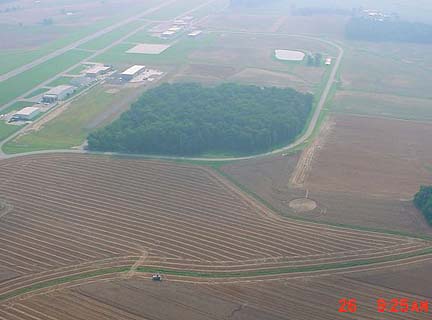 American Crop Formation Link to Ancient Earth Mounds
THIS SEEMS TO UNDERSCORE THE QUESTION: WHY DO CROP FORMATIONS APPEAR WHERE THEY DO? IN THIS CASE, IT MAY BE THAT THE MOUND QUESTION, THE ANCIENT HISTORY OF THE LAND, HAS MORE TO DO WITH WHY THIS SEEMINGLY SOMEWHAT HUMBLE, BUT QUITE FASCINATING PATTERN, WAS PLACED IN THIS MODERN WORLD AT SUCH A STRANGE SIDE OF A HILL NEAR AN AIRPORT 400 FEET FROM A ROAD. IT MIGHT NOT HAVE ANYTHING TO DO WITH THE MODERN TIME. IT MIGHT HAVE SOMETHING TO DO WITH ANCIENT LINE UPS?
That could very well be because this particular area of southwestern Indiana is pretty full of ancient Native American mounds. We find that formations in the Midwest are coming down in the areas where the mounds are located.
One of the interesting curious aspects that I uncovered as I was looking through the historical record to see what could be nearby in the county or outside of the county, there is a very large Mississippian city called Angel Mound, where there were several large pyramids near what is now Evansville, Indiana, which is about 40 miles to the southwest of where this crop circle location is. That city, and anywhere surrounding it for about 70 miles, is just filled with Native American mounds across this whole region.
WHY WERE THEY CALLED ANGEL MOUNDS?
Typically archaeologists when they discover and excavate a site name it after the current landowner. That was who the landowner was when the Angel Mounds were excavated in the 1920s. The family name was Angel, so they named the mounds after them.
[ Editor's Note:  Wikipedia: "Angel Mounds State Historic Site is located on the Ohio River in Vanderburgh County, Indiana, adjacent to Evansville. It is part of the Indiana Department of Natural Resources, Division of Indiana State Museums and Historic Sites. It is one of 16 state museums and historic sites in Indiana and is listed as a National Historic Landmark. It is named after the Angel Family who settled in this location along the Ohio River in the early 1800s.
"For over a thousand years, Southwestern Indiana was home to many Native Americans. Today, Angel Mounds State Historic Site is nationally recognized as one of the best preserved prehistoric Native American sites in the United States. From 1100 to 1450 A. D., a town on this site was home to people of the Middle Mississippian culture, who engaged in hunting and farming on the rich bottom lands of the Ohio River. Because Angel Mounds was the home of a chief, it was the regional center of a large community that grew outward from it for many miles.
This settlement was the largest known town of its time in Indiana, but the Mississippian people eventually deserted it. No one today knows why." ]
Passenger Pigeons, Magnetic Fields and Earth Mounds
There is a school of thought in which the earth mounds might have been placed in certain locations because there were magnetic, or electromagnetic, anomalies in those particular areas that the Native Americans could sense. There is also a second line of thought that in centuries past, the dominant species of animal in North America and around the world was the passenger pigeon. There were literally billions of passenger pigeons and they would migrate in flocks of up to 60 miles long and black out the sun as they flew on their migratory pattern. Unfortunately, the passenger pigeon is now an extinct species – hunted to extinction by man. They went from being the most populous, dominant species on this continent to being extinct within one generation.
They seemed to fly along certain migratory routes in which we find all of the major geometric earthworks in the Midwest. There seems to be a relationship between where the geometric earthworks were placed and the migratory patterns of the birds that were flying at the same time.
WHICH WOULD TIE IN PROBABLY TO THE MAGNETIC LINES OF THE EARTH?
Right. There have been recent studies that show that migratory birds do follow the magnetic field lines. They seem to have an ability that actually allows them to SEE the magnetic field lines of the planet. If they could see the magnetic field lines, they could see where the anomalies were. Then you could see where the birds were spiraling around above the magnetic anomalies wherever they occurred, wherever the spirals or eddies of the magnetic fields would occur.
Well, it turns out that in the case of this Huntingburg, Indiana, crop circle formation, this formation falls along one of these migratory patterns. In fact, if you go just a little bit to the south, southwest of where this formation occurred, that township is called Pigeon Township. It was named that because that was one of the spawning places of the passenger pigeon. If you continue farther south, southwest, you hit the Pigeon River, in which that water way was one of the major spawning grounds for the passenger pigeon. There is also the Little Pigeon Creek nearby there.
If you continue on that same trajectory, you hit the Angel Mounds. If you go in the opposite direction, going north, northeast, two or three miles north of Huntingburg there is a mound that is written about in the history of Dubois County, Indiana, which Huntingburg is a part of. There is a mound that was excavated and they found there that the top several inches of the earth was nothing more than pigeon droppings. They dug through the pigeon droppings to get to the mound itself to then excavate the burial when the archaeologists were looking at it. So, the passenger pigeons were on the same trajectory and route, and this Huntingburg formation appears to fall right along that line."
Jeff Wilson is still analyzing his magnetometer readings and the results, along with any other new data, will be added as an update to this Earthfiles report when available.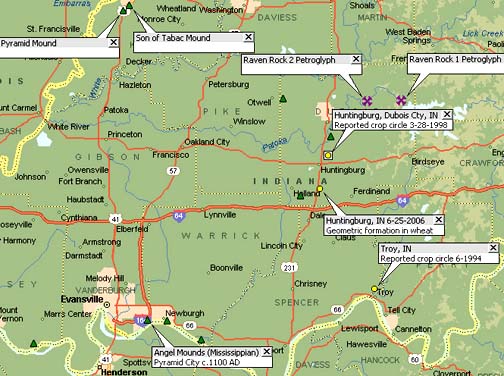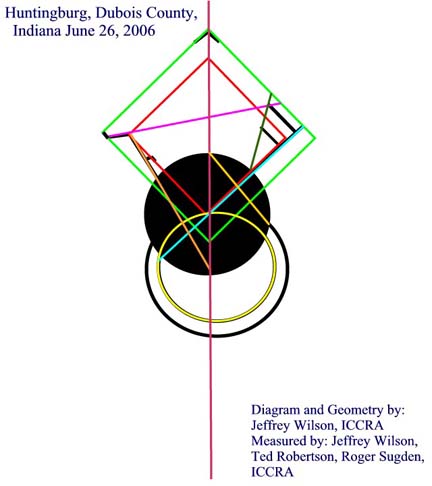 ---
More Information:
For further information about worldwide crop formations, please see reports below in the Earthfiles Archives and my book Mysterious Lights and Crop Circles in the Earthfiles Shop.
06/11/2006 — Updated: Two Mysterious Circles in Wheat Baffle Kansas Farmer
04/07/2006 — First 2006 Grass Circles in Conondale, Queensland, Australia
09/02/2005 — "Mayan Clock"? in August U. K. Crop Formations
09/02/2005 — First 2005 Canadian Crop Circles Reported
09/02/2005 — Part 2: Mysterious Lights At Coles County, Illinois, Corn Circles
09/02/2005 — Part 1: New York and Ohio Corn Circles "Flattened 2 to 5 Feet Above Ground"
08/09/2005 — Three Extraordinary U. K. Crop Formations Reported August 9, 2005
08/07/2005 — Mysterious Light Photographed in Canadian Woods
08/02/2005 — Part 2: Anomalies Confirmed in Pennsylvania and Arizona Randomly Downed Crops
08/02/2005 — Part 1: Anomalies Confirmed in Pennsylvania and Arizona Randomly Downed Crops
07/23/2005 — Mystery of Six Grass Circle Formations in North Carolina
07/18/2005 — Garsington, Oxfordshire, U.K. Wheat Formation – Astronomical Orbit?
07/01/2005 — U. K. Bicyclist Reports Mysterious, Low Hovering Objects Bending Wheat
06/28/2005 — Crop Circles in Poland
06/02/2005 — Part 2 – Highly Anomalous Pigment Formation in 2004 Hillsboro, Ohio, Crop Formation
05/26/2005 — Phoenix Barley Mystery: Apparently Irrigation and Wind
05/20/2005 — May 2005 Crop Formation Update in Six Countries
05/09/2005 — Mysterious Lights and 2003 Serpent Mound Soybean Formation
04/20/2005 — Outer Space Impact At Serpent Mound, Ohio, 256 Million Years Ago
04/12/2005 — First 2005 Dutch Crop Circles Reported in Hoeven, Holland Grass
10/17/2004 — American Crop Formations: 1880-2004
09/22/2004 — Miamisburg and Serpent Mound, Ohio Crop Formations: Geometries Compared
09/17/2004 — Part 1 – High Strangeness in Canadian Cattle Corn
09/12/2004 — Part 2 – High Strangeness in Canadian Cattle Corn
09/10/2004 — Update on Miamisburg, Ohio, Corn Pictogram – Balls of Light?
09/05/2004 — Part 2 – Hillsboro, Ohio Corn Plant Anomalies
09/04/2004 — Hillsboro, Ohio Corn Formation – High Strangeness in Soil and Plants
09/02/2004 — Updated Photos: Big, Impressive New Corn Formation in Miamisburg, Ohio
08/29/2004 — Another Pictogram in Poland
08/28/2004 — Cow Mutilation and Loud, Unidentified Sound in Farnam, Nebraska
08/12/2004 — Circles in Belgium and Holland
08/10/2004 — Updated Aerial Photos of West Overton, Wiltshire "Serpent"
08/09/2004 — Pictograms in Poland
08/03/2004 — Crop Formations: Fifteen in Southern England Since July 20, 2004.
07/26/2004 — Crop Circles in Tilden, Wisconsin Oats and 90-Degree Angles in Litchfield, Minnesota
07/25/2004 — 2004 Canadian Crop Formations: Scorched Soybeans and "Dirt" Pattern in Barley
07/24/2004 — Part 3 – Crop Formations and Mysterious Lights in Wiltshire, England, July 2004
07/24/2004 — Part 2: Crop Formations and Mysterious Lights in Wiltshire, England, July 2004
07/15/2004 — Updated: Part 1-Beyond Hillsboro, Ohio, More Corn Down in New Milford, Connecticut
07/13/2004 — Updates on Spanish Fork, Utah Barley Formation
07/07/2004 — Fourth 2004 Crop Formation in Poland Has Multiple Parts
07/06/2004 — Mysteriously Downed Oat Plants in Eagle Grove, Iowa; Downed Corn in Hillsboro, Ohio
07/06/2004 — Additions to Spanish Fork, Utah Formation and Mysterious Lights Seen
07/04/2004 — Crop Formation in Spanish Fork, Utah
06/17/2004 — More 2004 Holland and Poland Crop Formations
06/16/2004 — England: 2004 Crop Formations and 2003 Research
06/03/2004 — Updated – Second 2004 Pictogram Crop Formation in Poland
06/02/2004 — 2004 Peach Orchard, Arkansas Crop Formation
05/24/2004 — Biophysicist W. C. Levengood's Crop Circle Reports Available for First Time On Internet
05/22/2004 — 2004 Overview of Crop Formations in Six Countries
05/17/2004 — Crop Formation Reported in Zabno, Poland
05/11/2004 — An Extraordinary Photograph in A Dutch Home
05/09/2004 — 2003 English Crop Formations on Documentary DVDs
04/14/2004 — Light Anomalies in Photos of Conondale, Australia Grass Circles
01/10/2004 — Strange Unidentified Aerial Objects in Indiana and Pennsylvania
12/05/2003 — Diatonic Ratios and Seed Changes in 2003 California Wheat Circles Rule Out Hoax?
11/07/2003 — British UFO Crash Retrievals
11/01/2003 — Another Soybean Formation in Ohio
10/17/2003 — 2003 "UFO Flap" in Ohio
10/03/2003 — Part 2 – Military Interest in Serpent Mound and Seip Mound Formations?
10/02/2003 — Part 1 – Another Soybean Formation Near Seip Mound in Ohio
09/12/2003 — Second Soybean Crop Formation in Ohio – Special USAF Investigation Unit Involved?
09/06/2003 — Part 2 – Unusual Soybean Formation Near Serpent Mound, Ohio
09/05/2003 — Part 1 – Unusual Soybean Formation Near Serpent Mound, Ohio
09/03/2003 — Helicopter "Attacks" Wiltshire, England, Residents At Knap Hill on August 26, 2003
08/29/2003 — Part 2 – After August 10, No Crop Formations Except in Canada?
08/29/2003 — Part 1 – Why Do Military Helicopters Focus On Crop Formations?
08/23/2003 — Fourteen Crop Formations in Canada
08/05/2003 — Field Notes from Morgan's Hill Crop Circle
08/01/2003 — Field Notes About English Animal Mutilations
07/21/2003 — Strange Orange Lightning and A Sampling of Recent English Crop Formations
07/19/2003 — Update – Defiance, Missouri T-Pattern Cut in Saplings
07/17/2003 — Land Surveyor Comments About Ogbourne St. George, U.K. Crop Formation
07/16/2003 — Unusual Details in Dutch Crop Formations
07/11/2003 — Part 2 – Unusual Cylindar-Shaped Cloud Seen Night Before Dutch Crop Circles Discovered
06/27/2003 — Part 2 – Mysterious Lights and Fourteen Crop Formations in Italy
06/27/2003 — Part 1 – Mysterious Lights and Fourteen Crop Formations in Italy
06/13/2003 — Updated: Fractal Crop Formation in Knobel, Arkansas
05/26/2003 — East Sussex, England Has Third 2003 Crop Formation
05/20/2003 — More 2003 Crop Formations in Germany
05/10/2003 — Tree Formation in Defiance, Missouri
05/02/2003 — First 2003 English Crop Formations
04/29/2003 — Comparison Between First 2003 and 2002 U. K. Crop Formations
04/26/2003 — First 2003 U.K. Crop Formation Near Petersfield, Hampshire
12/07/2002 — Evolution of Crop Patterns Near Britain's Chilbolton Radio Telescope, 1999 – 2002
11/05/2002 — Canadian Crop Circles and Mysterious Lights in Saskatchewan
10/19/2002 — Shifting Time Lines and Earth's Destiny?
10/03/2002 — Part 3 – 2002 Crop Formations In Canada
10/01/2002 — Part 2 – September 2002 Maize Circles Update: Canada
09/28/2002 — Part 1 – September 2002 Maize Circles Update: England
09/02/2002 — Blue Lights and Helicopters in Wiltshire's East Field
08/31/2002 — One ET Experiencer's Reaction to the Winchester Formation
08/24/2002 — Crop Formation Update: Canada
08/19/2002 — Winchester, Hampshire Circular Code Analysis – UPDATED
08/18/2002 — Another Face and Code Appears in Hampshire, England – UPDATED
07/25/2002 — Strange Stem Anomalies in New Dutch Crop Circles
07/20/2002 — Mysterious Lights Seen Above Field Where Nautilus Formation Emerged
07/13/2002 — More Crop Formations in Holland and Germany
07/12/2002 — New Crop Formation in England
07/06/2002 — Stonehenge 4th of July Formation Echoes Hackpen Hill 1999 4th of July Spiral
06/26/2002 — New Crop Formations in England, Holland and Germany
06/04/2002 — New 2002 Crop Formations in Wiltshire and Sussex, England
05/23/2002 — Third 2002 Crop Formation in Germany Near Giant's Stone
05/18/2002 — A Bull Mutilation in Christmas Valley, Oregon
05/11/2002 — First 2002 Crop Formation In Wiltshire, England
05/09/2002 — More Orange Triangular Aircraft Over Red Deer, Alberta, Canada
05/04/2002 — Two Crop Formations Near Kassel, Germany
11/17/2001 — Mysterious Lights in Hessdalen, Norway Are Thermal Plasmas of Unknown Origin
10/27/2001 — Another Orange Triangle Near Red Deer, Alberta, Canada
10/10/2001 — Update On Unique British Crop Formations
09/27/2001 — A Scientific Report About Milk Hill and Chilbolton "Face" and "Code"
09/22/2001 — Huge Hexagram Crop Formation in Red Deer, Alberta, Canada
09/19/2001 — Part 2 – Gog Magog Hills, Cambridge, England – Two Unusual Crop Formations
09/18/2001 — Part 1 – Gog Magog Hills, Cambridge, England – Two Unusual Crop Formations
08/30/2001 — Chilbolton Observatory – What Does It Do?
08/25/2001 — Are Crop Formations at Chilbolton Observatory A Response to 1974 Earth Transmission?
08/22/2001 — Milk Hill 2001 – 409 Circles, Most For Any Crop Formation So Far
08/09/2001 — Crop Formation in Holland Changes with Researchers Present
06/16/2001 — Beyond Stonehenge with Astronomer Gerald Hawkins
06/06/2001 — New Crop Formations Reported in Serbia and U. K.
05/31/2001 — More Crop Formations in England
05/21/2001 — Part 2 – New Crop Formations in Holland, Germany and England
05/19/2001 — Part 1 – New Crop Formations in Holland, Germany and England
09/30/2000 — Unidentified Moving Spiral of Light Photographed in Crop Formation
08/27/2000 — Crop Circle Reports from Whitefish, Montana – Updated Photos
08/26/2000 — Pulsing, Jumping Light in West Stowell, England Field
08/23/2000 — Intelligence Sensed In Mysterious Lights Associated With Crop Formations
08/20/2000 — Crop Formations In North Dakota
08/19/2000 — White Balls of Light and Helicopter Videotaped in Woodborough Hill Field
08/17/2000 — Mysterious Light Near Woodborough Hill Night Before August 13, 2000 Formation
07/16/2000 — Multiple Crop Formations Same Day in Wiltshire and Hampshire, U. K., July 16, 2000
07/09/2000 — New Book about Ancient Sites of Wiltshire, England
07/06/2000 — Extraordinary U. K. Crop Formations
06/17/2000 — Army Helicopters Damage East Field, Wiltshire Crop
06/11/2000 — Two New Crop Formations at Silbury Hill
05/30/2000 — Crop Formations In Germany, May 2000
01/16/2000 — Crop Circle Mysteries – A New Book
11/30/1999 — A New Crop Formation In Marion, New York and Crop Research Updates
11/18/1999 — Short Environmental Updates
10/29/1999 — A New Book About Crop Circles
09/29/1999 — Crop Formations Continue in Canada
09/21/1999 — 1999 Summary of Crop Formations in Canada and Latest 9/21/99 Edmonton Circles
08/15/1999 — More Mid-August 1999 Crop Formations in Wiltshire, England
08/01/1999 — 1999 Crop Circle Update from Wiltshire, England
07/22/1999 — Cherhill, England, New 1999 Crop Formation
07/15/1999 — Brentwood, Tennessee Crop Formation and New U.K. Photos by Peter Sorensen
06/27/1999 — New 1999 U. K. Crop Formations Photographed by Peter Sorensen
06/07/1999 — 1999 U.K. Crop Circle Update with Photographer Peter Sorensen
---
Websites:
ICCRA:  http://www.cropcirclenews.com/modules/mysections/viewcat.php?cid=2
http://www.cropcircleconnector.com
http://www.kornkreise-forschung.de
http://www.members.iinet.net.au/~bwratten/ccc.html
http://www.temporarytemples.co.uk
http://www.cropcircleresearch.com
http://www.CropCircleAnswers.com
http://www.ukcropcircles.co.uk/?page=home

© 1998 - 2023 by Linda Moulton Howe.
All Rights Reserved.