December 8, 2006  Bethesda, Maryland – NASA's longest serving astronaut is John Young who landed on the moon in 1972 with the Apollo 16 crew. In March 2005, he was the keynote speaker at the Lunar and Planetary Institute conference in Houston. He told nearly fifteen hundred scientists and engineers from around the world:
"NASA is in the deadly serious business of saving the human species. I think over this century, if we industrialize the moon and use its resources, I think it can save civilization. I think over the long haul, going to Mars will extend civilization. But I think the moon has the capability to save us."
Those sobering words echoed behind this week's NASA announcement that the United States is headed back to the moon. This time it's not only for orbits and brief visits. NASA wants to work with other nations to build a permanent manned moon base at one of the lunar poles by 2024, only seventeen years from now. After that, the next goal is Mars.
Why the urgency? Is it worry about Earth's future? I asked John Logsdon, Ph.D., and long-time Director of the Space Policy Institute at George Washington University's Elliott School of International Affairs in Bethesda, Maryland.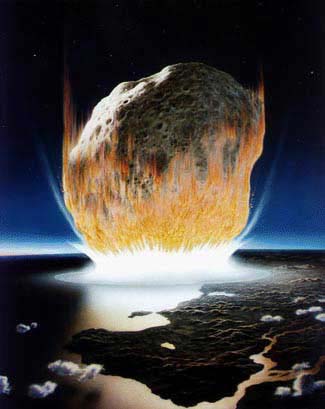 ---
Interview:
John Logsdon, Ph.D., Director, Space Policy Institute at George Washington University's Elliott School of International Affairs, Bethesda, Maryland: "British cosmologist, Stephen Hawking, has been saying the same thing. Hawking says that getting off the planet is necessary for the species to survive. The process of getting off the planet and establishing human outposts in other locations starts with the moon. It is basically our offshore island. We can learn to live for long durations in hostile environments and get ready to go to more distant destinations and do a lot of interesting things on the moon.
BUT WHY NOW? WE ARE COMING UP TO NEW YEAR'S EVE CHANGING FROM 2006 TO 2007. THIS ANNOUNCEMENT FROM NASA THIS WEEK IS SUGGESTING THAT WE ARE GOING TO BE PUTTING ROBOTIC MONITORS AROUND THE MOON IN A YEAR OR SO. THE IDEA IS THAT WE WOULD HAVE ASTRONAUTS THERE BY 2020, WHICH IS ONLY 13 YEARS AWAY. WHY IS THERE SUCH AN IMMEDIACY TO GO TO THE MOON NOW AND CREATE A PERMAMENT BASE?
Well, frankly to me, it seems like a long time and not a short time. After all, when President Kennedy in 1961 said, 'Go to the moon before the decade is out,' he was only allowing nine years to accomplish it and we did it in eight years. So, the fact that we're talking at the end of 2006 about being back on the moon with people in fourteen years; it's a pretty long time frame.
Why is it happening now? There's a chain of events that starts with the Columbia Shuttle accident in February 2003. I was a member of the board that investigated that accident and we were asked in our final report to write a little bit about the future. We suggested that the American space program of human space flight had been drifting for 35 years without any clear goal or purpose. The White House read our report, agreed with it, and President Bush decided to set some challenging new goals for the U.S. space program and did that in a speech of January 2004, in which he said 'We're going to go to the moon, Mars and beyond with the first step being getting back to the moon before 2020.'
That is the so-called vision for space exploration that's been driving NASA's preparations for the last three years.
Earth Politics On the Moon?
DO YOU THINK THAT HONESTLY PART OF THE REASON IS THE FACT THAT INDIA, JAPAN AND CHINA HAVE BEEN TALKING FOR THE PAST TWO OR THREE YEARS WITH PLANS OF GETTING THEIR OWN LANDERS ON THE MOON? EVERYBODY IS LOOKING AT THE NORTH AND SOUTH POLES, ESPECIALLY THE SOUTH POLE THAT HAS SO MUCH EXPOSURE TO SOLAR ENERGY.
ARE WE COMING UP AGAINST POLITICAL FIGHTS OVER THE TERRITORY OF THE SOUTH POLE?
I think the best way to think about it is Antarctica where there are scientific outpost stations of many nations in that continental-size area. But again, one has to be careful. The plans being talked about by India and Japan do not include sending people to the moon. If they are going to do that, they are going to do that in cooperation with some other country, and most likely with the United States. China is a bit of a wild card. There are some that think that China is embarked on a program that could lead to human missions to the moon some time in the next fifteen to twenty years. I myself am a bit of a skeptic on that.
The one country you didn't mention which has the capability and potentially the will to do this is Russia, which has a resurgent space program. There is a slightly competitive environment in terms of planning both robotic and human missions to the moon. But a little competition is good for us.
New NASA Spacecraft
HOW ARE WE GOING TO GET THE FIRST PHASE OF ROBOTS – AND THEN MANNED SPACE FLIGHT THERE IN JUST A DECADE AND A HALF?
We have existing expendable launch vehicles – rockets that you throw away each time you use them. That can launch all of the robotic probes that we are currently planning. None of them are very large pieces of equipment. So with existing rockets, there are no problems in launching the robotic missions that are precursors to human landings.
With respect to the human part of it, NASA has laid out the plan for developing a new set of hardware. Two of those pieces of hardware are new launch vehicles called Ares I and the more powerful Ares V. And a new crew-carrying spacecraft called Orion are under contract and beginning development with the first flight somewhere in the 2012 to 2014 time period.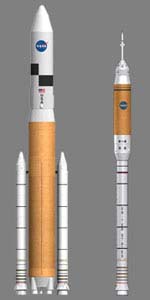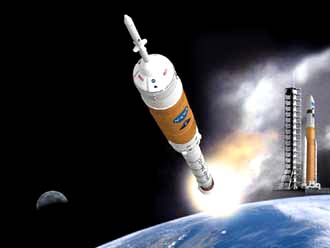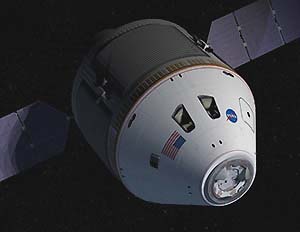 When the Shuttle is retired in 2010, the funds that are currently going to the Shuttles will be used to develop a large launch vehicle equivalent to the Saturn V used for the Apollo program. The lunar lander and the rocket stages to transport the Orion crew vehicle will carry the people to the moon. So, the hardware plan has already been decided and parts of it are well underway.
Moon Greed? Or International Cooperation?
IF ANY OF THE OTHER COMPETING NATIONS ON THE PLANET SUCH AS RUSSIA, INDIA, JAPAN AND CHINA START GETTING THERE BEFORE WE DO, IS THAT FEASIBLE? AND WHAT DO YOU THINK FROM A SPACE POLICY POINT OF VIEW MIGHT BE THE POLITICAL PROBLEMS OVER TERRITORY ON THE MOON?
Well, let's start with the idea of territory on the moon. According to the Outer Space Treaty of 1967 – and all of the countries you mentioned are signatories to that treaty – you cannot claim property. You cannot assert sovereignty on the moon or any other celestial body. There is not an issue of planting the flag and saying this now belongs to county X, Y or Z.
There's going to have to be some coordination so there is no interference and if there are economically productive activities that are found to be feasible on the moon, there are issues of property rights that have to be addressed. There are some interesting policy issues that are associated with the attempt to go back on a permanent basis and do things with not only scientific, but economic value.
IS IT FAIR TO SAY THAT IN THE FUTURE ON THE MOON OVER RESOURCES SUCH AS HELIUM 3 AND ANYTHING ELSE THAT IS DISCOVERED IS USEFUL MIGHT SET UP LEGAL FIGHTS OVER OWNERSHIP?
There is that possibility. This is akin – I have to be very careful in comparison – to like a Gold Rush or oil field discovery. It will not be governments. It will be private companies that will lead this process of turning research results into actual industrial activities on the moon. So, there are lots of resources. The moon is a big place. It's not like a one location where any of these potential resources would be located that people are going to fight over.
There are issues of ownership of the ability to exploit non-terrestrial resources that lawyers are going to have to deal with.
Shackleton Crater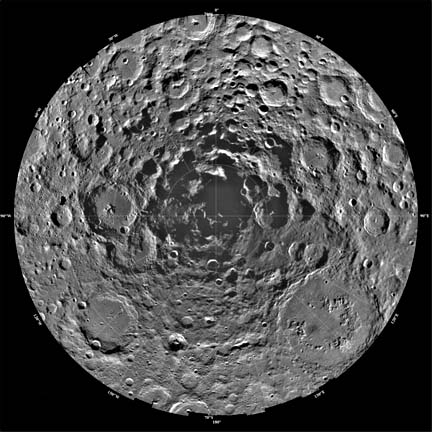 FOR EXAMPLE, THE SHACKLETON CRATER IN THE SOUTH POLE HAS ABOUT 80% SOLAR ENERGY ON AN ONGOING BASIS AND I THINK THERE ARE TWO PLACES IN THE SOUTH POLE THAT MAY GET UP TO 98% SOLAR ENERGY ON A CONSTANT BASIS. YOU WOULD THINK THAT MIGHT PRESENT A TERRITORIAL PROBLEM TO THESE MANY NATIONS WANTING TO GO THERE AND ALL NEEDING ENERGY?
[ Editor's Note:  A December 9, 2006, email received about other NASA information from the Clementine Mission: "Dr. Bussey and Dr. Spudis did much groundbreaking work examining Clementine imagery to reach the conclusions you listed above and published a number of valuable papers. However, some caveats should be attached to their analysis results which unfortunately always seem to be missed.
"Firstly, the presented data was for month 2 of the Clementine imagery, which was actually two months past the worse case lunation. When one examines month 1 of Clementine imagery, the percentage goes down to ~70% (Kruijff, 1998). My own analysis of radar digital elevation models (Margot, 1997) imply the worse case lunation goes to 65% average illumination. High resolution Earth-based radar digital elevation models will be available in early 2007 and should enhance these estimates, as will SMART-1 imagery when it is published.
"Secondly, the 98% solar energy reference was a suggested connection of two different relatively near sites such that when one site has shadow and the other has Sun, continual power can still be provided. This assessment was for month 2. For the worse case lunation, any benefit is likely of much smaller (~85%). However, it is critical to realize that the key for the solar energy benefit at the poles is less the average illumination than the maximum shadow period. This later quantity is what is used to size power systems, especially the energy storage systems. So, although the combination of sites may have improved average illumination, due to the large scale terrain causing shadowing on the region the sites are located at, the maximum shadow period when comparing one site versus combined sites is fairly similar.
"Thirdly, the Clementine images were not continuous, but rather were taken every 10 hours and also some time periods exist where no images were taken. Thus, unknown illumination behavior could have been occurring during these periods which Bussey/Spudis/Kruijff assumed were the 'average' of the preceding and following image's illumination.
"Finally, interpretation of a partially blocked Sun by terrain was not performed by Bussey/Spudis. They set a very low pixel threshold and assumed any lighter pixel was 100% illuminated. In reality, for the shallow Sun angles during the worse case lunations, the terrain may partially block the Sun for extended periods, thus making a site appear to be fully illuminated when in reality a fraction of the total solar energy is being received by the site. This issue is very hard to deal with without analysis using radar digital elevation models (due to soil properties and imagery calibrations)." ]
The reality is that this is being planned as a cooperative global undertaking. So, the kind of issues you are trying to suggest I reject as having any plausibility.
WELL THE REASON IS THE HISTORY OF THIS PLANET SEEMS TO ALWAYS BE ONE IN WHICH HUMANS END UP FIGHTING WITH EACH OTHER AND GO TO WAR OVER TERRITORY ISSUES AS WE ARE DISCUSSING.
Well, maybe as we move off this planet not carry that legacy with us and plan this as a cooperative undertaking from the start and try to avoid that kind of underlying conflict, which is not productive for anybody interested.
The New Oil – Helium 3?
IT'S HELIUM 3, CORRECT?
Helium 3 is one of the ideas of economic value. Your former senator living in Albuquerque now, Jack Schmitt, has been one of the leading advocates of the notion that Helium 3 is an extremely valuable resource.
COULD YOU EXPLAIN HOW HELIUM 3 MIGHT BE MINED AND PROCESSED AND APPLIED TO OUR PLANET?
Helium 3 could be used as fuel in a nuclear reactor based on the same process that creates energy in the sun: that's nuclear fusion, not breaking an atom (fission), but driving two small atoms together. Helium is one of the lighter elements, so that particular isotope – or variety of helium He3 – if the reactor existed on Earth, which it does not, it could be a very valuable fuel. It would be non-polluting and relatively inexhaustible.
WHAT WOULD YOU ENVISION? WOULD THERE BE FLEETS OF SOME KIND OF TRANSPORT VEHICLES THAT WOULD BE GOING TO THE MOON AND BRINGING HELIUM 3 BACK TO THE EARTH?
First of all, I don't think that's the most likely valuable resource on the moon. To me the most valuable is the high quantities of just plain oxygen that are embedded in the lunar soil. If you can extract that, that's very good rocket fuel for journeys elsewhere in the solar system. But the amount of Helium 3 that would have to be recovered to fuel fission reactors on Earth is relatively small, in both weight and volume. So, it's not like a coal mining operation where there are big trains of coal going to power plants. Probably one or two missions a year with relatively small volumes could bring back enough Helium 3.
Building Permanent Moon Base
HOW DO YOU ENVISION WHAT WILL HAPPEN BETWEEN NOW AS WE GO INTO 2007 AND 2020? WHAT WILL SEE BE LAUNCHED? AND HOW WILL WE GO ABOUT SETTING UP A PERMANENT BASE ON THE MOON AT THE SOUTH OR NORTH POLE BY 2024?
What will happen in the next several years is a series of robotic missions to the moon launched by India, China, Japan, the United States, potentially by Italy, Germany, Europe, Russia – kind of an armada of robotic missions gathering all the information that we need to plan for the human outposts on the moon. We'll also be developing and testing the new launch vehicles and crew-carrying spacecraft with a first mission now tentatively scheduled for 2018. Each time we send a mission up there, we'll carry along a piece of the permanent outpost so that eventually you can assemble the pieces into a facility where people can stay up to six months at a time.
IS THIS WHAT YOU MEAN, AND NASA MEANS, WHEN YOU TALK ABOUT THIS HAS TO BE AN INTERNATIONAL EFFORT – THAT THE UNITED STATES ALONE NOR ANY OF THE OTHER COUNTRIES ALONE  – COULD NOT CREATE A PERMANENT BASE? BUT WITH ALL THE COUNTRIES WORKING TOGETHER, THEY MIGHT BE ABLE TO BUILD ONE BASE?
That's the idea and there is a political element to it that it would be better to do this as a cooperative global undertaking rather than as separate initiatives by a few countries. The reality is that no one country, and not even the United States, has the money to do this in full form by itself. So sharing the cost among many nations is an extremely attractive and useful idea.
WHAT IS YOUR PERSONAL THINKING ABOUT WHY IT IS IMPORTANT FOR US TO GET TO THE MOON AND BEYOND ON TO MARS?
With the technological capabilities to go there, I think there is a certain sense of inevitability that at some point in history we will journey to these other destinations. If we can find there reasons to stay, we'll stay. It's entirely possible we could get there and say, 'Gee, there's nothing here we can use to live off the land.' We can't afford to bring everything from Earth all the time. So, we won't stay. But I think that's the least likely outcome.
Then there is the underlying species survival argument that at some point in the future an asteroid or comet will once again hit the Earth and cause large scale extinctions as happened 65 million years ago. It would be good for humanity to be living in more than one place in the solar system if that were to occur.
WOULD WE BE ABLE TO USE THE SAME KIND OF EQUIPMENT IN SPACECRAFT THAT WE'RE GOING TO DEVELOP TO GET TO THE MOON OVER THE NEXT 13 TO 14 YEARS, CAN WE USE THAT SAME EQUIPMENT TO GET TO MARS? OR DO WE HAVE TO DEVELOP YET A WHOLE NEW TECHNOLOGY?
No, the idea is that these systems are being designed so they can be useful for going to both the moon and Mars. Going to Mars is a long trip, so you're going to need a larger spacecraft to carry the crew. But this big launch vehicle we're developing – the so-called Ares 5 – is sized for bringing enough weight into orbit to assemble the Mars spaceship (on the moon).
Yes, unless there are some breakthroughs in propulsion and unless we get nuclear propulsion, which could cut down the travel time by 50-75%, I think the systems we are developing now are the systems we will use to go to Mars.
Habitats? Low Gravity Impact On Human Bodies?
HOW WILL THE ASTRONAUTS, FIRST ON THE MOON AND THEN ON MARS, BE ABLE TO LIVE? WHAT DO YOU ENVISION THE STRUCTURES WILL BE IF WE ARE HAVING A PERMAMENT MOON BASE? WILL IT BE ABOVE GROUND OR BELOW GROUND OR WHAT?
It will probably be kind of half way between, some sunk down – at least on the moon. The lunar regolith will be used for shielding (of solar radiation). We're talking about something that's almost twenty years in the future, so the design specifics will certainly change. But you are going to need a closed environment because after all, there is no air on the moon. So you have to provide the life support and the shielding from radiation. The best way to do that, as far as I've seen in the current plans, is by some kind of Quonset-hut–looking structures that will be shielded from radiation by the lunar soil.
Mars, I think, is too far in the future to talk about permanent habitats there. I think we will make some initial journeys to Mars to look around, but I think that the establishment of permanent outposts on the Martian surface is far, far in the future.
I think the first outpost on the moon will be based on things that we carry from the Earth – the habitat, the life support system, the rovers, all of those capabilities. It's somewhat like the scientific outposts we have in Antarctica, which operate on a year-round basis. That is all equipment that has been moved there from other locations. So, the notion is at a rate of two or three missions a year, starting in 2018, we will be carrying pieces of an outpost up to the lunar surface and assembling them so by 2024, you have some sort of probably relatively primitive facility that can support a few people for 180 days, or more, at a time. The step of using local resources to build things is a step beyond that.
DO YOU KNOW ANYTHING RIGHT NOW ABOUT THE BIOLOGY OF HUMAN BODIES, WHAT MIGHT HAPPEN AFTER SIX MONTHS ON THE MOON IN LOW GRAVITY?
No, we don't. It's one of the things we can do on the ISS space station is simulate partial gravity for extended periods of time. The moon is 1/6th gravity, so we need to understand the impact on the body of living in that environment for six months or more at a time.
SO, THOSE FIRST ASTRONAUTS ON THE MOON IN A PERMANENT BASE ARE IN A WAY EARTH'S GUINEA PIGS?
Indeed, they are experimental subjects. They have to know that and volunteer for all the medical testing that will be involved. But they are also pioneers. The people are out ahead of the mass of humanity doing something very exciting and taking some risks that I think are well worth taking.
WHAT ABOUT INFLATABLE HABITATS?
Indeed, yes, that is a feasible technology that was developed at the Johnson Space Center by NASA. A private entrepreneur named Robert Bigelow (Bigelow Aerospace, Las Vegas), has taken over that technology. He has a half-sized habitat in orbit right now testing the technology in Earth orbit, initially to build space hotels, places for tourists to travel to that will be based on this kind of inflatable volumes of space.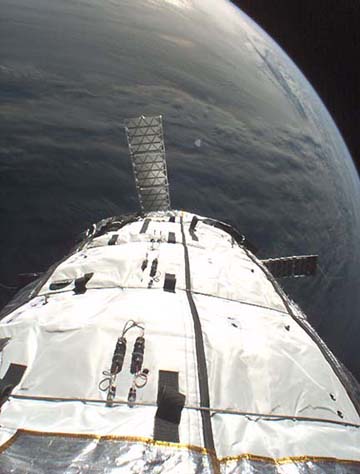 DO YOU KNOW ANYTHING ABOUT THE STATUS OF THE CURRENT EXPERIMENT OF THE INFLATABLE HABITAT THAT IS ORBITING NOW?
It's orbiting and working. It's just a scale model of what he wants to build and so far, as far as I know, it's performing very well.
COULD INFLATABLE HABITATS WORK ON THE MOON?
Yes. That's a way of taking a small and lightweight thing, taking along enough air to inflate it and creating a large volume. There are issues of meteorite protection and things like that, but that's one possible approach, taking something like that rather than a metal structure.
BUT IT MIGHT BE MORE LIKELY TO TAKE A BASE UNDERGROUND ON THE MOON BECAUSE OF METEORITES AND RADIATION?
No, I think it's more likely the base will be shielded with lunar soil. To put it underground means a lot of excavation and that means moving excavation tools up there. That seems to me to be a little tricky. But frankly, all of these speculations on the design of the base are just that, speculations. This is the work that will be done over the next decade to explore alternatives, to develop the technologies and see which ones work out best.
NASA IS INTERESTED IN THE PRACTICAL APPLICATIONS OF BOTH RESOURCES AND HAVING AN ESCAPE ROUTE FROM THE EARTH?
That is a major consideration in this initiative. The President's Science Advisor, John Marburger, said in a speech last spring that this is not really about science. It's about extending the sphere of economic activity into the solar system."
---
More Information:
For further information about the moon and Mars, please see the Earthfiles Archives:
03/20/2005 — Astronaut John Young: "The Moon Can Save Earth's Civilization."
12/16/2005 — MARSIS Radar Looking Below Surface of Mars
07/30/2005 — Astronomers Report 10th Planet Far Beyond Pluto
02/26/2005 — Mars Spirit Rover Discovered Boundary Between Gusev Lava and Older, Water-Soaked Rocks in "Columbia Hills"
12/17/2004 — Is Our Solar System's Red, Mysterious Sedna An Alien Planetoid?
07/22/2004 — Is Physicist Vittorio Formisano's Mars Data Being Suppressed by ESA?
02/23/2004 — Is There Liquid Water on Martian Surface?
02/10/2004 — Opportunity Investigating Bedrock and Spirit's Headed for Bonneville Crater
01/31/2004 — Is There Living Green Algae in the Gusev Crater on Mars?
01/24/2004 — Spirit Alive, But in "Critical" Condition. Mars Express Sees Water Ice and Ancient River Channel
01/09/2004 — Robotic "Geologists" on Mars
12/18/2003 — Beagle 2 Spacecraft Will Land on Mars Christmas Day.
08/26/2003 — Mars At Its Closest August 27, 2003, at 2:51 a.m. PDT / 5:51 a.m. EDT.
06/02/2003 — Mars Express Radar Will "See" 3 Miles Into Red Planet's Crust
11/10/2001 — The Orion Constellation and the Pyramids of Giza
04/08/2001 — A Martian Southern Hemisphere Mystery – What are these?
03/18/2001 — Can Earth Plants and Bacteria Grow On Mars?
03/11/2001 — Are the "Tubes" On Mars from Lava, Water, or Wind?
02/25/2001 — A New Martian Mystery
06/26/2000 — 250 Photographs of Mars Show Signs of Water
---
Websites:
Clementine Moon Mission:  http://www.cmf.nrl.navy.mil/clementine/clementine.html
Google Moon Map:  http://moon.google.com/
Ares I:  http://www.nasa.gov/mission_pages/constellation/ares/index.html
Orion: http://www.nasa.gov/mission_pages/constellation/orion/index.html
Mars Global Surveyor:  http://mars.jpl.nasa.gov/mgs/
European Space Agency:  http://www.esa.int/esaCP/index.html

© 1998 - 2019 by Linda Moulton Howe.
All Rights Reserved.