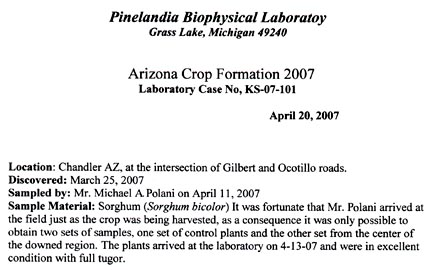 Return to April 12, 2007, Earthfiles about Chandler formation.
May 1, 2007  Grass Lake, Michigan – After Chandler, Arizona, resident, Michael A. Polani, discovered the randomly downed pattern of Sorghum bicolor plants on March 25, 2007, I asked him if he would be willing to sample the plants for biophysicist W. C. Levengood. Michael agreed and went to the formation field on April 12, 2007, to gather both downed and standing formation plants and normal controls far outside the formation. To Michael's great surprise, at least 95% of the young, lush green plants had been cut out and removed. It was definitely not time for harvest and Michael still has not been able to confirm who owned the field, let alone why the premature removal of the plants. But about 5% of the randomly downed formation was left where he could collect samples from both flattened and standing sorghum. I provided Federal Express so that the plants would arrive at biophysicist Levengood's lab the next day, April 13, 2007.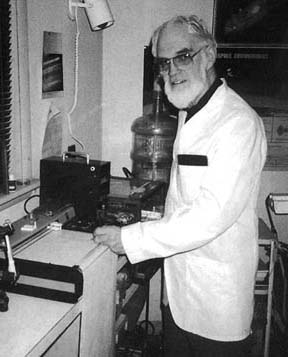 Biophysicist W. C. Levengood is retired and independently operates his Pinelandia Biophysical Laboratory in Grass Lake, Michigan. He has examined crops and soil from more than 300 crop formations since the early 1990s. His research has been published (105:615:624)  in the distinguished international botany journal, Physiologia Plantarum.
The fundamental biophysical and biochemical changes biophysicist Levengood has documented have provoked him to develop a measurement method to measure the respiration activity in the plant cell mitochondria – often described as the eukaryotic cells' "power plants" because they convert NADH (nicotinamide adenine dinucleotide.) NADH is an important coenzyme found in cells that carries electrons in the transfer of reduction potential and is reduced to NADPH (nicotinamide adenine dinucleotide phosphate) used in anabolic reactions, such as fatty acid and nucleic acid synthesis, which require NADPH as a reducing agent.
NADH and NADPH are converted into energy in the form of ATP (adenosine 5′-triphosphate) during the process of oxidative phosphorylation. A typical eukaryotic cell contains about 2,000 mitochondria.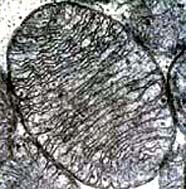 [ Editor's Note:  Wikipedia – "Mitochondria contain DNA that is independent of the DNA located in the cell nucleus. Some theories hypothesize that mitochondrial DNA descended from free-living prokaryotes (unicellular bacteria and archaea).
"Adenosine 5′-triphosphate (ATP) is a multifunctional nucleotide that is most important as a "molecular currency" of intracellular energy transfer. In this role ATP transports chemical energy within cells for metabolism. It is produced as an energy source during the processes of photosynthesis and cellular respiration and consumed by many enzymes and a multitude of cellular processes including biosynthetic reactions, motility and cell division. ATP is also incorporated into nucleic acids by polymerases in the processes of DNA replication and transcription." ]
Biophysicist Levengood found a way to measure the plant's respiration energy changes by measuring the Charged Density Plasmas (CDP).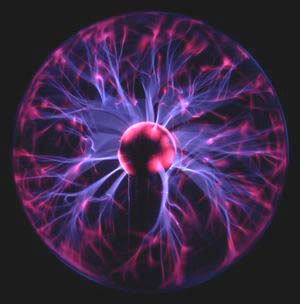 [ Editor's Note: Wikipedia – An ion is an atom or group of atoms that has lost or gained one or more electrons producing any molecule that has a negative or positive charge. An ion consisting of a single atom is called a monatomic ion, and an ion consisting of multiple atoms is called a polyatomic ion. Larger ions containing many atoms are called molecular ions. The process of converting electrically neutral atoms or molecules into ions and the state of being ionized is called ionization. The recombining of ions and electrons to form neutral atoms or molecules is called recombination. ]
In biophysicist Levengood's CDP testing of the Chandler, Arizona, Sorghum bicolor formation plants, he found significant respiration change, compared to normal control plants. He also found significant expansions of the growth nodes and even expulsion cavities caused by microwave energy heating up the node water to steam which bursts through the plant tissue, creating a hole (expulsion cavity).
I talked with him on April 25, 2007, about his conclusion that whatever happened to produce the Sorghum bicolor formation in Chandler, the process of leaving clumps of standing crop and flattening other crop in waves and layers, produced the same biophysical and biochemical changes biophysicist Levengood has documented in crop formations around the world, whether geometric or randomly downed.
CDP Test of Chandler, Arizona, Sorghum Formation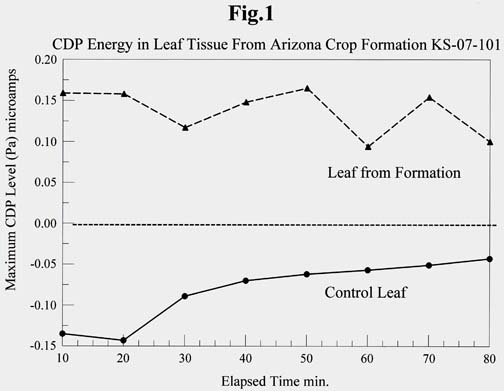 ---
Interview:
W. C. Levengood, Biophysicist and Owner, Pinelandia Biophysical Laboratory, Grass Lake, Michigan:  "The first thing is a determination of the energy in the leaves by putting very specific weight and quantity of the leaf in a system I have in the lab for looking at the internal energy. That's how Figure 1 was derived. I had never done that before in sorghum, so I looked at it over a little longer time than I generally do.
COULD YOU PLEASE EXPLAIN FOR THE GENERAL AUDIENCE WHAT 'CDP' ENERGY IS TO YOU?
CDP means 'Charge Density Plasmas.' These are microscopic plasmas. Now, a plasma is a liquid or a gas that is highly ionized and organizes itself into a very specific system with a very special kind of energy. And by using a system whereby we look at a fresh specific-sized sample of the tissue, we can tell its internal energy in the tissue of the plant.
ALL LIVING PLANTS HAVE CHARGE DENSITY PLASMAS THAT CAN BE MEASURED?
All living systems. We have them. They go on in us all the time. There is a multiplicity of plasma types and they very closely interact with one another under a short circuit – an electrical short circuit. There's an imbalance of those, so they set up an electric current. So, that's what I'm measuring because the amount and the specific configuration of them tell me a lot about what these plasmas are doing.
COULD YOU EXPLAIN FOR A GENERAL AUDIENCE EXACTLY WHAT YOU ARE MEASURING IN FIGURE 1?
Yes, as you notice from the caption at the top, this is the CDP energy I was just talking about. And I measure it at very precise time periods of 10 minutes – 10-minute-intervals – over a period of one to two hours. Since this (sorghum) was something entirely different, I went for the 80 minute to two-hour period.
The points you see on there are the specific energy at that – since this is a living system it's changing all the time. So, what this shows is the change in that (energy) with time. The lower control leaf, you see a very precise change after about 20 minutes. There is a very precise increase in energy. From doing literally hundreds of these time interval tests over the last year or so, I could tell that something was going on in the leaf from the formation.
These curves in Figure 1 – these are called algorithms. They are mathematical relationships by which you can get a lot of information. So I have this algorithm that fits normal plants and the normal animals and normal water. And if that (energy) doesn't follow the algorithm, it means there has been some damage to the plant, either internally or externally.
Well, in this (Chandler) case, I saw no external damage whatsoever. There was no apparent difference in looking at them between the leaves from the formation or the leaves from the control plants. But when I used this algorithm over the same time interval as the control – I took it over that interval where it shows that rise at 20 minutes. Now the reason it takes that long is because the plant has to adjust to the trauma of the leaf being excised and so on. So, there is always an adjustment in these internal molecular mechanisms if you do something to the plant: if you give it plant food, if you take all the leaves off it – it changes these plasmas very drastically.
OK, in the case of the control leaf, I got a curve that fit this algorithm with a 0.99 correlation coefficient. Now, you don't get much better than that! I almost invariably find that with living tissue, with water, and plants or animals. I knew then that in the sorghum plants that everything was going in a very, very efficient manner to get that correlation coefficient.
I'M LOOKING AT THE GRAPH AND ON THE LEFT, THE MINUS 0.15 GOING UP TO 0, AND THEN 0 UP TO + .20, WHICH ARE MICROAMPS OF ELECTRICAL ENERGY THAT YOU ARE MEASURING. COULD YOU EXPLAIN WHY IT IS THAT THE NORMAL CONTROL SORGHUM BICOLOR THAT IS DEPICTED ON THE GRAPH IN THE BOTTOM HALF IS OPERATING AT LESS MICROAMPERAGE THAN THE FORMATION SORGHUM BICOLOR IN THE UPPER HALF OF FIGURE 1?
Yeah, this time of year in the CDP system I use, the normal plants have a minus CDP level. So that's normal. What is abnormal, or unusual, is the leaf from the formation has not only changed that (charge) sign in the electrical output (to +), but it is very irregular. I ran the same mathematical analysis from the .99 correlation on the control leaf. The sorghum formation leaf dropped to 0.40.
Now, that tells me right away that there is something wrong here. Are the leaves damaged mechanically? No. There was absolutely no difference in appearance of the (formation) leaves from the controls. But internally, there has been damage (in formation plants).
The upper curve does not drop toward the zero – that dashed line – nearly as fast as the controls and it shows fluctuations. That's what gives the low correlation coefficient number. You notice it goes up and then it goes down and up and down.
The reason for that is that the mitochondria, when they get damaged, they release free radicals and it's the hydroxyl radical, OH. And when that's released, that is a damaging radical. So, that's causing disruptions in the oxidants and antioxidants in the plants. And so that's what gives these fluctuations and these are all involved – particularly the mitochondrial damage – in affecting the respiration of the plant. So, what you are seeing here are variations in the respiration cycle of the plant in those peaks and valleys.
Now, in the control leaf, you notice it drops down to the zero level – a dissipation effect – very, very smoothly. That's why you get the .99 correlation coefficient. The usefulness here of this algorithm and looking at these curves, it tells you something about what's going on in the respiration cycle of the plant. Basically, that's why I use it.
Levengood Hypothesis On Energy Causing Crop Formations
IT'S YOUR HYPOTHESIS THAT A SPINNING PLASMA VORTEX COMING FROM SOMEWHERE HIGH UP IN THE ATMOSPHERE COMES DOWN, INTERACTS WITH THE PLANTS, AND YOU HAVE FOUND THAT THERE IS AN IMPACT ON THE RESPIRATION OF THE PLANTS IN THE FORMATIONS?
Yes, that's correct.
AND THIS IS WHY, JUST LIKE MEASURING THE GROWTH NODES, THAT BEING ABLE TO USE THE CDP TECHNIQUE AND MEASURE WHAT HAS HAPPENED TO THE RESPIRATION IN THE PLANTS, IS A VALID BIOPHYSICAL TECHNIQUE TO ANALYZE CROP FORMATIONS.
One technique, yes. For this to be a really valid tool, which it was in this (Chandler, Arizona) case, the plant material has to get to me pretty quickly – like within 48 to 72 hours.
THAT'S WHY WE USED FED EX TO GET THE SORGHUM BICOLOR TO YOU.
Yeah, that's right. That's the advantage. If it were just the stems and nodes of the plants, regular mail would be OK, but even there I like to get it as fresh as possible.
Chandler Sorghum Growth Node Measurements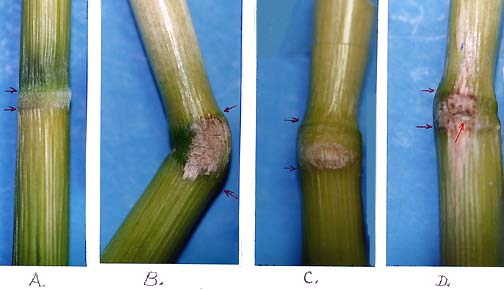 "OK, Figure 1 showed that there is some internal damage in the leaves of the plants. So, the next question is: What is that damage? And that is the advantage of looking at the plant stem nodes.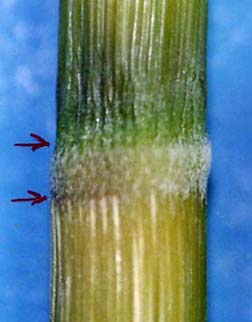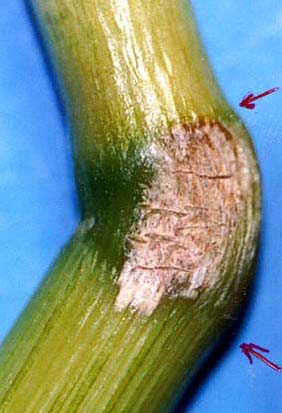 If you look at Figure 2, you'll notice the control node 'A.'  The arrows are not too far apart. That's the spread of a normal node.
But in 'B,' you have not only a bent node, but you've got it stretched out. So, I take these measurements of the node length between those arrows on the right hand side of Figure B. You also see a beige area there. Well, there is no indication of mechanical damage. So this has to be damage – particularly because you see the green color very abruptly stops at the edge of that gray area. That means there has been something that has neutralized the chlorophyll within the cellular tissue of the plant. It's not disease. I would recognize that. It's not insects. It's not any problem in the atmosphere. It's internal and it has to be heating – the thing I saw in these (Chandler) nodes. And I examined quite a few of them.
One thing about Figure B is the sorghum fibers are much tougher than wheat. And if you look closely in that beige region, you'll notice horizontal, thin, sharp lines in the gray area. Those are tension cracks.
When the node expands, it's like the surface of a balloon. All the rubber is stretched and put under a tension stress. And here, the tension stress was great enough to break those outer fibers.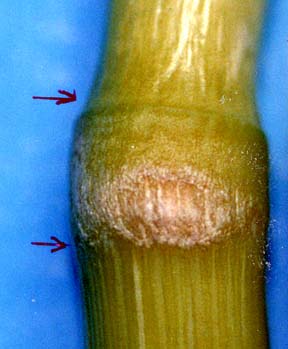 I say the outer fibers because now if we look at the central region of Figure C, we see that the outer fibers have been pulled apart. Here we have a little higher pressure probably, internal pressure. But if you look real closely in that center, oval region of Figure C, you'll see some whitish lines going up inside vertically. Those are bigger fibers inside that have not been broken.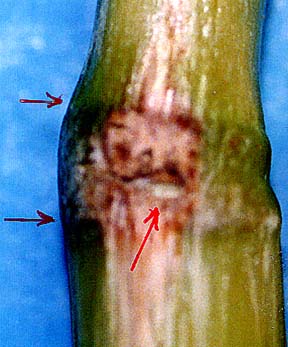 The Figure D formation node has what we call an 'expulsion cavity,' where the cavity has been broken right through most of the node and cytoplasmic material from the cells of the plant is expelled outward.
The central red arrow points to a tiny hole, an ovoid hole, that shows it goes right down to the central region of the node. That is typical of an expulsion cavity. I think instant steam forms that creates the expulsion pressure.
SO THIS WOULD REINFORCE THE IDEA THAT THIS WATER IN THAT GROWTH NODE HAS BEEN HEATED UP SO RAPIDLY BY SOME MICROWAVE ENERGY THAT IT LITERALLY BURSTS OUT OF THE GROWTH NODE, CREATING A HOLE.
Exactly. That's exactly what happened.
DO YOU FIND THIS (EXPULSION CAVITIES) IN ANY NORMAL GROWING PLANTS?
I've looked at thousands and thousands of normal plants – controls from each of the formations – and I have never seen this in the normal plants."
---
More Information:
If viewers have more information about other crop formations in your area, please email me at [email protected]
For further information about American and other crop formations, please see reports below in the Earthfiles Archives and my book, Mysterious Lights and Crop Circles in the Earthfiles Shop:
04/12/2007 — First 2007 Crop Pattern in United States
03/14/2007 — Part 5: Mysterious Events At 2005 Tawsmead Copse "Insectogram" Crop Formation
03/13/2007 — Part 4: Mysterious Events At 2005 Tawsmead Copse "Insectogram" Crop Formation
03/06/2007 — Part 3: Mysterious Events At 2005 Tawsmead Copse "Insectogram" Crop Formation
03/04/2007 — Part 2: Mysterious Events At 2005 Tawsmead Copse "Insectogram" Crop Formation
02/27/2007 — Part 1: Mysterious Events At 2005 Tawsmead Copse "Insectogram" Crop Formation
06/11/2006 — Updated: Two Mysterious Circles in Wheat Baffle Kansas Farmer
09/02/2005 — Part 1: New York and Ohio Corn Circles "Flattened 2 to 5 Feet Above Ground"
08/02/2005 — Part 1: Anomalies Confirmed in Pennsylvania and Arizona Randomly Downed Crops
07/23/2005 — Mystery of Six Grass Circle Formations in North Carolina
05/26/2005 — Phoenix Barley Mystery: Apparently Irrigation and Wind
05/09/2005 — Mysterious Lights and 2003 Serpent Mound Soybean Formation
04/20/2005 — Outer Space Impact At Serpent Mound, Ohio, 256 Million Years Ago
10/17/2004 — American Crop Formations: 1880-2004
09/22/2004 — Miamisburg and Serpent Mound, Ohio Crop Formations: Geometries Compared
09/17/2004 — Updated: Part 1 – High Strangeness in Canadian Cattle Corn
09/12/2004 — Part 2 – High Strangeness in Canadian Cattle Corn
09/10/2004 — Update on Miamisburg, Ohio, Corn Pictogram – Balls of Light?
09/05/2004 — Part 2 – Hillsboro, Ohio Corn Plant Anomalies
09/04/2004 — Hillsboro, Ohio Corn Formation – High Strangeness in Soil and Plants
09/02/2004 — Updated Photos: Big, Impressive New Corn Formation in Miamisburg, Ohio
08/09/2004 — Pictograms in Poland
07/25/2004 — 2004 Canadian Crop Formations: Scorched Soybeans and "Dirt" Pattern in Barley
07/24/2004 — Part 3 – Crop Formations and Mysterious Lights in Wiltshire, England, July 2004
07/06/2004 — Mysteriously Downed Oat Plants in Eagle Grove, Iowa; Downed Corn in Hillsboro, Ohio
04/08/2004 — FBI Is Investigating Animal Deaths in Johnston County, North Carolina
11/01/2003 — Another Soybean Formation in Ohio
10/10/2003 — Updated – Ohio Hunter's "Deer Camera" Photographs Mysterious Glowing Disk
10/05/2003 — Part 3 – Paint Creek Island, Ohio Crop Formation Photographs
10/03/2003 — Part 2 – Military Interest in Serpent Mound and Seip Mound Formations?
10/02/2003 — Part 1 – Another Soybean Formation Near Seip Mound in Ohio
09/12/2003 — 2nd Ohio Soybean Crop Formation is Manmade. USAF Investigation Unit Involved?
09/06/2003 — Part 2 – Unusual Soybean Formation Near Serpent Mound, Ohio
09/05/2003 — Part 1 – Unusual Soybean Formation Near Serpent Mound, Ohio
11/30/1999 — A New Crop Formation In Marion, New York and Crop Research Updates
• 09/05/1999 — Delphos, Kansas Ring Mystery – More Analyses
---
Websites:
American Crop Circles, ICCRA:  http://www.cropcirclenews.com/
English Crop Circles, Current and Archived:  http://www.cropcircleconnector.com
Canadian Crop Circles, CCCRN:  http://www.cccrn.ca/
German Crop Circles:  http://www.kornkreise-forschung.de
Dutch Crop Circles, DCCA:  http://www.dcca.nl
http://www.lucypringle.co.uk
http://www.members.iinet.net.au/~bwratten/ccc.html
http://www.cropcircleresearch.com
http://www.CropCircleAnswers.com
http://www.ukcropcircles.co.uk/?page=home
http://www.temporarytemples.co.uk

© 1998 - 2019 by Linda Moulton Howe.
All Rights Reserved.