"Nosema ceranae certainly is a stressor, but it  doesn't seem to be the smoking gun that we were looking for."
– Jerry Hayes, Apiary Chief, Florida Dept. of Agriculture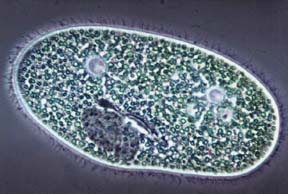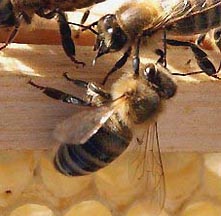 May 4, 2007  Gainesville, Florida – In the last week of April 2007, media headlined that University of California-San Francisco biochemists had "tracked down suspect in honey bee disappearances."
The culprit? The news media called it a fungus. But it's a one-celled protozoan called Nosema ceranae. The problem with that suspect? Nosema ceranae had been identified long before in Spain, other European countries and the United States – in both healthy, normal honey bees, as well as bee bodies found around empty hives where Colony Collapse Disorder (CCD) has been reported. In CCD, the bees have disappeared in the billions in both the Northern and Southern Hemispheres since the fall of 2006.
Five months ago in December 2006, scientists in the CCD Working Group publicly reported that whatever was causing the massive honey bee disappearances was also severely suppressing honey bee immune systems – leaving the bees vulnerable to all sorts of pathogens, including the Nosema protozoan.
The fragility of the honey bee immune system was confirmed by the genome project last October, which for the first time mapped all the genes in honey bees. DNA researchers found that there weren't many genes to deal with poisons or to fight off disease. The conclusion was that honey bees might be especially vulnerable to attacks by pathogens and pesticides and other toxins.
The University of Montana's Bee Alert group recently surveyed more than 500 American  beekeepers to find out how many have had bees disappear. The statistic now is: 38% of beekeepers have reported hive disappearances, some losing 75% or more of all their bees. One bee colony in California went from thriving to disappearance in only two days.
That's why the late April 2007 UC-San Francisco announcement that Nosema ceranae was most likely the cause of CCD was surprising and confusing. The protozoan was already on the growing list of hypotheses that more than a hundred American scientists have been trying to study for half a year in an effort to solve the honey bee mystery. This week I asked Jerry Hayes, Chief of the Apiary Section, at Florida's Dept. of Agriculture in Gainesville, Florida, about the Nosema news release and the spread of Colony Collapse Disorder into China, Taiwan, Guatemala and Brazil.

---
Interview:
Jerry Hayes, Chief, Apiary Section, Florida Department of Agriculture, Gainesville, Florida: "That was kind of an awkward situation because the CCD Working Group (of scientists) had already identified Nosema ceranae, which is a one-celled protozoan that can live in the honey bee's intestine. The lab in California (UC-San Francisco) did not contact us. But it was good that they did the work because it confirmed what we had already known.
But Nosema ceranae does not seem to be a major player at this time because all of the samples we have taken from all bees seem to have Nosema ceranae in them. So it's not something that appears to be a brand new pathogen.
WELL, THEN WHY DID THIS HIT THE HEADLINES WITH THAT PROFESSOR SEEMING TO SAY THIS IS THE ANSWER?
You've got me, Linda.
I WANTED TO UNDERSTAND BECAUSE I HAD TALKED WITH YOU AND PROF. COX-FOSTER AND ALL OF THESE PEOPLE IN THE TWO WEEKS LEADING UP TO WHEN YOU AND I HAD TALKED.
Right.
AND NOBODY WAS FOCUSING ON NOSEMA, BUT I KNEW IT HAD COME UP BACK IN FEBRUARY BECAUSE THEY HAD FOUND IT IN SPAIN.
Yes. And there was separate diagnosis of that at the USDA lab in Beltsville, Maryland, probably a month ago. So, this was not something new to us and then to have this kind of blurted out we thought was kind of interesting.
IS THERE ANY REASON WHY THE SAN FRANCISCO RESEARCHERS WHO PUT OUT THE INFORMATION ABOUT NOSEMA CERANAE POSSIBLY BEING THE EXPLANATION FOR THE COLONY COLLAPSE DISORDER NOT HAVING CHECKED WITH THE COLONY COLLAPSE DISORDER SCIENTISTS BEFORE RELEASING THE INFORMATION?
It certainly seems to be a disconnect in the communication process and we hope in the future our other colleagues in other realms and expertise will be able to work more closely with us. These guys (UC-San Francisco) kind of charged ahead and identified something we already knew about. This Nosema has been widely identified in Europe, including Spain and France, for several years. So there are treatments and controls for it and it's something that beekeepers are addressing already.
WHY DID THE COLONY COLLAPSE DISORDER SCIENCE GROUP DISMISS NOSEMA CERANAE AS NOT BEING THE CAUSE FOR THE GENERAL DISAPPEARANCE OF HONEY BEES?
Because beekeepers were already in many cases treating with the antibiotic for Nosema in the samples that we took. So, some of the samples the beekeepers had been treating and did not have Nosema. Some of the samples, the beekeepers had not been treating. So, there didn't seem to be a connection. CCD appeared whether the beekeepers were treating for Nosema or not.
SO, THE IDEA THAT THE SAN FRANCISCO RESEARCHERS RELEASED IN THEIR ANNOUNCEMENT THAT THIS NOSEMA UNICELLULAR PROTOZOAN WAS FOUND IN ALL OF THE BODIES OF THE BEES THAT THEY STUDIED – THAT IS MISLEADING?
I think they jumped the gun, yes.
IT MIGHT HAVE BEEN A FLUKE THAT THE BEES THEY SPECIFICALLY RECEIVED FOR STUDY HAD NOSEMA, BUT IT DID NOT REPRESENT THE UNIVERSAL COLLECTION THAT YOU ALL HAVE BEEN STUDYING SINCE THE FALL OF 2006?
It's kind of interesting that all of the samples we've taken and even all the samples of even healthy colonies all show Nosema ceranae. We can't find another Nosema – Nosema apis. All honey bees we have examined have Nosema ceranae, but only some are from Colony Collapse Disorder hives. And there is a treatment for Nosema ceranae that beekeepers use. So, Nosema ceranae certainly is a stressor, but it doesn't seem to be the smoking gun that we were looking for.
THE FACT THAT BOTH HEALTHY AND COLONY COLLAPSE DISORDER BEES WOULD HAVE NOSEMA FITS AGAIN INTO PROF. COX-FOSTER'S HYPOTHESIS THAT THIS WAS A SYMPTOM OF IMMUNE COLLAPSE.
Yes. It seems to be a stronger hypothesis as the days go by that something is affecting the bees' immune system and many of these things we are finding, which are normal pathogens are proliferating because the bees' immune system cannot handle them.
IT SOUNDS AS IF THE CALIFORNIA RESEARCHERS HAD NOT STUDIED THE COLONY COLLAPSE DISORDER SCIENCE GROUP'S WORK FROM DECEMBER 2006 ONWARD. THEY MADE A LEAP BASED ON A FINDING AS OPPOSED TO PLACING THE FINDING IN THE CONTEXT OF, LET'S SAY, THE IDEA OF SUPPRESSED IMMUNE SYSTEMS MAKING THE BEES GENERALLY VULNERABLE TO MORE PATHOGENS?
Yes. They made a leap. We just need to collaborate more so we can move ahead and see what we can find.
AS YOU AND I SPEAK ON MAY 2, 2007, IS IT CORRECT TO DATE THAT THERE STILL IS NOT AN ANSWER TO COLONY COLLAPSE DISORDER?
No, there is not. In fact, I'm going down (near Ft. Myers, Florida) and take a whole other series of bee samples from some commercial beekeepers. And we're getting reports from other parts of the country that they are just now finding it as spring comes and this is ongoing."
The first week in May 2007, the National Program Leader for the U. S. Department of Agriculture's bee and pollination program told Associated Press that if the honey bee collapse continues to worsen, Americans could end up "stuck with grains and water. This is the biggest general threat to our food supply."
More Countries Reporting Massive Honey Bee Disappearances: China, Taiwan, Guatemala and Brazil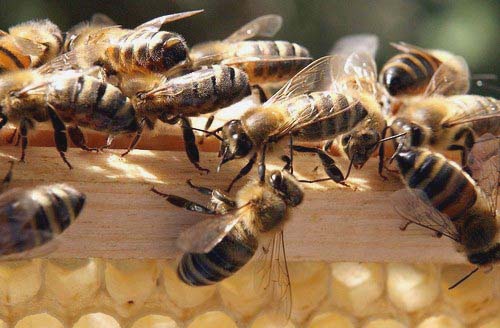 At the end of April 2007, there were two important meetings concerning the disappearing honey bee phenomenon known as Colony Collapse Disorder. One was a meeting of scientists and beekeepers at the USDA laboratory in Beltsville, Maryland. The other was a House Subcommittee Horticulture meeting organized by Florida Congressman Alcee Hastings. His state's beekeepers have been badly hurt by honey bee losses.
The Apiary Inspectors of America now estimate that at least a quarter of the 2.4 million bee colonies in the United States have disappeared since the fall of 2006. Some honey bee colonies have entirely disappeared in only two days.
Asia and Southern Hemisphere
1)  China
2)  Taiwan
3)  Guatemala
4)   Brazil
Scientists, beekeepers and government investigators learned that China is now reporting bee disappearances, along with Brazil and Guatemala. That means the Colony Collapse Disorder now extends into the Southern Hemisphere. And on April 26th, Taiwan was added to the list. Reuters reported that over the past two months, farmers in three Taiwan regions have notified authorities that bees are gone. Taiwan has been unusually warm and entomologists at National Taiwan University wonder if global warming, combined with nicotine-based pesticides that affect bee memories, could be the cause.
North America
1)  Canada (Ontario and Saskatchewan provinces)
2)  27 states    Map-in-progress from: http://maarec.cas.psu.edu/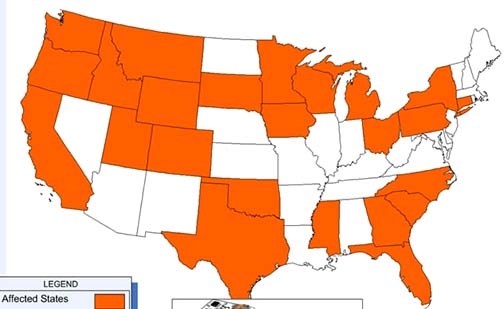 In North America, CCD has been reported by 27 American states now and two provinces in Canada – Saskatchewan and Ontario.
Europe
In Europe so far, nine nations are reporting deserted honey bee hives:
1)   Spain
2)   Poland
3)   Greece
4)   Croatia
5)   Switzerland
6)   Italy
7)   Portugal
8)   Germany
9)   England
Researchers have found multiple viruses, the Nosema ceranae protozoan and various fungi in the affected bees, suggesting that whatever is happening, the immune systems of the bees is severely weakened. Prof. Diana Cox-Foster, a Pennsylvania State University entomologist, told me she has never seen five viruses combined with several unidentified fungi all in a bee gut at the same time. "This is extremely unusual," she said.
A USDA laboratory in North Carolina is now studying bee bodies to test for 117 chemicals. The one pesticide that is at the top of most scientific lists of possible culprits in Colony Collapse Disorder are the relatively new nicotine-based pesticides such as Imidacloprid. Ironically, when these Neonicitinoids came on the market, manufacturers thought the nicotine-based chemicals would be less toxic in the environment. But no one had done detailed studies about the affects of nicotine-based pesticides on honey bees and other pollinators until recently. It's been confirmed that the nicotine-based toxins can impair bee memories, which might explain why the bee hives are deserted. Perhaps the bees are becoming disoriented and unable to fly back home.
One of the contributors to the USDA meeting in Maryland on April 23 to 24, was Jerry Hayes, Chief of the Apiary Section in the Florida Dept. of Agriculture in Gainesville. I asked him what was discussed at the USDA meeting about the fact that the Colony Collapse Disorder is not going away this spring, but seems to be expanding into China, Taiwan and the Southern Hemisphere.
---
Interview:
Jerry Hayes, Chief, Apiary Section, Florida Department of Agriculture, Gainesville, Florida: "Well, at the meeting I was able to attend in Beltsville, Maryland, at USDA for the Colony Collapse Disorder Working Group that was assembled, there was discussion about how we can partner with Europeans and our colleagues in South America. And also we had word yesterday (April 24, 2007) that China is experiencing this thing. So, this is a global issue and global problem.
So what does that mean from a global standpoint? Is this a new pathogen? Is this a new pest? Is it chemicals we use in developing countries and production agriculture? So, it opens up a whole new Pandora's Box.
Cell Phone Towers and Microwave Frequencies?
WHAT ABOUT THE ISSUE OF CELL PHONE TOWERS AND THE SPREAD OF MICROWAVES? RECENTLY GERMAN RESEARCH MADE HEADLINES IN THE LAST TWO WEEKS FROM EUROPE. COULD YOU COMMENT ON WHAT YOU KNOW ABOUT THAT SO FAR?
This certainly was a topic on the periphery in the Colony Collapse Working Group meeting in Maryland, but none of it was taken too seriously because apparently if you read the whole paper, there was no statistical evidence that cell phones or microwaves or magnetic radiation was involved (with CCD). The way I understood it was that a group in Germany that is anti-technology kind of released this microwave news with a spin to get the media's attention since the media has already given so much attention to the Colony Collapse Disorder. So, the news release was not taken very seriously by any of my colleagues.
COULD YOU COMMENT ON THE WORK OF BEE ALERT AND JERRY BROMENSHENK, PH.D., AND THEIR STUDY ON MICROWAVES AND BEES?
Yes. Dr. Jerry Bromenshenk from the University of Montana was at the CCD Working Group meeting earlier this week and he actually offered that they had looked at that research several years ago by putting cell phones and big electromagnetic fields around colonies just to see if this was going to be a problem and might be an issue that needed to be looked at more closely. They were not able to find any causative problems from them (cell phones and electromagnetic fields).
It seems that all bees at some level are being affected by whatever the causative organism or toxin is that causes CCD.
Nicotine-Based Pesticides?
WHEN WE TALKED IN EARLY MARCH, THERE WERE A LOT OF QUESTIONS ABOUT THE NEONICITINOIDS, SPECIFICALLY IMIDACLOPRID AND OTHER NICOTINE-BASED PESTICIDES THAT CAME ON THE MARKET IN RECENT YEARS. HAS THERE BEEN ANY PROGRESS IN TRYING TO UNDERSTAND THE FACT THAT THE NEONICITINOIDS INTERFERE WITH THE BEES' ABILITY TO REMEMBER?
There certainly is existing data out there. There was a representative from Bayer, a company that makes some of the Neonicitinoids. I believe Syngenta was also on the conference call line at our meeting and they were all very helpful. They would certainly like to get to the bottom of this also. So, there is data out there and these Neonicitinoids stay in the soil for a very long time. In fact, data shows that in temperate climates where they have winter, it's not unusual for those chemicals to stay active in the soil for a year to eighteen months or longer.
IF MORE KEEPS BEING ADDED, THEN IT WOULD BE ALMOST IMPOSSIBLE FOR PEOPLE TO KNOW EXACTLY WHAT THE EXPOSURE OF THE POLLINATORS WOULD BE TO NICOTINE-BASED PESTICIDES THAT KEEP BEING BUILT UP.
That's exactly right and there is an interesting study of neonicicotinoids, and Imidacloprid in particular, on potatoes to control the Colorado potato beetle. So, the researchers applied it and it was systemic and controlled the Colorado potato beetle.
So, the next year they planted potatoes, the researchers did not treat the crop again (with Imidacloprid) and they found that potatoes grown on that same soil still killed the Colorado potato beetle.
THAT MEANS IT WAS STRONG ENOUGH IN THE SOIL WITHOUT EVEN ANOTHER APPLICATION?
Yes. Then what happens if you do follow directions and make the application every year for five years. How long does it stay in the soil? And what does it mean for crops that are deep rooted? What does it mean for crops that are shallow rooted? We have a lot of questions here, Linda.
I THINK IT WAS DR. COX-FOSTER WHO POINTED OUT TO ME THAT THE AMOUNT OF NICOTINE-BASED PESTICIDE THAT COULD IMPACT THE BEES MIGHT BE MUCH LOWER THAN ANYBODY HAS BEEN MEASURING. THE QUESTION OF ACCUMULATION OVER TIME IS NOT UNDERSTOOD AND IT MIGHT BE THAT IS THE BIG CULPRIT?
Yes, it could be.
IF IT IS, HOW DO WE PUT THE GENIE BACK IN THE BOTTLE? THE NEONICITINOIDS ARE SO WIDESPREAD OUT IN THE WORLD.
Yes, and that is the hard thing about it. The neonicitinoids replaced OPs, organic phosphates, which are very persistent in toxic chemicals. So, when they found this new chemistry (nicotine-based), it was thought to be good. Now, the neonicitinoids – or at least Imidacloprid – has come off patent. So, it will be used even more as the price goes down, but we certainly don't want to pit one industry against another unless there is a replacement. We don't want beekeepers pointing fingers at growers for using pesticides to preserve their industry, nor do we want the grower industry to point their fingers at the beekeepers saying, 'You made me lose my business because I can't use these chemicals anymore.' So, it's a tight rope, Linda.
WHAT IF IT COMES DOWN TO SURVIVAL VERSUS MONEY?
I vote for survival, but I'm only one voice in the wilderness here.
YES. I'M ASSUMING THAT HUMANS AND ANIMALS WOULD WANT TO SURVIVE. IF IT BECOMES SCIENTIFICALLY PROVED THAT THE NEONICITINOIDS AND PERHAPS OTHER PESTICIDES SUCH AS FUNGICIDES ALL LAYERED TOGETHER ARE KILLING OUT THE POLLILNATORS OF THE WORLD, AREN'T WE GOING TO HAVE TO PUT A STOP TO THE USE OF PESTICIDES AT SOME LEVEL?
Yes.
HOW WILL THAT HAPPEN? THAT'S WHAT I MEAN ABOUT PUTTING THE GENIE BACK IN THE BOTTLE.
Coming from a government bureaucratic environment here, the proper course of action would be to get the scientific data that proves this, submit the scientific data to the EPA and then they would have no choice but to pull the product/s.
IN TERMS OF SCIENCE, WHO IS NOW STUDYING THE NICOTINE-BASED PESTICIDES THE MOST IN RELATIONSHIP TO THE POLLINATORS?
At the Working Group meeting, pesticides are on the list of things we want to look at, but until the money is let out to USDA to in turn distribute, there have been no collaborators designated or identified that will look at that particular issue at this time.
SO THERE IS NO SCIENCE BASED ON THE NICOTINE-BASED PESTICIDES IN RELATIONSHIP TO POLLINATORS BECAUSE THERE IS NO ADDITIONAL FUNDING SO FAR?
Yes, m'am.
IS THIS WHAT THE HOUSE CONGRESSIONAL SUBCOMMITTEE IS ADDRESSING IN TERMS OF HAVING PROPOSALS THAT THEY CAN FUND SPECIFICALLY TO TRY TO GET A HANDLE ON WHAT IS HAPPENING TO POLLINATORS IN NORTH AMERICA?
Yes, exactly, because of the media attention and the reality of the loss of this key niche in agriculture, our legislators in Washington are keenly aware that help in resources needs to be devoted to the honey bee industry.
Electromagnetic Field Changes?
SOME PEOPLE HAVE SUGGESTED THAT MAYBE IT HAS SOMETHING TO DO WITH SOLAR RADIATION OR MAGNETIC FIELD CHANGES AROUND THE EARTH. IS THERE ANY SCIENTIST SPECIFICALLY LOOKING AT MAGNETIC FIELD CHANGES ON THE EARTH THAT MIGHT AFFECT THE BEES?
No. The feeling about the magnetic fields was that it certainly should be looked at, but we all have a hard time thinking that on a U. S./North American/global basis that all the bees would be affected in the same way at the same time. There are blanks and gaps in the electromagnetic fields. So, it seems to us that it's probably more likely to be some type of toxin – whether it's manmade or comes from a bacteria or fungus or what have you, rather than just one thing we can blame CCD on. Changes in electromagnetic fields could be a part of the problem, but we don't think it is the primary part.
"Pesticide Cocktails" Overwhelming Honey Bees?
WHAT WOULD BE AT THE TOP OF YOUR PRIORITY LIST IN TERMS OF POSSIBLE CAUSES?
We certainly have to look at environmental toxins and agricultural toxins. Then we have to also look at miticides that beekeepers have been using for some time to control parasitic mites (varroa) that were introduced several years ago from Asia that suck the blood of honey bees. Then we have to look at the carriers of these materials. Then we have to look at nutrition issues and fungicides.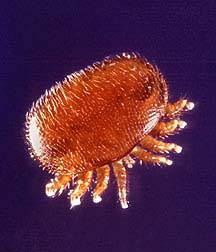 Honey bees can forage in about a two to two and a half mile radius of their colony efficiently. So, they can bring back a lot of things from the environment, from industry, from waste products. The honey bees can also be exposed to many things in an agricultural setting. Bees wax is a chemical sponge. Everything the bee brings back in, many times it is sucked up and stored in the bees wax. It's almost like a hair sample from a human head. Scientists can tell pretty much what a person has been exposed to over several weeks or months. It's the same thing with bees wax.
So, what happens when bees wax absorbs many different things? What's the synergism with bees wax? What does that mean when honey bees are exposed to pesticides 24 hours a day, 7 days a week, for 365 days a year? Data that was shared at the meeting indicated that there were a lot of things in there (sampled CCD bees wax), including metabolites. As pesticide chemicals break down into metabolites, the metabolites can be more toxic than the actual toxin.
One, you have to identify the (metabolites) and then you have to ask: What does this mean in the context of everything the honey bees are being exposed to? This takes analysis with urgency because we can't have beekeepers losing 30% to 60% or more of their bee colonies next year as well. Then it's just going to get worse. We need to come up with some answers and recommendations pretty quickly.
2007 Shortage of Pollinators in U. S.
IS IT FAIR TO SAY THAT RIGHT NOW AS DR. COX-FOSTER TOLD ME IN LATE APRIL, 'THERE ARE NOT ENOUGH POLLINATORS NOW TO GO AROUND IN THE UNITED STATES?'
It's getting pretty slim. We've had some tight situations here in Florida where growers have not been able to get pollinators. With the demands of the almond crop in California dominating the need for pollinators in the next few years, the question is: If every beehive in the U. S. goes to almonds, what does that mean for the states the bees traveled from? What does it mean for watermelons, blue berries, cranberries, cucumbers, and apples? I can go on and on and on. The health and vitality of the honey beekeeping industry really needs to be fostered.
HOW CAN IT BE IF THE BEES KEEP DISAPPEARING?
Yes, that's an excellent question. Exactly! That's why we have to work as hard as we can and as intelligently as we can and get as many resources as we can so we can answer those questions. We certainly don't want a shortage of fruits and nuts and berries to be the driving force behind this.
"It's pretty spooky we still don't have answers."
THIS IS THE SEVENTH MONTH SINCE OCTOBER 2006 WHEN DAVE HACKENBERG (HACKENBERG APIARY, PENNSYLVANIA) FIRST WENT TO PENN STATE AND THE UNIVERSITY OF PENNSYLVANIA SAYING THAT HE HAD LOST SOMEWHERE BETWEEN 40% TO 60% OF HIS HIVES. YET, THERE STILL ARE NO ANSWERS. WITH MORE THAN 100 SCIENTISTS TRYING TO FIGURE OUT WHAT IS GOING ON, ISN'T IT REMARKABLE THERE ARE NO ANSWERS?
Yes, and it's pretty spooky we still don't have answers. We have a tendency in the research community to have healthy egos, meaning that if you give me a problem and I have the appropriate equipment and we can partner with other colleagues, that anything could be solved. After seven months and not being able to solve something that on the surface would seem to be pretty easy to solve, it's confusing and frustrating and is bringing some level of anxiety to all of us to work even harder.
THE FACT THAT CCD IS SPREADING IN BOTH THE NORTHERN AND SOUTHERN HEMISPHERES, WHEN YOU WERE IN THE CCD MEETING, WHAT WERE THE COMMENTS?
Concern. And if I could use the word fear because we in this CCD group know how important honey bees are to the production of the foods we eat. And we have not even talked about the fruits, nuts and berries that honey bees pollinate that feed wildlife.
With CCD spreading in both hemispheres and not having answers after seven months of research, there are a lot of anxious feeling out there.
WHEN YOU THINK ABOUT THIS HUGE MYSTERY THAT THE HONEY BEES ARE DISAPPEARING GLOBALLY, INTUITIVELY DO YOU HAVE SOME KIND OF GUT INSTINCT ABOUT WHAT COULD BE GOING ON?
Yes. I think personally we have a new, or more robust, pathogen that combined with chemical toxins that are causing the honey bees' fragile immune systems to be weakened further. It has taken hold because all reports are from developed or developing nations that use chemicals quite widely. With global trade and movement of organisms throughout the world very quickly, that makes sense to me.
BUT DOESN'T IT SEEM STRANGE THAT SCIENTISTS IN EUROPE, CANADA, THE UNITED STATES AND NOW THE ONES THAT WOULD BE LOOKING IN BRAZIL, CHINA AND GUATEMALA, THAT NO ONE HAS COME UP WITH A COMMON DENOMINATOR IN ALL OF THE REGIONS?
Yes, and I think that's because there is not a single common denominator. I think there are probably three or four common denominators and they are all intersecting at one time. The bees are holding up their little legs and saying, 'I give up.'
BUT WHAT WOULD HAVE HAPPENED AT THE END OF 2006 GOING INTO THE FALL THAT CHANGED FROM THE PREVIOUS YEARS?
Yes. Excellent question. Those are all science-based questions. Neither I nor anyone else knows what that could be that would be on a global basis.
I GUESS IT'S PRAY THERE CAN BE AN ANSWER HERE SOON. IF NOT, WHAT DO YOU GUYS DO?
It's not 'what do you guys do?' It's what do we do? We're all on this spaceship Earth together. How, with all our other brothers and sisters in the world, how do we approach this? Then, how do we fix or solve a problem? And also, how do we share resources and not be quite so selfish in doing that? I'm not quite sure we humans have learned how to do that well enough yet."
Part 2 – Environmental Emergency Updates: Ebola-like Virus in Great Lakes
---
More Information:
If viewers have more information about disappearing honey bees and other pollinators in your area, please email me at [email protected]
Please see other Earthfiles reports about the disappearing honey bee phenomenon. Hot links to each report are by date on the Headlines Page, https://www.earthfiles.com
04/06/2007 — Collapse of Honey Bees in U. S., Canada and 9 European Countries
03/17/2007 — Honey Bee Disappearances Continue: Could Pesticides Play A Role?
02/23/2007 — Part 1: Earth Life Threats – Alarming Disappearance of Honey Bees
For further information about honey bee disappearances, environmental disturbances and Earth life extinctions, please see reports below in the Earthfiles Archives:
04/06/2007 — Collapse of Honey Bees in U. S., Canada and 9 European Countries
03/17/2007 — Honey Bee Disappearances Continue: Could Pesticides Play A Role?
02/23/2007 — Part 1: Earth Life Threats – Alarming Disappearance of Honey Bees
02/23/2007 — Scientists Hope "Amphibian Arks" Can Save Frogs and Toads
02/23/2007 — Part 1: Earth Life Threats – Alarming Disappearance of Honey Bees
02/02/2007 — Updated: New U. N. Global Climate Change Report: Earth Could Warm Up 3.2 to 11.52 Degrees Fahrenheit by 2100
01/10/2007 — 2006: USA's Warmest Year On Record
12/16/2006 — Updated: Unprecedented Die-Off of 2,500 Mallard Ducks in Idaho
12/08/2006 — NASA Wants Permanent Moon Base by 2024
12/07/2006 — Earth Headed for Warmest Period in 55 Million Years?
09/23/2006 — E. coli O157:H7 – Why Can't It Be Washed Off Contaminated Spinach?
09/09/2006 — Methane – Another Threat in Global Warming
08/19/2006 — Repair of Earth's Ozone Layer Has Slowed
07/18/2006 — 2006 – Hottest Year So Far in U. S. History
06/22/2006 — Horse Suspended in Mid-Air Near Milan, Italy, Apartment
02/20/2006 — Mysterious Deaths of Whales in Mexico
09/23/2005 — Phenomenon of "Instant" Hurricanes in 2005
08/26/2005 — What Is Killing Amphibians Around the World?
08/05/2005 — Scientists Puzzled by "Bizarre" Pacific Coast Die-offs in 2005
05/07/2005 — Did Milky Way Gas and Dust Turn Earth Into Icy Snowball Four Times?
04/20/2005 — Outer Space Impact At Serpent Mound, Ohio, 256 Million Years Ago
04/01/2005 — What's Killing Off Marine Life Every 62 Million Years?
03/20/2005 — Astronaut John Young: "The Moon Can Save Earth's Civilization."
02/26/2005 — Collapse of Societies: From Easter Island to Iraq – to Western World?
02/03/2005 — Kyoto Protocol Goes Into Effect February 16, 2005. British Scientists Warn Global Temperatures Could Climb Higher Than Earlier Estimates.
08/27/2004 — Global Warming Impact On Birds – More Extinctions Expected
09/02/2003 — Updated – Astronomers Don't Think Asteroid Will Hit Earth in 2014
07/19/2003 — Update – Defiance, Missouri T-Pattern Cut in Saplings
11/14/2002 — What Happened 12,000 Years Ago That Killed So Many Animals?
07/20/2002 — Extinctions of Earth Life Are Accelerating Rapidly
04/27/2002 — Earth's Magnetic Anomalies – Could the Poles Flip?
01/05/2002 — Global Warming – Could Increasing Carbon Dioxide Gas Be Transformed Into Limestone?
12/22/2001 — Scientists Warn That Climate and Earth Life Can Change Rapidly
06/09/2001 — Environmental Updates and Colt Mutilated in Leitchfield, Kentucky
02/25/2001 — Environmental Updates
02/07/2001 — 94% Decline In Aleutian Islands Sea Otter Population
01/07/2001 — Dinosaur-Killing Asteroid Punched 22 Miles Through Earth's Entire Crust
10/25/1999 — A Mysterious "Perturber" at the Edges of Our Solar System
---
Websites:
Mid-Atlantic Apiculture Research and Extension Consortium (MAAREC): http://maarec.cas.psu.edu/
Colony Collapse Disorder (CCD): http://www.ento.psu.edu/MAAREC/pressReleases/CCDSummaryWG0207.pdf
Biology of Honey Bees: http://plantphys.info/Plants_Human/bees/bees.html
Varroa Mites: http://www.uky.edu/Ag/Entomology/entfacts/struct/ef608.htm
Honey Bee Tracheal Mites: http://creatures.ifas.ufl.edu/misc/bees/tracheal_mite.htm
National Bee Loss Survey:  http://beealert.blackfoot.net/~beealert/surveys/index.php
American Beekeeping Federation:  http://www.abfnet.org/
American Honey Producers Assoc.:  http://www.americanhoneyproducers.org/
The Xerces Society (Pollinators At Risk):  http://www.xerces.org/Pollinator_Insect_Conservation/pollinators_at_risk.html
American Assoc. of Professional Apiculturists:  http://entomology.ucdavis.edu/aapa/aapapubs.cfm
Bee Culture, The Magazine of American Beekeeping
http://www.beeculture.com

© 1998 - 2019 by Linda Moulton Howe.
All Rights Reserved.