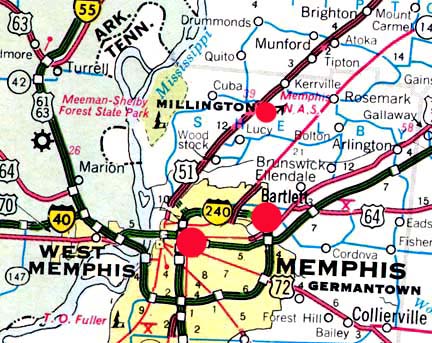 July 10, 2007  Memphis, Tennessee –  On June 28, 2007, I received an email with the subject line, "drones," from Kathleen Deaton, 44, who lives with her husband and children in central Memphis. Her email began: "Back in 2005, I was sitting on my deck here in Memphis, Tennessee, in June. At about 3:30 PM, …I turned around to see one of the most incredibly odd things I've ever seen. It looked like a big sperm cell – it was an opaque balloon of some sort with a tail which seemed to propel it. …It was flying about 20 feet off the ground, coming between the trees and other houses, and was flying right over my backyard directly towards my deck and me."
Kathleen had been following my news reports about the dragonfly-shaped "drones" at Earthfiles and wondered if the Memphis object could have been another variation on the drone structure. On Sunday, July 8, I called Kathleen to find out what happened in more detail and she agreed to an interview on the record with her full real name.
---
Interview:
Kathleen Deaton, Central Downtown Memphis, Tennessee:  " I was sitting out there on the backyard deck. It was a clear day and my dog was sitting at my feet. My dog all of a sudden started barking and got upset and I turned around to look (to see what was wrong) and coming up over my fence in my backyard  – I live in an old part of Memphis with houses very close together, so from my back deck I can see the house behind me. Coming up over my fence is this thing. It's moving pretty swiftly and it's a balloon shape and for a minute, I thought it was a balloon that had gotten loose from somebody, just floating away and coming in the yard – until I realized its motion was steady. It was not accelerating. It was not deflating. Its motion was steady and it was coming straight to my deck.
When it got to my deck, my little dog came over to sit by my foot and that thing adjusted its movement and got up higher. I'd say it was about 20 feet off the ground. When it got to the stairs of the deck, it stopped and then adjusted its movement upward to where it was like 20 feet off the deck. And then it comes up the deck and now it has to get over my roof, so it stops again. My house is made in a U-shape. It stops again and adjusts its height again to go up over my roof.
When it did that, I hollered at it, 'Hey!' When I hollered at it 'Hey!,' it stopped. It's sitting there and its tail is still moving a little.
COULD YOU EXPLAIN THE SIZE, THE SHAPE, THE COLOR AND DETAILS ABOUT THE TAIL ATTACHED TO THE 'BALLOON'?
This is going to sound really strange, but it looked just like sperm you see in microscopic pictures. It was opaque. It looked like the material you make a surgical glove out of and it was a pretty big balloon.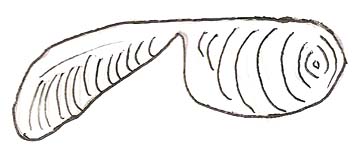 The front part was 4 or 5 feet in diameter and the tail part was maybe another 4 to 5 feet (and it all looked like one construction. I couldn't see a hinge and it tapered off in this tail thing and it looked for all the world in its motion like it was swimming through fluid as if the tail was propelling it. It was the weirdest-looking thing I've ever seen.
When I hollered out 'Hey!' at it, it stopped and then for a minute, I got scared. I thought, 'What am I doing?' And my little dog is at my leg just trembling. I don't know if it was sound-sensitive? Or if it had already stopped and was adjusting its height to get up over the roof.
But after I hollered 'Hey!' and the thing stopped, it just hung there for a while. I didn't move. I didn't say another word. And then it went on up over the roof and I ran through the house and out the front door to watch it and it went across the street and up over houses and just kept on going.
Now, we have a railroad track that runs through this part of town where they move military things all the time. We have a police department, which is not even a mile away from this house. I don't know what it was. I don't know if it had something to do with local police surveillance? Or had something to do with the military at the old Millington Naval Air Station north of me because they are moving jeeps and trucks and military stuff on these train tracks every day. I'm under the flight line for the base airport and there are C-130s coming in and out all the time over my house. And the thing went towards the train tracks, so I don't know if it was surveillance for the neighborhood to see what was around? Or what was going on? But it was the strangest thing I've ever seen in my life.
[ Editor's Note:  Naval Support Activity (NAVSUPPACT) Mid-South is located in Millington, Tennessee, 21 miles north of downtown Memphis. NAVSUPPACT Mid-South is seven miles east of the Mississippi River. The mission of the Naval Support Activity is to maintain and operate facilities, to provide administrative and logistic support to tenant activities and to perform such other functions and tasks assigned by higher authority.]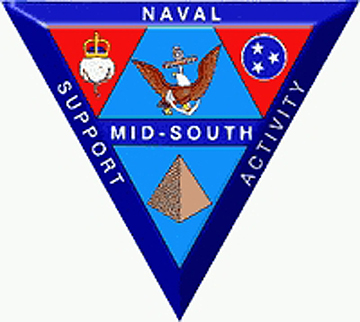 UNTIL YOU SAW THE DRAGONFLY-SHAPED DRONE PHOTOS?