"Gary Busey (screen actor) believes that as he lay near death in the hospital after his motorcycle accident, he was visited by some kind of orbs – or maybe angels. He calls them 'balls of light' and truly believes
he had gone over to the other side."
– George Noory
June 13, 2007  Los Angeles, California – The SciFi Channel tries out a new TV pilot on Wednesday, June 13, 2007, at 11 PM ET / 10 PM CT, that features George Noory interacting with a live studio audience as he does Monday through Friday hosting Premiere Radio Network's Coast to Coast AM. The nightly 4-hour radio broadcast is distributed to more than 500 Premiere Radio Network stations in the United States and Canada.
The SciFi website describes the subjects in the half-hour TV pilot as ghost events and a near-death experience reported by screen actor, Gary Busey. This week I talked with George Noory about the pilot, his goal to host a "Tonight Show" version of Coast and what happened to Gary Busey.
---
Interview:
George Noory, Weeknight Host, Coast to Coast AM, Los Angeles, California:  "Gary Busey was on a motorcycle several years ago. He was a pretty good motorcyclist. The bike was relatively new and he went for a ride. He was not wearing a helmet and got into a severe accident. I believe he ran into a curb, flipped off his bike and severely hit his head.
He had been smoking a cigar while he was on the motorcycle and a fellow who, strangely enough, had sold him the motorcycle witnessed the accident and went running up to Gary before the paramedics even got to the scene. He pulled the cigar out of Gary Busey's throat, which Gary was swallowing. Gary had a quarter-sized hole in his head and the individual who had the cigar plugged up his head hole because it was gushing with blood. He plugged up the hole with Gary's cigar and stopped the bleeding until the paramedics arrived.
Then after some lengthy surgery where they thought they were going to lose him, Gary fought back and revived. But in that entire episode, Gary Busey believes that as he lay near death in the hospital after his motorcycle accident, he was visited by some kind of orbs – or maybe angels. He calls them 'balls of light' and truly believes he had gone over to the other side.
WHAT DID THOSE BALLS OF LIGHT COMMUNICATE TO HIM?
They basically told him it was time to go back. He wasn't going to be allowed to stay 'there.' He had a feeling of enlightenment and he liked it. He might have stayed, but the message was clear that he had to go back to his Earth life. He was revived in the hospital and he began changing. Now he's a proponent for wearing helmets. He is a hyperactive guy, as you'll see on the TV program. But he's got a new lease on life.
DOES HE HAVE MORE DETAILS ABOUT WHAT ANGELS ARE TO HIM?
He believes that there is something there. He's not quite sure what, but he has no doubt there is something supernatural, something very spiritual out there.
DID HE DESCRIBE THE CLASSIC TUNNEL?
Yeah, he did. But this was brutally fast for him because of the severity of the accident. He was gone and out fast. But it was a rush-type and that's where the balls of light started coming around him.
SO, HE IS RUSHING THROUGH THE TUNNEL AND THEN THE LIGHT ORBS ARE THERE?
Are there to guide and help him.
Computer Designed to Record Ghost Activity
I UNDERSTAND THERE IS ANOTHER SEGMENT AND IT IS ABOUT A COMPUTER DESIGNED SPECIFICALLY TO RECORD GHOSTLY ACTIVITY. WHAT DOES THE COMPUTER MEASURE?
This is an incredible computer that Joshua P. Warren, who is a ghost hunter, had developed.
[ Editor's Note:  Pet Ghosts: Animal Encounters from Beyond the Grave © 2006 by Joshua P. Warren, available at amazon.com. ]
I first witnessed it on the haunted Queen Mary in Long Beach, California. Then I witnessed it again for this SciFi television program. The computer program registers images and sounds through special software. If in the old days, you could find ghosts with conventional camera equipment, if that was 3 on a 10-scale, this new computer method would be an 8 or 9. Very sensitive equipment.
IS HE MEASURING IN INFRARED AND IT'S BEING TRANSLATED FROM INFRARED-SENSING EQUIPMENT INTO THE COMPUTER?
I believe it is infrared into the computer and then the computer spits out its readings.
DID YOU SEE ANY GHOST IMAGE YOU THOUGHT WAS REMARKABLY CLEAR?
I did not. Strangely, when Joshua was doing his demonstration on the haunted Queen Mary, the WWII ship, he had an unbelievable power drain, which he says he has never seen before, and his computer died. He truly believes there was some kind of episode, some entity there. There's no question that the ship is haunted and full of things unseen. I think they might have all come at him at the same time in the demonstration!
For the TV show, he turned the computer on, but there was nothing haunted in the studio so he didn't get any readings.
Singing After Death?
ANOTHER SEGMENT I UNDERSTAND IS ABOUT AN AUDIO RECORDING OF A WOMAN SINGING IN HER HOUSE – BUT SHE'S BEEN DEAD FOR FIVE YEARS.
Yeah, that's down in Florida. We're holding this one in terms of a lot of information until people watch the special. But it's absolutely right. They have recorded a singing woman, but she's dead.
IS THE RECORDING LOUD AND CLEAR?
Like most such haunting recordings – you have to really listen to it. But you can clearly tell it's melodic instead of staccato talk.
WHO DID THAT INVESTIGTION AND WHY?
That was done by our executive producers, Hallock Healey Entertainment, who were commissioned to do this program with me for the SciFi network. They heard about this, so they sent a crew down there. I didn't physically go down there.
George Noory's Own ESP
WHAT ABOUT IN YOUR PERSONAL LIFE? HAVE YOU EVER HAD AN ENCOUNTER THAT HAS LEFT A HAUNTING RESIDUE WITH YOU?
I'm very intuitive. I get feelings of events and they happen. One quick example is when I was stopped at a red light a couple of years ago and I had this horrible feeling not to go when it turned green. Not a lot of people do that! But I told myself, 'Just don't go.' So, I held back for maybe 20 seconds, which is a long time. People were honking behind me and I just could not go. Whether it was to save me or the guy behind me, I don't know. But sure enough, in that span of time, somebody went through their red light at about 60 miles an hour. Whoever would have been in the middle of that intersection – whether it would have been me or the other cars behind me – somebody would have been dead.
I think of intuitive warnings as coming from what I call the 'wireless internet.' It's out there and we see it sometimes, but it's there every day of our lives. The goal for all of us is to tap into it. How do you do that?  Maybe meditation, maybe positive thinking, maybe surrounding yourself with enlightenment, being around positive people and not negative people. But once you start doing it, it gets stronger and stronger and I'm living testimony to that.
[ Editor's Note:  Worker in the Light: Unlock Your Five Senses and Liberate Your Limitless Potential © 2007 by George Noory, available at amazon.com. ]
Beyond Pilot – Late Night TV Talk Show?
WHAT OTHER TOPICS ARE YOU EXCITED ABOUT FOR A NEW SERIES?
It's not going to be a series yet. What we've done is do this first half-hour as a test for the SciFi network and it's going to air Wednesday, June 13. Then, it will air several times over the next week. But this first broadcast is the big one. If it registers a big enough rating, then it might become a series. So we're putting our feet in the water for this program and if the Coast to Coast AM audiences and your Earthfiles are the only group of people who watch this program, it should be a huge rating.
OF ALL THE HIGH STRANGENESS YOU HAVE HEARD ABOUT IN YOUR RADIO CAREER, WHAT SUBJECT HAUNTS YOU THE MOST?
Whenever I have this tremendous reporter on by the name of Linda Moulton Howe. They are all haunting to me, Linda, whether they are conspiracies or Bigfoot or chupacabras or crop formations, as you continue to investigate, or the disappearing honey bees or another one you are chasing – the Chad images of the odd aerial object, whether it's a drone or what it might be. I love all these mysteries! The high strangeness of everything we do is very exciting to me.
IF INTO THE UNKNOWN GETS PICKED UP AS A SERIES ON THE SCIFI CHANNEL, WHAT KIND OF TOPICS WOULD YOU LIKE TO EXPLORE?
Many of the same topics that we handle on Coast to Coast AM. This pilot program was taped before a live audience with the goal to bring a Coast to Coast feeling to television. I would like to have the same radio intimacy whether we handle the Loch Ness monster or stories of Big Foot or UFOs – I don't want to be an old style paranormal talk show. I want it to be interactive with people. And like Coast to Coast, we have people in the audience who talk about some of their own ghost stories and that added to this program.
IT STRIKES ME AS A TONIGHT SHOW, BUT THE SUBJECTS – INSTEAD OF BEING POLITICS AND SEX – WOULD BE EARTH MYSTERIES AND HIGH STRANGENESS.
Absolutely! You're right on the button with that. I want a Tonight Show with George Noory about high strangeness."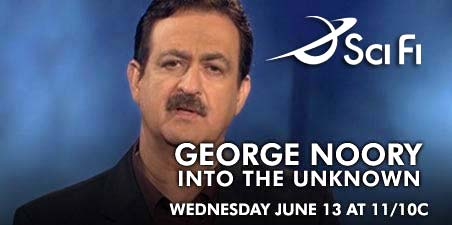 ---
More Information:
If viewers have had high strangeness encounters, please email [email protected]
For further information about high strangeness encounters with other intelligences, please see reports in the Earthfiles Archives, such as those listed below, and my books, An Alien Harvest, Mysterious Lights and Crop Circles and the 2-volume book, Glimpses of Other Realities, in the Earthfiles Shop:
02/18/2007 —Part 4: Tappen, North Dakota, High Strangeness Provokes Many Emails from Viewers and Listeners
02/14/2007 —Part 3: Tappen, North Dakota, High Strangeness Provokes Many Emails from Viewers and Listeners
02/12/2007 —Part 2: Tappen, North Dakota, High Strangeness Provokes Many Emails from Viewers and Listeners
02/11/2007 —Part 1: Tappen, North Dakota, High Strangeness Provokes Many Emails from Viewers and Listeners
10/26/2006 —Norwegian Crashed Disc and Other High Strangeness
04/13/2006 —High Strangeness In Skies Near White Sands Missile Range
09/17/2004 —Updated: Part 1 – High Strangeness in Canadian Cattle Corn
09/12/2004 —Part 2 – High Strangeness in Canadian Cattle Corn
09/06/2004 —Part 2: Terry Sherman – 1996 Interview About High Strangeness on Fort Duchesne, Utah Ranch
09/06/2004 —Part 1: Terry Sherman – 1996 Interview About High Strangeness on Fort Duchesne, Utah Ranch
09/04/2004 —Hillsboro, Ohio Corn Formation – High Strangeness in Soil and Plants
02/14/2004 —More High Strangeness in the Michigan Sky
01/24/2004 —Oregon Man's Experiences with High Strangeness
01/17/2004 —High Strangeness in the Napoleon, Michigan Sky
09/07/2002 —High Strangeness Continues in Argentina
05/02/2002 —Aerial Triangles of High Strangeness
10/17/1999 —High Strangeness Over Florida, September 7, 1999
---
Websites:
http://www.majesticdocuments.com

© 1998 - 2018 by Linda Moulton Howe.
All Rights Reserved.