"It is clear that these clouds are changing, a sign that a part of our atmosphere is changing and we do not understand how, why or what it means."
– James Russell, III, Principal Investigator, AIM Satellite, Hampton University, Hampton, Va.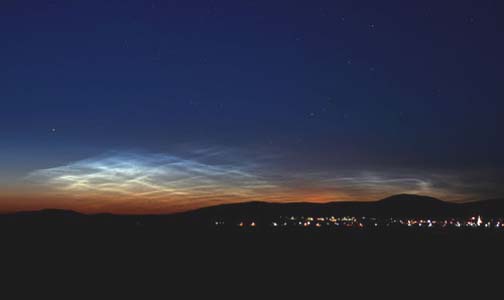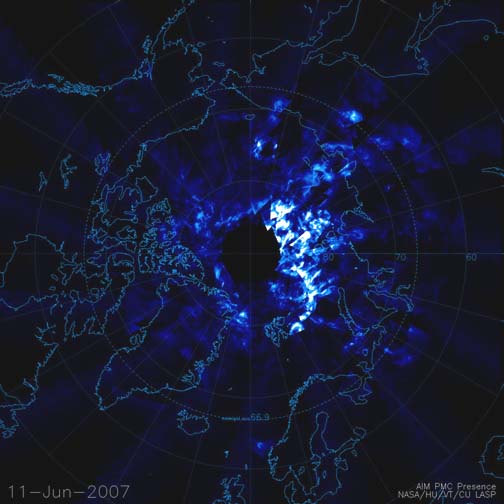 July 11, 2007  NASA Goddard Space Flight Center, Maryland – "The first observations of these 'night-shining' clouds by the satellite, AIM, which means Aeronomy of Ice in the Mesosphere, occurred above 70 degrees north latitude on May 25, 2007. People on the ground began seeing the clouds on June 6, 2007, over Northern Europe. AIM is the first satellite mission dedicated to the study of these unusual clouds.

These mystifying clouds are called Polar Mesospheric Clouds, or PMCs, when they are viewed from space and referred to as 'night-shining' clouds or Noctilucent Clouds, when viewed by observers on Earth. The clouds form in an upper layer of the Earth's atmosphere called the mesosphere during the Northern Hemisphere's summer season which began in mid-May and extends through the end of August. The mysterious night shining clouds are being seen by AIM's instruments more frequently as the season progresses. They are also seen in the high latitudes of the Southern Hemisphere during the summer months.
Very little is known about how these clouds form over the poles, why they are being seen more frequently and at lower latitudes than ever before, or why they have been growing brighter. AIM will observe two complete cloud seasons over both poles, documenting an entire life cycle of the shiny clouds for the first time.
'It is clear that these clouds are changing, a sign that a part of our atmosphere is changing and we do not understand how, why or what it means,' stated AIM principal investigator James Russell III of Hampton University, Hampton, Va. 'These observations suggest a connection with global change in the lower atmosphere and could represent an early warning that our Earth environment is being changed.'"
Are Increasing Noctilucent Clouds A Consequence of Global Warming?
"AIM is providing scientists with information about how many of these clouds there are around the world and how different they are including the sizes and shapes of the tiny particles that make them up. Scientists believe that the shining clouds form at high latitudes early in the season and then move to lower latitudes as time progresses. The AIM science team is studying this new data to understand why these clouds form and vary, and if they may be related to global change.
Once the summer season ends in the Northern Hemisphere around mid- to late August, the Southern Hemisphere spring season starts about three months later in the period around mid- to late November. AIM will then be watching for shining clouds in the Southern Hemisphere from November through mid-March when that season ends. "
NASA's AIM satellite is managed at Goddard Space Flight Center, Greenbelt, Maryland, and the AIM Project Data Center is located at Hampton University, Hampton, Virginia.
---
More Information:
For further information about global warming and Earth's environmental changes, please see the news reports below in the Earthfiles Archive:
06/28/2007 —Hackenberg Apiary, Pennsylvania – 75-80% Honey Bee Loss in 2007. What Happens If Colony Collapse Disorder Returns?
06/21/2007 —Large Lake in Southern Chile Has Disappeared
06/01/2007 —Is Earth Close to Dangerous Tipping Point in Global Warming?
05/29/2007 —Deadly VHS Fish Virus Has Spread to Lake Michigan
05/18/2007 —Antarctica: Unprecedented Western Ice Melt and CO2-Saturated Southern Ocean
05/04/2007 —Environmental Emergency Updates: Part 1 – Spreading Honey Bee Disappearances – Nosema ceranae Not the Answer?
04/12/2007 —First 2007 Crop Pattern in United States
03/17/2007 —Honey Bee Disappearances Continue: Could Pesticides Play A Role?
02/23/2007 —Scientists Hope "Amphibian Arks" Can Save Frogs and Toads
02/23/2007 —Part 1: Earth Life Threats – Alarming Disappearance of Honey Bees
02/23/2007 —Part 2: Earth Life Threats – "Noah's Ark" for World's Seeds
02/02/2007 —Updated: New U. N. Global Climate Change Report: Earth Could Warm Up 3.2 to 11.52 Degrees Fahrenheit by 2100
01/13/2007 —Confusing Sun: Will Solar Cycle 24 Be Most Intense On Record?
01/10/2007 —2006: USA's Warmest Year On Record
12/16/2006 —Updated: Unprecedented Die-Off of 2,500 Mallard Ducks in Idaho
12/07/2006 —Earth Headed for Warmest Period in 55 Million Years?
11/09/2006 —Outer Space Sunshade to Cool Earth in Global Warming?
09/09/2006 —Methane – Another Threat in Global Warming
08/23/2006 —Solar Cycle 24 – Headed for Intense X Flares by 2010-2012?
08/19/2006 —Repair of Earth's Ozone Layer Has Slowed
07/18/2006 —2006 – Hottest Year So Far in U. S. History
06/24/2006 —"High Confidence" Earth Is Warmest in 400 Years – Maybe Even 2,000 Years
04/08/2006 —Recent Caribbean Coral Reef Die-Off Biggest Ever Seen
03/17/2006 —Planet Earth's Ice Melt
02/20/2006 —Mysterious Deaths of Whales in Mexico
11/18/2005 —Is the Sun Heating Up?
10/07/2005 —Warmer Sea Surfaces and Increased Wind Power Are Making Hurricanes Stronger
09/29/2005 —2005 Arctic Summer Ice Melt – Largest On Record
09/23/2005 —Phenomenon of "Instant" Hurricanes in 2005
09/23/2005 —9 X-Class Solar Flares Between September 7 – 19, 2005.
08/26/2005 —What Is Killing Amphibians Around the World?
08/18/2005 —Unusual Summer Swarm of Arkansas Copperheads
08/05/2005 —Scientists Puzzled by "Bizarre" Pacific Coast Die-offs in 2005
05/11/2005 —Greenland Sea Cold Water Re-Cycling Has Nearly Stopped. Britain Expected to Become Cooler.
05/07/2005 —Did Milky Way Gas and Dust Turn Earth Into Icy Snowball Four Times?
02/26/2005 —Collapse of Societies: From Easter Island to Iraq – to Western World?
02/03/2005 —Kyoto Protocol Goes Into Effect February 16, 2005. British Scientists Warn Global Temperatures Could Climb Higher Than Earlier Estimates.
01/22/2005 —From U. S. to Arctic – A Sea Change in the Weather
12/31/2004 —Abrupt Climate Change Occurred Worldwide 5,200 Years Ago
11/02/2004 —North Pole Summers Without Ice?
10/15/2004 —Ever-Increasing Carbon Dioxide Build-Up in Atmosphere Since 1958
09/17/2004 —Cat 4 and 5 Hurricanes Charley, Frances and Ivan in Four Weeks -Unprecedented in American Recorded Weather History
08/27/2004 —Global Warming Impact On Birds – More Extinctions Expected
08/14/2004 —Oceans Are Absorbing A Lot of Greenhouse CO2. As Chemistry Changes, What Happens to Sea Life?
08/01/2004 —Sixth Straight Year Hundreds of Birds Die at Roestler Lake, North Dakota.
06/25/2004 —Wild 2, An Amazing Comet
02/27/2004 —Abrupt Climate Change: Scenario from A Pentagon-Commissioned Report
02/23/2004 —Is There Liquid Water on Martian Surface?
01/02/2004 —Earth's Speeded Rotation Puzzles Scientists
11/29/2003 —Glaciers Are Melting Around the World So Fast That Water Supplies Could Be Threatened
10/29/2003 —Fifth Intense Solar X-Flare – What's Happening On the Sun?
05/30/2003 —Scientists Surprised by Common House Fly Fossils in Antarctica
12/14/2002 —Arctic Rivers' Fresh Water Flows Could Change Atlantic Ocean Current
11/14/2002 —What Happened 12,000 Years Ago That Killed So Many Animals?
10/21/2002 —Mt. Kilimanjaro's Ice Cap Is Melting Fast
08/27/2002 —August 2002: Severe to Moderate Drought in 37 States
07/20/2002 —Extinctions of Earth Life Are Accelerating Rapidly
06/04/2002 —EPA Admits Humans Burning Fossil Fuels A Big Factor in Global Warming
03/30/2002 —Drought Worsens in United States
03/21/2002 —Antarctic Peninsula Is Melting – And So Is Arctic Ice
02/13/2002 —January 2002 Warmest On Record For Whole World
01/30/2002 —Latest Satellite Data Shows Surprisingly Thicker Ross Ice Shelf in Antarctica
01/05/2002 —Global Warming Update – Could Increasing CO2 Gas Be Transformed Into Limestone?
12/22/2001 —Scientists Warn That Climate and Earth Life Can Change Rapidly
06/09/2001 —Environmental Updates and Colt Mutilated in Leitchfield, Kentucky
05/25/2001 —Federal GAO Report Does Not Rule Out Cell Phone Dangers
04/18/2001 —April Environmental Updates
03/24/2001 —Alps Permafrost Melting
03/21/2001 —Earth Hasn't Been This Warm Since the Pliocene 3 Million Years Ago
03/04/2001 —Disappearing Glaciers – Evidence of A Rapidly Warming Earth
02/25/2001 —Environmental Updates
02/18/2001 —Environmental Updates and Mysterious Deaths of 2000 Atlantic Brant Geese
02/07/2001 —94% Decline In Aleutian Islands Sea Otter Population
01/28/2001 —U. N. Global Warming Forecast: Up to 10.5 Degrees F. Hotter At End of 21st Century
01/07/2001 —Dinosaur-Killing Asteroid Punched 22 Miles Through Earth's Entire Crust
11/26/2000 —Environmental Updates
10/30/2000 —Science, Environment and Medical Updates
09/10/2000 —Largest-Ever Antarctic Ozone Hole
09/10/2000 —Arctic Ice Melt Threatens Polar Bears
07/09/2000 —The "Cell from Hell" Is Back in North Carolina Estuaries
07/02/2000 —Brown Tide Devastating Long Island's Great South Bay Shellfish
06/17/2000 —Spring 2000 – Hottest On Record in U. S.
05/07/2000 —Serious Drought in the Great Lakes
04/20/2000 —Severe Arctic Ozone Loss and Deep Ocean Warming
03/12/2000 —Environmental Updates and Mysterious Fires Near Scott, Arkansas
01/13/2000 —Computer Projections About Earth Weather 2000-2100
01/09/2000 —Global Warming Alert from NOAA and U.K.
12/25/1999 —Y2K Nuclear Concern and Global Warming Update
09/26/1999 —Could Ancient Microbes in Polar Ice Cause Epidemics?
07/25/1999 —Maryland Fish Kills; Global Warming; and Warm Oceans and Disease
06/04/1999 —Global Warming Linked to Increasingly Warmer, Wetter Winters in Europe and Western North America
05/05/1999 —Two Antarctic Ice Shelves Almost Gone
02/28/1999 —Chickadee Beak Deformities in Alaska
---
Websites:
Wikipedia:  http://en.wikipedia.org/wiki/Noctilucent_clouds

© 1998 - 2019 by Linda Moulton Howe.
All Rights Reserved.