"There comes a time when the mind touches a higher plane of knowledge, but can never prove how it got there."
– Albert Einstein, Physicist
August 6, 2007  Petersfield, Hampshire, England – Lucy Pringle has been photographing crop formations from the air and on the ground since 1993. Her latest book, Crop Circles: Art in the Landscape, was released as a North American edition in July 2007. This book has prints large enough to study in detail – some photographs are given 2-page spreads. From her hundreds of English crop formation photographs since the early 1990s, Lucy focused on ninety-five crop formations. Her photographs sweep you into the page as if you were in the air with her. A good example is Furze Hill near Beckhampton and the ancient stone circles of Avebury reported on June 5, 2005.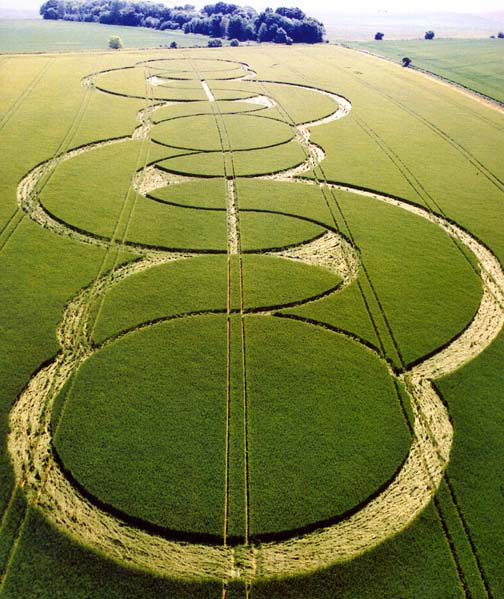 Recently I talked with Lucy Pringle by phone about the current 2007 English crop formations – some of the most outstanding patterns on record – and what provoked her doing her latest and third book about the crop formation mystery.
---
Interview: 
Lucy Pringle, Author, Crop Circles: Art in the Landscape © 2007, Hampshire, England:  "In this 2007 crop circles season, what has impressed me most were the spiral and single circle at Yatesbury.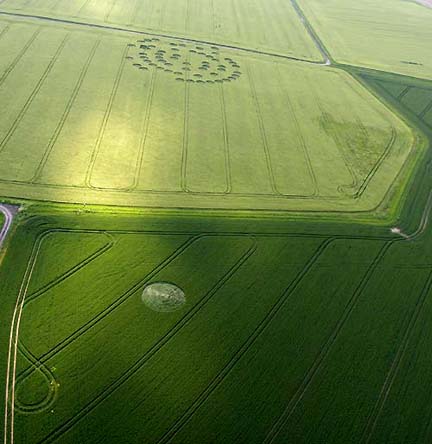 It had rained the night before and there was mud everywhere when the first people walked to it. But there were no traces of mud anywhere on the spiral or circle – absolutely pristine! And the single circle in the field next to the spiral had the most extraordinary ground lay. I buried my little bottles of water in that circle to test for concentrations of nitrate nitrogen (NO3)."
[ Editor's Note:  Nitrogen is found in the cells of all living things and is a major component of proteins. Inorganic nitrogen may exist in the free state as a gas N2, or as nitrate NO3-, nitrite NO2-, or ammonia NH3+.
Nitrate nitrogen is a commonly used lawn and agricultural fertilizer. It is also a chemical formed in the decomposition of waste materials, such as manure or sewage. If infants less than six months of age drink water (or formula made with water) that contains more than 10 mg/L nitrate nitrogen, they are susceptible to methemoglobinemia. This disease interferes with the blood's ability to carry oxygen. Recent studies also suggest that high nitrate water may be linked to birth defects and miscarriages, so pregnant women should avoid drinking high nitrate water. High nitrate levels also suggest that other contaminants might be present. Source: University of Wisconsin. ]
"What I use is Volvic water in 100 milliliter bottles and dig holes in the field about two inches deep and bury each bottle and cover them completely and leave them there for up to a week. Jim Lyons at York University thinks this is the one substance that is going to show up when the force of energy that makes crop formations hits the ground. Our water bottles were tested blind.
What Jim Lyons has found so far is that Bottle 440 showed a 71.3% in the nitrate nitrogen content compared to the control bottle, which was buried the furthest away from the formation. In fact, Bottle 440 was buried in the center of that Yatesbury single circle.
What was so extraordinary is that the results on the bottled water went in a descending scale from the center out to the furthest bottle. Jim Lyons told me today that the nitrate nitrogen content in Bottle 440, which was in the center was 2.57 milligrams per liter. I checked the Volvic water for the nitrate content in milligrams per liter. It is 6.3.
But the highest content in the center buried bottle was 71.3 % over the control sample, which was only 2.57 milligrams per liter versus the 6.3 normally listed in Volvic water. So, what we are finding is a diminishing quantity of nitrate nitrogen. Why is that happening? We don't know.
ANY HYPOTHESIS?
Not yet. Jim Lyons is working on it.
THE SMALL CIRCLE SEEMS TO HAVE BEEN TIED TO THE SPIRAL. DID YOU DO ANY BURYING IN THE SPIRAL?
No, I regret that now. I was focusing on the special lay in the single circle.
July 7, 2007 East Field Pattern
Associated with Light Flash
See Earthfiles:
WHAT IS YOUR REACTION TO THE EAST FIELD 150 CIRCLE-PATTERN ASSOCIATED BY THREE EYEWITNESSES WITH A BRIGHT FLASH OF LIGHT?
There have been very strange human effects in that East Field formation. A friend of mine went in and she felt terrific energy in one specific spot. She called to another researcher to come and stand there. He was taking pole shot photographs. He had three rechargeable batteries, which he had charged fully. But every time he put the batteries in his camera in that East Field formation, they completely drained of all power.
He had another fourth battery that was completely new, but he hardly got it into his camera when that one went completely dead as well.
My friend who called and said the East Field formation has terrific energy had terrible pain in her legs that night. She wondered if calcium had been reduced in her muscles by whatever energy was in the East Field?
Lucy's Latest and Third Book
About Crop Circle Mystery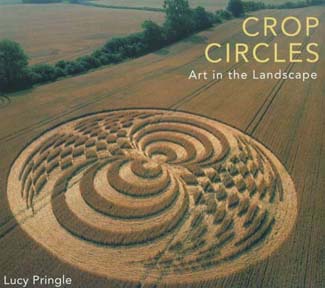 WHAT PROVOKED YOUR LATEST BOOK, ART IN THE LANDSCAPE?
The book goes back to where I began, a gathering together in anthology of my images from 1993 onwards in the Wessex triangle and as far out as Cambridge. It was a challenge and I am lucky to have a publisher who wanted the highest quality. When you open up the book, on the inside of the book cover is a 2-page-wide photograph of the "yin yang" that appeared in Avebury around 2002.
THE LARGE PHOTOGRAPHS THROUGHOUT THE BOOK REINFORCE THE ARTISTRY OF THE CROP FORMATIONS.
They are forms of art with so many geometries. It's as if we have a universal consciousness at work, rather like Rupert Sheldrake talked about the morphic resonance – a consciousness passed along in the ether.
[ Editor's Note:  Wikipedia – "'Morphic field' is a term introduced by British biologist, Rupert Sheldrake, the major proponent of this concept first presented in his Hypothesis of Formative Causation in the early 1980s. Morphic fields have been described as the universal database for both organic (living) and abstract (mental) forms." Basically, the concept is that at the unseen level are pre-existing templates in which matter creates forms.
"Sheldrake proposes that the process of morphic resonance leads to stable morphic fields, which are significantly easier to tune into. He suggests that this is the means by which simpler organic forms synergistically self-organize into more complex ones, and that this model allows a different explanation for the process of evolution itself." ]
Some of my friends say to me, 'Lucy, I really don't know what you are doing. Year after year you pursue this. We know they are all manmade. I cannot understand why you are doing this.'
Then several of them looked at my new book, sat down with it and became completely quiet. One of them said, 'Now, I know. Here they all are right in front of us on these pages and we can see the progression and we can see they are all different. People didn't make these!' My friends are now awestruck. And I think that's what the world needs is to have their eyes opened up. In my book, there is picture after picture after picture.
People who had ridiculed before now suddenly can't say that anymore, which is so delicious. The circles are winning aren't they?!
THE ACTRESS, SARAH MILES IS QUOTED ON THE BACK OF YOUR BOOK: 'THE CIRCLES DRAW ME LIKE A MAGNET YEAR AFTER YEAR, EVER CLOSER TO THEIR MIND-EXPANDING MYSTERY.'
I WONDER WHAT IT IS THAT MAKES THE SMALL PERCENTAGE OF US HAVE SUCH INTENSE INTEREST AMID A WORLD THAT HAS BEEN CONDITIONED BY GOVERNMENT MISINFORMATION TO DISMISS EVERYTHING AS MANMADE?
This is one of the joys of the circles. If you are ready for them, you see them and want to investigate them. If you are not ready for them, and are fearful – there are so many people, even intelligent, who cannot cope with this subject. They cannot cope with the unexplained. Remember Doug and Dave in 1991? So many people were relieved by that ridiculous explanation, when all the actual evidence pointed the opposite direction: those two men made only a few circles in two counties of England!
IT WAS PREPOSTEROUS BECAUSE THERE HAD BEEN CROP FORMATIONS IN TWENTY-THREE COUNTRIES IN THE SUMMER OF 1991.
Exactly. And I think it's still the agenda of the powers that be that this subject of crop formations is more serious than they like to admit publicly and therefore, they have to ridicule it. That's their best offensive – to ridicule. Obviously Doug and Dave were set up. Dave couldn't keep his story straight and someone packed him off to Australia. Subsequently there, he became an alcoholic and died. Those two men were used. There is no doubt about it in my mind. They were brought out just at the time that the crop formations were gaining global momentum.
WHAT GETS ME IS HOW COULD THE NEW YORK TIMES AND THE LONDON TIMES ACCEPT A LOCAL EXPLANATION FOR SOMETHING THAT WAS GLOBAL WITHOUT ANY INDEPENDENT INVESTIGATION OF THEIR OWN?
My guess would be that there were authorities directing those newspapers how to portray it. I think that manipulation, misinformation, continues to this day.
What annoys authorities is that the phenomenon and mystery continue. The crop formations don't go away! Apart from the beauty of the formations are all the hard scientific evidence such as my bottles of water and biophysicist W. C. Levengood's work with the plants and soil that you have long reported about in your Earthfiles and your own book, Mysterious Lights and Crop Circles.
Then there is the magic of it all – what I call the 'cathedral effect.' When you go in the formations, you feel as if you are isolated from the rest of the world, even if you are close to a main road. You might see cars going by, but you're not part of that while you're in the crop formation. The formations seem to have their own unique spacetime dimensions.
Global Crop Formations – Why?
WHY DO YOU THINK, LUCY, AFTER A QUARTER CENTURY, THERE STILL IS NO ANSWER TO WHAT THE CROP FORMATION PURPOSE IS?
First, I think in our wildest imaginations, we never seem to keep up with the ingenuity of the circle-making force. It comes up with the most amazing new creations every single year. We're all left in a perpetual state of amazement.
WHICH IS A COMMENT ITSELF ON THE COMPLEXITY OF THE INTELLIGENCE BEHIND THE FORMATIONS.
This is why I love the spiral and circle. They appeared in rain and mud without any tracks and challenge interpretation.
People always ask me what the crop formations are doing? I think part of their function is to challenge dogmas. Humanity has to get rid of preconceived ideas. We've got to open our minds to things we have not met before and to things we don't understand. I think this is one of the crop formation messages, if you like.
CRACKING OPEN OUR MINDS.
Cracking open our minds – yes, indeed!"
---
More Information:
To order directly from Lucy Pringle, click on:  http://www.lucypringle.co.uk Also being carried by Barnes and Noble bookstores.
If viewers have more information about other crop formations in your area, please email me at [email protected]
For further reports about crop formations, please see reports below in the Earthfiles Archive and my book Mysterious Lights and Crop Circles in the Earthfiles Shop:
07/27/2007 —Part 1: 1,033-Foot-Long East Field Wheat Formation "Happened Within 90 Minutes."
07/27/2007 — Part 2: Military Helicopters Over East Field Wheat Formation
07/23/2007 —070707 East Field Wheat Formation: Viewer Comments
07/07/2007 —Swiss Army Pilot Discovers "Perfect Geometric Figure" and U.K.'s East Field Gets Circles!
06/29/2007 —Another "Drone" This Week Near Maxwell AFB
06/18/2007 —Crop Circles On Rings and Three Mysterious Aerial Lights in Slovenia
06/06/2007 —Part 2: Yatesbury, England and Madisonville, Tennessee – A Mayan Link?
06/05/2007 –Part 2: U. S. Crop Formations, Two Mysterious Grass Circles in Mission, Kansas
06/04/2007 — Part 1: Yatesbury Spiral – Viewer Comments on Spiral Math
05/27/2007 — Part 1 – U. S. Crop Formations Near Indian and Ancient Earth Mounds
04/12/2007 — First 2007 Crop Pattern in United States
03/14/2007 — Part 5: Mysterious Events At 2005 Tawsmead Copse "Insectogram" Crop Formation
03/13/2007 — Part 4: Mysterious Events At 2005 Tawsmead Copse "Insectogram" Crop Formation
03/06/2007 — Part 3: Mysterious Events At 2005 Tawsmead Copse "Insectogram" Crop Formation
03/04/2007 — Part 2: Mysterious Events At 2005 Tawsmead Copse "Insectogram" Crop Formation
02/27/2007 — Part 1: Mysterious Events At 2005 Tawsmead Copse "Insectogram" Crop Formation
06/11/2006 — Updated: Two Mysterious Circles in Wheat Baffle Kansas Farmer
09/02/2005 — Part 1: New York and Ohio Corn Circles "Flattened 2 to 5 Feet Above Ground"
08/02/2005 — Part 1: Anomalies Confirmed in Pennsylvania and Arizona Randomly Downed Crops
07/23/2005 — Mystery of Six Grass Circle Formations in North Carolina
05/26/2005 — Phoenix Barley Mystery: Apparently Irrigation and Wind
05/09/2005 — Mysterious Lights and 2003 Serpent Mound Soybean Formation
04/20/2005 — Outer Space Impact At Serpent Mound, Ohio, 256 Million Years Ago
10/17/2004 — American Crop Formations: 1880-2004
09/22/2004 — Miamisburg and Serpent Mound, Ohio Crop Formations: Geometries Compared
09/17/2004 — Updated: Part 1 – High Strangeness in Canadian Cattle Corn
09/12/2004 — Part 2 – High Strangeness in Canadian Cattle Corn
09/10/2004 — Update on Miamisburg, Ohio, Corn Pictogram – Balls of Light?
09/05/2004 — Part 2 – Hillsboro, Ohio Corn Plant Anomalies
09/04/2004 — Hillsboro, Ohio Corn Formation – High Strangeness in Soil and Plants
09/02/2004 — Updated Photos: Big, Impressive New Corn Formation in Miamisburg, Ohio
08/09/2004 — Pictograms in Poland
07/25/2004 — 2004 Canadian Crop Formations: Scorched Soybeans and "Dirt" Pattern in Barley
07/24/2004 — Part 3 – Crop Formations and Mysterious Lights in Wiltshire, England, July 2004
07/06/2004 — Mysteriously Downed Oat Plants in Eagle Grove, Iowa; Downed Corn in Hillsboro, Ohio
04/08/2004 — FBI Is Investigating Animal Deaths in Johnston County, North Carolina
11/01/2003 — Another Soybean Formation in Ohio
10/10/2003 — Updated – Ohio Hunter's "Deer Camera" Photographs Mysterious Glowing Disk
10/05/2003 — Part 3 – Paint Creek Island, Ohio Crop Formation Photographs
10/03/2003 — Part 2 – Military Interest in Serpent Mound and Seip Mound Formations?
10/02/2003 — Part 1 – Another Soybean Formation Near Seip Mound in Ohio
09/12/2003 — 2nd Ohio Soybean Crop Formation is Manmade. USAF Investigation Unit Involved?
09/06/2003 — Part 2 – Unusual Soybean Formation Near Serpent Mound, Ohio
09/05/2003 — Part 1 – Unusual Soybean Formation Near Serpent Mound, Ohio
11/30/1999 — A New Crop Formation In Marion, New York and Crop Research Updates
09/05/1999 — Delphos, Kansas Ring Mystery – More Analyses
---
Websites:
Lucy Pringle:  http://www.lucypringle.co.uk
English Crop Circles, Current and Archived: http://www.cropcircleconnector.com
American Crop Circles, ICCRA: http://www.cropcirclenews.com/
Canadian Crop Circles, CCCRN: http://www.cccrn.ca/
German Crop Circles: http://www.kornkreise-forschung.de
Dutch Crop Circles, DCCA: http://www.dcca.nl
http://www.temporarytemples.co.uk/newweb/index.html
http://www.members.iinet.net.au/~bwratten/ccc.html
http://www.cropcircleresearch.com
http://www.CropCircleAnswers.com

© 1998 - 2018 by Linda Moulton Howe.
All Rights Reserved.