"What caught my attention was its gallop. It looked as if its front legs had been dismembered, broken – the front end of the animal was much lower than the back end."
– Phylis Canion, 7C Ranch, Cuero, Texas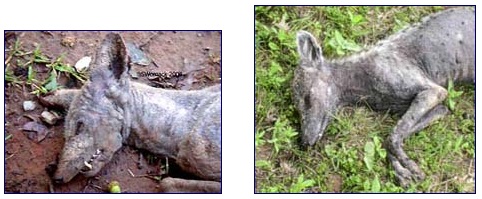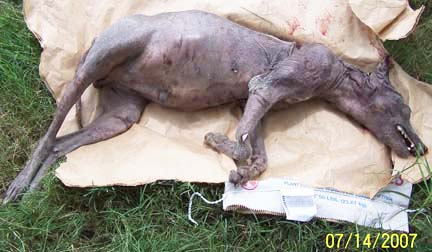 Click for podcast.
August 4, 2007  Cuero, Texas – Whatever the true nature of the Texas gray animals with big ears, overbite and shorter front legs than back legs, photographs of them and their actual dead bodies look nothing like the drawings of the alleged "chupacabras" that haunted Puerto Rico more than a decade ago.
In the spring of 1995, farmers in the El Junque rainforest region of Puerto Rico reported finding chickens, rabbits, goats, sheep and even dogs with quarter-inch wide puncture holes that did not bleed, but usually left the domestic animals dead as if the blood had been sucked out of them. That description lead to the name "chupacabras," which means "goat sucker" in Spanish.
The descriptions were of a gray-colored creature whose skin had spots and little hair. Some eyewitnesses said the creature could walk on its hind legs standing about five feet tall and then go down on all fours and run rapidly, even jumping 6-foot-high fences.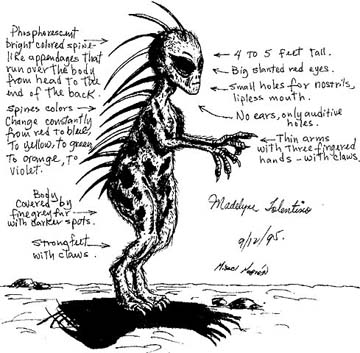 The chupacabras attacks expanded from Puerto Rico to the southern United States and Mexico in 1996. Then in May, two men and a woman in different Mexico locations were attacked by something that felt "like plastic" and left bloodless puncture marks in their human arms. After that, the chupacabras phenomenon seemed to stop by June of 1996.
Seven years later in 2003, more strange, unidentified animals were reported and photographed in Glyndon and Joppa, Maryland, after more attacks on domestic animals. The next year in May 2004, in Elmendorf, Texas, not far from San Antonio, another gray, unidentified creature was shot and photographed. But no forensic testing was done.
Five months later in October 2004, another nearly identical-looking gray animal was also shot in Pollok, Texas, north of Galveston.
Two Unidentified Hairless Animals Found July 14, 2007, in Cuero, Texas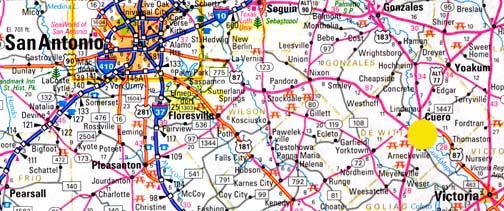 Now again on Saturday, July 14, 2007, five miles south of Cuero, Texas – which is an hour southeast of San Antonio – two gray, unidentified animals were found – this time apparently hit by vehicles. One of those two was in front of the 7C ranch owned by Phylis and Steve Carion, who have ranched in Cuero since 2002. Phylis also is a Board Certified Nutritional Consultant and owns the 7C sports clothing shop in Cuero. The road kill of what she calls "a bizarre creature with short front legs and long back legs" came as an answer to what had been killing her chickens and probably causing her kittens to disappear over the past couple of years.
---
Interview:
Phylis Carion, 7C Ranch and Owner, 7C sports clothing shop, Cuero, Texas:  "A lot of people think I just saw this thing within the past month or couple of weeks, but I have been trying to capture this creature for the past two and a half years. My sister first saw it a little over two years ago at our ranch. We were in Africa and she had come to check on our place. When she was leaving, she saw this really strange creature.
When we got back from Africa, I'm driving in our pasture and happen to look over and see this bizarre looking creature running through the pasture. What caught my attention was its gallop. It looked as if its front legs had been dismembered, broken – the front end of the animal was much lower than the back end. And as I watched, it ran behind a barn that we have on our ranch and ran into an opening and stopped and looked back at me. That's when I got a better view of it and could see that it appeared to be a hairless type of creature that had a big snout, very large ears, two very large teeth coming from the top down to very big teeth coming from the bottom up – both outside of the jaw and gum line so those four teeth were visible. Then he darted off. I called my sister and told her and she said, 'That's exactly what I had seen on your place.'
Then I began loosing kittens. We were trying to keep cats at our ranch house to keep the snakes away. Every time I would get kittens and put them outside, they would vanish. So I started videotaping our yard to see what was coming up, but I never could get anything on tape. Yet, I kept losing kittens. I had gone through eight kittens! That was over about a year and a half period.
So, finally I decided to get some chickens. Then actually on video, I caught bobcats coming up to take the chickens and I got wild dogs coming up to take the chickens. But what was the most unusual is that it appeared when my videotape would run out, something would come up, kill the chicken, suck the blood out of it and leave the chicken lying there. After going through about 28 chickens, still the thing was very illusive. So, I have been very passionate at trying to find this animal and get it on videotape or capture it, so we could find out what it was.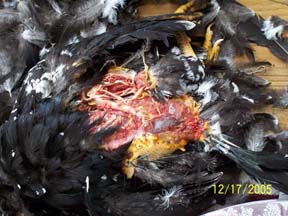 Another unusual thing is that when my husband would come back from overseas and spend thirty days at home, he would be on the ranch all day long every day and never saw it. So, my family began teasing me, 'Oh, it's a chupacabras that you are seeing and it's a mythical creature.' But whatever you call it, it is very ugly!
I started looking at some stories that were on our San Antonio news about other people also seeing these 'chupacabras.' The biggest problem was that no one ever had one tested. So, I've always said if I ever have a chance to get one, I'm getting tests because I want to find out what it is. If it's killing my chickens, and possibly taking my kittens, it is doing something else to some other animals.
Saturday, July 14, 2007 – Two Strange Animals Hit by Vehicles in Cuero
Lo and behold, on Saturday, July 14, a man who had stopped by my clothing store recently to tell me he had seen a strange, gray creature running in and out of our pasture, called me and said, 'You are not going to believe this, but someone has hit one and I have it and I want you to come and look at it and tell me if it's what you have been seeing.'
So, I jumped into my truck and ran over to his ranch. I said, 'That is exactly what I have seen.' The one he had was much smaller, but I said, 'It's the same thing – no hair, the big teeth, short front legs, the bigger back legs, the whole scenario fits.'
While I was talking to him, someone called me and said that another one had been hit in front of our ranch! So I get in my truck and drive back home again and there is this one! It had to be the one I was seeing. It was a much larger animal than the first one. The first one probably weighed about 20 pounds. This second larger one was more in the 35 pounds range.
So, I picked it up and brought it back to my house and started taking pictures of it. I ended up skinning most of it out. I saved the head and the front part of the body so hopefully I could find somebody who would be interested in trying to help me find out what this is.
I contacted one of my friends who is a veterinarian in Victoria. I had him look at it and the more we started to examine the animal, we definitely came to the conclusion that this is a very strange creature. On the very short front lets, the paws had a very big pad on the front feet. But the back legs were much longer and had no pads on the back feet at all, compared to the front. It had a very long snout with an overbite on the top.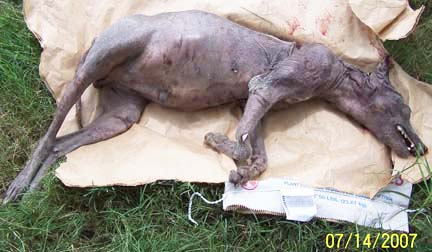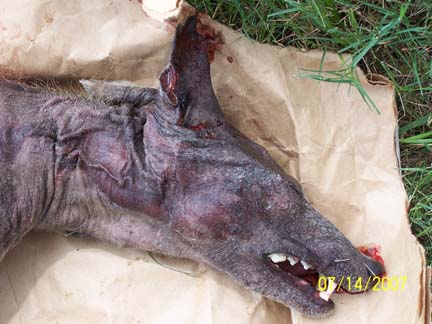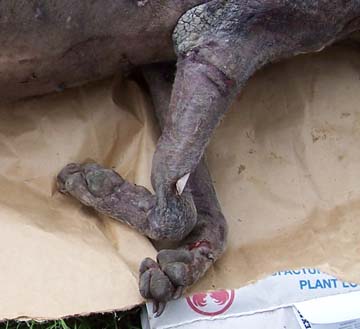 What we found so unusual is that when we lifted the gums up, in between the two big teeth that stuck out over the bottom jaw, there was only gum between the two, long front teeth. Nor was there any indication that there had been teeth that were ground down. It was pure gum. On the bottom, where the teeth came up, we found the exact same scenario. It was just gum (between two long lower teeth.) Now, I lived in Africa for five years and I have been back to Africa three times and we have hunted in Africa, so I have seen African animals and some very weird ones. I have never seen one like this.
Texas Dept. of Parks and Wildlife Says, "This Is A Mangy Coyote."
When I sent my photographs off to the Texas Department of Parks and Wildlife. Their reaction was, 'Oh, this is a mangy coyote.' That frustrated me because this is not a mangy coyote.
What my friend, a veterinarian from Victoria (Travis Schaar, D.V.M.), also thought was unusual was that when animals are killed or die, their eyes for the most part are open. Both the biologist from Texas Parks and Wildlife and Dr. Schaar asked me, 'Why did you close the eyes on it, Phylis?' But, I did not. They were closed when I first got to the animal. I did an examination of everything before I even touched the animal while it was laying in the road after a vehicle had hit it.
I also have a friend who practices in a town near here who is a physician. She came by and looked at it. The iris of the eye appears to be blue. It's not unusual that a wolf would have a blue eye. So, we're wondering if it is not some type of a cross between possibly a wild dog, possibly a wolf, maybe a coyote? But the short legs in the front have us baffled. What could that be a cross with?
Why No Necropsy?
WHY DID YOU NOT TAKE THAT WHOLE FRESH ANIMAL TO A VETERINARIAN PATHOLOGIST FOR PROFESSIONAL NECROPSY?
There are none in our area. And what has been extremely disheartening to me is that when we contacted Texas Parks and Wildlife, we had a game warden come by my shop and he looked at the pictures and told me, 'I'll take them to Austin (office) and we'll see.'
He took them to Austin and called me. 'They just say it's some kind of wild dog or something like that.' Texas Parks and Wildlife discredited the story. They never even offered to come look at what I had. They didn't show any interest in it, which has disappointed me. There was an article in our local newspaper saying that today, that I was disappointed we haven't had any interest from our Texas Parks and Wildlife and I am very disappointed.
WHAT IS LEFT OF THE ANIMAL NOW?
What I have left is the hide from about the mid-back all the way to including the head and down the legs. So, I have the front half of the creature and to be honest with you, what my ultimate goal would be is I would love to mount it with a chicken in its mouth and hang it up in our game room!
WHAT HAPPENED TO THE ORGANS AND THE SKELETON?
I have all the bones. I laid the carcass out in the pasture and a lot of people asked me, 'Why didn't you cut the stomach open and look?' It just goes back to my days in Africa when we hunted in Africa. One of the things that the Africans do is skin the whole animal without opening it up because they don't want to have any demons. It's just an African belief, I think.
WHAT HAPPENED TO THE ORGANS AND REMAINING CARCASS?
They were just eaten up, basically. It was very unusual that it took three days for any buzzards to even come near it."
More Forensic Analysis?
Phylis Canion says she would like to have DNA sequencing of a tooth and hide from the one she has partially preserved at her Cuero ranch to find out once and for all if this is a fox or coyote infected by severe mange? Or is a new animal species? Or a strange hybrid combination?
---
More Information:
For further information about unusual animals and the chupacabras mystery, please see reports below in Earthfiles Archive and my 2-volume, Glimpses of Other Realities, I and II in the Earthfiles Shop:
Chupacabras:
05/25/2007 —Update: Part 1, Unusual Animal Deaths
05/25/2007 —Updated: Part 2 – New "Chupacabras" Attacks in Chile and Cattle Mutilations in Argentina
08/31/2005 —What Is the Strange Texas "Chicken-Eater"?
06/23/2005 —More Than 3,000 Unusual Animal Deaths Reported in Argentina and Chile Since 2002
10/23/2004 —Veterinarian Examines Pollok, Texas Carcass
10/20/2004 —Pollok, Texas "Chupa": Strange Mammal or Mangy Coyote?
10/14/2004 —Another "Chupacabra" Shot in Texas
07/31/2004 —Strange Animal Shot by Elmendorf, Texas Farmer
07/19/2002 —Unusual Animal Deaths and Unidentified Aerial Lights Persist in Argentina
06/15/2002 —Cattle Mutilations In LaPampa, Argentina
06/01/1999 —Puncture Wounds On Dogs In Woodleaf, North Carolina
Sasquatch:
12/29/2006 —Earthfiles Mail About Sasquatch
12/28/2006 —Physical Evidence That Sasquatch Lives?
09/05/2006 —Part 2: "Alphonso Lorenzo" – Military Visitor to Another Planet?
06/22/2006 —"Vacuum Black" Entity in Mexico Reservoir
05/20/2003 —Bigfoot Encounter in Northern California
01/16/2003 —Bigfoot Walks Along Logan, Utah Canal
12/31/2002 —Deer Dropped Into New York Maple Tree – From Where?
11/03/2002 —Chapter 13 – Mystery Stalks The Prairie
10/28/2001 —12,000-Year-Old Human Hair DNA Has No Match With Modern Humans
09/29/2001 —Part 1 – Sasquatch Bigfoot, Physical Evidence in North America
09/29/2001 —Part 2 – Sasquatch Bigfoot, Visible and Invisible Evidence in North America
07/21/2001 —Missing Link Between Humans and Chimpanzees – Ethiopian Forest Bipeds 5.8 Million Years Ago?
07/07/2001 —Laos – Part I Unexploded Ordnance on the Trail of "Wild Men"
10/08/2000 —Unidentified Primate (Bigfoot?) Body Print and Hairs Discovered in Washington State
03/24/2000 —Sasquatch – A Forensic Expert Says It's A Different Species
02/06/2000 —Large Yellow Sphere In Snohomish, Washington
---
Websites:
Chupacabras:  http://en.wikipedia.org/wiki/Chupacabra
Sasquatch:  http://en.wikipedia.org/wiki/Bigfoot

© 1998 - 2019 by Linda Moulton Howe.
All Rights Reserved.