Return to Part 1
August 31, 2007  – Strathum, Massachusetts interview with Kathleen Marden continued.
Comparisons of Betty Hill's Star Map to Actual Suns in Earth's Neighborhood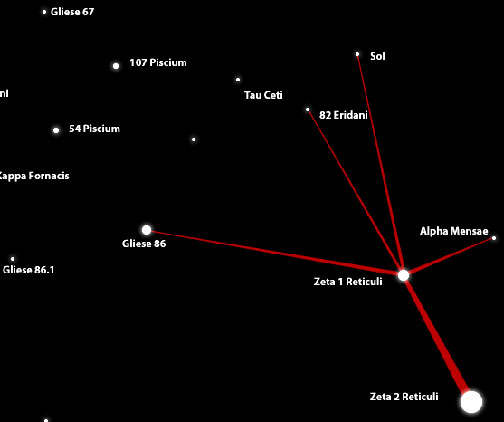 Eyes Like "Wall Geckos"
IN HER HYPNOSIS, DID BETTY AT ANY TIME DESCRIBE CAT EYES OR VERTICAL PUPILS?
Yes, she did. Actually, it was eyes that reminded her of a wall gecko. Betty said their eyes had a cat-like appearance, but she was talking about the vertical pupil and the positioning on the face."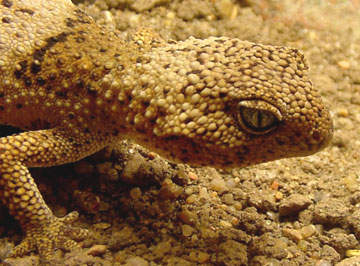 [ Editor's Note:  Geckos are small reptiles with stout bodies, fairly large heads, short legs and long tails. Most species are between 5-15cm from head to tail. There are over 800 species worldwide, living in a variety of habitats from deserts to swamps.
The gecko is an excellent climber, and can even scamper across ceilings. The secret is in its toes. Most geckos have special pads on their feet to help them climb. These pads have thousands of tiny forked hairs – a bit like velcro – which produce an electrical charge that helps them cling to vertical surfaces. A gecko walks by rolling these hairs onto the surface, then curling up its toes to peel them off again. Geckos are experts at traveling on walls, ceilings and even the smooth surface of a window-pane. ]
Missing Time
Kathleen Marden:  "Several miles down the road – probably 20 to 30 miles from the field where Barney observed the UFO – again they saw what appeared to be a flaming red-orange orb in the road, silhouetted against trees. Betty said to Barney, something to the effect, 'Do you believe in UFOs?'
And he said, 'Don't be ridiculous! That was not a UFO.'
They next heard another series of beeping or buzzing sounds and at that point, they regained full consciousness and started to carry on a conversation.
When they arrived home, they realized they had arrived later than they had anticipated, even allowing for the observational stops that they made and a period of slow driving. And certain things were not right when they arrived home. The tops of Barney's shoes were scraped and he could not explain how that happened. Barney's binocular strap was broken and Betty's dress was torn. There was a 2-inch tear in the top right of her zipper and there was a 1-inch tear in the top left side of her zipper fabric. Also, her hem was torn down and the lining of her new dress was torn from hemline to waist. She could not explain that. She folded it, put it in her closet and did not remove it until probably some time in 1964 (3 years later).
The watches they were wearing that night had stopped working and were permanently destroyed. There were 12 to 18 circular spots on the trunk of their car the size of silver dollars. They were all exactly the same size and when Betty and Barney observed a compass placed above those spots, it would spin and spin, whereas anywhere else on the car would drop down (no spinning). So there were these very perplexing pieces of evidence they had when they arrived home that they could not explain.
Shiny, Silver-Dollar-Sized Circles On Hills' Car
WAS THERE ANY FORENSIC INVESTIGATION OF THOSE DOLLAR-SIZED CIRCLES ON THEIR CAR TRUNK?
No, there was not, unfortunately. At the time in 1961, Walter Webb visited them a little over a month from the time they returned – I believe it was October 21. At that time, Webb interviewed them for 6 hours. He did not have a tape recorder. He vaguely remembered glancing at the spots on the trunk of the car as he passed by, but he did not notice there was anything that was particularly unusual. [ Editor's Note:  No photographs were taken of the shiny circles either.]
IT CERTAINLY WOULD HAVE BEEN A DRAMATIC DEMONSTRATION TO SHOW THAT A COMPASS WOULD SPIN WHEN IT WAS PLACED ON THOSE CIRCLES.
It would have been, it certainly would have been. I just wish some type of forensic analysis had been done of those so there would be some scientific evidence there and not just reports from Betty and Barney and other family members who observed this. However, that did not take place and the spots faded away by winter.
(Abduction was Sept. 19-20, 1961) Betty and Barney arrived home around 5 AM on the morning of September 20, 1961. It was not until October 21, 1961, that Walter Webb remembered glancing at the spots on the trunk, but they were not in his original report.
[ Editor's Note:  Walter Webb, an astronomer at Charles Hayden Planetarium, Boston. Webb had worked for astronomer J. Allen Hynek beginning in February 1957 when Dr. Hynek was setting up tracking stations for the Smithsonian Astronomical Observatory. Hynek had hired Webb as a kid out of college sometime that February. Later, J. Allen Hynek would investigate UFO phenomena for the U. S. Air Force and found the Center for UFO Studies (CUFOS). ]
Betty said she washed and simonized her car every fall and that although she had simonized it, the very shiny spots were brighter than the wax on her car. But the spots gradually faded away and were gone by winter, which I would say was probably December 1961 or January, 1962.
DID YOU YOURSELF SEE THE COMPASS SPIN WHEN PLACED ON THOSE CIRCLES?
It's difficult for me to remember. I know my mother was there and Betty was demonstrating this to my mother. I was standing there and I might have. I definitely did see the spots. I remember looking at the spots and my two younger brothers were there with me and Betty had the compass in her hand and was showing this to my mother.
BETTY TALKED TO YOUR MOTHER ABOUT THE COMPASS SPINNING WHEN IT WAS PLACED ON THOSE BRIGHT CIRCLES ABOUT THE SIZE OF DOLLARS ON THE CAR?
Yes, my mother and Betty talked about it. And Betty and Barney both testified under hypnosis about those spots, too.
IT'S ODD THAT NO ONE SAID, 'LET'S GET A SCIENTIST AND INVESTIGATE THOSE SPOTS.'
The U.S. Air Force seemed to have little interest in the case after their initial report. Officially, there was a meeting at the home of Betty and Barney after – I believe it was 1962 – where a friend of theirs, who was a USAF officer was reading some poetry. Their pastor invited Betty and Barney to that meeting and everyone left who was interested in the poetry. A conversation took place thereafter between the Air Force officers. I believe there was an engineer there and the Hills and the conversation was specifically about the spots on the trunk of the car.  They thought it might have been some type of sonar device.
BUT THE AIR FORCE NEVER ASKED TO INSPECT THEIR CAR?
No, in fact, it seems to me that the U. S. Air Force had already launched a cover-up because Betty and Barney were readily available for further interviews, yet the official USAF report said they were not available for further interviews.
NO INVESTIGATION OR QUESTIONS TO BETTY AND BARNEY HILL FROM THE GOVERNMENT, MILITARY OR ANYBODY ABOUT EXAMINING THE CIRCLES ON THEIR CAR?
Unfortunately, no, so it will always have to remain a mystery.
Anomalous Physical Evidence
1) Barney's shoes were scratched on top and under hypnosis he described feeling his feet bumping along the ground as he was supported by the beings.
2)  Barney's binocular strap was broken when they got back to their Portsmouth home.
3)  Betty's dress zipper was torn in two places and there were pink stains on it.
4) "Shiny circles" the size of silver dollars were on the trunk of their car where each had heard the electronic "beeping" or "buzzing" sounds.
"KATHLEEN, WHAT DO YOU THINK IS THE STRONGEST EVIDENCE THAT BETTY AND BARNEY HILL WERE ABDUCTED BY NON-HUMANS FROM THE NEW HAMPSHIRE MOUNTAINS BACK IN 1961?
I think it was the hypnosis tapes themselves. I did a comparison analysis of Betty and Barney testimonies to Dr. Simon under hypnosis. They were hypnotized separately and given post-hypnotic suggestion for amnesia so they could not discuss information with each other.
I compared what each of them said to Betty's dreams or recall, which was written in November 1961 by Betty about a series of dreams that she had 10 to 14 days after she arrived home after having a close encounter with a UFO. She had these dreams early in the morning just before she woke up. Barney was not in bed with her at the time because he was working nights. The dreams were disturbing. She wrote, jotted them down on notepaper. Then a couple of months later, Betty wrote them into a report of her dreams. What I found was that Betty and Barney were giving information regarding various descriptive details and also positional information: where each was at a particular time. When I compared the information to Betty's dreams, it was entirely different from information in Betty's dreams – yet, without being able to communicate that information one to the other (post hypnotic amnesia), Betty and Barney were saying the same thing. So, I thought that was very important.
Additionally, there was Betty's dress. The forensic and chemical analysis that was done on Betty's dress most recently by Phyllis Budinger, an analytical chemist from Ohio. There was a pink powdery substance that Betty found on her dress. Phyllis noticed that those are the areas where the aliens would have grasped Betty and the areas where they would have touched the fabric of the dress. There was a very high level of bacteria on the pink powdery substance areas, while the bacteria was low in other areas of the dress. It's odd that the bacteria would be only in the pink powder areas of the dress."
Return to Part 1
---
More Information: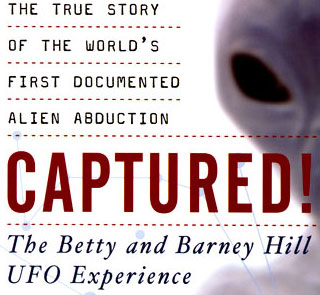 Autographed copies of Captured! can be ordered for $18.99, including shipping:
– From Stanton Friedman's web site using PayPal.

– From Kathleen Marden, P. O. Box 93, East Kingston, NH 03827.
"I accept US bank checks and money orders only."

– From Barnes & Noble, Amazon.com and local bookstores.
---
Artist Patrick M. Richard is developing a new website soon to be open at:
www.UFOART4U.com
email: [email protected]

PO Box 115
San Antonio, NM 87832
(505)835 8946 (area code changes to 575 on Oct.7)
---
If viewers have more information about non-human encounters, please email me at [email protected]
For further reports about non-human intelligence, technology and interactions with Earth life, please see reports below in the  Earthfiles Archive   and my four books:
An Alien Harvest; the 2-volume Glimpses of Other Realities; and Mysterious Lights and Crop Circles in the Earthfiles Shop:
EBENs (Extraterrestrial Biological Entities)
08/30/2007 —Military Insiders Comment About Zeta Reticuli and EBENs
09/04/2006 — Part 1: "Alphonso Lorenzo" – Military Visitor to Another Planet?
09/05/2006 —Part 2: "Alphonso Lorenzo" – Military Visitor to Another Planet?
06/18/2006 —Viewer Letters About NASA Airbrushing Photos; EBENs and Reptilian Humanoids
05/12/2006 —An Extraterrestrial School for Humans
03/17/2006 — Part 1: U.S. Navy Chief Yeoman Describes "Extraterrestrial Biological Entities" in TOP SECRET/MAJIC Photographs.
03/23/2006 —Part 2: U.S. Navy Chief Yeoman Describes "Extraterrestrial Biological Entities" in TOP SECRET/MAJIC Photographs
02/10/2006 —Crashed Disc Photos, "Ebens," and Area 51 "Anti-Gravity"
10/05/2002 —Part 1 – Two Scientists Describe Extraterrestrial Biological Entity (EBEN) Called "J-Rod"
06/22/1999 —The Strange Story of J-Rod, An EBE
Non-Humans and Aerial Craft
08/24/2007 —Orange-Red "Fiery" Aerial Spheres
08/01/2007 —Part 3, Non-Human Blonds, Greys and Big-Nosed, Cat-Eyed Lizards
07/31/2007 —Part 2, Non-Human Blonds, Greys and Big-Nosed, Cat-Eyed Lizards
07/26/2007 —Part 1, Non-Human Blonds, Lizards and Big-Nosed, Cat-Eyed Greys
07/28/2007 —Mysterious Aerial Lights Over Stratford-upon-Avon, July 14, and Farnborough, Hampshire, on July 22, 2007
07/14/2007 —Schofield Barracks, Oahu, Hawaii – Huge, Lime Green Oval Craft Hovered Over Battalion Headquarters
03/14/2007 —Part 5: Mysterious Events At 2005 Tawsmead Copse "Insectogram" Crop Formation
02/12/2007 —Part 2: Tappen, North Dakota, High Strangeness Provokes Many Emails from Viewers and Listeners
01/26/2007 —Part 1: Tappen, North Dakota: Encounters with Non-Humans
01/26/2007 —Part 2: Tappen, North Dakota: Encounters with Non-Humans
01/26/2007 —Part 3: Tappen, North Dakota: Encounters with Non-Humans
01/08/2007 —Updated: Attorney Describes His Encounter with Non-Human Entities
01/02/2007 —Grey Aerial Disk Reported by Chicago O'Hare United Airlines Pilots and Mechanics
10/28/2006 —Close UFO Encounter by USAF Eyewitnesses
12/31/2006 —Part 8: Inside Saucer Post …3-0 Blue
10/19/2006 —UFO Retaliation to U. S. Army Radar Lock On in Florida, 1967
10/11/2006 —Part 2: Time Travel, Insights from USAF Sergeant and UFO Abductee
09/05/2006 —Part 2: "Alphonso Lorenzo" – Military Visitor to Another Planet?
07/28/2006 —1940s USAF Flight Surgeon's Account of E. T. Autopsy
04/03/2006 —Genetic Harvest in Cimarron, New Mexico?
03/23/2006 —Part 2: U.S. Navy Chief Yeoman Describes "Extraterrestrial Biological Entities" in TOP SECRET/MAJIC Photographs
03/02/2006 —Missing Time Abduction Before Birth
02/28/2006 —Part 13 – Peculiar Phenomenon: Early United States Efforts to Collect and Analyze Flying Discs
02/27/2006 —Part 4: Military Voices Reply About Government Interaction with UFOs
02/17/2006 —Updated: White Sands Navy Radar Operator Saw Discs Circle V-2 Rocket Launches
12/07/2005 —Zeta Reticuli I and II – Binary Home of Extraterrestrial Biological Entities?
09/09/2005 —Rock Stars and Extraterrestrials
05/26/2005 —Part 1 – Brazilian Air Force Opens Its UFO Files to Public
04/14/2005 — "Battle of Los Angeles" On February 25, 1942: When America's 37th Coast Artillery Brigade Fired Off 1,430 Anti-Aircraft Shells At A UFO
03/08/2005 —Flying Disc Paced Airliner Over Puget Sound Navy Yard
12/10/2004 —Part 3: "Peculiar Phenomena," V-2 Rockets – and UFOB Retaliation?
11/12/2004 —Strange Metal Pieces from Plains of San Agustin Alleged UFO Crash Site Analyzed.
11/03/2004 —Gen. Wesley Clark – Has He Been Briefed About UFOs?
10/10/2004 —Part 1: Texas Case of Shape-Shifting Human-to-Reptilian
09/18/2004 —Part 3: "Clearview" Report on the Investigation of UFO Experiences on A Rocky Mountain Ranch
08/18/2004 —New Mexico Gov. Bill Richardson Wants More Investigation of 1947 Roswell UFO Crash
07/17/2004 —Inside Job – Unmasking the 9/11 Conspiracies by Jim Marrs
01/24/2004 —Oregon Man's Experiences with High Strangeness
01/04/2003 —The Clonaid Human Cloning Controversy
12/21/2002 —Part 2 – Corguinho, Brazil: Close Encounters with Tall Red-Haired and Blond-Haired Non-Human Beings
10/09/2002 —Extraterrestrial Biological Entities and Discs Described by CIA/U.S. Army Administrator, 1957-1960
07/23/2002 —Mysterious, Buzzing Light in Tehachapi, California
04/30/2001 —Part 2 – Former U.S. Army Sergeant Describes 1969 Film of Non-Human Entities
04/29/2001 —Part 1 – Former Army Sergeant Describes 1969 Film of Alien Craft and Entities
---
Website:
Majestic-12 Documents:  http://www.majesticdocuments.com

© 1998 - 2018 by Linda Moulton Howe.
All Rights Reserved.