"As longtime Arctic residents, they told me they had never seen
open water so early before – which was late May 2007."
– Scott Lamoureux, Ph.D., Queen's University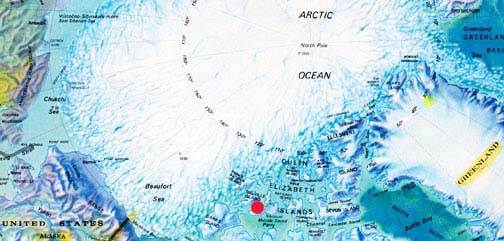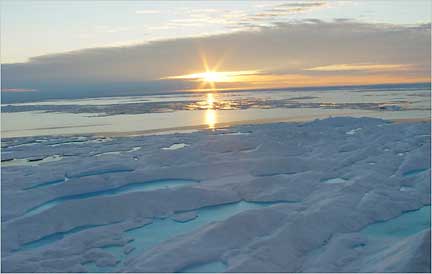 October 5 , 2007  Kingston, Ontario , Canada – The United Nations International Panel on Climate Change (IPCC) has had to revise upward its estimates of possible temperature increases over this century. Now, the numbers say that in another 90 years, Earth could be as much as 11 degrees F. warmer than it was at the beginning of the 21st Century. Compare 11 degrees F. to only a 1 degree F. increase in the entire 20th century!
The changes in ice melt alone in the year 2007 have shocked scientists. In early September, Robert Corell, Chairman of the Arctic Climate Impact Assessment, reported:  "We have seen a massive acceleration of the speed with which the Greenland glaciers are moving into the sea. The ice is moving at 2 meters (6.5 feet) an hour on a moving front of ice that is 3 miles long and 932 miles deep. That means this one glacier puts enough fresh water into the sea in one year to provide drinking water for a city the size of London for an entire year."
The rapidly increasing ice melt in 2007 means that sea level rise is going to be faster as well. Dr. Corell now estimates oceans will rise at least 2 meters, or about 7 feet. This will be catastrophic for all shoreline populations, causing massive dislocations of humans and animals around the world's coastlines.
The rapidly melting Greenland ice is now causing earthquakes because ice is breaking away after being frozen in rock for centuries. The Greenland ice earthquakes have been measured around 1 to 3 on the Richter scale. Such quakes have never happened before in northwest Greenland. Now scientists are afraid the quakes indicate the entire ice sheet might one day collapse. Dr. Corell said: "These earthquakes are not dangerous in themselves, but the fact that they are happening shows that events are happening far faster than we ever anticipated."
Faster, earlier ice melt in the Arctic came this year was a shock to Scott Lamoureux, Ph.D., Professor of Geography at Queens University in Kingston, Ontario, Canada, and leader of an International Polar Year project to study how all the increasing ice melt in the Arctic is affecting soils, plants, animals and the roads and buildings of humans that are now cracking, buckling and sliding away.
---
Interview: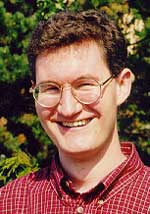 Scott Lamoureux, Ph.D., Associate Professor of Geography, Queen's University, Kingston, Ontario, Canada:  "For 2007, we started to see the Arctic ice melt so much earlier than we ever have before. That was really eye opening for me. I've been traveling to Melville Island in the northwestern Arctic and working there since 1988 as a student. When I go up in late May, I expect to see a lot of sea ice cover. This is the first year that I saw a large amount of open water, even before the summer season started. So, we're seeing really clear and visible signs of changes going on in the Arctic. It's not equivocal that change is going on. It's not a subtle thing anymore. It's quite visible to anybody looking out of the airplane window.
WHAT WAS YOUR REACTION TO SEEING MELT WATER IN MAY?
I was very surprised. There were people on the plane who were from communities where they had lived their entire lives in Canada's high Arctic. As longtime Arctic residents, they told me they had never seen open water so early before – which was late May 2007. So much earlier than the normal Arctic melt season has begun in the past, that's a very troubling sort of thing to see. It suggests that the times where there used to be stable ice cover, like late winter, are becoming less predictable. If that continues, it will start to have major impacts on communities and residents in northern Canada and elsewhere.
WHY DO YOU THINK THAT 2007 HAS BEEN THE PIVOTAL YEAR?
We've seen a number of years of reduced sea ice cover and it might be that those previous years have sort of pre-conditioned 2007 to be an exceptionally warm year with major sea ice reductions. Or it might be that conditions in the atmosphere were just set up correctly for the intense stable weather that we had. It's not something I'm aware of a particular reason for it. It's probably just the way it played out.
Just as I can't predict what 2008 will be like, although there is lots of suggestion based on data that I've seen that the system is set up for rapid melt for next year. If we start to see melt earlier and earlier in the season, that means there is less ice to melt during the summer, that the Arctic ice will probably be thinner in many places so it will disappear more rapidly. That is the kind of situation that would really be pre-conditioning for a substantial ice reduction.
IF IN 2008, THERE IS EVEN MUCH MORE ICE MELT IN THE ARCTIC AND GREENLAND AND THE ANTARCTIC THAN EVER ANTICIPATED. THEN IN 2009 AND 2010 THERE COULD BE OPEN WATER FOR LONG STRETCHES OF THE SUMMERS. THE ENVIRONMENT IS CHANGING SO RAPIDLY – ARE WE NOW FACING THE FACT THAT GOVERNMENTS ARE BEING OUTPACED BY THE CHANGES AND ARE NOT PREPARED FOR A WORLD IN WHICH RAPID CHANGE IS AFFECTING COASTLINES AND STORM INTENSITIES TO BUCKLING ROADS AND HOUSES THAT NO LONGER STAY ON THEIR FOUNDATIONS?
There are places, especially in the western Arctic, Canada and northern Alaska where more persistent open water is really impacting the coastal communities by rapid coastal erosion. There are examples in north Alaska and northwest Canada where literally houses are at risk each year and these are communities where I think people are going to seriously have to consider moving inland or into more stable places."
Ice Melt Below Permafrost: Whole Hillsides Sliding Away
Prof. Lamoureux's work has been to understand the impact of climate variability on the river flow and plants on Melville Island.
Prof. Scott Lamoureux:  "From 2002 to 2007, after five years of measurements, what happened at the end of the 2007 summer was very interesting. We had exceptional summer temperatures, typically above 15 degrees Celsius in July and sometimes even 20 degrees Celsius (59 to 68 degrees Fahrenheit). The long term record from the Melville Island region indicates the average July daily temperatures would be about 5 degrees Celsius (41 degrees F.), or just above freezing. So to experience temperatures as high as we were is unusual.
What happened related to the environment of permafrost, which is permanently frozen ground. In the summer, we expect to see melting in the surface because of warmth from the sun to penetrate into the ground about 50 centimeters ( 20 inches), or about two feet deep. This is something that has happened every summer and then re-freezes in the winter.
But what we saw this 2007 summer was that the depth of the melt went much deeper than normal, as deep as one meter or more (three-plus feet). The result was that the thaw was getting into soil that contained ground ice in abundance. That ground ice, when it melted, was released as liquid water. The water acts as a lubricant to weaken the overlying soil. The consequence was that we saw extensive landslides – 'detachment slides,' we call them. In the detachment slides, the ground and vegetation can be all jumbled up as the soil slides down slope. The detachment slides can push high ridges of soil and debris in front of them, sort of bulldoze it. Or entire sections of the slope can move down almost like a rug and pile up at the bottom of the valley sort of in folds because it has nowhere else to go.
This also caused one of the river systems we've been studying for five years to dam up for more than 200 meters (655 feet). These detachment slides are going to substantially change the river systems, probably for years and perhaps decades before the landscape can adapt and recover from these destructions.
So when we have summers as warm as 2007, that air/sun warmth can penetrate the ground much deeper than normal and destabilize the landscape quite substantially."
---
More Information:
For further reports about global ice melts, please see reports below in the  Earthfiles Archive:
08/08/2007 —2007's Warm, Erratic Global Weather
07/11/2007 —Mystery of Night Shining Clouds – Another Global Warming Change?
06/21/2007 —Large Lake in Southern Chile Has Disappeared
06/01/2007 —Is Earth Close to Dangerous Tipping Point in Global Warming?
05/18/2007 —Antarctica: Unprecedented Western Ice Melt and CO2-Saturated Southern Ocean
02/23/2007 —Part 2: Earth Life Threats – "Noah's Ark" for World's Seeds
02/02/2007 —Updated: New U. N. Global Climate Change Report: Earth Could Warm Up 3.2 to 11.52 Degrees Fahrenheit by 2100
01/10/2007 —2006: USA's Warmest Year On Record
12/08/2006 —NASA Wants Permanent Moon Base by 2024
12/07/2006 —Earth Headed for Warmest Period in 55 Million Years?
11/09/2006 —Outer Space Sunshade to Cool Earth in Global Warming?
09/09/2006 —Methane – Another Threat in Global Warming
07/18/2006 —2006 – Hottest Year So Far in U. S. History
06/24/2006 —"High Confidence" Earth Is Warmest in 400 Years – Maybe Even 2,000 Years
03/17/2006 —Planet Earth's Ice Melt
02/20/2006 —Mysterious Deaths of Whales in Mexico
01/03/2006 —Antarctic Earthquakes and Edgar Cayce Pole Shift Prediction
11/18/2005 —Is the Sun Heating Up?
09/29/2005 —2005 Arctic Summer Ice Melt – Largest On Record
09/23/2005 —Phenomenon of "Instant" Hurricanes in 2005
05/11/2005 —Greenland Sea Cold Water Re-Cycling Has Nearly Stopped. U.K. Expected to Cool.
05/07/2005 —Did Milky Way Gas and Dust Turn Earth Into Icy Snowball Four Times?
04/01/2005 —What's Killing Off Marine Life Every 62 Million Years?
04/01/2005 —Soft Tissue – Even Blood Cells? – Found in Tyrannosaurus rex Leg Bone
02/03/2005 —Kyoto Protocol Goes Into Effect February 16, 2005. British Scientists Warn Global Temperatures Could Climb Higher Than Earlier Estimates.
01/07/2005 —9.0 Sumatra Earthquake Update
09/04/2004 —Hillsboro, Ohio Corn Formation – High Strangeness in Soil and Plants
08/16/2004 —NASA Has Launched Aura Satellite to Study Ozone-Destroying Chemicals in Atmosphere
08/14/2004 —Oceans Are Absorbing A Lot of Greenhouse CO2. As Chemistry Changes, What Happens to Sea Life?
02/27/2004 —Abrupt Climate Change: Scenario from A Pentagon-Commissioned Report
02/23/2004 —Is There Liquid Water on Martian Surface?
02/21/2004 —Update On Mars with Cornell Astronomer Steve Squyers,Principal Investigator on the Mars Rover Missions
05/30/2003 —Scientists Surprised by Common House Fly Fossils in Antarctica
01/05/2003 —What Are the Grooves in the Martian South Pole?
10/21/2002 —Mt. Kilimanjaro's Ice Cap Is Melting Fast
06/01/2002 —Scientists Surprised by Abundance of Water On Mars
03/21/2002 —Antarctic Peninsula Is Melting – And So Is Arctic Ice
02/13/2002 —January 2002 Warmest On Record For Whole World
01/30/2002 —Latest Satellite Data Shows Surprisingly Thicker Ross Ice Shelf in Antarctica
12/22/2001 —Scientists Warn That Climate and Earth Life Can Change Rapidly
03/04/2001 —Disappearing Glaciers – Evidence of A Rapidly Warming Earth
02/07/2001 —94% Decline In Aleutian Islands Sea Otter Population
01/28/2001 —U. N. Global Warming Forecast: Up to 10.5 Degrees F. Hotter At End of 21st Century
12/24/2000 —Martian Bacteria?
09/10/2000 —Arctic Ice Melt Threatens Polar Bears
04/20/2000 —Severe Arctic Ozone Loss and Deep Ocean Warming
01/09/2000 —Global Warming Alert from NOAA and U.K.
01/02/2000 —New Trends for 21st Century
12/02/1999 —Is There Water – And Life – On Mars?
09/26/1999 —Could Ancient Microbes in Polar Ice Cause Epidemics?
06/27/1999 —Microbes Two Miles Below Earth Surface in South Africa
05/16/1999 —Edgar Evans Cayce About His Father and Atlantis
05/05/1999 —Two Antarctic Ice Shelves Almost Gone
---
Websites:
Queen's Univ. Geography Dept.: http://geog.queensu.ca/Lamoureux/evex/research.htm
NOAA:  http://www.arctic.noaa.gov/gallery.html

© 1998 - 2019 by Linda Moulton Howe.
All Rights Reserved.