"I feel they were in conflict – like the red lights were trying to get away from the little, white glowing discs – and that happened four times."
– Thelma Landers, Youngstown, Florida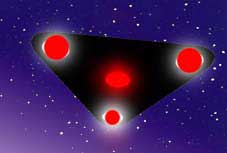 Updated October 21 with Thelma and Zachary Sketches
October 19, 2007  Youngstown, Florida – Ten and a half years ago on March 13, 1997, a series of unidentified aerial objects showed up over the state of Arizona, beginning from around 7:30 PM until at least 10:30 PM that night. The early evening craft was a huge, black triangle with a few red lights underneath. Real estate professionals in Phoenix who saw it estimated the low, slow-moving and completely silent triangle was at least 1.8 miles long, based on comparison to a 1.8 mile-long housing development the triangle flew over.
Another report that night was from a truck driver traveling on a freeway from the north of Phoenix south. He watched two, large orange-white spheres pulsing on and off near Luke AFB. Others videotaped and reported to local TV stations smaller white lights spaced evenly in an arc.
Four months later, the U. S. government tried to explain the three hours of extraordinary aerial phenomena, now known as the Phoenix Lights, as military flare exercises from Luke AFB. None of the eyewitnesses believed that explanation.
And now comes another multiple eyewitness sighting of two, large orange-white spheres pulsing on and off while emitting smaller, white, glowing discs that circled the orange-white spheres and then took off after red lights in the distance, as if in attack mode, the eyewitnesses thought. The location is Youngstown, Florida, northeast of Tyndall AFB in Panama City. The date was Monday, October 1, 2007. The local time of aerial events was approximately from 7:30 PM to 8:15 PM, forty-five minutes. Four adults and two teenagers watched astonished as the red and white lights seemed to be in conflict, followed soon after by the appearance of a large, dark triangle with a few red lights that separated from the base of the triangle and flew off.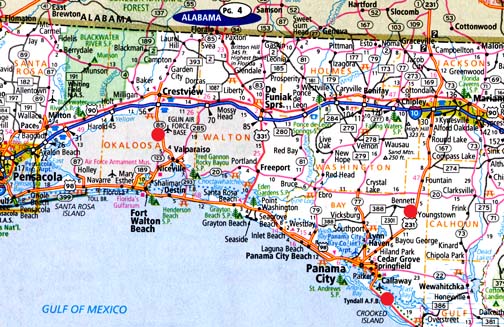 Tyndall Air Force Base, Florida
Home to 325th Fighter Wing Mission
Tyndall Tenant Units:
— 1st Air Force (AFNORTH)
— Air Force Civil Engineer Support Agency
— Air Force Research Laboratory
— 53rd Weapons Evaluation Group
— 372nd Training Squadron/Detachment 4
— NORAD Command System Support Facility
— 28th Test Squadron/Detachment 2
— Noncommissioned Officer Academy
Eglin Air Force Base, Florida
USAF:  "Home to the Air Armament Center, Eglin AFB serves as the focal point for all Air Force armament. It applies advanced technology, engineering and programming efficiencies across the product life cycle to provide superior combat capability to the warfighter. Eglin's Air Armament Center plans, directs and conducts test and evaluation of armament, navigation, guidance systems, and command and control systems. The 96th Air Base Wing, as the host unit, supports the largest single-base mobility commitment in the Air Force."
Eglin Units:
6th Ranger Training Battalion
33rd Fighter Wing
46th Test Wing
53rd Wing
Air Armament Center (AAC)
Air Armament Center Directorate of Personnel
Air Force Research Laboratory Munitions Directorate
Naval School Explosive Ordnance Disposal
Joint Fires Integration and Interoperability Team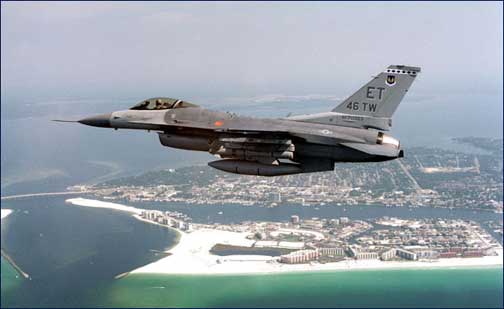 One of the Youngstown, Florida, eyewitnesses is 45-year-old Thelma Landers, mother of 14-year-old Zachary. She recently contacted me because she and her neighbors want to know if anyone else has seen the orange-white spheres, the smaller, glowing discs, the red lights that were chased or the huge triangle that moved over them at treetop level, completely silent, as big as a football field.
Thelma is twice divorced and now lives in a Youngstown trailer home, raising Zack. She and her son had been to the supermarket to buy groceries and had just turned onto Highway 2301 when Zack became excited about lights in the sky.
---
Interview:
Thelma Landers, Homemaker, Youngstown, Florida: "And my son said, 'Mom, look!' And there were two bright, orange lights – or bright white lights. They had a tinge of orange.
There they were, and then they disappeared. We turned (off 2301) and went to my home, parked in my yard and my son again looked up and said, 'Mom, look!' And I looked up as I was getting out of the truck and I said, 'Wow!'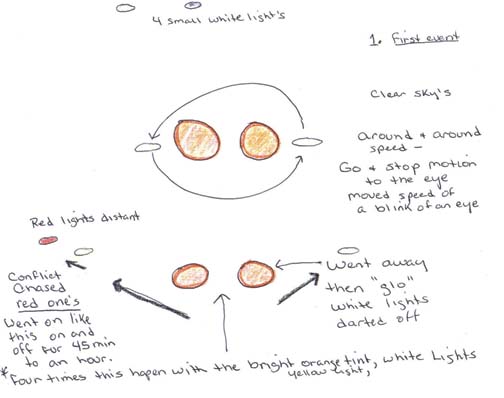 We seen the two large, bright, white lights with tint of orange and then I seen a small, white disc like a really bright white going around it (the two larger orange-white lights). I told my son, 'Run and get the neighbors!'
So, my son went across the way, which is not too far (about 200 feet) to get Anita, George and Cody (2 parents and Cody is 16-year-old son).
Bryan came out of his home and asked what was going on and he lives across the street from me. I said, 'Look up!' And my son was saying, 'Look up!'
So, we had four adults and two teenagers standing in the yard and I asked, 'Do you think it will happen again?' And Zach (her 14-year-old teenage son) said, 'Yes! Look at the little white lights.'  They were going around (the two bigger orange-white lights) and it looked like they were chasing after red, fast, lights in the sky.
Then it (two bigger lights) did it again. They lit up, bright lights on, bright lights off, the little white lights would circle the bigger lights, and dart off when the lights went off. And we all talked about it in the yard. We didn't know what it was.
THE LITTLE WHITE LIGHTS – DID YOU, YOUR SON, OR THE NEIGHBORS, SEE ANY OF THE LITTLE WHITE LIGHTS COME OUT OF THE BIGGER ORANGE-WHITE LIGHTS?
No. When the white lights with the orange tint lit up, we seen the little white lights. The first time, we seen one little light. The second time, we had seen two little white lights going back and forth around the bigger lights. Then, the smaller lights darted off and chased the red lights.
DID THE LITTLE LIGHTS CIRCLE AROUND BOTH OF THE ORANGE-WHITE BIGGER LIGHTS?
Yes, it was very, very speedy. They were going around them so fast, two of them at once. You could see them right there. But when the (bigger) lights went out, the little white lights darted off.
IS THAT THE MOMENT THAT YOU FIRST SAW THE RED LIGHTS?
No, the red lights were there the whole time in the background. We didn't know what they were.
SO, THERE ARE SEVERAL THINGS OCCURRING:
1) THERE ARE RED LIGHTS IN THE BACKGROUND.
2)  THERE ARE THE ORANGE-WHITE LARGER LIGHTS IN FRONT OF THE RED LIGHTS.
3)  PERIIODICALLY, THE SMALL, BRIGHT WHITE, DISCS WOULD ZIP AROUND BOTH OF THE LARGER ORANGE-WHITE LIGHTS.
4)  AND THEN WHEN THOSE LARGE LIGHTS WOULD GO OUT, OR DIM DOWN, THE LITTLE WHITE LIGHTS WOULD TAKE OUT AFTER THE RED LIGHTS.
It looked like the white lights were chasing the red lights and every time the bigger, bright white-orange  lights would come on, the little white lights looked like they went back to those two bigger ones, circle around them, and then go out real quickly and dart off again catching up to the red lights.
Small, White Discs in Conflict with Small, Red Lights?
NOW THE QUESTION IS, ARE THE LITTLE WHITE LIGHTS TAKING ORDERS FROM THE LARGER LIGHTS?  OR JUST EXACTLY WHAT WAS HAPPENING?
I feel they were in conflict – like the red lights were trying to get away
from the little, white glowing discs – and that happened four times.
THOSE LITTLE WHITE DISCS SEEMED TO DEFINITELY HAVE A RELATIONSHIP TO THE TWO LARGER ORANGE-WHITE LIGHTS?
Yes.
HOW LONG DID ALL THIS GO ON?
I'd say, about 45 minutes.
Football-Field-Sized Triangle Craft Suddenly Appears Near Treetop Level
ALL SIX OF YOU ARE THERE – YOUR THREE ADULT NEIGHBORS, YOURSELF, YOUR 14-YEAR-OLD SON, ZACK, AND THE 16-YEAR-OLD TEENAGE SON OF THE NEIGHBORS.
WHAT HAPPENED NEXT?
We were standing there talking about how the little white lights were chasing the red lights. I reached into the back of my truck for my groceries and my son said, 'Mom, look up! Look up!'
And I turned around to see a very bright light coming towards me with a triangle shape and coming very low over the treetops and over my (trailer) home and over my head where I was standing. It was triangle-shaped and I could see that it was very black, like if you had a cockpit on an airplane – it was rounded like that, but it was black and the (rounded part) was mostly in the front.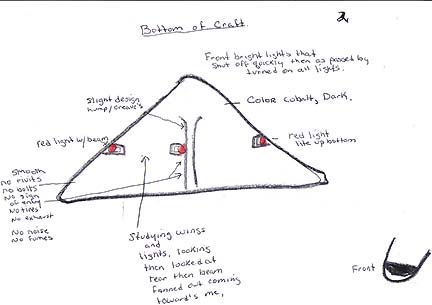 The lights went off real quick when I turned around and saw it. Then, it hovered above us. I said, 'Does anybody hear a noise?'
They said, 'No.'
I could see that when the triangle-shaped object came over my head, it was very large. I'd have to say it was more than a half-acre wide (330 feet). It looked like that because when I looked up, it was reaching on my property and over on the other property.
When I looked up, there were three lights – one on the left wing; one in the middle; and one almost partially on the tip. When I looked up, I told myself, 'OK, now don't panic.'
I looked underneath it and it looked like a grey and black color and the red light was really bright close to the center. And when I seen the bright red light, I said,  'It looks like I'm seeing a red light inside of kind of a box because it had two lines, or two squares, going around it. The triangle kept moving slowly and I couldn't hear anything.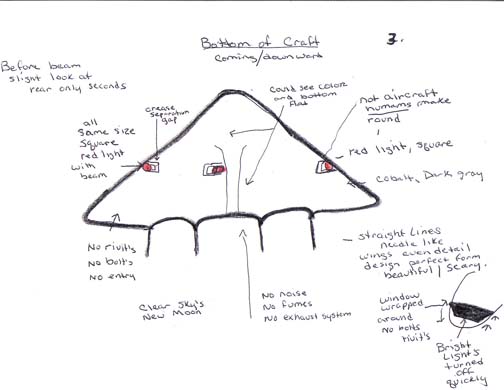 Then I said to myself, 'My son has asthma. I was afraid this thing was going to put fumes out close by. So I yelled to my son, 'Are you all right?' And they (standing about 200 feet away at the neighbor's yard) said, 'Yeah!'
Triangle Emits Red Beam of Light That Hits Thelma Lander's Face
The next thing I know, this bright, red light – looked like the sun peaking through after it rains and is like a beam of light – was shining down on my eyes.
One straight line it looked like red, but it also had – I can't explain it too much – but it was a beam of light (spreading out) and it was red. And when it came across my eyes, I said, 'Oh, oh, I'm going to turn my head.' The red light caught me. I shook it off and looked back up and the triangle was already across the way – I'd say about a mile –  by the time I came to my senses and looked up again.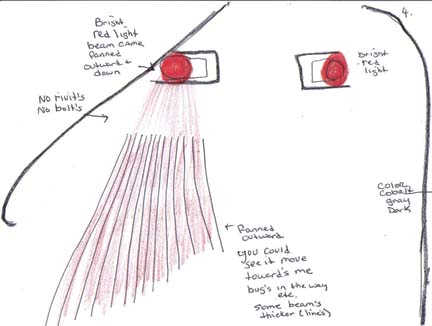 Red Lights Flew Out from Bottom of Triangle
Then I heard my son say, 'Watch the red lights!' Two of the red lights underneath the triangle darted off to the left and one of the red lights on the right – which there was only one – darted off to the right.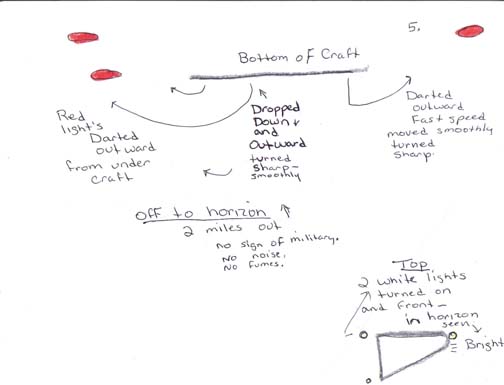 DO YOU MEAN THAT SOME OF THE RED LIGHTS LEFT THE BOTTOM OF THAT HUGE TRIANGLE AND FLEW OFF?
When they took off to the left, there were two. Then one of the red lights on the right took off. I knew there were three red lights on the triangle.
I didn't hear any noise. And by the time I came to my senses after the red beam of light flashed my eyes, the triangle was a little bit further out. And I felt a large breeze after it had passed.
Missing Time?
AND, THELMA, I THINK WHAT YOU ARE SUGGESTING IS THAT YOU BECAME AWARE THAT THERE MUST BE MISSING TIME IF YOU WENT FROM SEEING IT CLOSE UP OVER YOU AND THE RED BEAM COMES AT YOUR FACE. THEN THE NEXT THING THAT YOU KNOW IS IT'S FAR AWAY.
Yes. And nobody said anything. It was quiet then. And I said, 'I've got to get the groceries in. They are melting!'
I was kind of shocked and confused that something so large had no noise, no fumes. So, I'm getting a few more groceries out of the back (of the truck) thinking to myself, 'What did I see?' and it was so silent. Everyone was pretty quiet. And all of a sudden, two jets came close – I could say the treetops – these two jets flew overhead very quickly (and that low). They had their lights on. But the jets went the other way. They didn't go towards the triangle object. The jets didn't even approach the triangle object! It looked like the jets went completely the opposite way.
SO WHEN DID YOU START TO THINK, 'MAYBE THIS IS A UFO?'
I started to think that when I saw the big triangle coming over the treetops, as large as it was. I have never seen something that large and I've never seen something so dark and black. And I looked underneath it and seen those red lights and I thought, 'I've never seen this before!' And I thought, 'Oh, my God! My son, my neighbors, they are over there (200 feet away in next yard).
I guess I was upset to see something so large and know that this can't be one of ours. We don't have that kind of technology!
Zone of Silence
When it came over us, there was no sound, no echo between the two homes. Usually there is an echo between my home and my neighbor's home.
But when I talked, it sounded like just a voice. I couldn't hear the crickets. I couldn't hear the frogs in the swamp. I couldn't hear the dogs bark. There was no noise at all!
WHILE THE HUGE TRIANGLE WAS OVER YOU, YOU WERE ABOUT 200 FEET AWAY FROM YOUR SON AND THE NEIGHBORS?
Right.
WHEN THE RED BEAM CAME OUT OF THE HUGE TRIANGLE, IT WAS AIMED ONLY AT YOUR FACE?
I don't know.
SOMETHING HAD HAPPENED AND MORE TIME HAD GONE ON THAN YOU WERE CONSCIOUSLY AWARE? AND I WONDER, DID YOU FEEL ANY HEAT OR COLD OR TINGLING OR ANYTHING WHEN THE RED BEAM OF LIGHT HIT YOUR FACE?
When I looked up and it did flash (the red beam) into my eyes, I worried about my eyes. I said, 'Well, I'm wearing glasses, so it didn't hurt me as much.'
Left Side of Thelma's Face "Sunburned"
When I was (later) inside my home, I looked at my son and said, 'I feel like I've been burned on the left side. It feels funny on the left side of my face.'
My son said, 'Did you get burned?'
I go, 'I don't know. I just feel funny. It feels kind of red and poofy-like (sunburned).'
My son said (left side of her face) it was red.
HE DIDN'T SAY, 'I SAW THE RED BEAM OF LIGHT COME OUT OF THE BIG TRIANGLE AND HIT YOUR FACE?'
No.  (Neighbors also didn't remember seeing red beam focused on Thelma's face. There might have been brief missing time for all eyewitnesses?)
BY THEN, YOU WERE THINKING UFO FROM SOME PLACE IN OUTER SPACE?
I was hoping it was one of our military projects. But I thought to myself, 'This could not have been one of our military projects because the military flew away from it (big triangle craft).
IT IS ALMOST AS IF THE LARGE TRIANGLE SHOWED YOU THAT IT WAS RESPONSIBLE FOR THE RED FLYING OBJECTS (BEING CHASED BY THE LITTLE WHITE LIGHTS).
Right, and we were all there discussing that it looked like the little white lights were chasing the red lights. And we couldn't understand that.
LIKE THEY WERE IN CONFLICT.
They were in conflict and it went on for some time, I know, because we seen the bright orange-white lights with those tiny little glowing discs chasing the red lights. We seen that four times!
WHAT HAPPENED THE NEXT NIGHT?
Next Night, October 2, 2007
Tried to go to sleep. My little Jack Russell dog…
IT'S A JACK RUSSELL 3-YEAR-OLD?
Three-years-old and very well-trained. He's a very quiet dog because I told him to be quiet most of the time and when I said, 'Be quiet,' that meant to BE QUIET!'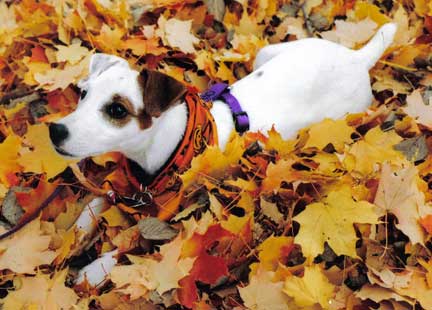 We went to sleep and my dog jumped on the bed, came beside me. The window is above my head. And he started to growl. And I had never seen him act like this. Usually he would make one little 'woof' if there was something outside – another dog or something. But he growled real low.
AND THIS WAS WARNING YOU?
This was warning me because he was waking me up. He actually came up to me and poked his nose on my nose and I heard him growl again and I said, 'This isn't right.' I sat up and said, 'What is it?' And he growled again.
And I said, 'OK, I'll get up.' And I thought this was not his normal growl and he's acting strange. He's looking at the window (above bed).
I get up and open the curtains slightly. The security lights were not on. And I peeked to look outside and I was scared. I thought I had seen something out there.
And then the security lights suddenly came on. And I heard another growl. It was a low growl. I went back to my bedroom and he growled again.
He'd look at the window (above bed) and I told him to be quiet. My son woke up and said, 'Mom, what's wrong!' He said:  'Mom, is it aliens?'
Two Grey Heads Below the Trailer Window?
BUT WHAT DO YOU THINK YOU SAW?
Actually I thought I had seen two heads and I thought it was a light color and I'm not seeing things too well because the security lights were not on then. So when I seen the two heads, just the top of them – my mobile home is up high because of the swamp. We have a swamp area here and my trailer is like the window is maybe 8 feet up. And when I peaked out the window, I had seen the objects – two of them. One was in front and one was in back and all I could see was the heads.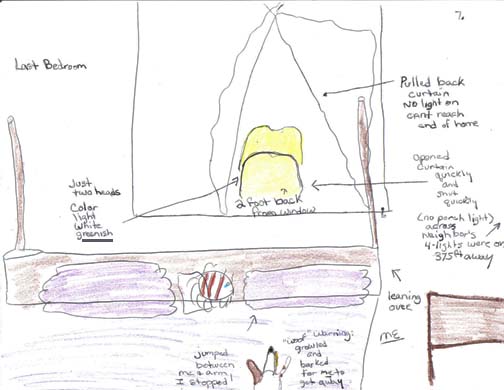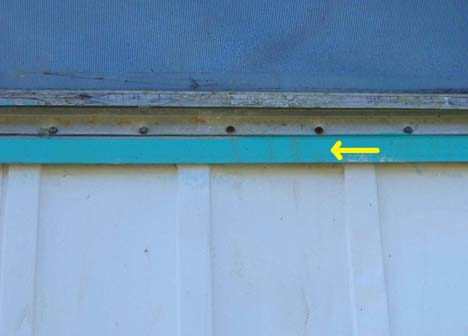 I went to the front of the trailer and thought, 'The security lights are not on.' But then they popped on.
I told my dog to lie down, but he didn't want to lie down. He would watch where my air conditioner is and he would point towards the air conditioner in the corner. It's an end bedroom, so he kept looking at the end of my trailer, pointing outwards toward where I thought somebody was there (when peaked through window) outside my mobile home.
AND THE FIRST THING YOUR SON ASKED WAS, 'MOM, IS IT ALIENS?'
Yes.
DID YOU ASK YOUR SON WHY HE WOKE UP AND ASKED THAT QUESTION?
No, I thought I didn't want to scare him. But I told him (Zack) to go back to sleep and I sat up all night. I told my dog to sit and stay there and watch. He did not want to sit. He was back up again pointing towards my air conditioner.
DID YOU EVER TRY TO SEE WHAT MIGHT BE OUT THERE AT THE AIR CONDITIONER?
My thought was when I shut the curtain: there are two heads out there and it's dark and it was just a little bit lower than, the heads were lower, and I thought there was no possible way that somebody could reach up to the window (8 feet above the ground and above the bed).
And I tried to tell myself there was no way there could be aliens outside that window.  And when my son asked me, 'Mom, is it aliens?' I didn't want to tell him that. But my dog was saying it for me. My dog said a lot acting the way he did:  'Don't open the window. Don't move. Don't go anywhere.'
YOUR DOG WAS TELLING YOU THAT IF YOU TRIED TO GO OUT, IT COULD BE VERY DANGEROUS?
Yes, he was right behind me every step of the way. I had never seen that kind of behavior before.
WE ARE TALKING ON OCTOBER 16, SO IT HAS BEEN TWO WEEKS SINCE THIS ALL OCCURRED.  HAVE YOU OR YOUR SON HAD ANY VIVID DREAMS ABOUT DISCS, TRIANGLES OR NON-HUMANS?
I have had no sleep hardly. He goes to school and keeps busy pretty much. I asked him twice, 'Did you have any dreams? Are you OK?'
He says, 'No, I'm OK.' He really doesn't want to talk about it.
I went out there once this week and shined a flashlight on the field. There are about two acres to my side that has tall grass in it. My son was scared and he thought it was aliens (again). But I didn't see anything.
DID YOU EVER GO AND LOOK AROUND YOUR AIR CONDITIONER TO SEE IF YOU COULD FIND ANY EVIDENCE THAT ANYBODY OR ANYTHING HAD BEEN THERE?
Yes, I did. The next day I went outside and had the dog on his leash and I looked around my window and I could see in some areas it looked like something heavy was there because it pressed down the grass. Just as if they were footprints.
WHEN YOUR SECURITY LIGHTS COME ON, DO THEY COME ON AUTOMATICALLY FROM A MOTION SENSOR OUTSIDE?
Yes.
SO THAT NIGHT, WHEN YOUR DOG WAS ALARMED AND WOKE YOU UP WITH A GROWL AND YOU GOT UP AND THE LIGHTS WERE NOT ON.
They were not on.
THEN THEY CAME ON SUDDENLY, PROVOKED BY SOMETHING YOU COULD NOT SEE?
Right. And that night with all the lights, it was like, 'Where are our jets? They should be stopping all this!'
RIGHT, AND IF THE RED LIGHTS ARE ASSOCIATED WITH THE GIGANTIC, SILENT TRIANGLE.
Right.
AND IF THE SMALLER WHITE DISC LIGHTS ARE ASSOCIATED WITH THE ORANGE-WHITE LIGHTS…
Right.
Secret War?
WHAT IS THE CONFLICT, THE PROBLEM BETWEEN THE BIG TRIANGLE AND THOSE ORANGE-WHITE LIGHTS? AND WHO IS IN THE TRIANGLE? AND WHO IS IN THE ORANGE-WHITE LIGHTS?
I don't know. When the big triangle came over our heads, we were speechless. I know I was scared and Anita was scared. The two men there, Brian and George, didn't know what to say. And the two teenagers there didn't know what to say.
MY FRUSTRATION AS A REPORTER IS THAT I KNOW OUR GOVERNMENT HAS A LOT OF KNOWLEDGE ABOUT WHAT IS HAPPENING ON THIS PLANET, BUT THEY WANT EVERYBODY TO ACCEPT WHEN THEY SAY THERE IS NOTHING THERE, A POLICY OF DENIAL.
Right, this UFO, or object that came by, I felt like there was a chase and a conflict in the skies. And I felt like this triangle object did not mind showing itself to us or to anybody else around. And I felt like that was that object's territory.
THAT IT WAS THE BIG TRIANGLE'S TERRITORY?
Right. I felt the triangle was telling us – and this is what scared us the most – it was telling us that it had control. 'Everything's under our control. We don't care if you see us. Here we are! This is our territory and there is nothing you can do.'
What Did Tyndall AFB and Eglin AFB Know?
And when we saw the jets fly by and go the opposite direction, and we saw like a conflict in the sky … it had us all thinking, 'Well, is our military going to do something?' We didn't know what to think. All we knew was that triangle in the sky, with no noise, and whoever was in there, they didn't care whether we seen it or not. And we're all upset by that. I felt like it was telling us, 'Here we are and there's nothing you can do!'
And I guess that's what got to all of us. We can't understand why it came like it did. We had no warning. It just popped up, there it is. It's going across the horizon and nobody can do anything.
WHAT'S SO INTERESTING IS THAT IT OCCURRED RIGHT AFTER YOU SAW THOSE LITTLE WHITE DISC LIGHTS LEAVE THE LARGER ORANGE-WHITE LIGHTS AND GO AFTER IN AN ATTACK MODE THE RED LIGHTS THAT MIGHT HAVE BEEN FROM THE LARGE TRIANGLE.
Right. They knew the chase was on. It happened four times.
IF THERE IS CONFLICT, WHAT IS THE CONFLICT ABOUT? AND WHAT DOES OUT GOVERNMENT KNOW ABOUT WHO IS IN THAT TRIANGLE? WHO IS IN THE BIG ORANGE-WHITE LIGHTS?  DOES OUR GOVERNMENT KNOW WHAT THE CONFLICT IS ABOUT, BUT CAN'T DO ANYTHING TO INTERFERE?
Right. I felt like our government knew. Those jets that flew by had a noise. And when they roared by, I thought, 'OK, we're safe!' But when they went the opposite direction, we didn't know what to think.
When the jets flew by, they knew exactly the location. They knew where the triangle went. And they did not come and tell us, the people. Nothing was reported on the news. Everything was quiet."
---
More Information:
If anyone has seen any similar aerial objects in Florida skies, or other parts of the United States and world, or has any substantive information about an "Earth's secret war," please email:  [email protected]. All requests for confidentiality are honored.
For further reports about triangular unidentified craft, please see my 2-volume book, Glimpses of Other Realities, in the Earthfiles Shop, plus other reports below in the  Earthfiles Archive:
08/01/2007 —Part 3, Non-Human Blonds, Greys and Big-Nosed, Cat-Eyed Lizards
07/31/2007 —Part 2, Non-Human Blonds, Greys and Big-Nosed, Cat-Eyed Lizards
07/28/2007 —Mysterious Aerial Lights Over Stratford-upon-Avon, July 14, and Farnborough, Hampshire, on July 22, 2007
07/26/2007 —Part 1, Non-Human Blonds, Lizards and Big-Nosed, Cat-Eyed Greys
06/14/2007 —High Strangeness Encounter in Tucson, Arizona
03/16/2007 —10th Anniversary of 1997 Phoenix Lights: What Was the 2-Mile-Long Triangular Craft?
11/27/2006 —Inside Saucer Post …3-0 Blue © 1957 by Leonard H. Stringfield
09/05/2006 —Part 2: "Alphonso Lorenzo" – Military Visitor to Another Planet?
08/17/2006 —Military Helicopter Aggression Toward Red Sphere in U. K.
08/15/2006 —Part 2 – Three Crop Formations Near Uffington White Horse – A "Merkabah?"
07/27/2006 —San Andreas Fault So Stressed, Next Quake Could Be Magnitude 8
06/13/2006 —Mysterious Triangle-Shaped Welts and Bruises
02/23/2006 —Huge Boomerang Craft and Blond Beings
12/02/2005 —Abduction by Grey ETs in Huge, Black Triangle
10/04/2005 —"Stars" That Move In Patterns
09/21/2005 —Silent, Unidentified Aerial Triangle Entered Thunderstorm Over Fairborn, Ohio
07/26/2005 —Part 2: Two Men See Cow Mutilated in Light Beam
04/28/2005 —Dozens of Unidentified Aerial Objects Videotaped Over Sonora, California
09/17/2004 —Updated: Part 1 – High Strangeness in Canadian Cattle Corn
09/12/2004 —Part 2 – High Strangeness in Canadian Cattle Corn
08/06/2004 —Truck Driver Who Allegedly Saw Craft and "Lizard" Arm from 1965 Kecksburg, PA Crash
08/03/2004 —Crop Formations: Fifteen in Southern England Since July 20, 2004.
06/14/2004 —Part 2 – The Danger of Time Loops and A Wormhole on Frenchman Mountain, Nevada
03/26/2004 —Back Engineering ET Craft
01/19/2004 —Earthfiles and Radio Audience Feedback About Anomalous Sky Objects
01/17/2004 —High Strangeness in the Napoleon, Michigan Sky
02/01/2003 —Six Unidentified Triangular Aerial Craft Over Uinta Mountains, Utah
01/25/2003 —Another Mysterious Skyquake in Pensacola, Florida
07/23/2002 —Mysterious, Buzzing Light in Tehachapi, California
05/09/2002 —More Orange Triangular Aircraft Over Red Deer, Alberta, Canada
05/02/2002 —Canadian Satellite Hunter Tracks Classified U. S. Navy Satellites
05/02/2002 —Aerial Triangles of High Strangeness
11/17/2001 —Mysterious Lights in Hessdalen, Norway – Thermal Plasmas of Unknown Origin?
10/27/2001 —Another Orange Triangle Near Red Deer, Alberta, Canada
09/22/2001 —Huge Hexagram Crop Formation in Red Deer, Alberta, Canada
08/29/2000 —Black Triangle, Red Lights and Spinning Disc Over Wiltshire, England Crops
03/28/1999 —Triangles Over Wenatchee Valley, Washington, 1966
03/14/1999 —Africa Stone Circle and Triangle of Lights over Tucson, Arizona
02/14/1999 —Triangular Craft — Eyewitnesses France & New Mexico
01/28/1999 —Army Sgt. Clifford Stone's and Triangle Craft in Germany, 1989
---
Websites:
Space.com:  http://www.space.com/businesstechnology/flying_triangle_040902.html
Majestic Documents:  http://www.majesticdocuments.com
UFO Casebook:  http://www.ufocasebook.com/triangles.html

© 1998 - 2018 by Linda Moulton Howe.
All Rights Reserved.