"God does not play dice with the universe."
– Albert Einstein, Physicist
But with parallel universes, Schroedinger's cat can be both dead and alive at the same time.

October 18, 2007  Davis, California – There could be another Earth, a Doppelganger planet, full of healthy bees in another parallel universe – just like the famous Schroedinger's cat in the physics thought experiment about quantum mechanics – in which all states of existence are probable at the same time. That's why Schroedinger's cat can be both dead and alive at the same time.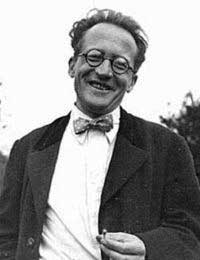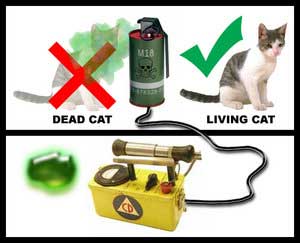 Atoms are never in only one location, but are in all probable locations at the same time. That irrationality of quantum mechanics caused Einstein and other 20th Century physicists great frustration. Albert Einstein didn't like the concept that "God would play dice with the universe."
But now comes controversial mathematical theory from Professor David Deutsch at Oxford University in England that explains how Schroedinger's cat really can be alive and dead at the same time – in parallel universes.
Prof. Deutsch's quantum physics equations show a cosmic structure that can be compared to a bush or tree with branches and each branch is a parallel universe. That would mean our universe is only one of the many probable states that universes can take. Schroedinger's cat can be alive here – and dead in the parallel universe next door – all at the same time, as atoms are everywhere at the same time in a molecule.
Recently I talked about this controversial parallel universe theory with Prof. Andreas Albrecht, Prof. of Physics at the University of California-Davis. Since his Ph.D. at the University of Pennsylvania, Prof. Albrecht has been trying to understand how all-proba-bilities-are-possible in quantum mechanics relates to the physical 3-D universe we live in.
---
Interview:
Andreas Albrecht, Ph.D., Professor of Physics, Department of Physics, University of California-Davis, Davis, California:   "Many physicists to this day remain very uncomfortable about quantum mechanics. In fact, I teach quantum mechanics to undergraduate physics majors now and the book we use has a lot of that discomfort in it as well.
WHICH IS THE CAT CAN'T BE BOTH DEAD AND ALIVE!
Yeah, you can say it's all well and good that the equations confirm that we get to be certain about this (multiple realities), but what are we actually doing keeping track of all these different outcomes? We are hard-nosed physicists who want to talk about what we can really measure, not metaphysics. I think I can know this is what I'm putting my finger on, this is how you go and measure it – don't bother me with any other crap!
And so here I am trying to have this hard nosed attitude, but what do I have: this fundamental theory that says most of my effort when I compute the future direction of physical systems, most of my effort goes into keeping track of all the things that could have happened, but didn't!   (laughs)
IS IT FAIR TO SAY THAT PROBABILITY GROWS OUT OF A STRUCTURE OF THE COSMOS IN THAT THIS COSMOS IS MULTIPLE PARALLEL UNIVERSES, WHICH IS WHAT SETS UP THE PROBABILISITIC NATURE OF WHAT'S AROUND US?
I think that is fair to say.
HERE IS A QUOTE FROM THE PRESS ASSOCIATION BACK ON SEPTEMBER 23, 2007:
  'The Oxford team lead by David Deutsch, Ph.D., showed mathematically that the bush-like branching structure created by the universe splitting into parallel versions of itself can explain the probabilistic nature of quantum outcomes.'
Absolutely! That's absolutely right.
TO ME, WHAT THIS DOES IS PUSHES US INTO SEEING THAT THE STRUCTURE OF THE GRAND COSMOS IS ONE OF BRANCHES, WHICH ARE PARALLEL UNIVERSES.
Yes.
AND THEN QUANTUM MECHANICS FALLS OUT OF THAT AS A RESIDUE IN OUR 3-D WORLD REFLECTING THOSE PARALLEL UNIVERSES. AND IT WOULD EXPLAIN HOW, IN SCHROEDINGER'S DILEMMA THAT THE CAT CAN BE ALIVE IN THIS UNIVERSE AND BE DEAD IN THE PARALLEL UNIVERSE.
That's right.
THE CAT CAN BE ALIVE AND DEAD IN TWO DIFFERENT REALITIES.
Right.
HOW COULD WE GO ABOUT PROVING THE EXISTENCE OF PHYSICAL, PARALLEL UNIVERSES?
The most direct connection with the parallel universes comes from laboratory experiments. The catch is that parallel universes seem to be nicely separated. But it turns out that parallel universes are never perfectly separated. In the case of the cat (Schroedinger's), the degree of separation is so great that it's really secure.
THAT THE CAT  IS ALIVE HERE AND DEAD IN ANOTHER UNIVERSE.
Yeah. But you can consider other systems that are not as solid as the cat. You can go into the lab and say, 'Here are two parallel universes that I've separated apart. But the remaining interconnection between the two is not so small as it was for the cat. And I can dig in carefully with my really super high tech equipment and study that connection. Whenever people have done that, they've really seen it, just as predicted by quantum mechanics. So, it's not just that the parallel universes are out there, but they are not perfectly separated. As you consider the various possible branches. You can actually see the interference among the branches in the laboratory.
AND THE LAWS OF PHYSICS COULD BE VERY DIFFERENT IN EACH UNIVERSE?
Exactly. And what you try to do is find very sharply defined probabilities so you can make predictions.
Dark Energy Could Relate to Existence of Parallel Universes
IF THERE ARE PARALLEL UNIVERSES, THEN THEY MIGHT BE SEPARATED FROM EACH OTHER BY AN ELECTROMAGNETIC MEMBRANE, JUST TO USE A PHRASE. COULD IT BE THAT THE EXISTENCE OF THE OTHER UNIVERSES COULD RELATE TO THE MYSTERIES OF DARK ENERGY AND DARK MATTER AS WE PERCEIVE IT IN THIS PARTICULAR UNIVERSE?
Yes, some people are trying that line of reasoning – especially the dark energy. They are trying to argue that maybe the processes of looking for the most probable laws of physics will guide us to a set of laws that are closely tied to having a certain amount of dark energy.
THAT THE UNIVERSES ARE SEPARATED FROM EACH OTHER BY ELECTROMAGNETIC MEMBRANES OR ARE ON DIFFERENT FREQUENCIES, OR SOMETHING LIKE THAT?
The idea that we have built a theory that fundamentally has these many branches (of parallel universes) would, in the end, be feeding into our understanding of the dark energy.
AND RIGHT DOWN TO THE VERY SMALLEEST, THE FACT THAT ATOMS ARE NOT IN ONE PLACE, BUT ARE IN ALL PLACES AT ONCE IN THE DIFFERENT 'SHELLS' THAT MAKE UP OUR MOLECULES – IT'S A METAPHOR FOR EVERYTHING AT THE MACRO LEVEL OF THE COSMOS.
Right. That's definitely what we think – no matter how hard we struggle to understand atoms, those same features seem to be at work in the cosmos as a whole.
ON THE LARGE SCALE.
Right.
THEN IT COMES BACK TO THE HUMAN LOOKING OUT AT THE STARS AND SAYING, 'IF THERE ARE MULTIPLE PARALLEL UNIVERSES, THEN THERE MUST BE MULTIPLES OF US IN PARALLEL UNIVERSES, OR AT LEAST CONSCIOUSNESS.
Yeah, it's a lot of fun to think about!"
---
More Information:
For further reports about astronomical and cosmic mysteries, please see other reports below in the  Earthfiles Archive:
10/11/2007 —Carancas, Peru Meteorite Could Be 10 Tons
09/26/2007 —Meteorite Fell in Carancas, Peru – Not Satellite
01/07/2007 —Universe's Mysterious Dark Matter – First 3-D Map
12/31/2006 —Part 8: Inside Saucer Post …3-0 Blue
12/15/2006 —Stardust Comet Mission Reports New Kind of Organics
12/08/2006 —NASA Wants Permanent Moon Base by 2024
12/01/2006 —Deep Impact and Stardust: Are Comets Made of the Same Stuff?
06/29/2005 —July 3-4, 2005: NASA "Deep Impact" Spacecraft to Blast Hole in Comet Temple I
04/20/2005 —Outer Space Impact At Serpent Mound, Ohio, 256 Million Years Ago
04/01/2005 —What's Killing Off Marine Life Every 62 Million Years?
03/20/2005 —Astronaut John Young: "The Moon Can Save Earth's Civilization."
02/17/2005 —Iapetus and Enceladus: Baffling Moons of Saturn
01/13/2005 —NASA "Deep Space" Craft Will Hit Comet On July 4, 2005
06/25/2004 —Wild 2, An Amazing Comet
03/31/2004 —Methane on Mars – Biology? Volcanic?
01/17/2004 —Part 2 – Is Dark Matter the "Heavy Shadow" of Light Matter?
01/13/2004 —Part 1 – Is Dark Matter the "Heavy Shadow" of Visible Matter?
01/09/2004 —Robotic "Geologists" on Mars
10/25/2003 —Science Data Reinforces Invisible "Dark" Matter and Energy Make Up 96% of Our Universe
01/05/2003 —What Are the Grooves in the Martian South Pole?
10/22/2002 —U. S. DOD Satellites Detected Explosion of Siberian Bolide
09/25/2002 —Part 2 – Harvard Egyptologist Discusses Purpose of Shafts and Small "Doors" in Cheops Pyramid
12/20/2001 —Will Our Universe End With Its Final Light Frozen in Time?
11/19/2001 —Update on Underwater Megalithic Structures near Western Cuba
11/10/2001 —The Orion Constellation and the Pyramids of Giza
01/14/2001 —An Australian Zircon Crystal is 4.4 Billion Years Old
01/07/2001 —Dinosaur-Killing Asteroid Punched 22 Miles Through Earth's Entire Crust
06/26/2000 —250 Photographs of Mars Show Signs of Water
03/11/2000 —Is 433 Eros Asteroid Younger Than Expected?
12/02/1999 —Is There Water – And Life – On Mars?
08/28/1999 —Oddball Quasar and Salt Water Inside Meteorite
06/27/1999 —Microbes Two Miles Below Earth Surface in South Africa
---
Websites:
Quantum Mechanics:  http://msc.phys.rug.nl/quantummechanics/
Kansas State University:  http://phys.educ.ksu.edu/
University of Exeter:  http://newton.ex.ac.uk/research/qsystems/people/jenkins/mbody/mbody2.html

© 1998 - 2018 by Linda Moulton Howe.
All Rights Reserved.