"I could see thirteen craft in the skies. They were zig-zagging, but I filmed two before they disappeared. They were like rotating cubes with multiple colours."
- Corporal Mark Proctor, 1st Battalion Irish Regiment, June 7, 2008
"They weren't from this world. They made no sound and had flashing dots inside."
- Bonnie Lewis, Bromsgrove, Worcestershire,
U. K., June 20, 2008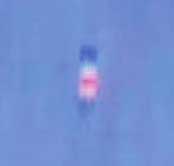 June 27, 2008  Shropshire and Bromsgrove, United Kingdom - On Friday, June 20, 2008, only a few days ago, a 29-year-old British woman named Bonnie Lewis from Bromsgrove, Worcestershire, was walking her dog when she saw four spinning, multi-colored cylinders in the sky, which astonished Bonnie. She grabbed her cell phone and took video of the spinning cylinders.

© 1998 - 2018 by Linda Moulton Howe.
All Rights Reserved.