"We're very close to the breaking point of what's enough and what's not enough. Honey bees are not healthy."
- Jerry Hayes, President, Apiary Inspectors of America
"Our lawsuit is to uncover critical information that the U. S. government is withholding about the risks posed by nicotine-based pesticides to honey bees. EPA should be evaluating the risks to bees before approving new pesticides, but now refuses to tell the public what it knows."
- Aaron Colangelo, NRDC Sr. Attorney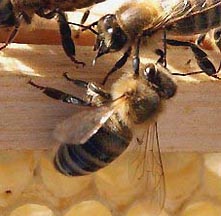 August 31, 2008  Gainesville, Florida - It was 18 months ago in February 2007 at Earthfiles that I reported my first interviews with Penn State and University of Pennsylvania scientists about honey bee disappearances that came to be known as "Colony Collapse Disorder," or CCD. [ See:  022307 Earthfiles.] I also interviewed David Hackenberg, a beekeeper from Pennsylvania, about his massive disappearance of honey bees. That fall of 2006, Dave Hackenberg lost 60% of his bee colonies; in 2007 he lost 80% of his bees and went into debt to stay in business. He told me, "I am trying to stay as far away from all those nicotine-based chemicals as I can." He had become convinced that those pesticides (such as Imidicloprid and Clothianidin) were the main problem in the disappearance of his bees.
Click here to subscribe and get instant access to read this report.
Click here to check your existing subscription status.
Existing members, login below:

© 1998 - 2023 by Linda Moulton Howe.
All Rights Reserved.