"I snapped the two pictures only a second apart and one is clear and the next one has the disc in it."
- John Nano, Owner, Altavilla Pizza, Sun City West, Arizona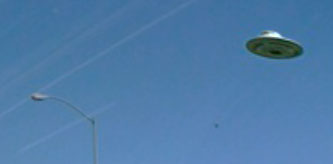 Updated with EXIF Data August 11, 2010 - After posting this Earthfiles report with the iPhone images sent to me by John Nano, Owner, Altavilla Pizza in Sun City West, Arizona, I received emails from viewers insisting that even if Mr. Nano took two iPhone images in a second or so, there would have to have been more movement in the turn onto Highway 10 moving east toward downtown Phoenix.

© 1998 - 2018 by Linda Moulton Howe.
All Rights Reserved.