"Bats have in the last four years experienced declines that are unprecedented in the history of wildlife studies in North America and in the world, for that matter ... from White-Nose fungus syndrome."
- Thomas Kunz, Ph.D., Biologist, Boston University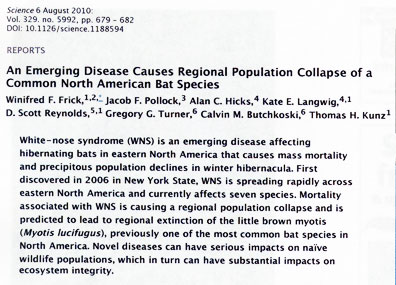 August 26, 2010  Boston, Massachusetts - Since the winter of 2006–2007, more than a million bats have died in the United States and now in Canada from an insidious fungus called Geomyces destructans that leaves its white "dust" on the noses, faces, ears and wings of infected bats. This bat-killing fungus was unknown before 2006.

© 1998 - 2018 by Linda Moulton Howe.
All Rights Reserved.