"The red-brown color observed and photographed in the Levittown leaves implies that the June and July leaves, filled with green chlorophyll, were subjected to external radiation - presumably the beamed energy from the aerial craft - that provoked leaf production of the red, protective pigment anthocyanin usually associated with fall leaves, not summer growth."
- Biophysicist W. C. Levengood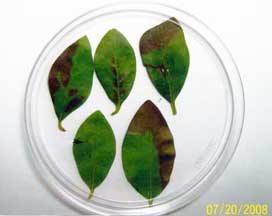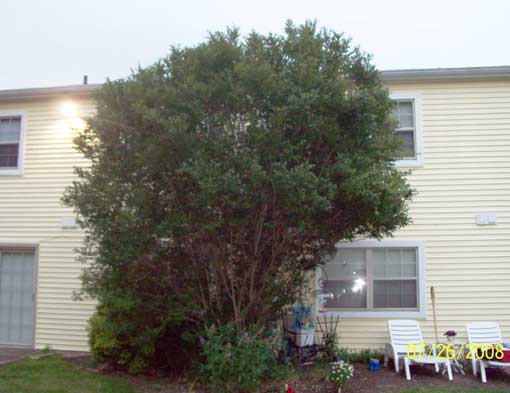 Privet bush about 15 feet high grows next to eyewitness's apartment back door in Levittown, Pennsylvania, where "little squares of light" first fell on June 12, 2008 - and two more times in July 2008 - from a pink-colored aerial disc and surrounded the privet bush and a silver maple tree about 65 feet away. Image © 2008 by Robert Gardner.Return to Part 1
April 1, 2011 reprint of November 14, 2008  Grass Lake, Michigan - W. C. Levengood, a biophysicist who worked on his Ph.D. at the University of Michigan, has received several patents concerning seed development. His research work about evidence of spinning plasma vortices containing microwave and other energies affecting plants and grasses in the global crop circle phenomenon has been published in the prominent journal, Physiologia Plantarum: An International Journal for Plant Biology.

© 1998 - 2018 by Linda Moulton Howe.
All Rights Reserved.