"It looked like the staircase appeared out of nowhere on the disc,
according to Doug Noland. And there was talk of bodies on board the craft, alien bodies - between 14 and 16 bodies were on that ship."
- Scott Ramsey, Aztec UFO Investigator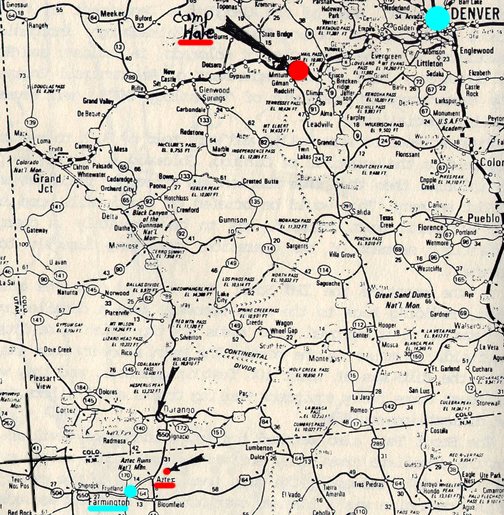 [ Editor's Note:  Wikipedia - Camp Hale, between Red Cliff and Leadville in the Eagle River valley in Colorado, was a U.S. Army training facility constructed in 1942 for what became the 10th Mountain Division. It was named for General Irving Hale. Soldiers were trained in mountain climbing, Alpine and Nordic skiing, and cold-weather survival. When it was in full operation, approximately 15,000 soldiers were housed there. From 1959 to 1964, Tibetan guerrillas were secretly trained at Camp Hale by the CIA. The site was chosen because of the similarities of the terrain with the Himalayan Plateau. The Tibetans nicknamed the camp 'Dhumra,' meaning The Garden. The CIA circulated a story in the local press that Camp Hale was to be the site of atomic tests and would be a high security zone. Until the camp was closed in 1964, the entire area was cordoned off and its perimeter patrolled by military police. ]
April 29, 2011  Charlotte, North Carolina - Frank Scully wrote on Page 23 of his September 1950-released book Behind the Flying Saucers that Scientist X, or "Dr. Gee" had told University of Denver students on March 8, 1950, in a 50-minute pre-scheduled presentation that a saucer "had landed less than two years previous to his talk, 'on a site within 500 miles of Denver.'" Apparently no local reporters were recording the talk, but Frank Scully found a detailed summary in the Summerside Journal published on Prince Edward Island in Canada. On Pages 24 - 28 of Scully's book, he writes about what he learned from the Canadian newspaper:
Click here to subscribe and get instant access to read this report.
Click here to check your existing subscription status.
Existing members, login below:

© 1998 - 2023 by Linda Moulton Howe.
All Rights Reserved.