"With the naked eye, fuzzy colors is not what you see. The lights are as clear as a hovering helicopter with running lights except the lights are all different colors running all over the place - and there is no sound."
- J. D. Johnson, Computer Tech, Lake Elsinore, California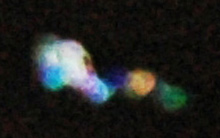 Return to Part 1 for first email and images from J. D. Johnson.
January 3, 2012  Lytle Creek, California, northeast of Mt. Baldy - J. D. Johnson is a 42-year-old computer technician who has worked in information technology half his life and describes himself as a man who is rarely rattled by anything happening around him. But the night of March 23, 2006, he and his friend, Bob, encountered bright, colorful aerial lights in Lytle Creek, California, east of Mount Baldy and northeast of San Bernardino that not only scared J. D., but left him confused and unable to remember clearly what happened.

© 1998 - 2018 by Linda Moulton Howe.
All Rights Reserved.