"The captain with Northwest Florida University asked (over the VHF marine radio) for captains - who worked in the oil clean up and are coughing up blood, blowing blood out of their nose, and have skin rashes - not to speak to the media till after fishing season. No one wants to be responsible for scaring away tourist dollars."
- Gulf Fisherman, Destin, Florida
Subject:  Sick fish in Gulf of Mexico
Date: May 29, 2011 7:13:58 PM MDT
To: Linda Moulton Howe <[email protected]>
"I run a deep sea fishing business in Destin, Fl. I have been professionally fishing the Gulf since 1998. I'm 42 and grew up fishing the Gulf. I came across your Earthfiles website while searching for info on the sick fish in the Gulf. I have been catching sick fish with lesions. Before now, I have caught tens of thousands of fish and have never thrown one back because of skin lesions.
I took the attached photo on today's fishing trip. This is the first fish of the trip (Amberjack.) We caught 5 more AJ's all with lesions. NOAA is stating a one in 1500 chance of catching a sick fish. Today May 29, my catch ratio was 100% sick fish. My last trip Fri. May 27 we caught 8 AJ's, 5 with lesions.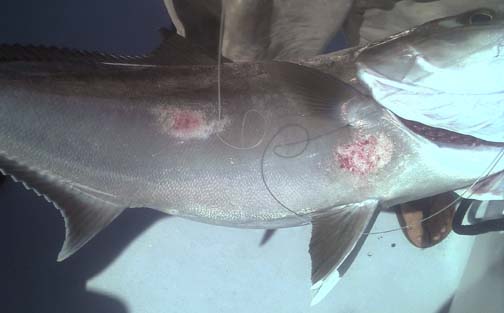 Click here to subscribe and get instant access to read this report.
Click here to check your existing subscription status.
Existing members, login below:

© 1998 - 2023 by Linda Moulton Howe.
All Rights Reserved.