"It was cylindrical and it was changing its reflectivity as we were watching it like a cylindrical tube, part of it being translucent."
- Bill Richards, Co-Owner New York Film Flyers, Gardiner, New York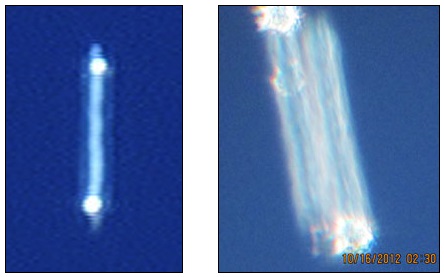 Fact update for Earthfiles viewers who have asked if the strange translucent aerial objects above could be the remains of the balloon that carried Felix Baumgartner 24 miles up over Clovis, New Mexico, on October 14, 2012, for his record-setting space jump of 128,100 feet. The answer is "No," directly from Felix Baumgartner to Bill Richards in Gardiner, New York. Felix told Bill his balloon weighed 4,000 pounds and fell rapidly to the ground after Felix released for his jump. Two days later on October 16, 2012, residents in western West Virginia, eastern Kentucky and northern Tennessee reported the unidentified bright object high in the sky that remained in the same place from 2 to 4:30 PM. Then two days after that on October 18, 2012, Bill Richards and his three dozen employees saw a similar object above Gardiner, New York, that did not move between 3:15 and 5 PM.
November 3, 2012  Gardiner, New York - On October 27, 2012, Earthfiles reported about the "Unidentified Aerial Object As High As Jet Stream" seen by residents from Williams, West Virginia, to eastern Kentucky to northern Tennessee.  See 102612 Earthfiles.
That Earthfiles report included an interview with  amateur astronomer, Allen Epling in Virgie, Kentucky. He used his telescope to photograph and videotape the bizarre object, put the video on YouTube and national news picked up the mystery.
Click here to subscribe and get instant access to read this report.
Click here to check your existing subscription status.
Existing members, login below:

© 1998 - 2023 by Linda Moulton Howe.
All Rights Reserved.