"Something very unusual struck me. If these two lighter and brighter colored photo strips were left over from earlier satellite photos, their location would most likely be random and not related to each other. However, if you look at the jpeg of the area I have attached to this email, they are very definitely related to the dead cows!"
- Retired Naval Flight Officer Captain Mark Wood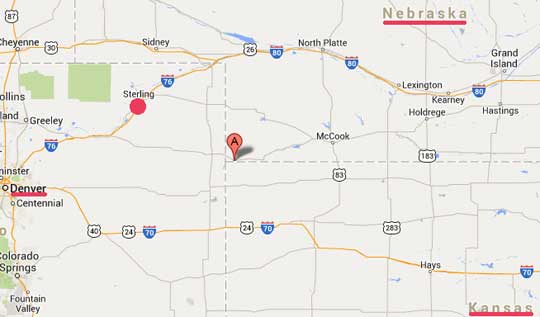 Return to Part 1.
Updated August 12, 2013  Albuquerque, New Mexico - I emailed to retired Naval Flight Officer Mark Wood the Google Earth image and Lat/Long coordinates of the 3 dead pregnant cows sent to me by Haigler, Nebraska rancher Alex Peterson, Updated Part 3 of these Earthfiles reports. I received back the following email from Captain Wood with written permission to use on the record his full name and military background.

© 1998 - 2018 by Linda Moulton Howe.
All Rights Reserved.