The NASA Dawn spacecraft is in a new, lower mapping orbit of 915 miles above the dwarf planet's surface, but an embargo by the journal Nature is preventing the release of new images taken closer to the Occator crater and its mysterious, persistent "bright spots."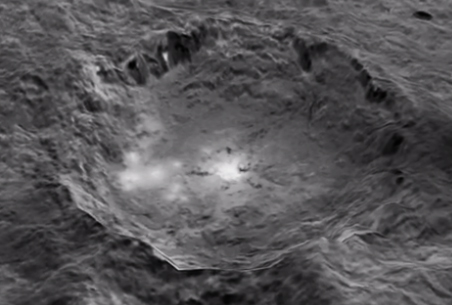 "We're now getting data from the VIR spectrometer, and I got a report
back yesterday that all of the data over the bright spot was obtained ...
but the white substance is still unidentified."
- Christopher Russell, Ph.D., Dawn Mission's Principal Investigator, UCLA
September 3, 2015 - Los Angeles, California- The Dawn Mission's Principal Investigator is Christopher Russell, Ph.D., Professor of Geophysics and Space Physics at the University of California-Los Angeles (UCLA). Prof. Russell has spent fifteen years working on NASA's Dawn mission to the asteroid belt between Mars and Jupiter where Dawn first photographed asteroid Vesta and is now in a new mapping orbit around the enigmatic dwarf planet Ceres.

© 1998 - 2018 by Linda Moulton Howe.
All Rights Reserved.