"And he says, 'Son, bullets are a dime a dozen. Do you understand me?' ... I just don't understand why we were treated the way we were ... we were entrusted with multi-million dollar machinery and guarding bases, protecting people's live ... we signed a blank check to the government basically and said, 'We're here for you. We're going to do what you tell us to do.' And then we get pushed down."
- Former Sergeant Adrian Bustinza, D Flight Security,
RAF Bentwaters/Woodbridge in December 1980
Return to Part 1.
September 15, 2015 - Albuquerque, New Mexico - One of the men with John Burroughs during the early morning hours of December 28, 1980, during John's second encounter with the unidentified aerial phenomena in Rendlesham Forest was D Flight Security Sergeant Adrian Bustinza.The following is a continuation of our PHENOMENON Radio interview on August 27, 2015, when Adrian spoke for the first time on radio about what he remembered that night of high strangeness in England near RAF Bentwaters/Woodbridge. One of Adrian's most important revelations was the intimidating threat he received afterward in which a backlighted figure in silhouette ordered Sgt. Bustinza to lie about what he had seen.

Live KGRA web radio Thursday nights 5 -7 PM Pacific / 8 -10 PM Eastern.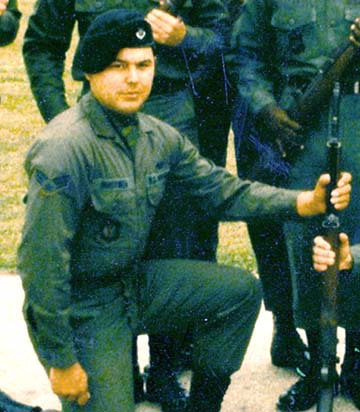 Former RAF Bentwaters/Woodbridge D Flight Security
Sergeant Adrian Bustinza. Photograph © 1980 by Lori Buoen.
Click here to subscribe and get instant access to read this report.
Click here to check your existing subscription status.
Existing members, login below:

© 1998 - 2023 by Linda Moulton Howe.
All Rights Reserved.