"It is absolutely true that the amount of melting is increasing over  Greenland.... but how much of that is leading to this abnormal cooling
in the Atlantic is just not clear."
- Thomas L. Delworth, Ph.D., NOAA's Geophysical
Fluid Dynamics Laboratory (GFDL), Princeton University, Princeton, NJ
October 29, 2015 Princeton, New Jersey - Back on December 14, 2002, I did my first Earthfiles report about the North Atlantic Oscillation that combines with the North Atlantic Drift like a big conveyor belt that brings warm Gulf of Mexico waters northward, warming temperatures along eastern North America and western Europe. Back then the journal Science had published findings that six of the world's biggest fresh water rivers in Eurasia were dumping a lot more water into the Arctic Ocean due to melting perma frost and glaciers as the Earth is warming up. The concern was whether all that fresh water would dilute the salty North Atlantic enough to slow down, even stop, the big conveyor belt that is also called the Atlantic Ocean's "Meridional overturning circulation," or AMOC. AMOC is driven by differences in ocean temperature and the salt content in the North Atlantic.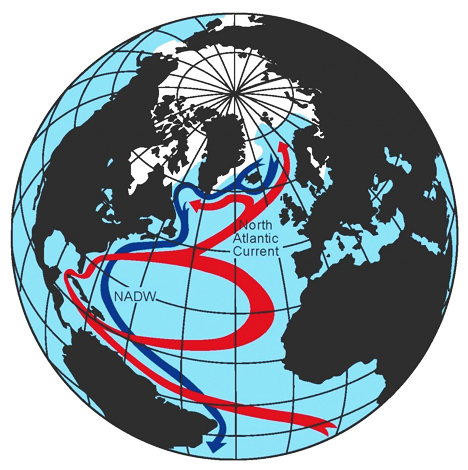 Click here to subscribe and get instant access to read this report.
Click here to check your existing subscription status.
Existing members, login below:

© 1998 - 2023 by Linda Moulton Howe.
All Rights Reserved.