"When the JFK assassination cover-up hits, it is certainly helpful that
the (Dallas) Mayor, Earle Cabell, is a CIA asset and that his brother,
Charles Cabell, is the former Deputy CIA Director!"
- Daniel Liszt, Producer and Host, Dark Journalist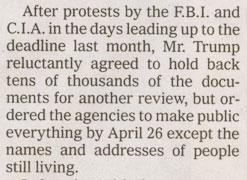 November 22, 2017 Cambridge, Massachusetts - Today marks the 54th Anniversary of the JFK assassination in Dallas, Texas. By now, a 1992 National Archives law had mandated that all of the thousands of documents and photos from the murder investigation would be released to the American public by October 26, 2017. But the CIA and FBI are still blocking the release of thousands of records — why?

© 1998 - 2018 by Linda Moulton Howe.
All Rights Reserved.