Robert Bigelow, Owner of Bigelow Aerospace in Las Vegas, Nevada, confirms his participation to investigate UFOs in the new organization To The Stars Academy with retired military intelligence and scientist participants and is quoted in today's December 19, 2017, New York Times as saying Americans are being held back from serious research into U.F.O.s by "a juvenile taboo."
"The object's orientation and performance seem to defy
current principals of physics such as atmospheric resistance and normal
aerodynamic forces. During the orientation change, the UFO also
slows to a near stop, but does not change altitude."
- DoD Analysis of UFO in U. S. Navy F/A-18F
fighter jet's gun camera infrared video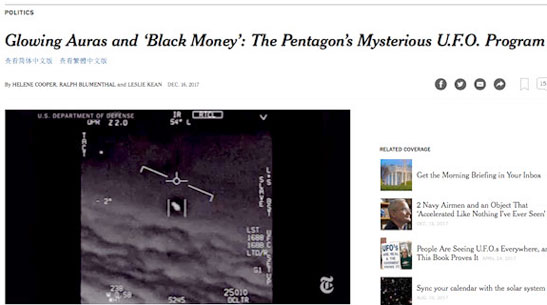 Update January 4, 2018 Albuquerque, New Mexico - Original December 19, 2017 report - Now we have had both infrared gun camera videos and more filtered audio analysis of jet fighter voices in a 34-second video from 2004, released in The New York Times on Saturday, December 16, 2017.
That's why December 16, 2017, was an historic day and night in the annals of the U. S. government's 70 years of covering up the alien presence behind UFOs, also known as Unidentified Aerial Phenomena (UAPs), with strict policies of denials and lies ordered in 1947 by President Harry S. Truman in the interest of national security.
Click here to subscribe and get instant access to read this report.
Click here to check your existing subscription status.
Existing members, login below:

© 1998 - 2023 by Linda Moulton Howe.
All Rights Reserved.