Robert Bigelow, Owner of Bigelow Aerospace in Las Vegas, Nevada, confirms his participation to investigate UFOs in the new organization To The Stars Academy with retired military intelligence and scientist participants and is quoted in today's December 19, 2017, New York Times as saying Americans are being held back from serious research into U.F.O.s by "a juvenile taboo."
"The object's orientation and performance seem to defy
current principals of physics such as atmospheric resistance and normal
aerodynamic forces. During the orientation change, the UFO also
slows to a near stop, but does not change altitude."
– DoD Analysis of UFO in U. S. Navy F/A-18F
fighter jet's gun camera infrared video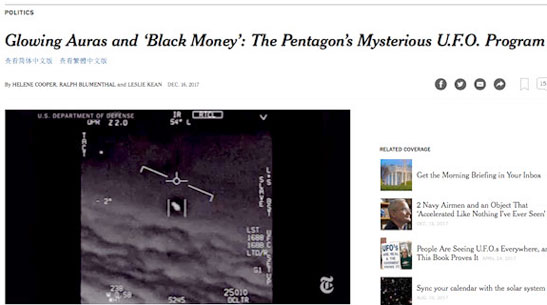 Update January 4, 2018 Albuquerque, New Mexico – Original December 19, 2017 report – Now with both infrared gun camera videos and more filtered audio analysis of jet fighter voices in 34-second video from 2004, released in The New York Times on Saturday, December 16, 2017.
Two days later on Monday, December 18, 2017, the second longer video (2:45) identified as GIMBAL in which "the date, location and other information have been removed by the originating authority as part of the release approval process" was released in The Washington Post, along with an interview from American Navy pilot David Fravor who was
was an historic day and night in the annals of the U. S. government's 70 years of covering up the alien presence behind UFOs, also known as Unidentified Aerial Phenomena (UAPs), with strict policies of denials and lies ordered in 1947 by President Harry S. Truman in the interest of national security.
This new crack in official U. S. government policies of lies and denials began on Saturday with The New York Times headline article: "Glowing Auras and 'Black Money': The Pentagon's Mysterious U. F. O. Program" that contained the two infrared videos of UFOs from the Defense Department's Advanced Aerospace Threat Identification Program (AATIP).
That agency was unknown to most everyone until December 16, 2017, when we learned in The New York Times article that the DoD AATIP agency was brought secretly into being  by retired Nevada Democrat Harry Reid, who was the U. S. Senate majority leader in 2007. That's when he got $22 million allocated to the Defense Department's budget to create and operate the Advanced Aerospace Threat Identification Program to study the extraordinary technologies moving in Earth's skies seen by hundreds of military pilots. To skilled, professional military pilots, the UFO craft accelerate like nothing ever seen before and travel at astoundingly fast speeds — stop mid-air — do 90-degree-angled turns —  brighten and dim — seem to expand in size and then disappear.
AATIP On 5th Floor, C Ring, Pentagon
The Advanced Aerospace Threat Identification Program became funded in 2007 with a $22 million authorization for five years that allegedly expired in 2012, but The New York Times reports the program is still secretly ongoing. AATIP was based in the 5th Floor of the Pentagon's C Ring in an office directed of a senior covert intelligence officer named Luis Elizondo.
On October 10, 2017, Mr. Elizondo resigned from his Pentagon position in a letter to U. S. Defense Secretary James Mattis. In the December 17, 2017, issue of New York magazine article "Reports: The Pentagon Spent Millions on UFO Research," writer Benjamin Hart reported that Mr. Elizondo protested government secrecy and opposition to the UFO investigation program.
After his resignation, the very next day on October 11, 2017, Luis Elizondo was one of the five Dept. of Defense aerospace and scientist experts that Blink-182 guitarist Tom DeLonge introduced in his Facebook Live-Stream "To The Stars Academy of Arts & Science (TTSAAS)" event. Since 2015, Tom has been Co-Founder and President along with Co-Founder Jim Semivan, who is Vice President Operations of their company To The Stars Inc. Before this new venture, Mr. Semivan retired from 25 years as an operations officer, both overseas and domestically, for the Central Intelligence Agency.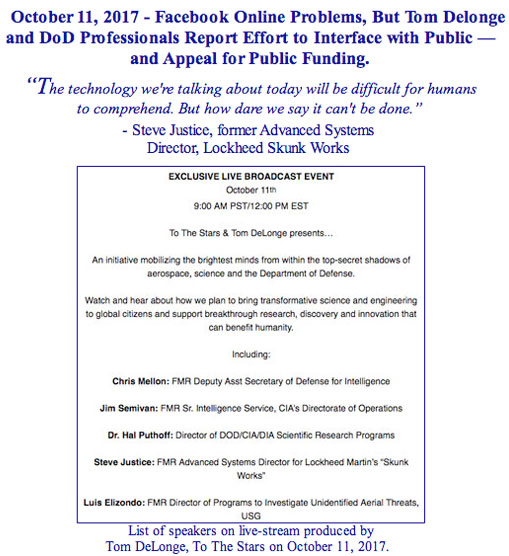 Six weeks later DeLonge posted on his Facebook page and then took down this notice: "As promised, the first ever declassified videos of UFOs are on their way. In a few days, these videos will be presented to the world…" So this December 16th New York Times article seems to be linked to that DeLonge posting.
The New York Times article explains that in response to its inquiry about confirming the Advanced Aerospace Threat Identification Program, that "Pentagon officials this month of December acknowledged the existence of the program, which began as part of the Defense Intelligence Agency, DIA."
The NYT stated: "The Defense Department has never before acknowledged the existence of the (AATIP) program."
AATIP Congressionally Funded
Strangely, the Pentagon says the program was shut down in 2012, five years after it received the $22 million funding after Nevada Senator (D) Harry Reid's efforts. But other sources told The New York Times that in fact the UFO program has continued to "investigate episodes with UFOs brought to the Pentagon by service members, while also carrying out their other Defense Department duties."
Retired Senator Harry Reid told The New York Times, "I'm not embarrassed or ashamed or sorry I got this thing going. I think it's one of the good things I did in my congressional service. I've done something that no one has done before."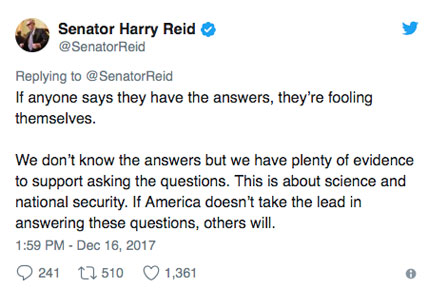 ATTIP Funding to Bigelow Aerospace
The NYT article says that most of the $22 million allocated for the Advanced Aerospace Threat Identification Program went to Bigelow Aerospace. Robert Bigelow, who is the owner of Bigelow Aerospace, appeared in CBS's 60 Minutes on May 28, 2017, and said, "I am absolutely convinced that aliens exist. … The alien presence is just like right under people's noses."  Apparently Mr. Bigelow meant there is an alien intelligence interacting with Earth now in the air — and below land, water and ice.
"[The alien presence] is just like right under people's noses."
– Robert Bigelow, Founder, Bigelow Aerospace,
May 28, 2017, CBS 60 Minutes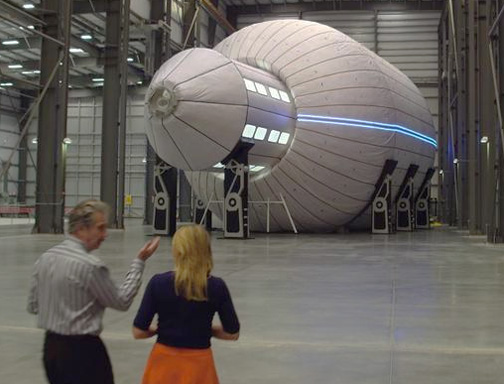 Two Different U. S. Navy Infrared Videotapes of UFOs
With the December 16, 2017, New York Times article, a 34-second infrared gun camera video was provided. The video came from a U.S. Navy F/A-18 Super Hornet using the Raytheon AN/ASQ-228 Advanced Targeting Forward-Looking Infrared (ATFLIR) pod. As the video starts, the cockpit sensor is showing white elements that are warmer than dark or cooler areas. The UFO appears as a white oblong shape in the middle of the screen. The American jet fightert that is chasing the UFO is at an altitude of 25,010 feet.  The highly trained fighter pilots in the Super Hornet are recorded as astonished by what is happening on the Heads Up Display. What this officially released short infrared video does not show — perhaps because the Pentagon does not want the public and media to see — is the pilots' reference to "a whole fleet of UFOs."
Based on To The Stars transcript analysis below the following two infrared gun camera videos, the sensor is switched from "white-hot" to "black-hot." Then the object is much clearer and has an oval shape with protrusions top and bottom. Then the disk-shaped object begins to rotate and change its orientation by almost 100 degrees. The Hornet pilots say, "Look at that thing! … It's rotating!"
Earthfiles Audio Filter of Original
New York Times-released 34-second Gun Camera Video:
This is Earthfiles's updated transcript from filtered audio:
Pilot one: "Yeah, that's a fucking drone, bro."
Pilot two: "There's a whole fleet of them. Look on the S. A. (situational awareness)."
Pilot one: "My gosh!"
Pilot two: "They're all going against the wind. The wind is 120 knots (138 mph) out of the west."
Pilot one: "Look at that thing, dude!"
Pilot two: "That's not L. N. S. now, is it? It's …"
Pilot one: "That is an L.N.S., dude."
Pilot two: "Well, the FLIR…"
Pilot one: "Look at that thing! It's rotating!"
Video # 1 ( :34 ) Released in The New York Times on December 16, 2017:

Click on above frame for 2004 U.S. Navy F/A-18 Super Hornet
gun camera infrared video near San Diego, CA.
2nd Infrared Gun Camera GIMBAL Video with Commander David Fravor's Comments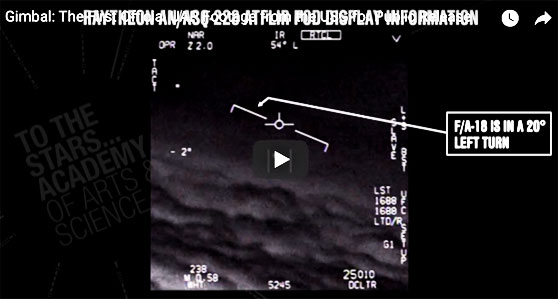 To The Stars Comments on GIMBAL Videl:
In addition, we hear US fighter pilots struggling to determine the nature of object. Key findings include:
• Low observability in both electro-optical and electromagnetic spectrums.
• No distinguishable flight surfaces.
• Lack of obvious propulsion system.
• Never-before-seen flight capabilities.
• Possible energy or resonance field of unknown nature.
The filename "GIMBAL" seems to be traceable to the unusual maneuvering of the UAP.
This second longer 2 minutes and 45 seconds infrared gun camera video identified as GIMBAL was released two days later on December 18, 2017, by The Washington Post in an article entitled, "Former Navy pilot describes UFO encounter studied by secret Pentagon program." The background material about the GIMBAL video provided by To The Stars Academy states that "the date, location and other information have been removed by the originating authority as part of the release approval process."
Earthfiles understands that this location might have been between San Diego and Mexico — or might have been in the Middle East where Commander Fravor was assigned in 2004.
Commander David Fravor has had an 18-year-career in the Navy. The Washington Postdescribes the background of the more sensitive GIMBAL video as saying:
"The year was 2004. Fravor was the commanding officer of the VFA-41 Black Aces, a U. S. Navy strike fighter squadron of F/A-18 Hornet fighter planes doing an exercise some 60 to 100 miles off the coast between San Diego and Ensenada, Mexico, in advance of a deployment to the Persian Gulf for the Iraq War." Commander Fravor says, 'As I get closer, as my nose is starting to pull back up, it (UFO) accelerates and it's gone! Faster than I'd ever seen anything in my life.'"
Video # 2 (2:45 ) released in The Washington Post on December 18, 2017:
Click on above frame for 2004 U.S. Navy F/A-18 Super Hornet
gun camera infrared video 60 to 100 miles off coast between
San Diego, CA and Ensenada, Mexico.
TTSAAS -Provided Analysis of NYT 2004 San Diego Video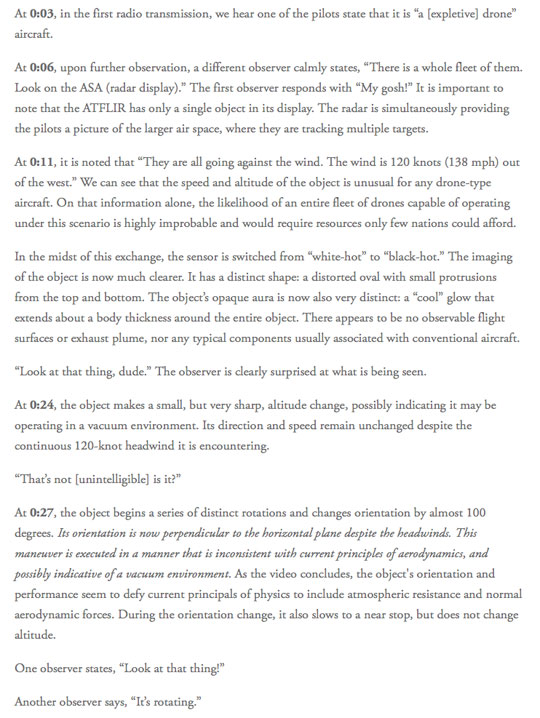 UFOs "Defy Current Principals of Physics"
The transcript and analysis provided with the infrared video states:
" the UFO's orientation is now perpendicular to the horizontal plane despite the headwinds. This maneuver is executed in a manner that is inconsistent with current principles of aerodynamics and possibly indicative of a vacuum environment. As the video concludes, the object's orientation and performance seem to defy current principals of physics such as atmospheric resistance and normal aerodynamic forces. During the orientation change, the UFO also slows to a near stop, but does not change altitude."
Aftermath
So, today is the first time in 70 years since World War II that official DoD astonishing UFO footage filmed from military airplanes has been officially released to the public and media. Congratulations to Tom DeLonge and To the Stars Academy, and the collaboration of Luis Elizondo, retired Director of the Defense Department's Advanced Aerospace Threat Identification Program — allegedly still secretly ongoing under other management now.
And to Chris Mellon, former Deputy Asst. Secretary of Defense for Intelligence; and Jim Semivan, former Sr. Intelligence Service, CIA's Directorate of Operations; and Steve Justis, former Advanced Systems Director for Lockheed Martin's SkunkWorks; and electrical engineer and physicist Hal Puthoff, Ph.D., Director of the Institute for Advanced Studies at Austin in Texas.
Hillary Clinton's 2016 presidential campaign manager John Podesta tweeted about all this:  "The shadowy program began in 2007 and was largely funded at the request of Harry Reid" .. and then he linked to The New York Times article.
Yesterday I interviewed Prof. Avi Loeb, Chairman of the Astronomy Dept. at Harvard University, about the bizarre 1/2-mile-long and 262-foot-wide cigar-shaped object first seen on October 19, 2017.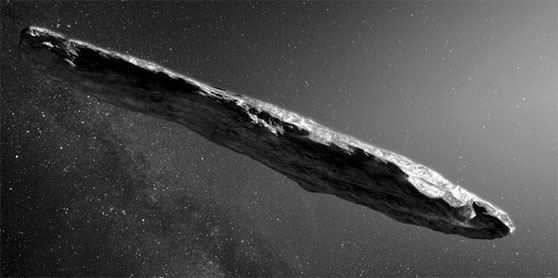 Oumuamua is now confirmed to be the first interstellar object ever seen by humans on Earth. No radio frequencies have been heard from it yet.
Oddly, Prof. Loeb confirmed scientists don't have any spectroscopy data from the interstellar image because scientists around the world were so surprised by its appearance and didn't act quickly enough to learn what it is made of.
Further, when I asked him why SETI and other radio-listening programs allegedly haven't picked up signals from space, he said we probably haven't been listening to the right frequencies. And that in fact new technology will soon be coming on line that will be more sensitive to many low and high frequencies. Prof. Loeb said he fully expects that we will hear all kinds of sounds when we can listen to the universe on a wider spectrum.
May we finally be at the breakthrough paradigm shift that we are not alone in this universe or on this planet  — and it's way past time for all Earth humans to learn about the alien presence here, in the solar system, in the Milky Way galaxy … and beyond.
Also see:
05/30/2017 —  Bigelow Aerospace Founder Tells CBS's 60 Minutes On May 28th "There Is An Existing Presence, An E.T. Presence" On Earth Now
02/16/2017 —  WWII UFO and RAF Plane Encounter Covered Up by Churchill and Eisenhower, MoD Documents Reveal

---
For further U. S. government documents about UFOs/UAPs, please see the many reports since 2011 in the Earthfiles Archive. This is only a sampling:
---
Websites:
To The Stars Academy: https://dpo.tothestarsacademy.com
Majestic-12 MAJIC Documents: http://majesticdocuments.com
Majestic-12 MAJIC and Project Sigma: https://www.bibliotecapleyades.net/sociopolitica/esp_sociopol_mj12_32.ht
U. S. Presidents and UFOs: http://www.presidentialufo.com

© 1998 - 2018 by Linda Moulton Howe.
All Rights Reserved.