— "No poison, it was just one of those freak things where the birds were just flying along, crashed into the side of a large vehicle and boom."
– Sgt. Chad Carpenter, Draper, Utah, Police Dept., Jan. 29, 2018
— "It seems like the house is being hit with a huge gust of wind,
but there is no wind outside."
– House-shaking booms heard and felt by St. George, Utah, residents, Jan. 29, 2018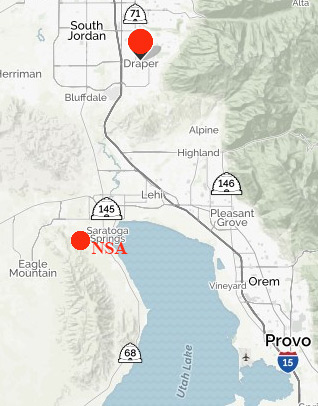 Today KSTU-TV in Salt Lake City reports that on Monday, January 29, 2018, eyewitness Lacey Brown in Draper, 35 miles north of the NSA's huge spy complex in Saratoga Springs (map above), described seeing "birds (thick flock of starlings) were just falling out of the sky … like leaves." But Draper Police Department Sgt. Chad Carpenter told KSTU, "No poison, it was just one of those freak things where the birds were just flying along, crashed into the side of a large vehicle and boom."
Earthfiles Reporter and Editor Linda Moulton Howe contacted the Draper Police Department, Draper Animal Control Supervisor Ashley Hurst and the Assignment Desk at KSTU to ask if the eyewitness saw birds falling like leaves from the sky, what was the "large vehicle" the birds crashed into and was it in the air? The KTSU assignment desk said the birds "crashed into a large bus." DAC Supervisor Ashley Hurst acknowledged the "event was confusing" and that she had never seen anything like the large piles of dead starlings on the Draper road.
Earthfiles wonders if the NSA installation 35 miles south might periodically emit frequencies or receive frequencies that could impact magnetic fields in the region and disorient birds?
Also in Utah further south in Saint George, a resident there emailed Earthfiles this morning that on Monday night, January 29, 2018, "we heard a loud rumbling boom that shook the house and rattled the windows at about midnight. Tonight (Jan. 30, 2018) we heard the same low rumbling boom. It feels like a train is running through our living room. The rumbling lasts for about 20 seconds, but the 'blast' that shakes the whole house only lasts for a few seconds. It seems like the house is being hit with a huge gust of wind, but there is no wind outside. There was a very faint bass rumbling that lasted for about 30 seconds after the main boom finished."
Please email Earthfiles if you have any information about the house-shaking boom in St. George, Utah, the mysterious falling dead of several hundred starlings in Draper, Utah — both phenomena on Monday, January 29, 2018.

© 1998 - 2018 by Linda Moulton Howe.
All Rights Reserved.