"Black-suited men came to the company's owner and demanded the rings around a circle on the salt flat be destroyed and took cameras away." 
– Daniel Vierra, Sonora, California
April 8, 2018  Sonora, California – On January 17, 2018, I received the following email from Daniel Vierra in northern California:
Hi, Linda: I hope this email reaches you.
I have a photo I would like to show you of something that landed on the salt fields in Newark, Ca. in 1992. I don't wanna just send it off into space and not know if it is you that I'm talking to (gave phone number).
My name is Daniel Vierra. There is great story with the picture. It's a great pic of something large that left very large deep circles and melted down the salt. I hope to hear back from you.
A quick call would be awesome so I know it's you. Thank you for your time. You won't be disappointed.
I wrote back asking if he would attach the photo to an email. The very next day on January 18th, he replied:
Hi, Linda,
I can go make you a copy of the photo later on, but for now I took a little cell phone photo of it.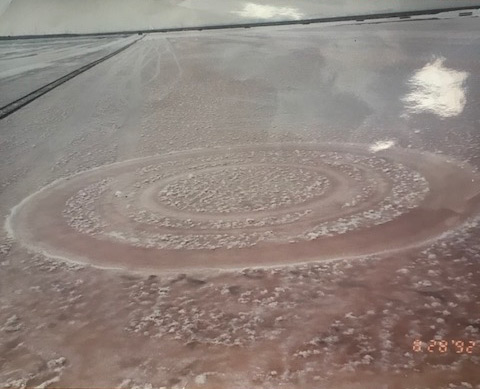 This is Daniel Vierra's January 18, 2018, iPhone copy of original photograph Daniel thinks his dad secretly took at the Cargill Salt Co. on August 28, 1992, when unidentified agents "from Lockheed" at Moffett Field (far background) arrive at the ringed pattern embedded in the Cargill salt flat and ordered Daniel's father, a foreman supervisor, to destroy the pattern without explanation. This iPhone image of original 1992 photo by Daniel Vierra on January 18, 2018.
Notice the railroad tracks (upper left corner). I believe they are about 2 and half feet wide, so you can get an idea about how big the circles (rings) were. People from across the bay  (far background) showed up and had Leslie/Cargill Salt destroy the circles and took a few people's cameras. But my dad secretly took a photo and then put his camera away. Let me know what ya think and we can talk more about it.
My dad passed away in 2016. Before then, he didn't want me to show anyone because he thought he would loose his Cargill pension. Just to let you know the size — the circles (rings) are about 50 plus feet in diameter and whatever landed melted the salt. There is no way anyone did that with any vehicle. It's hard crystals of salt there. Would have been a mess. People from Lockheed in Mountain View showed up that same morning.
I hope to talk to you soon.
Your friend,
Daniel Vierra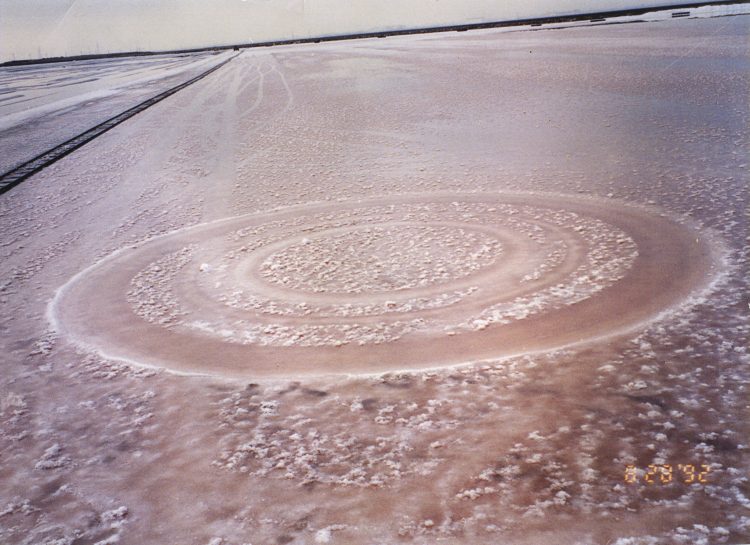 "Men In Black from Lockheed" Across South San Francisco Bay
I interviewed Daniel, 37, and learned his father was a supervisor foreman at Cargill Salt Co. (originally Leslie Salt) at the southern end of San Francisco Bay, across the water not far from Moffett Field where NASA and Lockheed had, and still have, a large aerospace facility known as NASA Ames Research Center.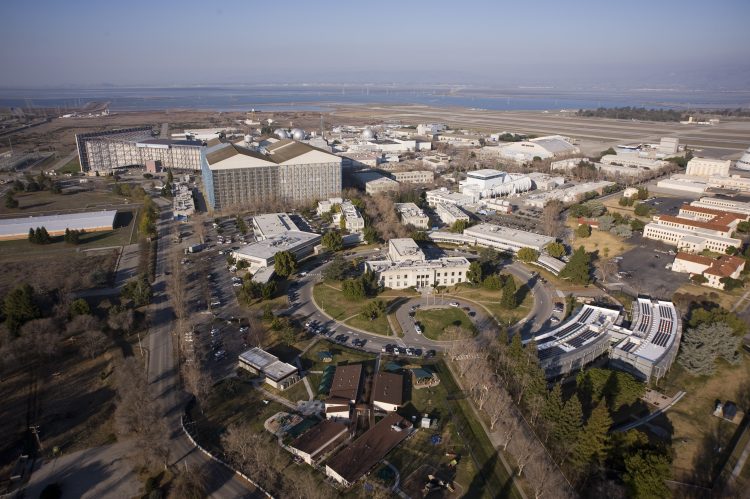 On August 28, 1992, Daniel's father was ordered by his Cargill manager and men in dark suits "from Lockheed" to destroy a mysterious pattern of five rings around a central circle embedded in a Cargill salt flat not far from the Moffett Field NASA Ames Research Center. Daniel thinks his father secretly photographed the salt formation on August 28, 1992, before Daniel's dad destroyed the ringed pattern  on orders from unidentified black-suited men thought to be government agents from Lockheed.
I interviewed Daniel Vierra and we agreed I could use his description from his father about what happened on August 28, 1992, at the Cargill Salt flat, even though his father never wanted anyone to know because he didn't want to jeopardize his Cargill pension. That's why his father only told Daniel in secrecy, which Daniel honored even after his father's death in 2016.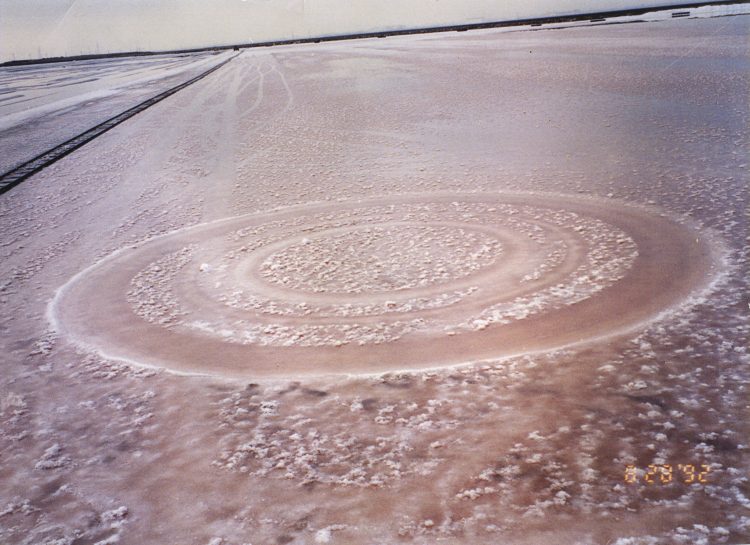 But now in 2018, Daniel feels like people should know that a large ringed pattern was mysteriously embedded in the hard, crystalline salt flat similar to other strange formations that were being reported by mainstream media in England and some 23 other countries by 1992.  The one in the secret photograph was discovered on August 28, 1992, the same day the men in black from Lockheed ordered Cargill Salt to destroy he pattern without explanation.
Daniel gave me permission to record an interview with him about what his father told him and to use the secret photograph that his father kept from that August 28, 1992, day onward. But Daniel said his father did not want anyone to know he had a photograph for fear of punishment retaliation by whomever the men in black suits worked for who had influence on the owner and manager of Cargill Salt. Daniel and I agreed that I would use an edit of our interview for one of my segments in the March 29-30, 2018, Coast to Coast AM radio broadcast.
I asked Daniel if he and his still-living mother could find the original 1992 camera that his dad kept with him at Cargill Salt Co. where his father worked as a supervisor foreman and had occasionally seen unidentified aerial objects above the salt flats, especially strange lights at night, and always reported privately to his son.
In the week since my radio broadcast, Daniel and his mom have been working their way through closets and boxes of Mr. Vierra's possessions before his 2016 passing. But to date, mother and son have not been able to find the camera that Daniel thinks was a Kodak model. The mother is not certain that her husband snuck the photo with his camera, but might have been given the photograph by some other employee who she guesses might have taken the photograph before the ordered destruction.
However, Daniel says that based on his 1992 to 2016 confidential discussions with his father he was convinced his dad took the photo with his camera because he was upset the pattern was being destroyed by government agents, who would not explain who they worked for or why the ringed pattern had to be immediately destroyed as soon as the men in black showed up at Cargill Salt wielding unexplained authority to demand that Cargill Salt management destroy the mysterious ringed pattern and Daniel's dad had to carry out the order.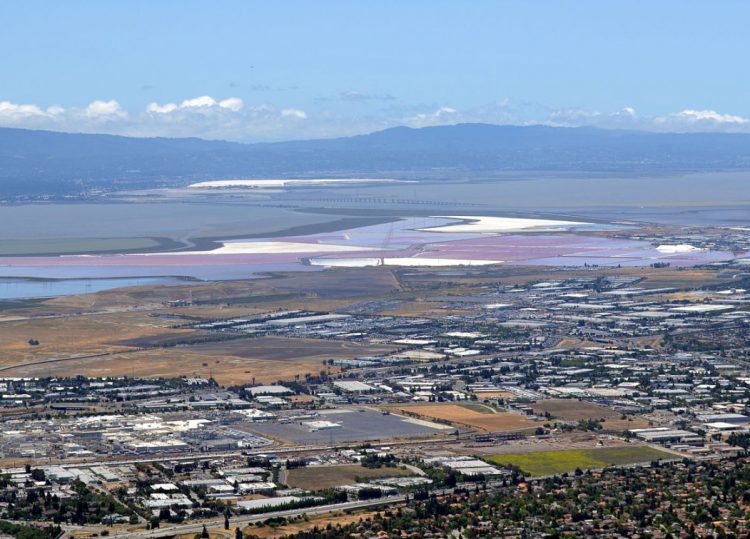 ---
Interview:
Daniel Vierra, 37, Sonora, California:  "My dad, the day when he took this photo, he didn't really say much about it until he actually developed it and then when he showed me. He didn't want to get fired. Whatever made this mark, he says the bosses came out and the people came there to destroy it. He was a plant foreman, a supervisor. He was one of the bosses. So the people that came there and told him to destroy it had to have been talking directly to my dad.
TO MAKE IT REALLY CLEAR, THE PHOTOGRAPH THAT YOUR FATHER TOOK SHOWS A DATE OF AUGUST 28TH, 1992.
Oh, yeah.
ON THAT DAY, HE DID NOT COME HOME TO YOU AND YOUR FAMILY AND TALK ABOUT TAKING A PHOTOGRAPH?
I remember him coming home and saying I should have seen it. He said something weird had happened out there. Something landed out there and made big marks in the salt and some big shots or some people, like he would talk Men in Black or whoever they were, they came there, and he said they told the bosses to have the people on the salt fields destroy it. And they didn't want no pictures or anything like that. And he said that one guy was taking a picture of it, and they took the guy's camera. Back then, he didn't tell me that he took a picture of it and had it. He didn't tell me that until he was pretty close to retiring. And then all of a sudden, he had a photo of it. He saved it away and didn't want no one to know nothing about it because I have a habit of calling people like you. You know what I mean? I wanted to get it out there.  And he didn't want me to do that.
WHO DO YOU THINK THE MEN IN BLACK WERE? WHY WOULD THEY HAVE HAD ANY ABILITY TO TELL CARGILL SALT THAT A FORMATION, A FIVE-RING PATTERN IN THE SALT FLAT, WOULD HAVE TO BE DESTROYED?
I don't know. I mean, if somebody had come out here and told me to destroy something like that, I would have told them to go pound sand. I'm a little different than my dad. He came from a different time where, you know, his job meant all to him, and he was real serious about his job. He didn't want to lose that job. He had the same job since he was 18. And I guess they came out there and scared him because they had him destroy the pattern and didn't want no one to take photos of it. And then my dad didn't even tell me he had a photo of it until later on because they scared him. They scared him so much about  he wouldn't have nothing, and he'd worked his whole life, and those people will take it away. He was afraid. All the way up until he died he was afraid for me to do anything with this. (He said) they (men in black) had no right to go there. And how would they know the pattern was there? Well, they probably seen it. I can see their base, Moffett Field. It's just a straight shot from this picture. But they were aware of anything flying around out there, and they seen it come down somewhere. Real easy for them to figure out where, and they did. They came right there and put the fear of God into him.
DANIEL, THAT IS THE QUESTION THAT HANGS OVER THIS ENTIRE STORY. WHAT WOULD HAVE BEEN THE REASON THAT MEN —INTEL, GOVERNMENT, MAYBE FBI, CIA — WOULD HAVE GONE TO THE MANAGER OF CARGILL SALT, NOT VERY FAR FROM NASA'S MOFFETT FIELD ON SAN FRANCISCO BAY IN CALIFORNIA, AND DEMAND THAT THE FIVE RINGS AROUND A CENTER CIRCLE BE DESTROYED?  WHY?
Because they didn't want no one to see it, you know? They didn't want any type of proof out there, I guess.
BUT WHY?
It's a secret.
DID YOUR DAD TELL YOU AT ANY POINT IN YOUR LIFE FROM 1992 UNTIL HE DIED IN 2016, DID HE EVER GIVE YOU MORE WORDS OF WHAT THE MEN IN BLACK SAID OR WHAT HIS OWN BOSS SAID?
They came out there and bullied their way and they made them destroy it. One guy, he had like when you get AAA and they give you a little emergency roadside kit, you know, back in the 1990s, and they'd have one of those little 35mm type disposable cameras? I remember my dad telling me, you know, they took one of those cameras from one of the guys. You know, they took it from him!
THE MEN IN BLACK TOOK A CAMERA?
Right. They didn't want no pictures of it, nothing about it, and just get rid of it, and it's gone, and that's it. And it scared the bejeezers out of my dad.
Working Relationship Between Lockheed and Cargill Salt?
IT ALSO RAISES THE QUESTION OF WHAT WAS THE WORKING RELATIONSHIP BETWEEN THE BIG AEROSPACE ASPECTS OF MOFFITT FIELD AND THE SURROUNDING REGION AND CARGILL SALT?
Right.
DID OUR GOVERNMENT HAVE SOME KIND OF AN ARRANGEMENT WITH CARGILL SALT HAVING TO DO WITH ALL OF THE UFO ACTIVITY THAT WAS HAPPENING THERE? AND THAT THERE WAS SOME KIND OF A COLLABORATION IN WHICH THEY HAD SOMEBODY PERHAPS EVEN WORKING IN CARGILL SALT WHO WAS REPORTING TO THE INTELLIGENCE AGENTS IN MOFFETT FIELD ANYTHING THAT HAPPENED ON THE SALT FLATS?
Yeah, it's possible because they're all big companies in that area, and I'm sure that they shake hands and all that.
What Did the Salt Pattern Threaten?
DANIEL, DID YOU SAY TO YOUR DAD AT ANY POINT BACK THEN OR LATER ON BEFORE HE DIED, "WHAT DID THE MEN IN THE BLACK SUITS SAY THEY WERE AFRAID OF — WHY DID THEY WANT THIS RING PATTERN IN THE SALT FLATS DESTROYED?"
They just wanted it destroyed and didn't want no one taking no photos of it. And that was it. You know, they came there and said, "Wipe it out."
BUT WHY?
Because that's proof. Like my dad said, (with the photo) he has proof. Because something had to be really heavy and really hot to make the marks, you know, the way it did.
Salt Flat Surface — "Hard as a rock salt crystals."
WHAT IS IT LIKE TO WALK ON WHAT WE'RE LOOKING AT IN THE PHOTO?
It's like walking on frozen icy snow. Hard as a rock. It's salt crystals, so they're big. If we're standing there and somebody pushed you over, you're going to cut your elbow open or your arm open. It's sharp, it's hard, you know, and it's not easy to do this.
DANIEL, YOU SAID YOU THOUGHT THE RING PATTERN WAS ABOUT 75 FEET IN DIAMETER?
Yeah.
YOUR DAD'S PHOTO CLEARLY SHOWS THERE ARE FIVE RINGS AROUND A LARGE CENTRAL CIRCLE. THE OUTER RING LOOKS LIKE IT'S EMBEDDED A FEW INCHES INTO THE SALT FLAT AND DOESN'T HAVE ANY SALT ON IT. BUT THE NEXT RING IS HIGHER WITH SALT ON IT, AND THEN THE THIRD RING IS EMBEDDED WITHOUT SALT. THE FOURTH RING IS HIGHER WITH SALT ON IT, AND THE FIFTH RING IS EMBEDDED WITHOUT ANY SALT AROUND THE LARGE CENTRAL CIRCLE. AND THAT CENTRAL CIRCLE HAS SALT ON IT. CAN YOU EXPLAIN WHY THESE FIVE RINGS AROUND THE LARGE CENTRAL CIRCLE IS SIGNIFCANT FROM EVERYTHING YOU KNOW FROM HAVING WORKED AT THIS CARGILL SALT FLAT?
Because nothing could have made this. I mean, it looks like a big bullseye somebody made in the salt that's like 50-75 feet wide. There's no tracks around it. This looks like something landed on it, spun in a circle, and just wiped out all the salt, like melted it down, so it looks like it had to have spun. It was spinning on there. Whatever landed, it did a couple of turns or whatever, but it ground it down, and it wiped it out. And it takes a lot to do that.
WHAT YOU KNOW ABOUT THE SALT HARVESTER, HOW DIFFICULT WOULD IT BE TO HAVE THESE SMOOTH RINGS EMBEDDED IN THE SALT FLAT?
It would be hard. This would be difficult. There is nothing they have out there, for one thing, if somebody thought, 'Oh, somebody did that with a backhoe or something.' There's no way. It wouldn't be as perfect as it is. You know, the fine salt ring around the top edges, all that wouldn't be there. It would be destroyed. You can't do that in a truck without tire tracks from them driving back and forth over it. It doesn't create the same thing. You know, this is completely different. Something landed there and made these ring marks. Then people from across the Bay came over to Cargill and said, 'Get rid of it, or else you're going to lose your job or something.' But something landed there. Something did this. I'm just glad my father got the picture.
Did A UFO Make the Ringed Pattern?
DID YOU EVER SAY TO HIM, "DAD, WHAT DO YOU THINK THIS IS PROOF OF?"
UFOs, yeah, he would say UFOs. A spaceship landed there. He would say all that, yeah, exactly.
HOW DID YOUR FATHER TAKE THIS PHOTO?
He had said he had gotten it from somebody. One of the guys there snuck a photo. But before I got ahold of you, I got all my dad's stuff before he passed away. And I was going through all his retirement stuff, and they had like a little cake or something at his retirement party. He went around and took pictures of his friends, right? And in the righthand corner of all these pictures is the same date mark. I mean, not the same date, but the same (digital) time and date stamp. It was his camera, you know, so he's the one who took this picture.
HE DIDN'T WANT ANYBODY TO KNOW BECAUSE HE WAS WORRIED ABOUT LOSING HIS JOB.
Yes. Exactly. He even lied to me.
SO HE EVEN LIED TO YOU, HIS SON.
Yeah. Yeah. He was afraid. He was really afraid of this. I know this much, Linda. He used to always come home and say he saw something. You know, he'd describe what he saw. Lights out there by the salt ponds. And he'd go all the way to the top of the mill and he'd watch from there, you know, out towards the Bay. And he would always come home with stories that he'd seen this and he saw that.
OK. YOU'RE TALKING ABOUT UNIDENTIFIED LIGHTS THAT YOUR FATHER —
Yeah.
— WAS SEEING?
Oh, yeah.
AND DID HE PUT IT IN THE CATEGORY OF UFOS?
Oh, yeah, definitely. He was a big believer in all that, yeah.
DO YOU REMEMBER THE DETAILS OF THE COLOR, THE SIZE, OR THE SHAPE OF ANY OF THE AERIAL PHENOMENA THAT HE DESCRIBED?
He would describe this V-thing, the triangle. He said he'd seen the triangle, but all the other times it would be just lights moving out there and then zipping off, you know, or coming close to the salt flats and then zipping away. And finally, when he got this (photo), he was real happy because he said he had proof something landed out there. This was, as he put it, 'the damned thing' he's been seeing out there at night, you know, the nights he worked.
RIGHT. AND WHAT DID YOUR FATHER SAY IN TERMS OF DETAILS OF WHAT HE SAW ABOVE OR ON THE SALT FLATS BEFORE THIS PHOTOGRAPH? CAN YOU TELL IN ANY DETAIL WHAT HE CAME HOME AND TALKED TO YOU ABOUT THAT HE HAD SEEN?
One time I remember him telling me he had seen like the triangle thing. He said he saw that out there. But he wasn't sure if it was coming from across the Bay because that's were NASA and Moffett Field is out there in the Mountain View area.
FROM THE SALT FLATS WHERE YOUR DAD WORKED AND WHERE YOU WORKED A LITTLE BIT AFTER HIGH SCHOOL, CAN YOU SEE MOFFETT FIELD FROM WHERE YOU WORKED?
Yes, you can. After I blew the picture up before I sent you a copy?  That's when I really discovered that you can actually see the hangar at Moffett Field from this picture in the background."
Earthfiles.com would like to hear from any Cargill Salt Co. employee, active or retired, who knows about the August 28, 1992, salt rings and circle formation and the black-suited men who showed up and ordered Daniel Vierra's Supervisor Foreman father to destroy the ring pattern embedded in one of the salt flats not far from the NASA Ames Research Center in Moffett Field, California. Please email: [email protected]
Also see:
08-29-2000 – Black Triangle, Red Lights and Spinning Disc Over Wiltshire, England Crops
---
More Information:
See my book Mysterious Lights & Crop Circles in the Earthfiles Shop:  https://www.earthfiles.com/earthfiles-shop/
03-21-1999 – Rings In Canadian Forests; Contrail Spheres; and Symbols
08-07-2016 – Three Mysterious and Intricate August 2016 Crop Formations
07-27-2016 – Remarkable Geometries in July 2016 Crop Formations
07-06-2016 – Flower of Life and Egg of Life in Hampshire, U. K. Crop Formations
04-15-2016 – UPDATED: Answer to Slavic Symbols East of Roswell Is 1940s RAAF Bomb Targets
12-18-2015 – Middle Eastern Mystery: Thousands of Odd Pre-Historic Stone Patterns
12-09-2015 – Mysterious Granite Head On U. K.'s Isle of Portland.
11-20-2015 – NASA Now Helping to Photograph Mysterious, Large Geoglyphs in Northern Kazakhstan
08-31-2015 – Updated 1970s to July 2015: Eerie, Bloodless Half-Cat History
08-28-2015 – Two Spinning "Tornadoes" in U. K. Rose Wheat Formation
06-04-2015 – Part 2: More Half-Cats in Florida and History of Half-Cats
02-04-2015 – Part 1: Dinner-Plate-Size Ice Patterns in Elizabeth, Colorado — Why? Where from
---
Websites:
Cargill San Francisco Bay Salt Ponds:  https://www.cargill.com/page/sf/sf-bay-salt-ponds
UFOs and Crop Circles:  http://www.mufon.com/crop-circles
Crop Circles:  https://en.wikipedia.org/wiki/Crop_circle
Crop Circle Geometry:  http://www.korncirkler.dk/cccorner/geometry.art.html
Crop Circle Geometry:  http://www.hypermaths.org/cropcircles/

© 1998 - 2018 by Linda Moulton Howe.
All Rights Reserved.