"We could not find a navel. We could not find breasts."
– Stephen Mera, Founder, Phenomena Magazine, London, U. K., May 2018

May 30, 2018  London, England –  Two thousand years ago, the Paracas culture of Peru with their very long skulls had descendants in Palpa and Nazca, who created  more than 1,600 mysterious straight lines and geoglyphs on the tops and sides of Palpa hills and on the flat Nazca Plain 32 miles southeast of Palpa. The Nazca Plain has over 800 straight lines, 300 geometric figures and 70 plant and animal shapes.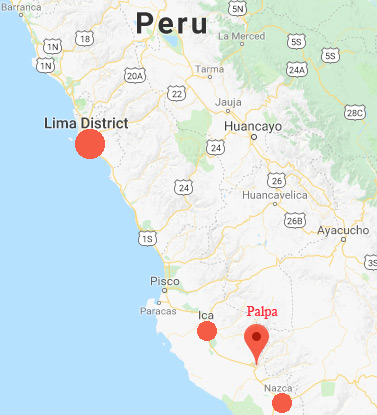 The puzzling geoglyphs are impressed some 20 inches into the ground surfaces and most can only be seen clearly from the air. Which is why they were not discovered until 1939 when airplane flights over the region were first possible. Though not as famous as the Nazca Lines on the dry Peruvian coastal plain 250 miles (400 km) south of Lima, there are even more geoglyphs in Palpa dated as far back as 1000 years older than the Nazca lines and glyphs. The enigmatic Palpa geoglyphs include many very straight "runways" that extend for long distances.
No one knows exactly why nearly 2,000 geoglyphs and runways were imprinted on the land and hills of Nazca and Palpa so long ago. But grave robbers known as huaqueros have persistently explored the Palpa/Nazca region for tombs and treasures. There is allegedly a huge black market involving lots of money in which these "professional" grave robbers can get all sorts of artifacts secretly out of Peru to buyers in China, Japan, Europe, the U. S. and beyond. Allegedly this is possible because some officials in the Peruvian government take a cut of the transactions and then strict customs laws about not allowing Peru's ancient archaeological finds to leave the country seem to evaporate before the large secret money flow to get those precious treasures, especially those made of gold.
In addition to grave robbers, there are YouTubers that look for ways to get headlines for their own money flow of click throughs on the web. On October 6, 2016, a Peruvian YouTuber named Paul Ronceros appeared on a local TV program in Peru to report about an "alien" or "reptilian mummy" with three fingers and three toes that he learned had been found by huaqueros.
Word kept spreading that several highly unusual 3-fingered bodies large and small had been found in a cave or underground tomb and that at least one was a female body that had been inside a heavy stone sarcophagus.
By early June 2017, Gaia TV from Louisville, Colorado, sent a production team to Cusco, Peru, with investigator Jaime Maussan from Mexico City, Mexico, to meet with the president of the Inkari Institute, Thierry Jamin, Ph.D., at his museum of Peruvian artifacts. Allegedly Dr. Jamin had been approached by grave robbers with the 3-fingered female body covered in white powder to find out what she was. Thierry Jamin had the female body in a large plastic container, which was taken up to the roof of the Inkari Institute and her body removed for Gaia TV's camera. That footage was released June 20, 2017, in Gaia TV's "SPECIAL REPORT: UNEARTHING NAZCA."
What the video showed was a hairless, long oval-skulled head with large eye sockets and small, flat nose all covered in white powder. She had 3 very long fingers on each hand and 3 very long toes on each foot. Each of her fingers has 6 joint bones instead of the 3 joint bones in normal human hands. Her body is doubled up with her arms clasped around her legs, perhaps as she was found in the sarcophagus in the cave tomb. Dubbed "Maria," she is estimated to be 4'9″ to 5'2″ if her folded body were extended.
Is there any world history of 3-fingered beings? Not a lot, but Gaia TV found the shard below of a local petroglyph that shows a humanoid with arms extended on either side attached to 3-fingered hands.
[ Editor's Note:  Tridactyly (from Greek tri – finger) is the condition of having three digits on a limb, as in the rhinoceros and ancestors of the horse such as Protohippus and Hipparion. These all belong to the Perissodactyla. Some birds also have three toes, including emus, bustards and quail.]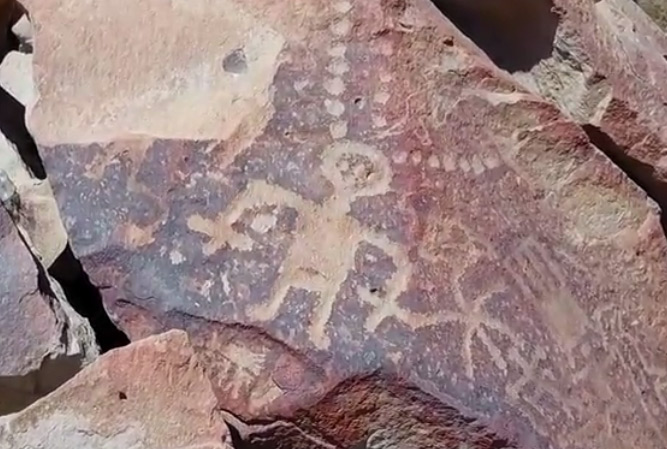 Analysis of the white powder proved it to be white diatomaceous clay of lime-carbonate and silica diatomite from hills in the Pisco/Palpa/Nazca/Ica region that once were the bottom of the sea before a great land uplift millennia ago. That sea bottom was dense with dead oceanic unicellular shells and algae referred to as diatoms in white, chalky layers that were pushed up by Earth movements into some of the hilly Peruvian landscapes.
[ Editor's Note:  Diatomaceous earth consists of a distinctive mixture of 33% silica, 19% calcium, 5% sodium, 3% magnesium and 2% iron, and can have 15 other minerals like boron, manganese, titanium, copper and zirconium. ]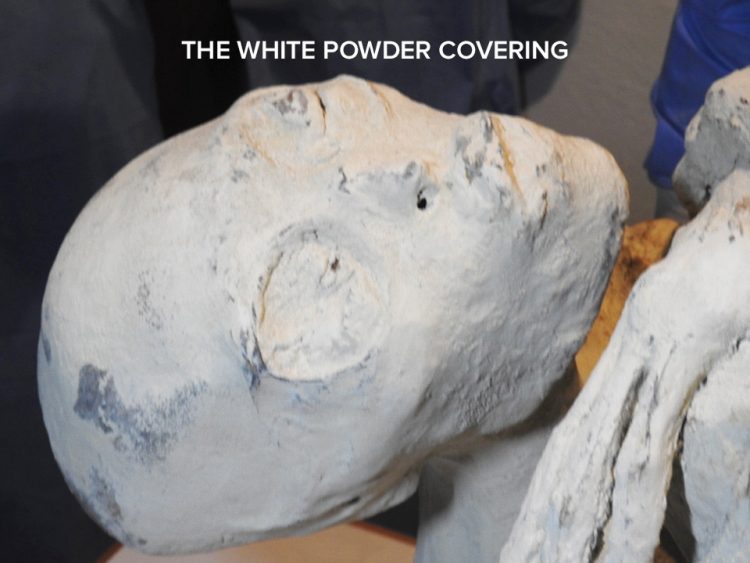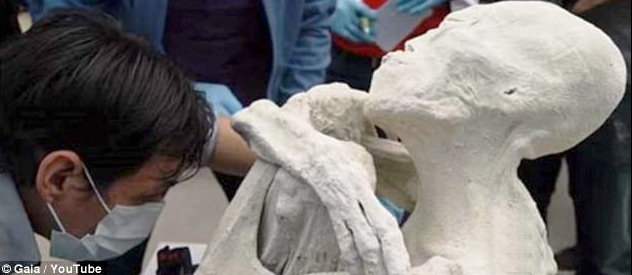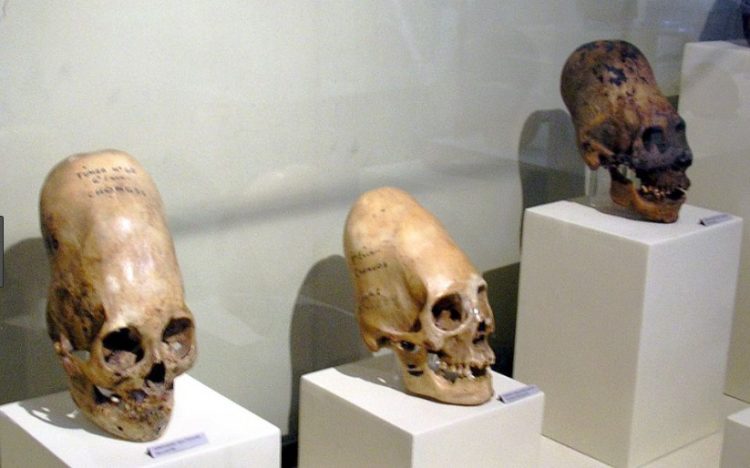 The female body has been carbon dated to 1,800 years ago. She might have watched the Palpa and Nazca geoglyphs being made and knew the reasons why. The grave robbers also said they found twenty small artificial bodies about 2-feet-long in a second stone sarcophagus and that some were allegedly scattered through rooms and interconnecting tunnels of the large underground tomb. There is speculation that the doll-like artifacts were made as idols fashioned after the large female body.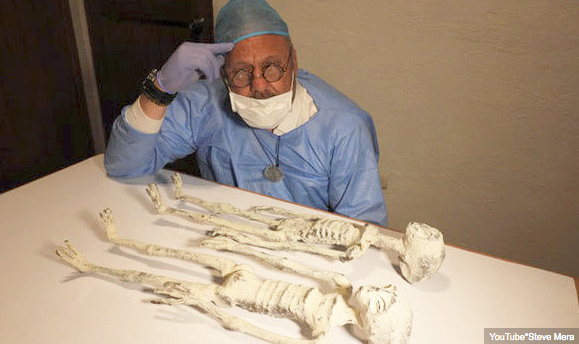 Quickly upon hearing the Gaia TV news, Stephen Mera and Barry Fitzgerald from Phenomena Magazine in London traveled from the U. K. on July 14, 2017, to the Nazca / Cusco region to investigate further themselves. In addition to Maria, they were allowed to also videotape a second body that was like a smaller baby or child version of Maria and called "Wawita." Less than two months later, Steve and Barry with Zohar StarGate TV released on August 24, 2017, their documentary from their July research efforts entitled The Mysterious Bodies of Peru.
After that Zohar Entertainment documentary video release, I talked with both Steve and Barry by phone in September 2017, about their goal to get credible genetic scientists to analyze DNA samples from Maria and Wawita. Steve said he hoped to have first results by May 2018, and that he would contact me then to do an interview for Earthfiles and COAST radio about the DNA analysis. We begin with what Steve Mera saw for himself of Maria's body, another smaller Maria-like body and some photographs that had been taken inside the cave or underground tomb.
---
Interview: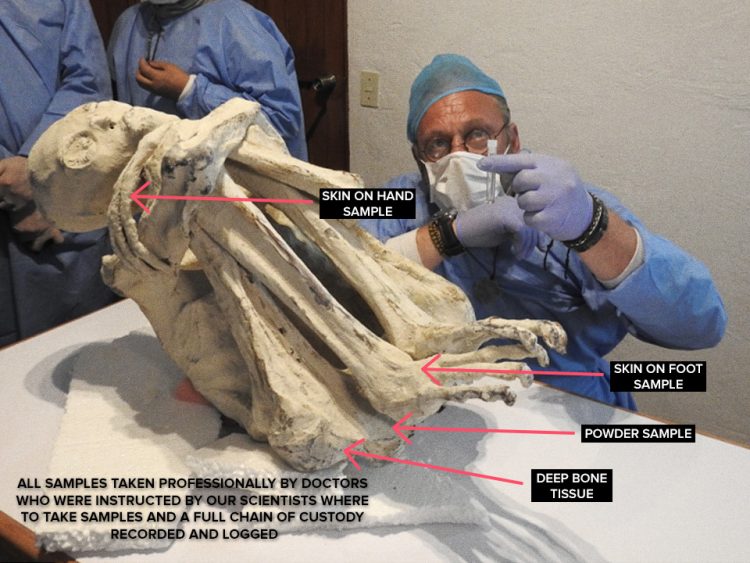 Late July 2017, Stephen Mera, Founder of Phenomena Magazine from Manchester, England, during DNA tissue extractions from the female body Maria. Steve is also Chairman of Manchester's Aerial Phenomena Investigation Team; Founder of the Scientific Establishment of Parapsychology; and co-investigator with Barry Fitzgerald of August 24, 2017, YouTube documentary The Mysterious Bodies of Peru © 2017 by Zohar StarGate TV, Glastonbury, England.Stephen Mera, Founder of Phenomena Magazine in Manchester, England; Chairman of Manchester's Aerial Phenomena Investigation Team; Founder of the Scientific Establishment of Parapsychology; and co-investigator with Barry Fitzgerald of August 24, 2017, YouTube documentary The Mysterious Bodies of Peru © 2017 by Zohar StarGate TV, Glastonbury, England:  "We were shown some photographs of the location, of the cave, inside the location of the sarcophagi. We were also shown that the cave structure was very large. Some areas allegedly opened up into very large rooms. There was also something like a library or archive in there.  But we were too afraid to go there, Linda. We were being threatened. People were watching us.
WHAT DID YOU SEE IN THE PHOTOS?
The photographs showed inside the cave using a flash. However, there was also a Faraday (cage) mesh had to be used over the video devices because the magnetic anomalies were very high, affecting the equipment. Photographs showed this sarcophagi, which did have some unusual markings, carvings around it — lettering of some sort around its sides.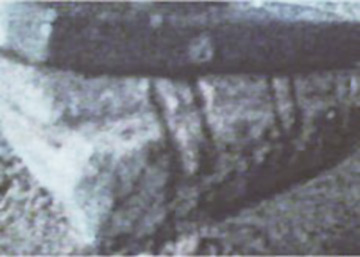 And the lid on this was stone. It did look quite weighty and they said they needed to get a carjack to lift the weight of the top part of the sarcophagi stone. The whole place was covered with diatomaceous earth. Some of the bodies were buried in diatomaceous earth.
THAT IS THE WHITE POWDER AND THAT HAS ALSO PROVOKED THE QUESTION — WHERE IS WHITE, DIATOMACEOUS EARTH IN PERU THAT COULD HAVE COVERED THESE BODIES? THE ONE PLACE THAT I'VE HEARD ABOUT IS A MOUNTAIN IN THE PALPA TO ICA REGION. IS THAT TRUE?
That is correct, yes. There is a second location, which is what is referred to as the White Mountains. The region was all underwater at the bottom of the sea millions of years ago. And as it pushed up, the tectonic movement and brought the evidence with them of the bottom of the ocean, creating this diatomaceous earth.

DID YOU HAVE ANY OF YOUR SRI LANKA SCIENTISTS, OR ANYONE IN THE U. K., EXAMINE THE DIATOMACEOUS EARTH SPECIFICALLY TO FIND OUT WHAT IT IS EXACTLY MADE OF?
Yes, we did. And that was actually done by our guys. And the diatomaceous earth, we have a report just on the diatomaceous compound. The properties within this are microscopic cells of bacteria and crustaceans, microscopic shells — tightly packed, so much that it stops insects from attacking bodies! It keeps them at bay. It also preserves any flesh to a remarkable degree.
Nazca, Peru, Ancient Burial Practices Included
Rubbing On Liquid Mud for Preservation
Now, we do know that the Peruvians were no strangers to covering bodies. Even just the normal bodies we have seen in the small brick or mud built tombs throughout Nazca — even those bodies are covered in a grey-colored covering, which is like a liquid mud. So they were very much aware of preserving bodies.
WHY IS THE DIATOMACEOUS EARTH THAT COVERS MARIA AND THESE OTHER BODIES SO WHITE VERSUS THE TYPICAL BEIGE OR BROWN OR GREY?
That's a good question. There are several areas of underground — because what happens to surface diatomaceous is that it gets affected by weather combinations — dust and rain. However, the areas which have have been untouched such as in caves are extremely white — to the point where it looks like chalk.
The photographs (of tomb) depict the very same thing when taken inside this cave. The diatomaceous earth is very white in color. When you actually get through the covering of the diatomaceous earth on the body and get to the actual (tissue) cells, that corresponds with  measuring it 1,800 years ago.
STEVE, WHAT IS IT IN THE CELL TISSUE OF MARIA'S BODY THAT IS MEASURED AND SAYS THAT THE BODY CELLS ARE 1,800 YEARS OLD?
It's a form of carbon dating. We're all made of carbon atoms. We can say from visual inspection that the body, Maria, is around 4′ 9″ to 5′ 2″. She is female, according to the rib count. We could not see any visible identification of breasts or the navel. She did have 3 fingers and 3 toes with extra phalanges to give them their length.
Maria:  No Navel, No Breasts, Straight Fingerprints
On close examination of the fingers and the toes, she had dermal ridging. Now what is interesting about the dermal ridging is that it's in a straight fashion, which is rather rare. I mean, it's not impossible, but it's extremely rare to find that straight shape even in humans — not the traditional swirls and patterns that you would find on normal dermal ridges.
STEVE, YOU SAID THERE WAS NO APPARENT NAVAL. THAT WOULD SUGGEST THAT MARIA IS SOME KIND OF ANDROID.
It would suggest biologically that we are dealing with something that does not fall under the normal characteristics of how biological behavior would happen within a primate. We could not find a naval. We could not find breasts. Just as we couldn't identify the removal of an ear. Maria certainly has two ear canals, but doesn't have any ears. And there doesn't seem to be any evidence of an ear having been removed.
Maria's Skull and Eye Sockets Compared to Humans
Maria's eye sockets are large compared to the skull. They are larger than what would be normally found (in humans). She does have teeth. She has enlarged canines, so she was definitely a meat eater.
She does have an elongated skull. And it does demonstrate that her brain mass would have been slightly than average for the skull size that she has.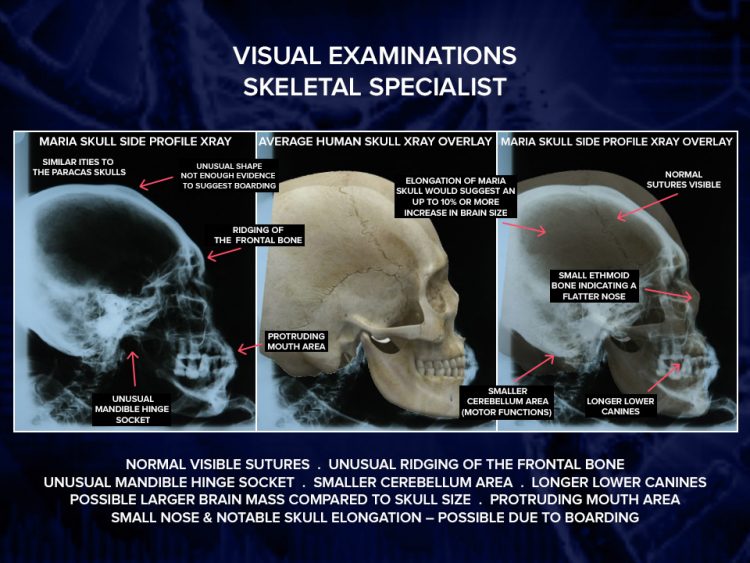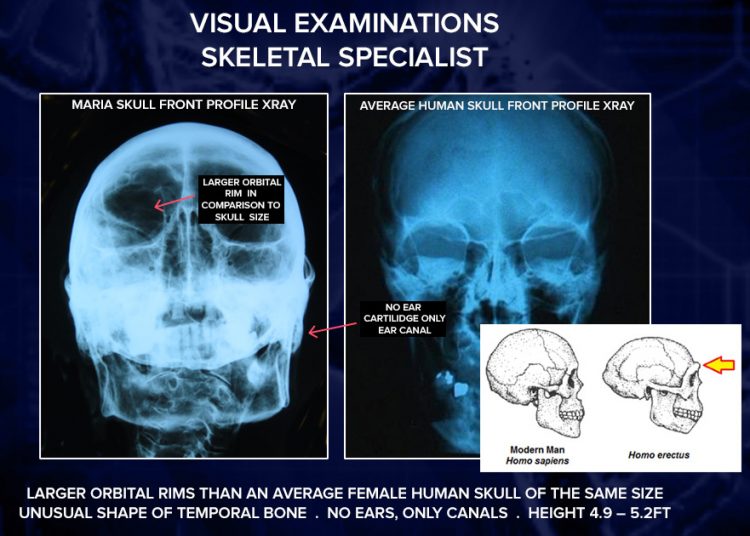 IS SHE RELATED TO THE BEINGS OF THE PARACAS SKULLS?
Exactly! Trying to obtain data with Paracas skulls has been a minefield over the years. Previous conversations with people from these museums have stated that analysis has taken place (with Paracas skulls), but we haven't had the information. We would like to look at that and see if there is any correlation between them.
Maria's Arm Bones Compared to Human Arms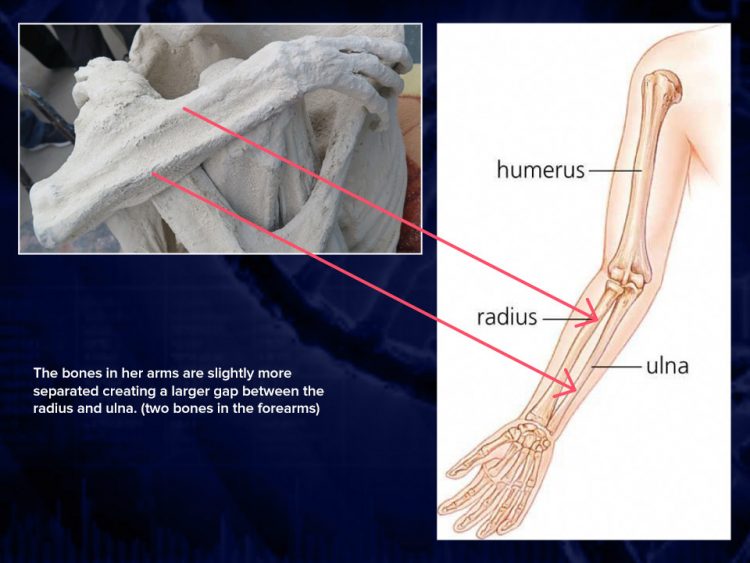 "Wawita" — A Second Smaller Female Body
There was a smaller female body known as "Wawita," (means baby in the Nazca Quechua language) which we were told was a baby! She is the size of a baby, like one to two years of age. However, according to her teeth, it would indicate that she is actually older than one to two years of age.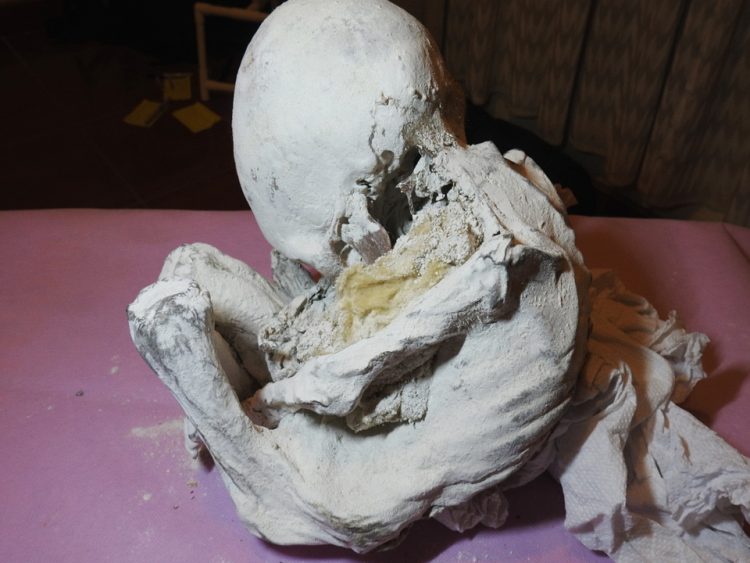 DID THIS SMALL, WHAT THEY REFERRED TO AS THE "BABY," HAVE THREE FINGERS AND THREE TOES LIKE MARIA?
Yes, she did. There was no real difference between them. we've taken all this information back with us to our (Sri Lanka Genetech) professors and they have looked over all the information and the photographs and the x-rays and the scans we have been provided by Inkari Institute and they commissioned us to go back and make sure we have further evidence regarding DNA. We thought we would need the best we could possibly get and we went to Genetech Laboratories in Sri Lanka.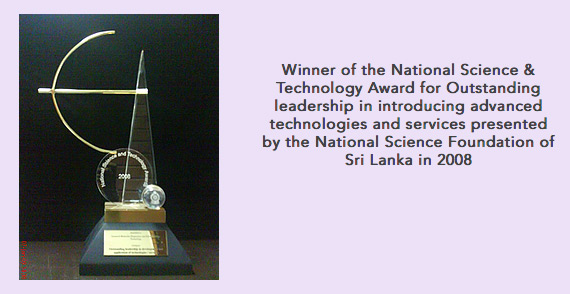 Now, the Genetech laboratory is home of respected forensic DNA experts. They are responsible for the training of all  — what we refer to as "scene of crime officers." More than 7,000 police officers are handling DNA evidence. Genetech's reputation for the integrity and the reliability has facilities to accommodate requested DNA-based testing of molecular epidemiology.
[ Editor's Note:  Molecular epidemiology is a branch of epidemiology and medical science that focuses on the contribution of potential genetic and environmental risk factors, identified at the molecular level, to the etiology, distribution and prevention of disease within families and across populations.]
So, a combination of both working together, the Inkari Institute and ourselves, their doctors in Peru were instructed where and how to take those (Maria and Wawita) DNA samples. Because whilst we had been there initially in the first visit, we were asking questions like, "Why have samples not been taken from the hands or feet to confirm that they actually do belong to the body?"
RIGHT.
It hadn't been done! And I have to say, Linda, they did not want to even participate in trying to work out what Maria could represent. In other words, they did not want to say: "She's a half-breed." They didn't want to say,  "She's an alien" — or anything of that sort. They just wanted to divide the data. They said, "She could constitute some form of human that we are not aware of."
We found through analysis that sutures are visible on the (Maria) skull. It's not like the Paracas skulls because their sutures are very much different due to the elongation (of Paracas skull). She did have unusual ridging of the frontal bone and an unusual mandible hinge socket that was slightly different than what we normally find.
Maria Is 95% Primate and 5% Unknown
But all in all, the DNA analysis information that came back suggested that Maria was "95% primate." They did not say human. They said, "95% primate."
However, the 5% that's left would indicate because Maria authentically has three fingers and three toes and at least eleven anatomical anomalies, so she must be some form of mutation.
WHICH IS A HYBRID.
Yes, absolutely! And these are well known professors, who don't want to come forward and say "Well, she's a hybrid."
But in conversations, there were references to Maria being:
a)  A hybrid.
b)  A primate that has never been discovered before.
c)  Or  Other. They said, "Well, we don't know." They did not want to put a word or name to that  Other."
Continued in Part 2.

Also see:
06-17-2009 – Updated Parts 1 – 10: Non-Human Entities (NHEs): One View from Alleged Government Insiders
---
More Information:
06-05-2014 – Viewer Letters About E. T.-Human Hybrids
05-31-2014 – Part 2: Racheal's E. T.-Human Hybrid Eyes
05-30-2014 – Part 1: Racheal's E. T.-Human Hybrid Eyes
09-17-2014 – Part 5:  Dulce and Dropa Stones
09-12-2014 – Part 4:  Dulce, LEONID and "Alien Weapon Determinant"
09-02-2014 – Part 3:  Muroc Field Researchers Allegedly Found Eloah Grey Vast Underground Facility in 1940
08-31-2014 – Part 2: Is The Dulce ET Underground Lab Linked to ETs from Zeta Reticuli 1 and Sirius B?
08-29-2014 – Part 1: USAF Whistleblower Says There Really Is An Underground ET Cloning and Hybridization Lab Near Dulce, New Mexico. 
08-28-2015 – Part 1: Strange Case of "Human-E.T. Hybrid" Secret Agent Found Dead in SUV in Pacific Palisades, CA.
08-03-2015 – Part 18:  Maze of Deception – Epilogue: Abductees Speak
07-07-2015 – Part 15: Maze of Deception
07-05-2015 – Part 14: Maze of Deception
06-29-2015 – Cow Bloodlessly Mutilated Near Madden, Alberta, Canada
06-26-2015 – More High Strangeness Near Area 51 and A Non-Human Encounter
05-13-2015 – Part 8:  Maze of Deception — The Writers Discuss Enfolded Universe Where All Is "Recorded" and Can Be Accessed
04-24-2015 – Part 7:  Maze of Deception
04-22-2015 – Part 6: Non-Human Entities (NHEs): One View from Alleged Government Insiders
04-20-2015 – Part 5:  Maze of Deception
04-18-2015 – Part 4: Maze of Deception
04-16-2015 – Part 3: Maze of Deception
04-13-2015 – Part 2: Maze of Deception
02-27-2015 – Were Blood and Immune Chemistry Altered in Human Child by Non-Humans During Abduction?
---
Websites:

Human-Animal Hybrid, Wikipedia: https://en.wikipedia.org/wiki/Human–animal_hybrid
Dactyly, arrangement of digits:  https://en.wikipedia.org/wiki/Dactyly
Genetech:  https://www.genetechsrilanka.com
"Why Do We Inherit Mitochondrial DNA Only from Our Mothers?" June 23, 2016, The New York Times:  https://www.nytimes.com/2016/06/24/science/mitochondrial-dna-mothers.html
Megalithic Marvels:  https://megalithicmarvels.com/2017/06/02/16-enigmas-concerning-the-nazca-lines/

© 1998 - 2018 by Linda Moulton Howe.
All Rights Reserved.