"The DNA analysis information that came back suggested that Maria was '95% primate.' They did not say human. They said, '95% primate.' However, the 5% that's left would indicate because Maria authentically has three fingers and three toes and at least eleven anatomical anomalies, she must be some form of mutation.
WHICH IS A HYBRID.
Yes, absolutely!"
–  Stephen Meara in Part 1, May 30, 2018 interview with Earthfiles Reporter and Editor Linda Moulton Howe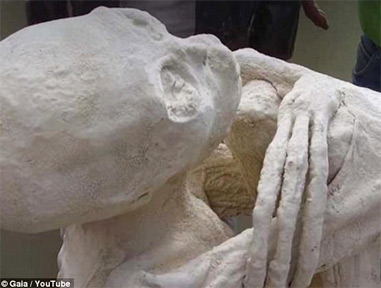 Return to Part 1.
May 30, 2018  London, England – The Google Dictionary definition of hybrid is: "the offspring of two plants or animals of different species or varieties such as a horse crossed with a donkey creates a mule." Other common human terms for hybrids are cross-breed, half-breed and half-blood.
Unusual "pebbly," snake-like skin was found underneath Maria's chin where it is not clear if there had ever been any wrapping over the white diatomaceous earth that had been pressed into most of the rest of her body. The first smaller image below is a cropped close up from the original second larger image (click to enlarge). Steve said the blue color was a marker to indicate the body section being photographed was side of Maria's head and chin.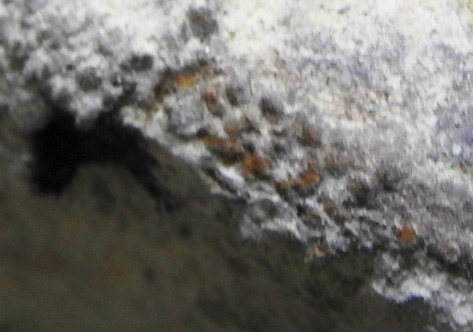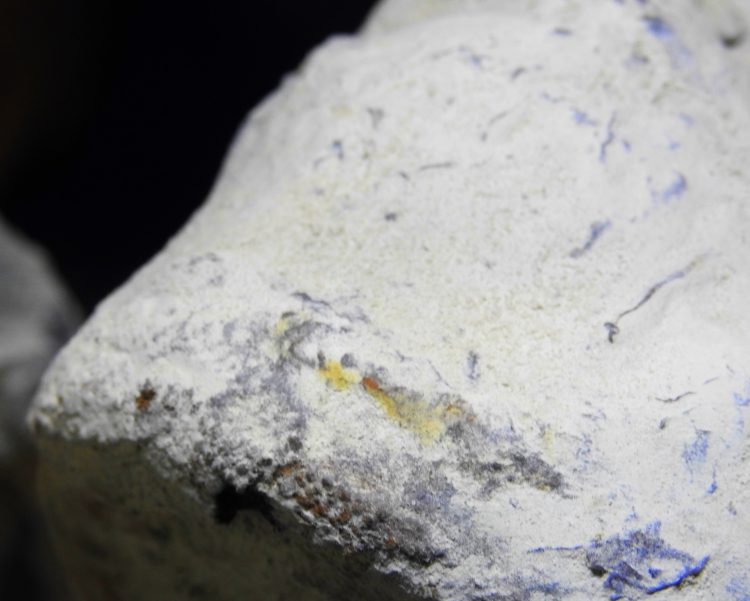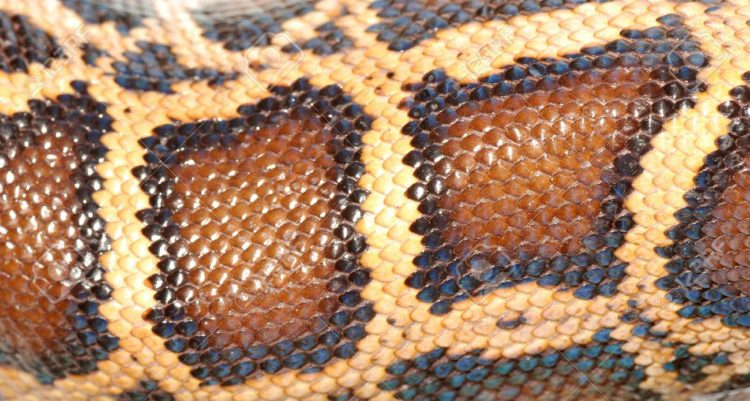 Ancient Greek Snake/Human God Glykon
The ancient Greeks even had a hybrid snake/human god named Glykon that had large influence within the Roman Empire in the 2nd Century A.D. Snake god worshipers had already existed for centuries in Macedonia where people believed snakes had magical powers related to fertility. Glykon was described as a snake that grew to human male size with the head of a man with blond hair. The popularity and influence of the Glykon hybrid god spread rapidly from the 2nd to 3rd Century A. D. Even official Roman coins were struck in honor of Glykon.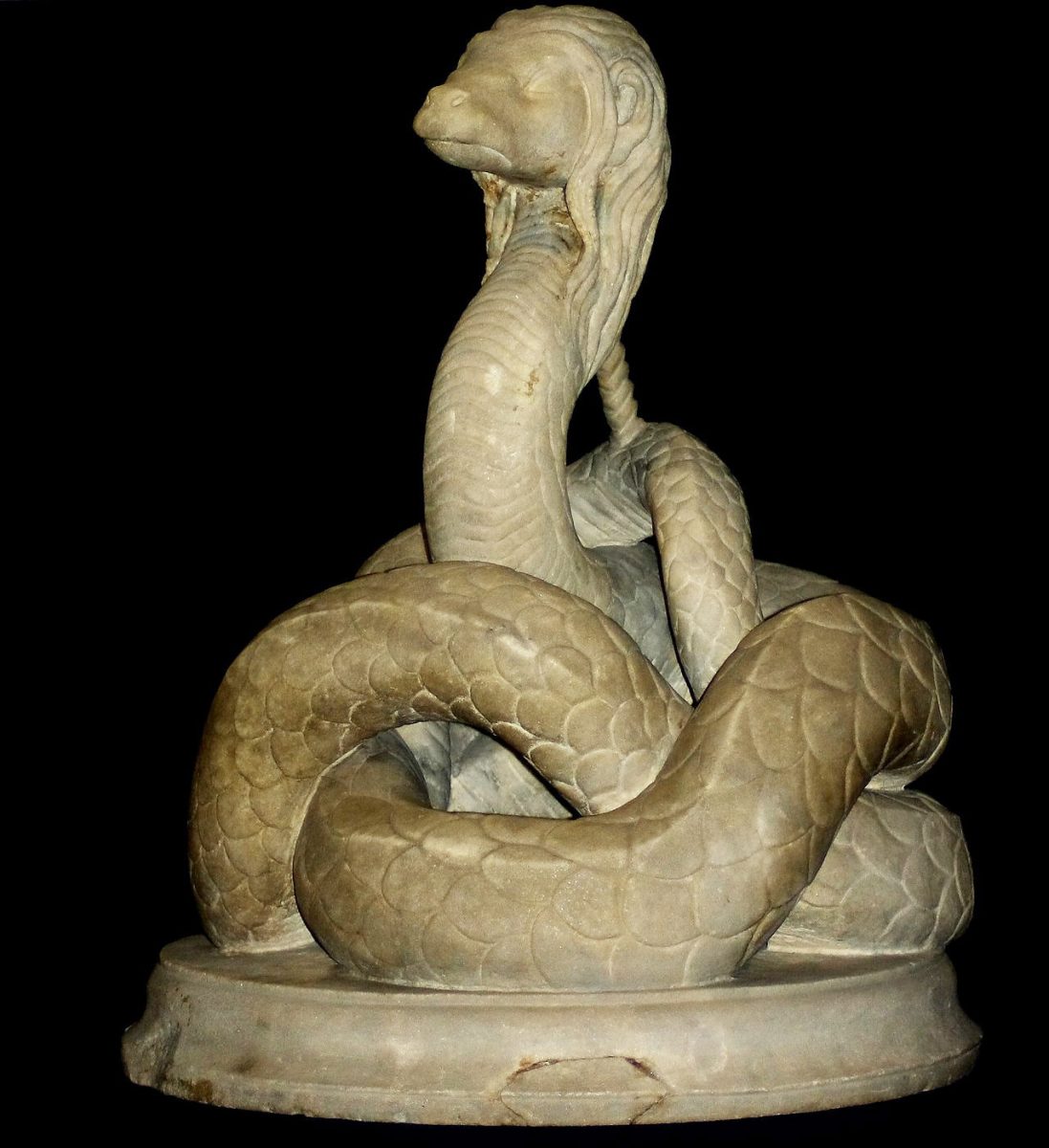 Babylonian demons were also sculpted as humanoid reptiles. At the beginning of the 20th Century in 1903, Reginald Thompson at the British Museum's Department of Egyptian and Assyrian Antiquities in London released his second volume of The Devils and Evil Spirits of Babylonia." He included photographs of Babylonian sculptures of humanoid reptiles that the Mesopotamians considered to be demons.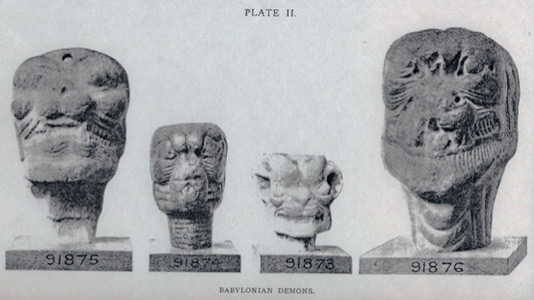 Reginald Thompson:  "From the earliest times Eastern races, in common with the rest of mankind, have always held a firm belief in the existence of evil spirits, ghosts, and all kindred powers. …the Semite recognized 'gods' (singular, ILU; plural, ILANI)."
In a footnote, Mr. Thompson explained that the original meaning of ILU is unknown. The Sumerians indicated the word 'god' by a star symbol carved in their cuneiform tablets.
Mr. Thompson:  "…we are therefore justified in assuming that the Sumerians believed that their gods inhabited the sky." [ More about this in links at end of this report.]
Perhaps those same sky gods are the ones that interacted in the Garden of Eden and created Adam and Eve?
---
Interview: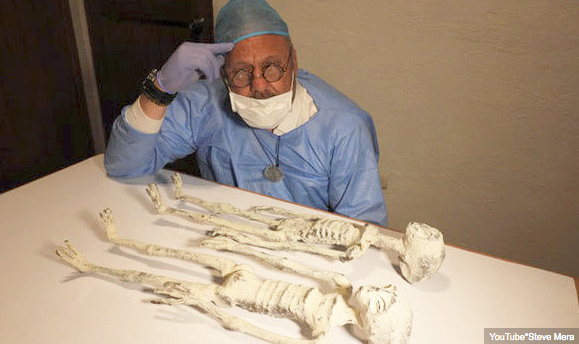 Linda Moulton Howe:  "STEVE, I'VE BEEN EXPOSED TO ALLEGED GOVERNMENT DOCUMENTS, INCLUDING A BRIEFING PAPER FOR THE PRESIDENT OF THE UNITED STATES IN 1983, THAT SAID THESE EXTRATERRESTRIAL BIOLOGICAL ENTITIES (EBENs) MANIPULATED DNA IN ALREADY-EVOLVING PRIMATES TO CREATE HOMO SAPIENS.
THERE HAVE BEEN DIFFERENT TYPES, INCLUDING DENISOVAN AND NEANDERTHALENSIS. AND NOW CURRENT CRO-MAGNON HOMO SAPIENS SAPIENS. IF MARIA IS 95 PERCENT PRIMATE AND 5 PERCENT IN A MUTATION CATEGORY, WITHOUT THE GENE ANOMALY BEING RELATED TO DISEASE, THIS IS HYBRIDIZATION BETWEEN HOMO SAPIENS AND SOMETHING THAT WOULD BE AN ALIEN PRESENCE AS I WAS INTRODUCED IN THE DOCUMENT BACK IN 1983.
Absolutely. And when we were provided this information, we were taken aback. We pushed for further sampling because anybody should conduct second sample sessions just to make sure the process was foolproof. The first DNA test was on Maria's hand because that was the most important thing, and a sample from Wawita's hair, the childlike one. And they were able to get chromosomal allelic data from that.
[ Editor's Note:  An allele is a variant form of a given gene. It derives from the Greek prefix allel, meaning "reciprocal", or "each other." Genetic variation is hidden in the form of alleles that do not produce obvious phenotypic differences.]
And it actually meant they were able to get mitochondrial DNA from most samples. And it showed that Maria and baby Wawita belonged to the human primate group. Furthermore, that the samples could not be excluded as originating from a single maternal lineage. Some form of huge mutation has taken place, which is not accountable. They cannot find the identifiable source.
[ Editor's Note:  Mitochondrial DNA – Mitochondria are structures within cells that convert the energy from food into a form that cells can use. Although most DNA is packaged in chromosomes within the nucleus, mitochondria also have a small amount of their own DNA. This genetic material is known as mitochondrial DNA or mtDNA. In humans, mitochondrial DNA spans about 16,500 DNA building blocks (base pairs), representing a small fraction of the total DNA in cells. Mitochondrial DNA contains 37 genes, all of which are essential for normal mitochondrial function. ]
So, we're left with — what we refer to as a general mutation. A cell divides and makes a copy of a DNA. However, the mutation must be at the cellular level.
We did look for radiation and exposure to chemicals. There are things such as radiation mutations. That doesn't seem to be the case in Maria. And Maria has an exceptionally high level of mtDNA mutations (mitochondrial DNA mutations), way beyond any normal spectrum."
[ Editor's Note: Mitochondria are structures within cells that convert the energy from food into a form that cells can use. Although most DNA is packaged in chromosomes within the nucleus, mitochondria also have a small amount of their own DNA. This genetic material is known as mitochondrial DNA or mtDNA.  Our mitochondrial DNA accounts for a small portion of our total DNA. It contains just 37 of the 20,000 to 25,000 protein-coding genes in our body. But it is notably distinct from DNA in the nucleus. Unlike nuclear DNA, which comes from both parents, mitochondrial DNA comes only from the mother. Nobody fully understands why or how fathers' mitochondrial DNA gets wiped from cells.]
Unfortunately, due to the condition of Maria's body kept in the conditions that she has been in a plastic box, if she was taken from Nazca and brought to Cusco, it's a completely different environment. There's a lot more moisture in the air. We were shocked, even just by our second visit, how much and how quickly Maria was deteriorating. And that was our main concern, the preservation of the body.
Peruvian Int'l. Black Market in Ancient Artifacts
The final nail in the coffin, basically, was we wanted this third analysis to go back and take even more DNA to actually grow our own DNA for further analysis, which can be done now. It's a very special process. All genetic labs do this. The problem then was if you want to conduct further tests, you would have to part with $15,000, and it would have to be sent to this particular individual, and we'd have to trust that. It's very, very difficult to trust people in that region because there is a lot of corruption.
RIGHT.
We stumbled into the black market, and we've been threatened. And we talked to government personnel about the problems regarding the black market. We do know Maria had a price tag on her of  $ 1 million dollars. Some of the smaller ones had price tags on them for $20,000.
Roswell UFO-Like Memory Foil
and  Alien Faces and UFOs Carved On Stones 
One or two of these items were apparently sold to Japanese people who came over. And there was even talk of finding items where these bodies were discovered, one of which was a silver foil like what we've heard about in the Roswell incident where silver foil folds itself. It's like it has a memory to it. And thousands of carved stones in the shape of alien faces and UFOs.
THOSE WERE IN THE ORIGINAL UNDERGROUND MAUSOLEUM CAVE WHERE MARIA AND THE OTHERS WERE FOUND?
That's correct. Yes. The carved stones found in the hundreds, they struggled to get the lid off that. So, what they did, they went back to their vehicle and got a car jack so that they could place it underneath and jack it up so it could lift the sarcophagi. And when they did so, they found some smaller bodies in there.
However, those smaller bodies might represent some type of dolls, some (idol?) representation of Maria, and that they were purposely made because the evidence would point to us that they are just as old as Maria is (1,800 years old), and yet maybe manufactured.
And what's also interesting is that Wawita had a covering of a cloth around her. And it would support that the diatomaceous earth was purposely applied to these bodies prior to being wrapped. And that someone somehow knew the preservative properties of diatomaceous earth 1,800 years ago.
THE SADDEST THING I FEEL LISTENING TO YOUR EFFORTS IS THAT THERE IS A LARGE UNDERGROUND CAVE MAUSOLEUM WHERE MARIA AND OTHER BODIES MAY HAVE BEEN BURIED IN SARCOPHAGI MADE OF STONE 1,800 YEARS AGO.
AND THAT WE ARE DENIED SCIENTIFIC CREDIBILITY THAT COULD HAVE REVOLUTIONIZED PERCEPTION BECAUSE THE HUAQUERO IN PERU OWN, OPERATE, AND CONTROL ACCESS TO SOMETHING AS INHERENTLY VALUABLE AS THE MARIA BODY ORIGINALLY.
That's correct, Linda, but it does go a little further than that. The rabbit hole is much deeper.
State Secrets in Peru?
Through our research, we have found that it goes right up to the top into government levels. A number of people allow certain grave robbing to take place, especially when they find gold. We are aware that there is a black market involved. Part of that government had created a taskforce, Taskforce Wawita, it was called, to find these bodies as fast as they possibly could.
However, parties within that government knew exactly where they were. And of course, they knew what we were doing as well.
FROM WHAT I'VE JUST HEARD, IN THE TOP OF THE PERUVIAN GOVERNMENT, THAT PEOPLE ARE SKIMMING MONEY FROM OPERATIONS THAT SHOULD HAVE BEEN PURELY ARCHAEOLOGICAL AND ANTHROPOLOGICAL.
That's true. The Internet seems to demonstrate that all these bodies were all kind of discovered around the same time. That is not the case. The small bodies first started appearing around about the latter part of 2016. Maria didn't turn up until April of 2017.
So, it's even questionable that she was even part of the same discovery. I have to say it isn't because some government agency came in and swept it all away under the rug. Initially, it was greed, having to come up with money.
And I couldn't understand how even something that's $15,000 can stand in the way of something of massive, massive implications to history. I mean, the scientists that we've talked to and worked with Maria, she needs to be documented appropriately as a discovery. Unfortunately, that might not ever take place.
The last we heard is Inkari Institute had lost possession of the body, and she has gone somewhere else. We're not told where they've been relocated, where they've gone, or why. And that is a real shame because it means one of the greatest discoveries sat right in front of us, and I touched her. The presence of her in that room with other people, something like this, so real, on the edge of being brought forward into the domain of everybody on this Earth should know about these things, is just beneath the pale whisker because of the actions of these people involved.
YEAH. THE HAUQUEROS AND A GOVERNMENT THAT DENIES  — BUT IS ACTUALLY ENCOURAGING GRAVE ROBBING FOR A MONEY FLOW.
Yes. We do know the Spaniards initially said when they went to Peru is that they said, "Yes, it's OK to grave rob." However, that's been outlawed for many years in Peru, and it is a massive, massive problem that they have in the black market.
Is There A Peruvian Black Market Warehouse Filled with Maria Tomb Treasures and Artifacts?
LAST SUMMER OF 2017, WASN'T THE ORIGINAL REPORT THAT THERE WAS THE LARGE BODY MARIA AND A LARGE MALE IN ADDITION TO THE SMALL BODIES?
There has been some reference to it. We wanted to make sure that wasn't disinformation. Through the recent information that we've obtained, there may actually be another body. We've talked with some officials, people who are in the high places who are wealthy in Peru, and they say that they are aware that there is a warehouse full of these things.
A WAREHOUSE?  DID YOU GET OTHER DETAILS IMPLYING WHO WOULD HAVE A WAREHOUSE OF THESE BODIES AND ARTIFACTS IN PERU PARCELLING THEM OUT TO THE WORLD FOR MONEY?
We couldn't get a name. What we were told is that this person—and people knew this person. This person owned a number of properties and buildings. He has also worked in circles in the Peruvian government. Very wealthy. And he has an interest in this particular subject, and it was him that owned this particular warehouse. And this collection was accumulative over the years.
However, it was Maria that was prematurely slipped the net and appeared at Inkari Institute, unfortunately grabbing the attention of the Internet, and of course, unfolding as it did with our involvement. Now, it's been swept back. Maybe Maria has been taken to that location where these other ones have apparently been collected and stored there.
As soon as we said we were not going to provide $15,000 for the further part of research, and that it was imperative for the Inkari Institute to work with us, Maria's body disappeared, and all ties and communications ended."
Continued in Part 3.
Return to Part 1.
Also see:
06-17-2009 – Updated Parts 1 – 10: Non-Human Entities (NHEs): One View from Alleged Government Insiders
---
More Information:
06-05-2014 – Viewer Letters About E. T.-Human Hybrids
05-31-2014 – Part 2: Racheal's E. T.-Human Hybrid Eyes
05-30-2014 – Part 1: Racheal's E. T.-Human Hybrid Eyes
09-17-2014 – Part 5:  Dulce and Dropa Stones
09-12-2014 – Part 4:  Dulce, LEONID and "Alien Weapon Determinant"
09-02-2014 – Part 3:  Muroc Field Researchers Allegedly Found Eloah Grey Vast Underground Facility in 1940
08-31-2014 – Part 2: Is The Dulce ET Underground Lab Linked to ETs from Zeta Reticuli 1 and Sirius B?
08-29-2014 – Part 1: USAF Whistleblower Says There Really Is An Underground ET Cloning and Hybridization Lab Near Dulce, New Mexico. 
08-28-2015 – Part 1: Strange Case of "Human-E.T. Hybrid" Secret Agent Found Dead in SUV in Pacific Palisades, CA.
08-03-2015 – Part 18:  Maze of Deception – Epilogue: Abductees Speak
07-07-2015 – Part 15: Maze of Deception
07-05-2015 – Part 14: Maze of Deception
06-29-2015 – Cow Bloodlessly Mutilated Near Madden, Alberta, Canada
06-26-2015 – More High Strangeness Near Area 51 and A Non-Human Encounter
05-13-2015 – Part 8:  Maze of Deception — The Writers Discuss Enfolded Universe Where All Is "Recorded" and Can Be Accessed
04-24-2015 – Part 7:  Maze of Deception
04-22-2015 – Part 6: Non-Human Entities (NHEs): One View from Alleged Government Insiders
04-20-2015 – Part 5:  Maze of Deception
04-18-2015 – Part 4: Maze of Deception
04-16-2015 – Part 3: Maze of Deception
04-13-2015 – Part 2: Maze of Deception
02-27-2015 – Were Blood and Immune Chemistry Altered in Human Child by Non-Humans During Abduction?
---
Websites:

Human-Animal Hybrid, Wikipedia: https://en.wikipedia.org/wiki/Human–animal_hybrid
Dactyly, arrangement of digits:  https://en.wikipedia.org/wiki/Dactyly
Genetech:  https://www.genetechsrilanka.com
"Why Do We Inherit Mitochondrial DNA Only from Our Mothers?" June 23, 2016, The New York Times:  https://www.nytimes.com/2016/06/24/science/mitochondrial-dna-mothers.html
Megalithic Marvels:  https://megalithicmarvels.com/2017/06/02/16-enigmas-concerning-the-nazca-lines/

© 1998 - 2018 by Linda Moulton Howe.
All Rights Reserved.