"In Maria's tomb, there is this artifact described to have been at least  about 15 feet tall, about 6 to 9 feet in diameter on a box-shaped format with interconnecting beams that rise up in a pyramid type structure with a crystal, a very large crystal at its apex."
– Stephen Mera, Founder, Phenomena Magazine, London, U. K., May 2018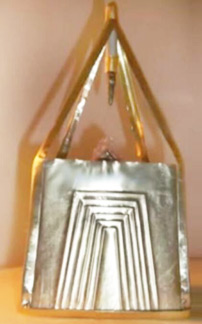 Return to Part 1.
May 30, 2018  London, England –  Steve Mera and Barry Fitzgerald have never physically been in the original underground cave or tomb where grave robbers found Maria, the small child Wawita, and possibly a third body of an adult male that's like Maria. But Steve and Barry have been shown photographs taken inside the burial chambers and were surprised to see what looks like a rock slab with markings that resemble cuneiform associated with ancient  Mesopotamia in the Middle East.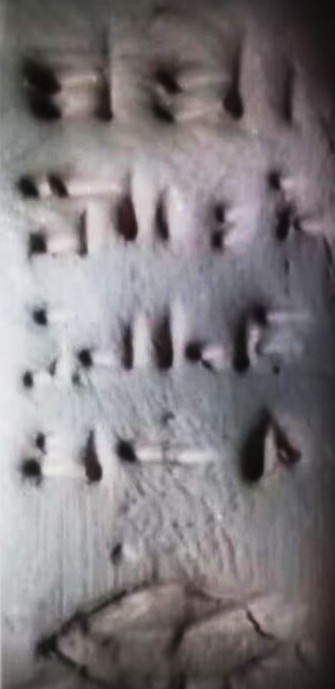 Further, they have continued to do research about the Nazca region and have discovered information about deep connecting wells that could relate to terraforming a long time ago — possibly to when the eerie Nazca and Palpa geoglyphs were being imprinted on the landscape for reasons that modern day humans still do not understand. As much as humanity deserves to know the real truths of our ancient ancestors and their relationship to the evolution of Earth and to us modern humans — Steve Mera says there are power-greed-money forces working against the truth in Peru from certain agencies in the government down to the grave robbers.
Can Barry, Steve and the genetic scientists from GeneTech in Sri Lanka return to the Nazca region to re-unite with Maria, Wawita — and perhaps even the whispered about third male body — for another round of DNA to strengthen the science of such an important discovery. Or have the bodies now deteriorated so badly in plastic boxes that their tissues will no longer have scientific value?
---
Interview: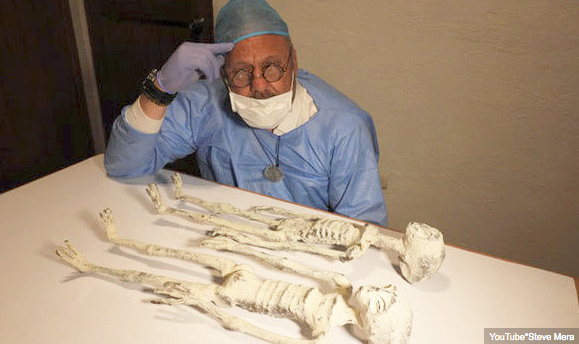 Stephen Mera, Founder of Phenomena Magazine in Manchester, England; Chairman of Manchester's Aerial Phenomena Investigation Team; Founder of the Scientific Establishment of Parapsychology; and co-investigator with Barry Fitzgerald of August 24, 2017, YouTube documentary The Mysterious Bodies of Peru © 2017 by Zohar StarGate TV, Glastonbury, England: 
ARE YOU GOING TO TRY TO DO ANYTHING MORE IN TERMS OF GOING BACK TO PERU IF YOU ACTUALLY FIND THE LOCATION AND PAY MONEY FOR THE SATISFACTION OF GOING TO THE ORIGINAL CHAMBER?
We are actually working on that, Linda. At this moment in time, we're kind of digging around talking to people. And everything seems to be leading to the Nazca lines, where the Nazca lines are. And even that some of the wells, the water wells throughout Nazca, at the bottom of them are interconnecting to some of these caves and caverns.
MY GOSH. THAT WOULD THEN SUGGEST AN UNDERGROUND CIVILIZATION THAT WAS ABLE TO DISTRIBUTE WATER INTO UNDERGROUND PLACES WHERE THEY WERE LIVING?
Absolutely. Which might indicate Maria has three fingers and three toes, even though there's no evidence of any skin between those feet or toes. Were they even webbed? We don't know. This is the problem. We're dealing with bodies that correspond with 1,800 years ago. And of course, massive deterioration. Who knows what Maria would actually have looked like and how she would have moved? Maria does have nails on her fingers and toes. There are nails there, and strong nails they are, as well.
Dactyly Puzzle  —  Why 3 Long Fingers and 3 Long Toes?
STEVE, IT IS ODD THAT SINCE THE 1940S AND THE NEWS ABOUT UFO CRASHES IN THE ROSWELL REGION OF NEW MEXICO THAT THE BEINGS RECOVERED BOTH DEAD AND ALIVE HAVE ALWAYS BEEN ASSOCIATED WITH FOUR FINGERS OR SIX FINGERS, BUT NOT THREE. AND HUMANS HAVE FIVE. WHAT DO YOU THINK ABOUT THE THREE FINGERS, THREE TOES IN THE MARIA BODY VERSUS FOUR, SIX, AND FIVE IN OTHER ALIEN INTELLIGENCES AND HUMANS?
We found references to the four fingers and the three fingers. The three fingers go back — seem to be the oldest references we can find. And then to the more recent times to the four fingers and even six fingers. If it is genetically — if it is a form of genetic experiments which have taken place or cross-breeding in some way to generate and create beings for different things…I mean, it's not just Maria's got three fingers and three toes. They're actually very long. And why would she have an extra two phalanges in each finger to gain that length? What would be the necessity? What would be the reason for it? Would she be a tree climber? Was she an amphibian? 1,800 years ago, what was in that location that she would have to require three fingers and three toes i that environment – we cannot find it so far.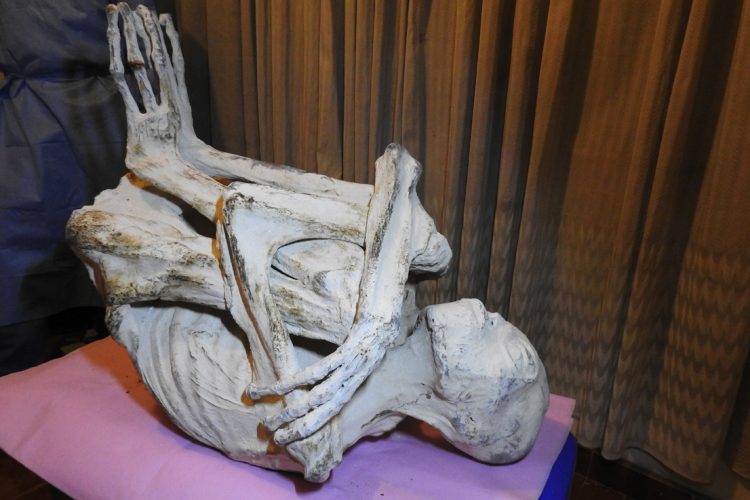 However, the application of an extra finger works wonders when it comes to controlling devices, picking up items, and doing things more ambidextrously. Maybe we are looking at an alteration that is taking place over thousands of years in dependence to what they actually were doing or were responsible for doing and having the appropriate items to do that work, such as fingers and toes.
It is a real mystery in regarding Maria. Three fingers and three toes, that might be inherent of genetic mutations or deliberate manipulation of some sort. It would seem we have a variety of alterations. Any extremities that were changed would indicate it's a pattern of behavior. In other words, we need it, so therefore we grew it through a process of thousands upon thousands of years normally. And what the body doesn't require, it usually gets rid of. It is a very, very big mystery. Where do we fit Maria in? One thing's for certain—Maria is absolutely primate. They did not say human. They did say she's definitely 95 percent primate. The 5 percent, however, is unknown. I mean, even the scientists said, "Maria is surprising."
5 PERCENT IS GREATER THAN THE 4 PERCENT DIFFERENCE BETWEEN HOMO SAPIENS SAPIENS AND THE BOVINE. THERE IS 2 OR 3 PERCENT DIFFERENCE WITH AN ORGANUTAN. AND SO, IT MEANS THAT MARIA, ACCORDING TO YOUR SRI LANKA INVESTIGATION,  WOULD BE A LARGER DIFFERENCE TO PRIMATE HOMO SAPIENS SAPIENS THAN A COW OR AN ORGANUTAN.
Correct. And the only feasible scientific explanation that we have for this at this time, well, a mutation, a huge mutation. Maria seems to be unique. Maria has more bones in her body than a human being.
WE'VE WANTED TO HAVE OUR GOVERNMENT CONFIRM THAT AN ALIEN PRESENCE HAS BEEN MIXING AND MATCHING GENES ON THIS PLANET FOR THOUSANDS, MILLIONS OF YEARS, AND THAT MARIA IN PERU COULD BE THE PROOF OF AN ALIEN PRESENCE AND INTERACTION WITH EVOLVING PRIMATES TO CREATE HYBRIDS FOR VARIOUS REASONS.
Maria represents the evidence to support that. And that is something that has probably been going on for a very, very long time.
I AM REALLY INTRIGUED ABOUT WHAT MORE YOU MIGHT BE ABLE TO FIND IF YOU CAN PAY, ARE ALLOWED, THE ORIGINAL UNDERGROUND MAUSOLEUM. IS THAT A CORRECT WORD TO SAY?
A Large, Mysterious Artifact in Maria's Tomb
It is. That is the correct word. But it would seem, Linda, it's who you know, not what you know when it comes to getting into the right places in Peru. Now, of course, at this moment in time, we are in talks with people well known throughout Peru which might be able to assist us in that matter because we don't want to give up on this. It still feels like we've only just opened the door ajar, and there's a lot more to come from this. We were also shown artifacts in the caves. And this artifact was very large, like a box with a pyramid in it, and at the top part of this, a very large, unusual crystal.
A CRYSTAL?
A crystal. There have been on many occasions information that's come out about artifacts that have been found in this cave underneath the Nazca region.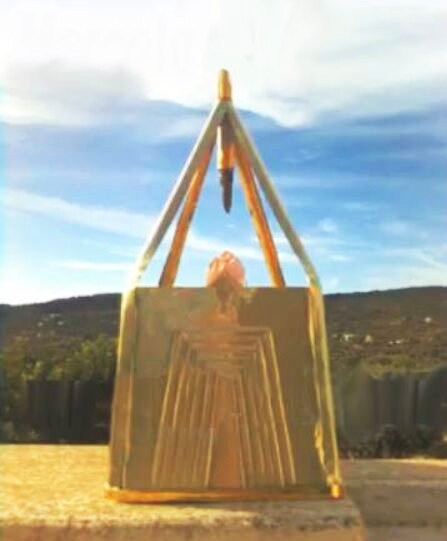 And one part of this opened up a very large area, and this artifact was described to have been at least around about 15 feet tall, around about 6 to 9 feet in diameter in a box-shaped format with interconnecting beams that led up in a pyramid type structure with a crystal, a very large crystal at its apex. There were drawings, and apparently, last I heard, was telling people about the artifact in hope of maybe dismantling it and selling it for a considerable amount of money. How true that is is unknown. But I've seen images and a 3D manufactured smaller version to replicate what this larger item looks like so they can help try and sell this to the right bidders on the black market. I don't know how true that is, Linda, but I have seen images of this device replicated on a smaller scale. Apparently, it consists of gold, as well, from what we're being told. It's actually manufactured from gold with these beams to an apex with a large crystal on top.
15 FEET HIGH. 6 TO 9 FEET IN DIAMETER. THIS CRYSTAL THEN IS UP AT THE TOP OF A PYRAMIDAL-LIKE GEOMETRY 15 FEET OFF THE FLOOR?
Yes, that's correct.
IS THERE ANYBODY WHO IS TALKING WITH YOU BEHIND THE SCENES ABOUT THE  SYMBOLS AND LARGE ARTIFACT IN THE UNDERGROUND BURIAL CHAMBER? WHY WOULD IT BE THERE? WHAT IS THE SUSPICION ABOUT WHAT IT WAS SUPPOSED TO DO?
Because there is a crystal apex, and obviously utilizing some form of energy, it was assumed that it would be some form of communication device.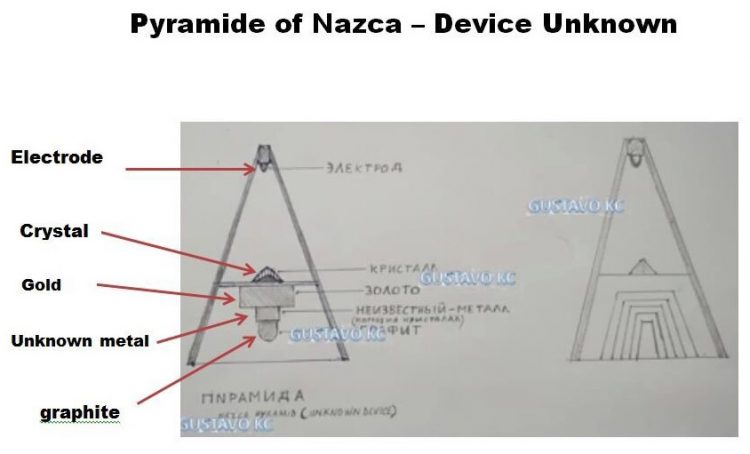 HAS ANYBODY SUGGESTED THAT THEY KNOW WHAT THE CRYSTAL IS MADE OF?
Not at this time, Linda, no. We're trying to figure out, actually, you know, through the information that we've been given, we're trying to get a coloring and a sizing of this crystal so that we might try to be able and identify what type of crystal it is.
DID YOU SEE THIS YOURSELF WITH YOUR OWN EYES AND MIND IN ONE OF THE PHOTOS?
We did not see in the photograph the original one because it was far too large to be able to photograph in that area. There were magnetic anomalies and (those taking photos) had to use Faraday nets over a lot of the equipment to stop them from faulting. However, what has actually been produced is a 3D diagram, and then on from the 3D diagram, they've made an exact replica of it to a smaller scale. The same color and looking identical, but only—I think it's only about 12 inches tall to represent what they are seeing in this particular cave. And you know, I put my life on the line for this investigation, and I believe people deserve the truth. That's what it's all about. Why else do this?"
Return to Part 1.
Also see:
06-17-2009 – Updated Parts 1 – 10: Non-Human Entities (NHEs): One View from Alleged Government Insiders
---
More Information:
06-05-2014 – Viewer Letters About E. T.-Human Hybrids
05-31-2014 – Part 2: Racheal's E. T.-Human Hybrid Eyes
05-30-2014 – Part 1: Racheal's E. T.-Human Hybrid Eyes
09-17-2014 – Part 5:  Dulce and Dropa Stones
09-12-2014 – Part 4:  Dulce, LEONID and "Alien Weapon Determinant"
09-02-2014 – Part 3:  Muroc Field Researchers Allegedly Found Eloah Grey Vast Underground Facility in 1940
08-31-2014 – Part 2: Is The Dulce ET Underground Lab Linked to ETs from Zeta Reticuli 1 and Sirius B?
08-29-2014 – Part 1: USAF Whistleblower Says There Really Is An Underground ET Cloning and Hybridization Lab Near Dulce, New Mexico. 
08-28-2015 – Part 1: Strange Case of "Human-E.T. Hybrid" Secret Agent Found Dead in SUV in Pacific Palisades, CA.
08-03-2015 – Part 18:  Maze of Deception – Epilogue: Abductees Speak
07-07-2015 – Part 15: Maze of Deception
07-05-2015 – Part 14: Maze of Deception
06-29-2015 – Cow Bloodlessly Mutilated Near Madden, Alberta, Canada
06-26-2015 – More High Strangeness Near Area 51 and A Non-Human Encounter
05-13-2015 – Part 8:  Maze of Deception — The Writers Discuss Enfolded Universe Where All Is "Recorded" and Can Be Accessed
04-24-2015 – Part 7:  Maze of Deception
04-22-2015 – Part 6: Non-Human Entities (NHEs): One View from Alleged Government Insiders
04-20-2015 – Part 5:  Maze of Deception
04-18-2015 – Part 4: Maze of Deception
04-16-2015 – Part 3: Maze of Deception
04-13-2015 – Part 2: Maze of Deception
02-27-2015 – Were Blood and Immune Chemistry Altered in Human Child by Non-Humans During Abduction?
---
Websites:

Human-Animal Hybrid, Wikipedia: https://en.wikipedia.org/wiki/Human–animal_hybrid
Dactyly, arrangement of digits:  https://en.wikipedia.org/wiki/Dactyly
Genetech:  https://www.genetechsrilanka.com
"Why Do We Inherit Mitochondrial DNA Only from Our Mothers?" June 23, 2016, The New York Times:  https://www.nytimes.com/2016/06/24/science/mitochondrial-dna-mothers.html
Megalithic Marvels:  https://megalithicmarvels.com/2017/06/02/16-enigmas-concerning-the-nazca-lines/

© 1998 - 2018 by Linda Moulton Howe.
All Rights Reserved.