"We're going to have the Air Force, and we're going to have the Space Force, separate but equal. …we must have American dominance in space."
– Donald Trump, U. S. President, June 19, 2018, speaking to National Space Council at White House
"My new national strategy for space recognizes that space is a war-fighting
domain, just like the land, air and sea. …Very soon we're going to Mars."
– Donald Trump, U. S. President, March 13, 2018, speaking to Marine Corps Air Station Miramar, San Diego, Calif.
June 19, 2018  Washington, D. C. – President Donald Trump on June 18, 2018, ordered the Pentagon to establish a new Space Force military branch that will "be separate but equal" to the U. S. Air Force. He asked Joint Chiefs Chairman General Joseph Dunford to do what is necessary to create the Space Force, which will require an act of Congress.
Pushing back against the President's request is U. S. Senator Bill Nelson (D-Fla), a former astronaut, who wrote on Twitter: "The president told a U. S. General to create  new Space Force as the 6th branch of military today, which generals tell me they don't want. Thankfully, the president can't do it without Congress because now is NOT the time to rip the Air Force apart. Too many important missions at stake."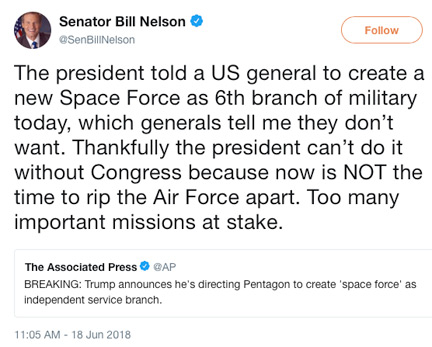 Estimates are it could take two years for Congress to act on Trump's request. Currently, the House already has a different proposal for a fiscal 2019 National Defense Authorization Act H.R. 5515 (115) to create a U.S. Space Command as a subordinate combatant command under U.S. Strategic Command. No one knows if this plan will end up in the final authorization bill either.
Trump's First Request March 13, 2018, for New Space Force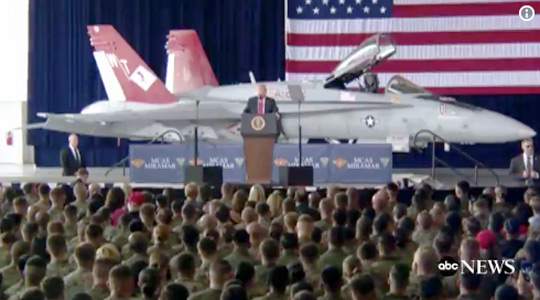 Earthfiles.com transcript of March 13, 2018, excerpt of President Donald Trump speaking at Marine Corps Air Station Miramar, San Diego, California: "Very soon we're going to Mars. You wouldn't have been going to Mars if my opponent won, that I can tell you. You wouldn't even be thinking about it. My new national strategy for space recognizes that space is a war-fighting domain, just like the land, air and sea. We may even have a Space Force, to develop another one. We have the Air Force. We'll have the Space Force. You have the Army, the Navy.
You know, I was saying the other day because we are doing a tremendous amount of work in space, I said, 'Maybe we need a new force. We'll call it the Space Force.' And first I wasn't serious. But then I thought, 'What a great idea! We'll have to do that.'
That could happen. That could be the big, breaking story. … From the very beginning, many of our astronauts have been soldiers and sailors, airmen, coast guardsmen and marines. Our service members will be vital to insuring America continues to lead the way into the stars, lead the way into space. We're way, way behind and we're catching up fast — so fast that nobody even believes it."

© 1998 - 2018 by Linda Moulton Howe.
All Rights Reserved.