"The presence of dark energy in our universe is causing space to expand at an accelerating rate … (and) over the next approximately 100 billion years, all stars beyond the Local Group will … become not only unobservable, but entirely inaccessible. … ( To counteract the loss of stars, could there be) observable signatures of a civilization elsewhere in the universe that is currently in a state of stellar harvesting."
– Dan Hooper, Ph.D., Fermi Nat'l. Accelerator Laboratory, Center for Particle Astrophysics, Batavia, Illinois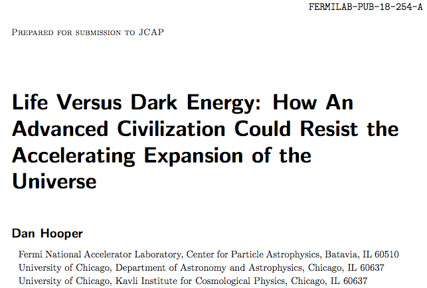 On June 13, 2018, in Cornell University's public repository arXiv, a freely accessible archive of scientific e-papers, there was the above provocative title by Dan Hooper, Ph.D., Fermi National Accelerator Laboratory in the Center for Particle Astrophysics in Batavia, Illinois, who is also in the University of Chicago's Dept. of Astronomy and Astrophysics and the Kavli Inst. for Cosmological Physics. The paper has also been submitted to JCAP, the Journal of Cosmology and Astroparticle Physics for publication.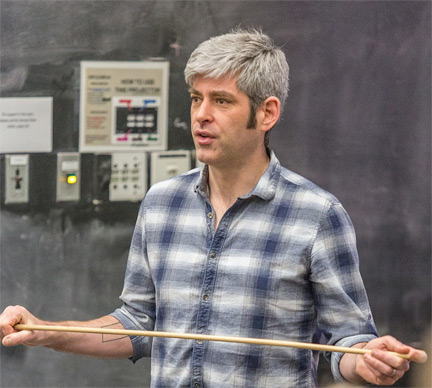 In his opening summary, Prof. Hooper writes: "The presence of dark energy in our universe is causing space to expand at an accelerating rate. As a result, over the next approximately 100 billion years, all stars residing beyond the Local Group will fall beyond the cosmic horizon and become not only unobservable, but entirely inaccessible, thus limiting how much energy could one day be extracted from them (suns).
[ Editor's Note:  The astronomical Local Group is the part of our universe that contains the Milky Way galaxy and 54 other galaxies, most of them dwarf galaxies. See Websites below.]
"Here, we consider the likely response of a highly advanced civilization to this situation. In particular, we argue that in order to maximize its access to useable energy, a sufficiently advanced civilization would choose to expand rapidly outward, build Dyson Spheres or similar structures around encountered stars, and use the energy that is harnessed to accelerate those stars away from the approaching horizon and toward the center of the civilization.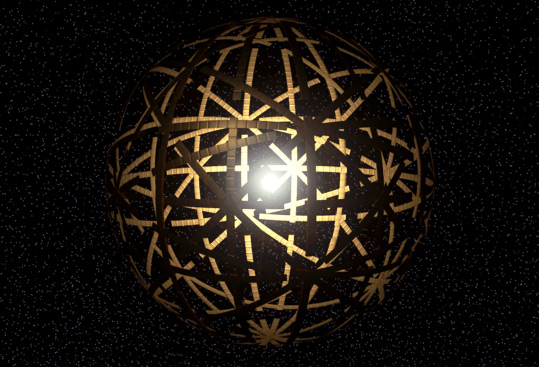 "… (This) could lead to the harvesting of stars within a region extending out to several tens of millions of parsecs (Mpc) in radius, potentially increasing the total amount of energy that is available to a future civilization by a factor of several thousand. We also discuss the observable signatures of a civilization elsewhere in the universe that is currently in this state of stellar harvesting.
Any Evidence of Current Stellar Harvesting?
In a section of his paper entitled "New Observational Signatures of Advanced Civilizations" Prof. Hooper writes: "We performed our calculations for the case of an advanced civilization that expands outward from the Milky Way (or Local Group) starting in the current time epoch. It is of course possible, however, that life has already evolved elsewhere in our universe and that civilizations far more advanced than our own may already exist within our Hubble volume. If this is the case, then they have already begun to collect stars from their surrounding cosmological environment, altering the distribution of stars and leading to potentially observable signatures" of such star collecting evidence."
Prof. Hooper proposes that if Type II and III Civilizations are moving stars for energy harvesting, the stellar propulsion would be visible. "Such acceleration of suns would necessarily require large amounts of energy and likely produce significant fluxes of electromagnetic radiation. … The spectrum of starlight from a galaxy that has had its useful stars harvested by an advanced civilization would be dominated by massive stars that peak at longer wavelengths than otherwise would have been the case."
So searches for moving stars that would generate large electromagnetic radiation fluxes plus detailed spectroscopy of nearby galaxies might find evidence that some stars in this universe are being harvested for energy to support planets and galaxies while dark energy keeps pushing the universe's stars further and further apart.
Also see:
01-28-2017 – Are Color-Modulated Rapid Pulses from 234 Stars E.T. Signals?
10-29-2015 – Strangest Star Light Pattern in Milky Way Galaxy — Are There Megastructures Orbiting KIC 8462852?
---
More Information:
03-08-2018 – Cosmic Ray Radiation Is Dangerous and Getting Worse As Sun Is Often Spotless
09-10-2017 – A. I. Threat from Weaponized Robots?
08-30-2017 – Distant Galaxy Emits 15 New Fast Radio Bursts
08-02-2017 – NASA Job Search for "Planetary Protection Officer"
07-28-2017 – Simulated Universe and New Age of Human Transition to Cyborgs?
07-28-2017 – First "Teleportation" of Entangled Photons from Earth to Space Satellite
05-26-2017 – U. S. Army Infantryman At Ft. Richardson, Alaska, Encounter with Grey Alien
05-26-2017 – Part 1 – Aliens: Scientists Search for Extraterrestrial Life
05-26-2017 – Part 2 – Aliens: Scientists Search for Extraterrestrial Life
02-24-2017 – Part 1: A Physicist Thinks Our Universe Is Simulated
02-24-2017 – Part 2: Keys to the Cosmos: Fractal Math, Frequencies and Wave Patterns
01-28-2017 – Are Color-Modulated Rapid Pulses from 234 Stars E.T. Signals?
---
Websites:
"Life Versus Dark Energy: How An Advanced Civilization Could Resist the Accelerating Expansion of the Universe," June 13, 2018, arXiv by Dan Hooper, Ph.D.:  https://arxiv.org/pdf/1806.05203.pdf
The Local Group:  https://en.wikipedia.org/wiki/Local_Group
Kardashev Scale:  https://en.wikipedia.org/wiki/Kardashev_scale
Dyson Spheres:  https://en.wikipedia.org/wiki/Dyson_sphere

© 1998 - 2018 by Linda Moulton Howe.
All Rights Reserved.