"What's most surprising is that we've never seen interstellar objects pass through (our solar system) before."  – Karen Meech, Ph.D., Astronomer, Institute for Astronomy, University of Hawaii, Honolulu
"Unexpectedly, we found that Oumuamua was not slowing down as fast as it should have under gravitational forces alone."
– Marco Micheli, Ph.D., Astronomer, European Space Agency, and Author of Oumuamua paper, June 27, 2018,  Nature
July 1, 2018  Albuquerque, New Mexico – On October 19, 2017, the first interstellar object ever seen by humans on Earth called A/2017 U1 or "Oumuamua" came through our solar system at thousands of miles an hour. Oumuamua in Hawaian means "scout or leader in a battle."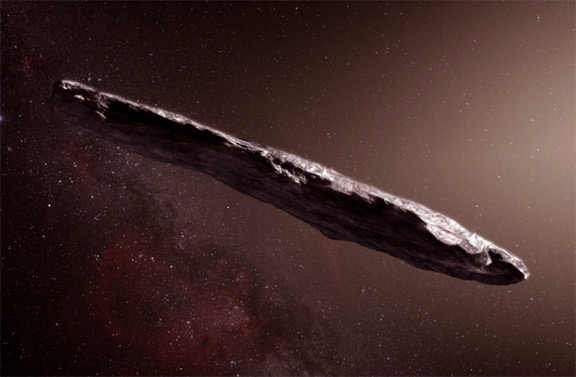 It was discovered by astronomer Robert Weryk using the Pan-STARRS telescope at Haleakala Observatory, Hawaii, on October 19, 2017, 40 days after it passed its closest point to the Sun. When first seen in September 2017, it was about 33,000,000 km (21,000,000 mi) from Earth (about 85 times as far away as the Moon), and already heading away from the Sun. Since there was no tail, scientists decided it was not a comet. But no one got any actual images to study. The images distributed on the internet are all computer models. Allegedly astronomers didn't have time to turn telescopes on the foreign visitor fast enough to get either good images or even detailed spectroscopy of what it was made of.
"This is the most extreme orbit I have ever seen," said Davide Farnocchia, a scientist at NASA's Center for Near-Earth Object Studies (CNEOS) at the agency's Jet Propulsion Laboratory in Pasadena, California. "It is going extremely fast (the unusual object increased speed and altered orbit) on such a trajectory that we can say with confidence that this object is on its way out of the solar system and not coming back."
The CNEOS team plotted the object's current trajectory and even looked into its future. Oumuamua (A/2017 U1) came from the direction of the constellation Lyra, cruising through interstellar space at a brisk clip of  56,880 miles per hour (15.8 miles/second or 25.5 kilometers/ second.)
Pulled by the Sun's gravity, the object made a hairpin turn under our solar system, passing under Earth's orbit on Oct. 14, 2017,  at a distance of about 15 million miles (24 million kilometers) -— about 60 times the distance to the Moon. It then shot back up above the plane of the planets and increased its speed to 97,200 miles an hour (27 miles per second or 44 kilometers/second) with respect to the Sun. Oumuamua left our solar system speeding toward the constellation Pegasus.
"We have long suspected that these interstellar objects should exist, because during the process of planet formation a lot of material should be ejected from planetary systems. What's most surprising is that we've never seen interstellar objects pass through before," said Karen Meech, an astronomer at the Institute for Astronomy at the University of Hawaii in Honolulu, specializing in small bodies and their connection to solar system formation.
Scientist's Descriptions of Oumuamua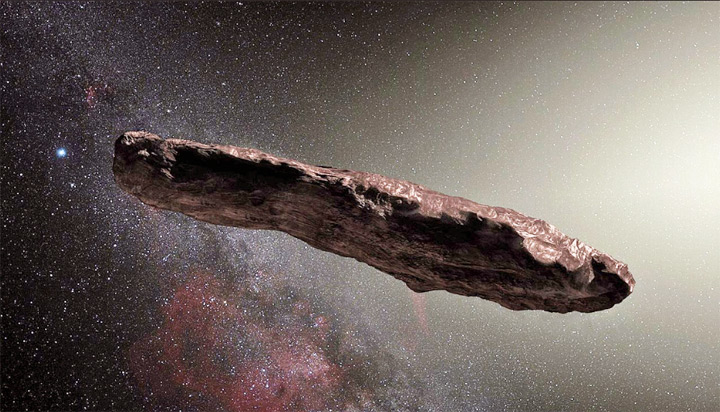 "Oumuamua is a small object, estimated to be about 230 by 35 meters (800 ft × 100 ft) in size. It has a dark red color, similar to objects in the outer Solar System, such as Sedna. Oumuamua showed no signs of a comet tail despite its close approach to the Sun, but has since undergone non-gravitational acceleration consistent with comet outgassing. It has significant elongation and rotation rate, so it is thought to be metal-rich with a relatively high density. Oumuamua is tumbling, rather than smoothly rotating, and is moving so fast relative to the Sun that there is no chance it originated in the Solar System. It also means that Oumuamua cannot be captured into a solar orbit, so it will eventually leave the Solar System and resume traveling through interstellar space. Oumuamua's system of origin and the amount of time it has spent traveling amongst the stars are unknown."
I interviewed Prof. Avi Loeb, Ph.D., Chairman of the Astronomy Department at Harvard University, who along with other scientists, were listening for any signals from the object because there were some speculations that it might be artificial in origin, a scout craft camouflaged as an asteroid or comet. By December 2017, planetary scientist Alan Fitzsimmons of Queen's University Belfast in the U. K. reported that Oumuamua's "surface is similar to small solar system bodies that are covered in carbon-rich ices, whose structure is modified by exposure to cosmic rays. They developed a model of the thermal properties of Oumuamua and determined that half-meter thick mantle of organic-rich material could have protected a water-ice-rich comet-like interior from vaporising when the object was heated by the sun."

Comet or Asteroid Or?
Then at the end of June 2018, astronomer Marco Micheli from the European Space Agency and lead author of a new study in the journal Nature, hypothesized that Oumuamua was neither an asteroid nor an alien spacecraft, but was "a small interstellar comet. … Unexpectedly, we found that Oumuamua was not slowing down as fast as it should have under gravitational forces alone." So his calculations pointed to outgassing from materials on Oumuamua's surface that were too small to be seen when it whizzed by Earth, but enough outgassing to affect the interstellar object's speed and trajectory.
However, another astronomer, Alan Jackson, Ph.D., at the University of Toronto – Scarborough, argues Oumuamua didn't have enough ice to be a comet, even if it started out as one.  "Oumuamua thus seems to be in that ambigous region between an asteroid and a comet" and more like an elongated asteroid when it visited our solar system.
Also see:
01-29-2016 – Gravitational Evidence of 9th Planet 10 Times the Mass of Earth!
---
More Information:
10-22-2016 – Is Our Sun's Mysterious 6-Degree Tilt Linked to A Huge 9th Planet?
09-30-2016 – Part 2: Self-Activating Intelligence of Dragonfly and James Webb Telescopes
09-30-2016 – Part 1: Searching for Other Life and Dark Matter in This Universe
01-29-2016 – Gravitational Evidence of 9th Planet 10 Times the Mass of Earth!
07-18-2015 – Pluto Has 2-Mile-High Ice Mountains, Plains of "Bubbling" Ice and "Wind Swept" Smudges. Weather? Heating Convection?
01-26-2015 – A Big Asteroid Comes Close Jan. 26th — and Mysterious "Sand Dunes" and "Goosebumps" On Comet 67P?
09-06-2011 – NASA: "DNA Building Blocks Actually Created in Space"
12-20-2008 – Carbonate Finally Found On Mars
08-05-2008 – Perchlorate Discovery by Phoenix Lander Does Not End Search for Life On Mars
05-29-2008 – Phoenix Robotic Arm Preparing to Dig Into Martian Permafrost
---
Websites:
"Non-gravitational acceleration in the trajectory of 1I/2017 U1 (Oumuamua), June 27, 2018,  Nature:  https://www.nature.com/articles/s41586-018-0254-4
NASA's Center for Near-Earth Object Studies (CNEOS): https://cneos.jpl.nasa.gov
AsteroidWatch on Twitter:  twitter.com/AsteroidWatch
https://www.jpl.nasa.gov/asteroidwatch
NASA Animation of Oumuamua's Path Through Our Solar System: https://www.nasa.gov/feature/jpl/small-asteroid-or-comet-visits-from-beyond-the-solar-system

© 1998 - 2018 by Linda Moulton Howe.
All Rights Reserved.