— "This really qualifies as a body of water. A lake, not some kind of meltwater filling some space between rock and ice, as happens in certain glaciers on Earth."
– Roberto Orosei, Ph.D., Astrophysicist, Italian Nat'l. Institute for Astrophysics
— "We are not closer to actually detecting life, but what this finding does is give us the location of where to look on Mars. It is like a treasure map — except in this case, there will be lots of  'X's  marking the (underwater) spots." – Manish Patel, Ph. D., Senior Lecturer,  Science, Technology, Engineering & Mathematics, U. K.'s  Open University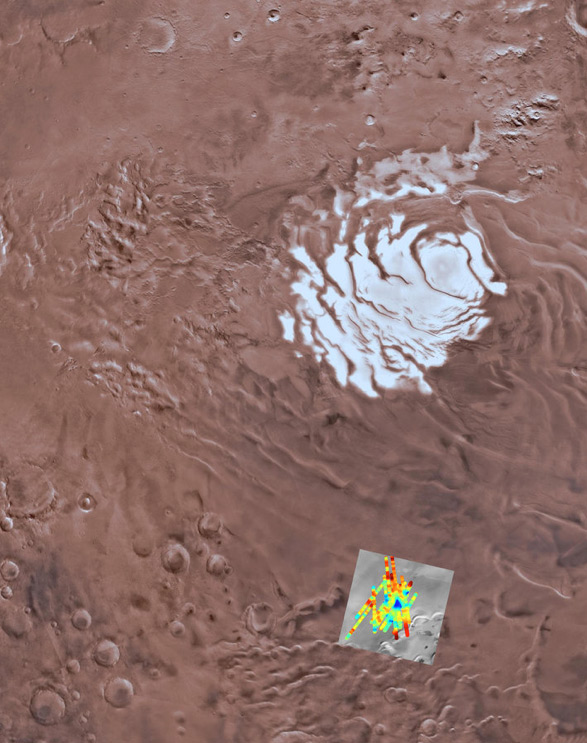 July 25, 2018  Albuquerque, New Mexico – Today there were headlines around the world about the discovery of a lake of water found by radar a mile below the Martian South Pole. Water could mean extraterrestrial life there as well — even if only microbes.
This exciting news came from an investigation by the European Space Agency's Mars Express orbiter flying over the Martian South Pole and beaming down radar signals from its MARSIS radar instrument onboard. The radar signals are color coded in the grey square on the right of the above illustration.  Deep blue to lighter blues corresponds to the strongest reflections, which are interpreted as being caused by the presence of water.  ESA scientists report in the recent journal  Science that an underground lake of salty water 12 miles (20km) across and a mile (1.5 km) down beneath the South Pole could be 3 feet deep.  
Roberto Orosei, Ph.D., Astrophysicist at the Italian National Institute for Astrophysics and leader of the MARSIS project, explains, "In the blue colors, you can see where the reflections from the bottom are stronger than surface reflection. This is something that is to us the tell tale sign of the presence of water."
What If the Radar Reflection Is Something Else?
Another scientist, Bruce Campbell, Ph.D.,  of Smithsonian's National Air and Space Museum, oversees a different instrument called a SHARAD — Shallow Subsurface Radar — on NASA's Mars Reconnaissance Orbiter (MRO).  Prof. Campbell says, "We do not see this reflector that has been reported by ESA's MARSIS radar." The reason might be that SHARAD uses different wavelengths that are scattered by the Martian South Pole ice before they get down a mile where the MARSIS radar can more clearly see.
Prof. Jack Holt at the University of Arizona also points out, "A brine (salty water) is probably the strongest radar reflector you can come up with, aside from metal. A lake would mean a smooth, mirror-like reflection that is more likely to show up in SHARAD, but if it is saturated sediments, it could be a rougher surface and therefore easier to miss with SHARAD."
If There's An Underground Lake, Could It Have Life?
Wherever there is water on Earth, there is almost always some life form small and large. Could underground water at the Martian South Pole finally be the place where we're going to get that global headline that other life has been found beyond Earth?
Manish Patel, Ph. D., Senior Lecturer in Science, Technology, Engineering & Mathematics at the U. K.'s  Open University says, "We are not closer to actually detecting life, but what this finding does is give us the location of where to look on Mars. It is like a treasure map —  except in this case, there will be lots of  'X's marking the spots."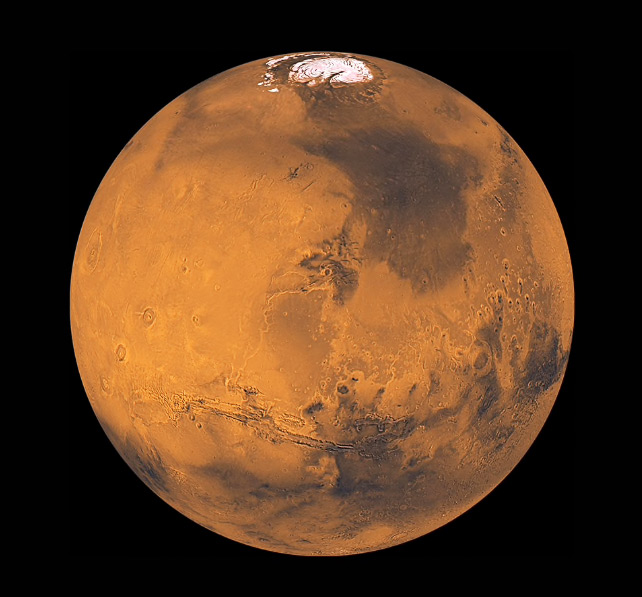 Mark Sephton, who researches life in extreme environments at Imperial College, London, told U. K.'s  The Guardian that the water being so far under the surface of Mars was not in itself a problem for life. The surface of Mars is bombarded by intense radiation that effectively sterilises the surface, so if life lurks anywhere on the planet, it is likely to be underground. "As long as there is an energy source to exploit and a source of nutrients or raw materials—  then life is possible."
How Does Earth Confirm An Underground Lake On Mars?
Some scientists have wondered if a new rover could be launched to the Martian South Pole to drill down as deeply as possible with technologies sensitive to the presence of water.
But Astrophysicist Roberto Orosei cautions, "Getting there and acquiring the final evidence that this is indeed a lake will not be an easy task. It will require flying a robot there, which is capable of drilling through 1.5 kilometers of ice, which is a mile down. This will certainly require some technological developments that at the moment are not available."
Methane, Both Seasonal and Organic Molecules, On Mars Could Also Mean Life.
It was only two months ago on June 7th, 2018, that NASA held a livestreaming press conference to announce that the Curiosity Rover on Mars has confirmed both seasonal methane and organic molecules.
The Curiosity Rover dug down 2 inches into the Martian soil of Gale Crater on the Red Planet's equator where water once flowed in such abundance that it carved channels in the 3-mile-high Mount Sharp at the center of the crater and the crater walls. That's why Gale Crater is a logical target to look for signs of life — past and present.
The fact that Gale Crater had running water some 3 billion years ago means that the recent discovery of these organic molecules and methane reinforces the expectation that some kind of life did exist on Mars. Next up in 6 months on November 26, 2018, NASA's InSight Lander that was launched on May 5, 2018, will land for a 2-year-mission to search for evidence that NASA describes as "geologically alive on the surface or below the surface."
Also see:
06-07-2018 – NASA Confirms Organic Molecules On Mars — Will Life Evidence Be Next?
---
More Information:
06-19-2018 – Update: "We're Going to Have A Space Force … And Very Soon We're Going to Mars" – President Trump.
06-13-2018 – One of Largest Storms Ever Seen On Mars Threatens the Opportunity Rover.
06-07-2018 – NASA Confirms Organic Molecules On Mars — Will Life Evidence Be Next?
03-08-2018 – Cosmic Ray Radiation Is Dangerous and Getting Worse As Sun Is Often Spotless
02-26-2018 – Part 2: What Ancient Archaeology IS in Antarctica?
02-23-2018 – Part 1: What Ancient Archaeology IS in Antarctica?
12-22-2017 – Did NASA/JPL Fudge Xenon-129 Data for Both Mars and Venus?
---
Websites:
"A Watery Lake Is Detected on Mars, Raising the Potential for Alien Life," July 25, 2018, The New York Times:  https://www.nytimes.com/2018/07/25/science/mars-liquid-alien-life.html?
"Mars: huge underground lake raises prospects of life on planet, astronomers say," July 25, 2018, The Guardian: https://www.theguardian.com/science/2018/jul/25/huge-underground-lake-discovered-on-mars-say-astronomers
Mars, Wikipedia:  https://en.wikipedia.org/wiki/Mars

© 1998 - 2018 by Linda Moulton Howe.
All Rights Reserved.