— "I was posted as a security guard at Zel and Mary Loman Elementary School about 6 or 7 o'clock in the evening directly across from Nellis Air Force Base, Nevada, and every car alarm for 10 blocks went off on the ground  … as the white triangle rolled into my vision — it literally did a barrel roll. I saw top and bottom and then it hit some kind of engine boost and disappeared in the blink of an eye."   – Elementary School Security Guard, Las Vegas, NV
— I had the impression that it knew it was being watched. Then the white triangle stopped and stayed still for about 30 seconds before becoming smaller, I assume it was rising, and then vanishing from sight.   – Resident of Bath, England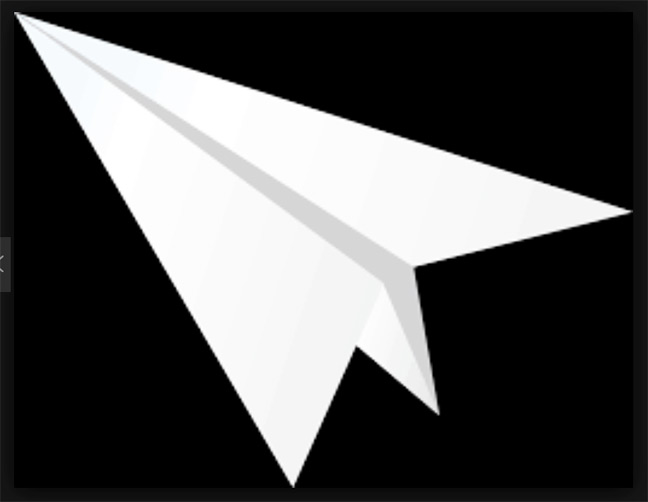 July 31, 2018  Albuquerque, New Mexico –  Black, mysterious triangular aircraft have been reported stopping motionless in blue or black skies for several decades. Now come reports of bright white triangles that also stop in the sky suspended motionless after a burst of high speed. One recent report came to Earthfiles on July 22, 2018, from a Maidstone, England, attorney, who sketched what he and his wife saw from their home in the U. K. Gatwick Airport flight path around 3 o'clock in the afternoon on July 22nd.
From:  Attorney M. O., Maidstone, England
To:  Linda Moulton Howe <[email protected]>
Re:  Bright White Triangle Craft – Sketch Attached
Date:  July 22, 2018
Dear Linda,
I am a huge admirer of your work – please keep going, you are doing a fantastic job.
What I am about to relay will probably be very mediocre to you, but I am passing on details because it has left me completely flummoxed. I have a strong interest in aviation (including working for The Imperial War Museum, Duxford, as a young man) and I am also a lawyer by profession. So, evidence is important to me. Nothing in my fields of reference matches what I saw (apart from all the internet coverage of black triangles/TR3Bs – although what I saw was a brilliant white in colour). Also, over the years, I have tended to be sceptical about stories of "chemtrails," but what I saw did not look to me like a normal contrail.
Yesterday afternoon (22 July 2018, around 3.00 pm in London –  possibly between 3.00 and 4.00), I was in my garden with my wife when I looked up at the sky to see if there was any sign of the weather breaking. We have had extremely hot weather in the UK for quite some time now and there had been talk of rain at the weekend, but it hadn't materialized. I was basically looking to see if storm clouds were on the way.
The sky was very clear, with just the faintest wisps of high cloud (alto cirrus) to the north. Immediately overhead and to the south there was no clouds at all.
White Triangle Silent and Disappeared in Seconds
As I looked up, I saw a white triangular shaped craft shoot from left to right overhead in a very broad arc. It was high up, I thought at least as high as the wispy-looking clouds, probably higher (difficult to tell because the craft did not cross the clouds from my perspective). Without a doubt, it was much faster than a commercial airliner. We are on the flightpath for Gatwick Airport and commercial airliners fly over us regularly. They are usually at 10-20,000 feet. They pass over us comparatively slowly and we normally hear a very faint noise from the jet engines. In contrast, this aircraft went from being first noticed immediately above my head to out of sight (last seen heading in a broadly east north east direction) in a matter of seconds.
My first thought when I saw it was, "That could be a TR3B, but how come it's leaving a trail?" As I understand it, these aircraft are reported to have anti-gravity technology. I then took more notice of the trail itself and was struck by two things:
1. There was a very definite starting point in the clear blue sky, as if something had been switched on.
2. The white contrail did not dissipate. It just sat there in the sky for some considerable time, an arc-shaped-trail that was almost the same size at the 'start' point as it was immediately behind the craft. Eventually the trail blew southwards and dissipated into clouds that appeared from the southwest [ possibly interesting that the weather changed to cloudy after this event ].
My phone was indoors in the house. The craft was gone so quickly that I did not have time to grab my phone and take a picture of it. Also, perhaps stupidly, I did not take a picture of the contrail alone because I did not think it would be of much interest to anyone. However, I can state categorically that the white arc trail did not dissipate like a 'normal' contrail. It was just a very long, arc-shaped trail with a fairly regular bubbling effect on each edge.
The craft itself was white, not black.  In other words, it was the color of the clouds, but brighter. It was without doubt triangle-shaped with rounded corners. It looked nothing like a commercial airliner. In fact, an airliner passed slowly overhead and slightly more to the north a few minutes later. From ground level, it was readily identifiable as an airliner. The airliner seemed about twice the size of the triangular craft, but I think the triangular craft was at a much higher altitude. Also, we could faintly hear the airliner's engines — but there was no sound from the triangular craft at all.
The only other point worth mentioning is that the triangular craft did not disappear from view in the sense that it could have been seen fading away to a speck. It just sort of disappeared slightly sooner than I would have expected if it were just fading from view. It's hard to describe it any better than that. There were no flashes or anything — just one second it was there and speeding in an east north east direction. The next second it was gone and only the curved contrail was left behind.
Odd Contrail
There are many accounts of black triangles, but very few of white triangles. What I saw was definitely white. And the trail was very odd indeed. Perhaps chemtrailing is real after all? I don't know. But I can say that it got a lot cloudier that evening and when I got up this morning, the sky was just a uniform haze of white cloud.
Sketch of White Triangle in Gatwick Flight Path, London
Please also see attached sketch and map. I should add that I have curved the "contrail" in the other direction to how it appeared from the ground because I was focusing too much on illustrating the direction of travel that the craft was heading in from my perspective. However, the key points are that this trail had a very clear starting point, like something had been switched on, and it hardly changed shape at all between that starting point (above and to the left of me) and the last time I saw the craft (above and some distance to the right). It's a shame I can't draw in 3-D, it would make this much easier!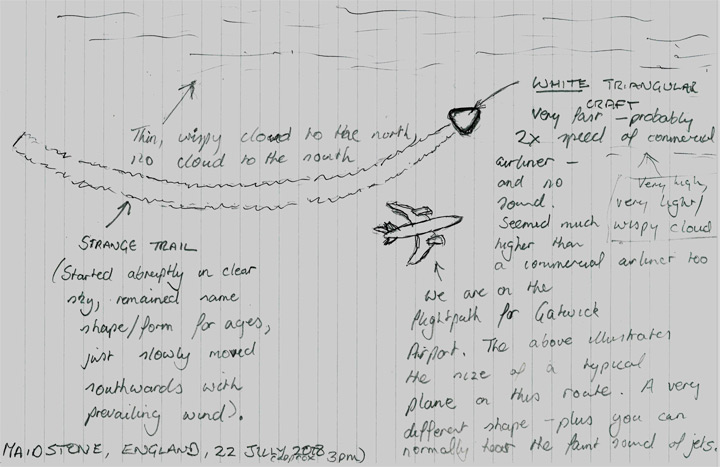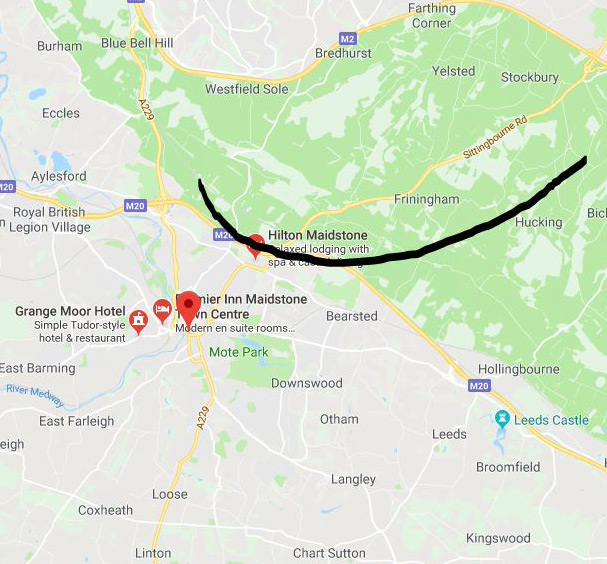 Other Strange Aerial Craft Reports
1)
TO:  Linda Moulton Howe <[email protected]>
Re:  White Triangle Craft Seen by Nevada Resident
Date:  July 26, 2018
What the Maidstone, England, attorney saw was our newest triangle aircraft. It is silvery white all over the entire aircraft surface. 300 feet plus giant wing. Curvy surfaces, not square. It's normally parked somewhere in the North Nevada Desert — possibly Area 51 outside Las Vegas —  but they bring it in to Nellis AFB occasionally to show it off.  When it goes out, it's accompanied by a tremendous number of support aircraft, both double rotor helicopters and large and small fighter jets. More than two dozen aircraft follow it into the Desert. It's the size of a football field.
[ But this Nevada triangle makes a lot of noise! ]
It sounds like two dozen fighter jets with afterburners. I was posted as a security guard at Zel and Mary Loman Elementary School about six or 7 o'clock in the evening directly across from Nellis Air Force Base and every car alarm for 10 blocks went off on the ground — shook me up.  I tried to get my phone to take a picture of the white triangle, but the thumb security wasn't working. I had to punch in a code just to get to the camera feature and the triangular craft was already gone into the sky. It rolled into my vision — it literally did a barrel roll. I saw top and bottom and then it hit some kind of engine boost and disappeared in the blink of an eye.
Linda, keep up the good work. I watch everything you do on your YouTube channel and I enjoy your reports on Coast to Coast AM.  I also have discovered mutilated cows in the North Nevada desert near Pioche Panaca and Rachel. For 10 years I owned and operated 98.9 KBZB broadcasting at the Highland Peak near Pioche, Nevada.
God bless you
2)
TO:  Linda Moulton Howe <[email protected]>
Re:  Unusual Aerial Vehicles –  2004 to Present in AZ and Utah
Date:  July 27, 2018
This is based on observations made from 2004 to present 2018, from the Church Wells, Utah and Page, AZ area. (Over the southern Grand Staircase Natl. Monument, Vermillion Cliffs N.M. (AZ), Glen Canyon NRA, and San Juan river basin (San Juan Co., Utah). This is primarily over the Kaiparowits, Kaibab and Paria plateaus. 
This area is probably the least populated and most rugged terrain in the southwest. I suspect that its use as a testing range/national monument was a primary objective from the start. There are many archeological and geological reasons for protecting the area, but that had not been enough to get a higher level of preservation and restricted travel before 1996. I hope this sheds a little light on the "airliner" and contrail issue.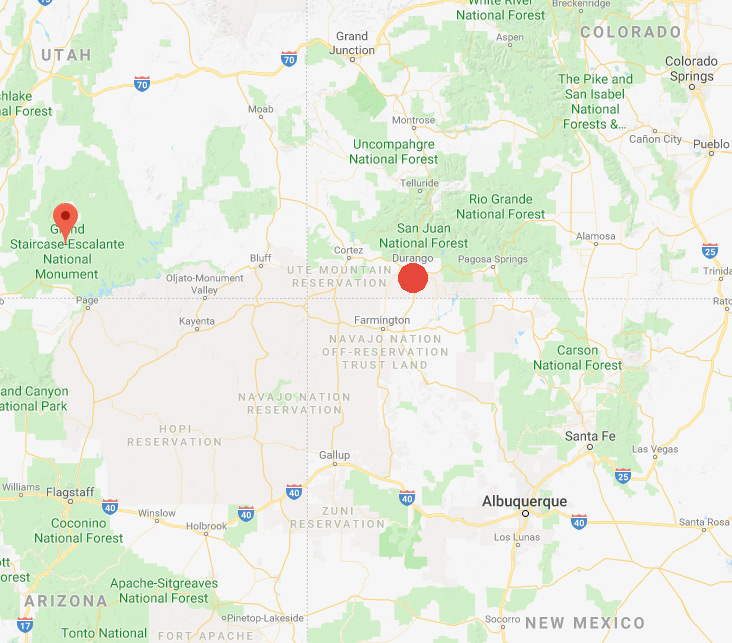 1. Aerospace craft:
C

onventional-looking plane that frequently will glow brightly and then "fade out" of view. From casual viewing it would appear that the craft have just moved off into the distance, but careful scrutiny over time reveals that the craft are actually disappearing in broad daylight.

The craft (planes and other) glow brightly.

Then a haze will appear around the craft.

Then it will become translucent.

Then the wings (if any) disappear.

Then the body of the craft disappears. Most of this takes place at about 10,000 feet altitude, but sometimes is much higher. If the craft has jets or props, they can still be heard, and the doppler sound shift occurs as they pass overhead. Numerous helicopter-shaped aerial vehicles also exhibit this daylight visual stealth function.
2.  Black Triangular Craft:
Several types of black triangles have been recorded at night, and may be the same as those seen glowing in daylight.

Many smaller "V" shaped craft and a fleet of glowing white spheres (about 10-12 ft. in dia.) are out nightly.

Occasional glowing disc-shaped craft come through. They glow at a distance, but a dull metallic hull can be seen if they get close enough and there is still some ambient light in the atmosphere.

The spheres are one of several types of field propulsion drones engaged here.
3. Pretend "Jet Airliners" in Aerospace Program:
A large number of what appear to be "jet airliners" are actually commercial passenger airframes that are in this aerospace program.

These craft leave unusual "contrails," which

do not disperse like normal contrails

and are not shaped like normal contrails.

Sometimes there are four contrails coming from a plane with two jets. They have frequently laid down a series of parallel contrails across the sky and then created a giant grid pattern by laying down another series of contrails at right angles from the first group.

I have seen all direct sunlight obscured on a cloudless day this way. I did not think this would have been possible.
4. How Do "Pretend Airliners" Stop in Mid-Air:
The commercial airliner appearing airframes also exhibit the ability to not stall out at very slow speeds, and to even stop in mid-air.

Frequently, they appear to glow a bright neon pink-red/orange color from the rear of the plane. I believe this is from ionization around the craft, and may be the result of plasma physics.

Sometimes, these pretend airliners are moving at speeds that only jet fighters could travel.
5.  "Pretend Airliners" Project Dark Grey Beam:
The oddest flight characteristic of these tricked-out commercial planes is that they will project a dark grey beam the circumference of the craft's body out in front for as far as you see.

The same beam projects from behind the plane, often on top of a contrail, for as far as you can see.

This dark beam lingers in the sky long after the plane passes and is not disturbed by winds in any way, even though you can see the contrail being moved by wind.

This effect is usually only discernible when there is a high cloud ceiling to highlight the contrast. I do not have a clue as to what the physics behind this may be.
6. Besides the Commercial Airframes:
I have seen C-130s, C-5s, F-16s, and F-22s exhibit the glowing to haze, haze to translucent, and translucent to invisible characteristics.

I have seen these go from invisible (but discernible from sound) to a point of light, and then materialize in broad daylight.

I saw one U-2 with its engine screaming from internal damage materialize at less than 8,000 feet over US 89, and then struggle westward to keep from crashing. If it kept the course, it was headed for the Nellis test range area.

Occasionally, jet fighters flying at speeds beyond Mach 2 appear to be leaving the atmosphere, but there are

no sonic booms.
7. Stealth Cloak:
This visual stealth capacity (cloak) requires enough power that at times they are forced to disengage it.

This was the case with the U-2 that nearly crashed.

The program runs a single engine prop plane out of a hangar at Page, Arizona, airport at Lake Powell that appears to be supporting the work of a heavily armed ground crew.

I have recorded prop plane "cloaking" at low altitude, and then being forced to reappear because the engine was sputtering out under the load.

After 5 or 6 times of turning invisible and visible again because of engine failure, it cut and ran for Page, AZ, airport. I do not know what the cover story is at the airport for this operation.

Page, Arizona, is at bottom of map near Lake Powell. The Grand Staircase-Escalante is in the upper left and the Glen Canyon National Recreation Area is in upper right.
8. Late July 2006, Near-Collision Between White UFO and Passenger Jet:  
All regular air traffic coming through this area was moved out after a

near collision between a white spherical drone and a passenger jet

that was still climbing after leaving Las Vegas. Only a desperate, last-second maneuver by the pilot averted a collision. That was in late July of 2006.
3)
TO:  Linda Moulton Howe <[email protected]>
Re:  White Triangle Report Found At NUFORC UFO Archive.
Date:  July 27, 2018
Occurred : January 7, 2018
Location: Canberra (Australia),
Shape: Triangular Craft – Isosceles well-defined white triangle.
Duration: 20 seconds  
I saw a triangle craft, slightly elongated, not a perfect triangle, an isosceles shape. It was completely white, and moved in a straight line with possibly a shallow curve. However, what caught my eye was how large it became in a short time.
The whole experience was around 20 seconds. What I saw grew in size from a tiny dot to a clear elongated triangle in about 10 seconds.  Then it it shrunk away again and simply disappeared. I tried to follow its path and could not see it anywhere.
It had no tail. It it seemed to change speed and size unlike any shooting star I've ever seen. And I was in the Navy and saw thousands of stars at night while at sea. This was nothing like I have ever seen!
What was mostly interesting was just before whatever it was disappeared, I saw a tiny reddish ring for about 1 second. And then it was gone.
I don't know enough about astronomy to say what it could have been. Can someone please tell me if a meteor can look like a growing white triangle, cross a portion of the night sky in quick time before shrinking with a tiny red ring?  
What it looked like was something entering the atmosphere and then leaving again. The full size of the object at maximum was about 3 mm by eye, twice to three times any other star — a well- defined Isosceles triangle. And it shrunk faster than it grew.
4)
From:  I. P., countryside of Bath, England
To: Linda Moulton Howe <[email protected]>
Re:  White Triangle Stopped in U.K. Skies
Date:  July 30, 2018
Hello Linda.
Have just watched your YouTube program dated the 25th July, 2018.
I would like to inform you of the following. I, too, saw a white triangular object flying at great speed at the height of wispy, thin white clouds, in an otherwise almost cloudless sky, on Sunday the 22nd July, 2018. I was in the countryside at Bath, England,  at the time. It was at about 16:15 (4:15 PM).
The object was heading northwards and was leaving behind a straight white trail.
Daft as it sounds, I had the impression that it knew it was being watched. Then the white triangle stopped and stayed still for about 30 seconds before becoming smaller, I assume it was rising, and then vanishing from sight.
Also see:
09-26-2014 – Part 2: Large Aerial Triangle Reports from 1800s to Present
09-07-2014 – Part 1:  Huge Triangle of Orange Lights Over Green Bay, Wisconsin
---
More Information:
04-08-2014 – Email from Earthfiles Viewers about Aerial Triangles, Metal Sounds and High Strangeness
03-28-2014 – Large, Unidentified, Highly Strange Aerial Triangles
02-27-2014 – Eyewitnesses in California and Idaho Link Aerial Triangle to Trumpet and Metallic Sounds
12-20-2013 – Updated Part 2: Anomalous Radiation in RAF Bentwaters Unidentified Aerial Phenomena
12-19-2013 – Updated Part 1: Why Is V.A. Blocking Access to USAF Medical Records – Even to U. S. Senator John McCain (R-Ariz)?
09-30-2013 – Part 2: Blond Being Describes E. T. Conflict about Humanity's Fate
12-16-2012 – Part 3:  Huge Aerial Triangle and Non-Human Entities in Army's Fort Knox, KY
12-13-2012 – Part 2:  Huge Aerial Triangle and Non-Human Entities in Army's Fort Knox, KY
12-11-2012 – Part 1:  Huge Aerial Triangle and Non-Human Entities in Army's Fort Knox, KY.
11-15-2012 – Real X-Files: 1950 – 1983
11-11-2012 – Rapid, Unidentified Aerial Objects Over Denver  and Strange Amber Cigar-Shaped Aerial Craft Near Philadelphia
11-05-2012 – Viewer Letters About Unidentified Aerial Triangles and Odd Lights
10-26-2012 – What Did Huge, Silent, Triangle Aircraft Drop into Black Diamond, WA Lake?
03-12-2012 – Why Kukulkan Beam Is Likely iPhone Vertical Banding

---
Websites:
TR-3B Black Triangle ∇ Code Name: ASTRA | Magnetic Field Disruptor Plane:
https://www.matrixdisclosure.com/tr-3b-black-triangle/
Majestic 12 Documents: http://www.majesticdocuments.com
American Presidents: http://www.presidentialufo.com

© 1998 - 2018 by Linda Moulton Howe.
All Rights Reserved.