"In our surveillance here in Colorado and I know in other states, there has been a similar pattern of circulation of Enterovirus 68 that mirrors the incidence of acute flaccid myelitis in the United States."
– Samuel Dominguez, M. D. and Ph.D., Assoc. Prof., Pediatrics-Infectious Diseases and Medical Director for Microbiology Laboratory, Children's Hospital Colorado, Aurora, Colorado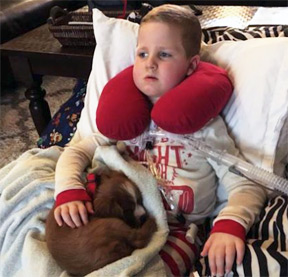 November 30, 2018  Aurora, Colorado – The Centers for Disease Control and Prevention reports that in this year of 2018, the number of polio-like cases of acute flaccid myelitis, known as AFM, is 116 confirmed in 31 states. Most patients are young children around 4 years old, but a few adults have also suffered the "new polio."   Adding to everyone's concern is that the CDC also reports as of November 23, 2018, an additional 170 suspected cases. That would bring the 2018 number up to 286 — a large increase over previous years.
AFM first showed up in 2014 in the United States, with the most cases at that time in Colorado and Minnesota. Since then, AFM has come in spikes every other year in 2016 and 2018 for reasons that are not fully understood. The cause is thought to be an enterovirus D68 that can be life threatening because paralysis can interfere with breathing. And sadly, the paralysis has not gone away in many young AFM victims.
According to the CDC, geographic distribution of the new disease still remains highest in Colorado with 15 confirmed cases in 2018. Texas follows with 14. Then Minnesota, Ohio, Pennsylvania and Washington each have 8. Wisconsin and New Jersey have 6 confirmed cases. Then the other 22 affected states each have 1 to 3 confirmed AFM cases.
Unfortunately, the majority of cases begin with only a mild respiratory illness that like most colds and flus has fever with it. That's what doctors mean when they call a symptom "febrile" — that's fever. And an arm or leg or neck or all three might ache, but that's what happens in flus as well. So what happens next is what makes this new AFM so dangerous. The ache can suddenly change to muscle weakness so the child cannot lift their arm. And then the weakness changes to complete paralysis. Many AFM victims have ended up at intensive care units in order to keep chest muscles breathing. Then next comes the questions: will the paralysis go away on its own? Or with rehabilitation therapy? Or will the paralysis be permanent?
One doctor who has been treating patients since the first 2014 AFM outbreak in Colorado and studying this "new polio" is Samuel Dominguez, M. D. and Ph.D., Associate Professor of Pediatrics-Infectious Diseases and Medical Director for Microbiology Laboratory, Children's Hospital Colorado in Aurora, Colorado.
---
Interview: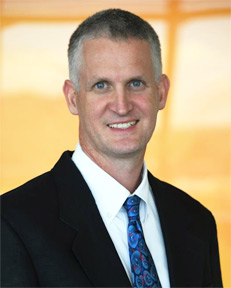 Samuel Dominguez, M. D. and Ph.D., Assoc. Prof., Pediatrics-Infectious Diseases and Medical Director for Microbiology Laboratory, Children's Hospital Colorado, Aurora, Colorado: "These children we saw in 2014 had this preceding fibrile (with fever) respiratory illness, which got better. And then several days later they came down with another fibrile illness, which was usually accompanied by sometimes headache or neck pain and then oftentimes would start with pain in the affected limbs. So, they would get arm pain or leg pain, which would then quickly progress to inability to move that arm or that leg. We had a couple children who, in that outbreak, only had paralysis of their arms and legs but also ended up in our ICU because they needed support for breathing and for eating due to paralysis of other muscles that were involved in those functions. Full paralysis tended to be more the proximal muscles as opposed to distal muscles. Those muscles never fully recovered, and so, the majority of our children in 2014 were left with some permanent paralysis.
COULD YOU EXPLAIN FOR A GENERAL AUDIENCE WHAT THE PROXIMAL MUSCLE IS, WHAT IT DOES IN ARMS AND LEGS?
Yeah, so, proximal means ones that are closer to your body. So, it would be your upper arms as opposed to your lower arms and the same with your legs. So, proximal is closer to the main part of your body to the upper part of your legs as opposed to your lower part of your legs. And so, inability to move your shoulder properly in the upper arms would be what we saw the most commonly affected.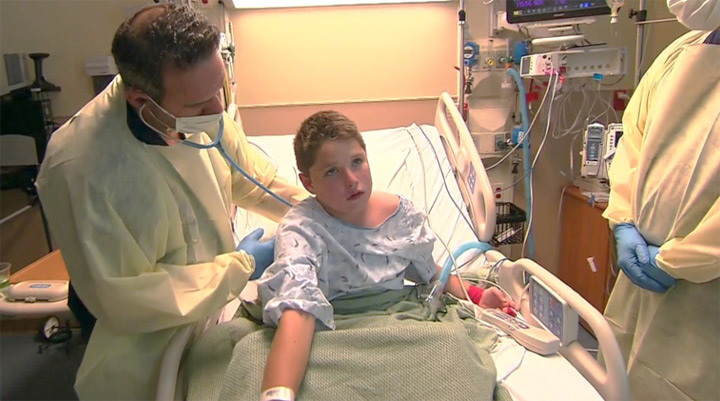 BY THE FALL OF 2014, NOT ONLY WAS THERE A SPIKE IN CASES — AND I'M LOOKING AT A GRAPH PUBLISHED IN NEUROLOGY NEWS, THE AMERICAN ACADEMY OF NEUROLOGY ON OCTOBER 21, 2018,  SHOWING HOW THE CASES HAVE GONE IN A CYCLE FROM 2014 TO FALL OF 2018. THE MRIs WERE SO SIMILAR IN SHOWING THE GREY MATTER INVOLVEMENT THAT, QUOTE, "YOU COULD LAY ALL THREE MRIs ON TOP OF EACH OTHER, AND THEY LOOKED ALMOST THE SAME."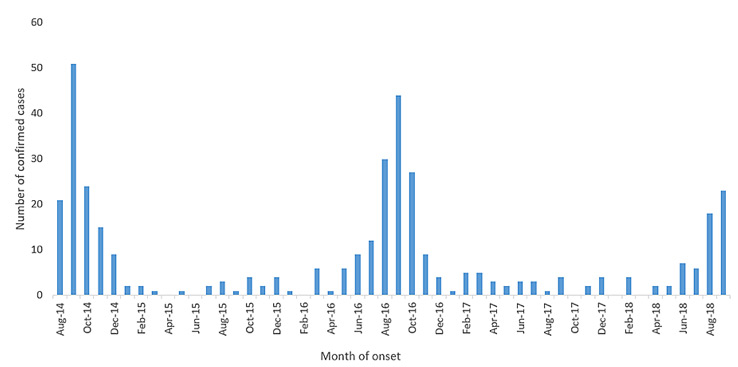 Yes. I would agree with that statement that the MRIs that we were seeing, we actually went back with our neuroradiologist, and they looked at their imaging findings, and the findings that we saw in 2014 were very similar to previous reports back due to polio myelitis, polio virus back before we had vaccines for polio virus, which has now been eradicated in this country and most parts of the world.
It's also very similar to other known causes of acute flaccid myelitis that are reported due to enterovirus 71, which is a virus that is seen very commonly actually know in Southeast Asia where they have every two to three-year epidemics, and millions of children are infected with the virus. Several presenting with hand, foot, and mouth disease, but a subset, less than one percent, will present with severe neurologic disease, and that neurologic disease, in some of those kids, with acute flaccid myelitis. And the MRIs in those children look just like the children that we saw in 2014.
Any Link Between AFM and Southeast Asia Enterovirus 71 Outbreaks?
IS THERE ANY INSIGHT THAT YOU HAVE CURRENTLY NOW IN NOVEMBER OF 2018 ABOUT WHETHER OR NOT THERE COULD BE A LINK BETWEEN WHAT IS HAPPENING IN SOUTHEAST ASIA AND THIS SUDDEN FLARE UP IN CYCLES FROM 2014 TO 2018 SO FAR OF POLIO-LOOKING DISEASE BUT FINDING THAT THERE IS THIS VIRUS THAT IS AFFECTING SOUTHEAST CHILDREN AS WELL?
That's a good question. That's one area that I think we need more research on is good, active surveillance for enteroviruses. Since 2014, as you mentioned, there has been this biennial pattern of cases of acute flaccid myelitis. There was a large blip in 2014, and then there were just scattered cases in 2015, and then a lot of cases in 2016, and then again, a large increase in cases this year in 2018.
And I think there are, as I alluded to already, there's probably multiple causes of acute flaccid myelitis because acute flaccid myelitis is a clinical syndrome, and in my opinion, and as I mentioned, there already are several different proven viruses that cause acute flaccid myelitis.
But what's causing the new increase in cases that we're seeing over the past five years and what's causing this new pattern that we've been seeing in terms of biennial expression, I think that is mostly likely being driven by this emergence of enterovirus D68 in the United States, which started with this large outbreak of respiratory disease in 2014. And our surveillance here in Colorado, and I know in a couple of other states, have had a similar pattern of circulation of enterovirus D68 that mirrors the incidence of acute flaccid myelitis in those countries.
WHAT IS THE TOTAL NUMBER OF THE CASES THAT ARE CLASSIFIED, TECHNICALLY, AS ACUTE FLACCID MYELITIS BETWEEN 2014 AND NOVEMBER 2018 AS WE SPEAK?
The CDC is updating their website every week, so I'm not sure what the current count is, but it was around 400 last time I checked the number of cases that have been reported since 2014 to the CDC and confirmed by the CDC by their case definition.
Could AFM Be A Polio Enterovirus Mutation?
WHY IS AFM NOT POLIO?
Polio, when we mention polio, we're usually referring to polio virus. So, polio myelitis disease that used to be reported back in the 1950s and 1960s was due, primarily, to polio virus. And we now have a very good vaccine that has essentially eradicated polio virus in most parts of the world. There's a global polio eradication campaign that's ongoing to eradicate it from all parts of the world. We're not quite there yet, but we're very close.
So, there's actually no polio virus that's currently circulating in the United States or Europe to explain the cases of acute flaccid myelitis that we're seeing. And all the patients, at least in the United States, have been tested for polio virus. So, the CDC has done polio virus testing on stool specimens, which is the standard diagnostic test for polio virus, and all of them have been negative.
BUT THE POLIO VIRUS OF THE 1950S AND THE 1960S WAS AN ENTEROVIRUS.
Correct. They're in the same family of viruses, but they're not the same virus. They're different viruses. But they're in the same family.
HOW DO YOU TELL THE DIFFERENCE AS A MEDICAL EXPERT BETWEEN A POLIO ENTEROVIRUS AND THE ENTEROVIRUS 68 OR THE ENTEROVIRUS D?
Yes, so we now have a good molecular-based assay so that we can look for the genetic signature of the viruses. And so, doing PCR assays, we can distinguish between polio virus and other enteroviruses such as D68 or even A71. We can actually sequence the virus that is found in clinical specimens to determine which viruses are being found in these patients.
IS IT POSSIBLE THAT THE 1950S/1960S POLIO ENTEROVIRUS HAS MADE SOME KIND OF A MUTATION THAT HAS NOT BEEN CLEAR, BUT THAT IT HAS BRANCHED OFF NOW INTO THIS NEW DISEASE, AND YET IT'S ROOT IS STILL A POLIO ENTEROVIRUS?
No. These are distinct viruses. This is not a mutation of the polio virus.
CAN YOU EXPLAIN THAT FOR A GENERAL AUDIENCE TO UNDERSTAND?
Why it's not a mutated polio virus?
YES.
So, we can actually sequence, so get all the nucleic acid, the full sequence of genetic material, and when we compare them head to head, they're very different viruses. So, even though they're in the same family of viruses, they're very different, and we can trace, sort of, mutations within the same virus and know if it's a mutating virus versus a different virus. And it's very clear from everyone who's studied and sequenced the viruses that we're seeing now that this is not polio virus. It's a very different virus.
HOW ARE ENTEROVIRUSES MOST LIKELY SPREAD?
The majority are spread the fecal-oral route, so they're shed in the stool. So, it's spread through contaminated food or water or dirty hands. But some of them, like enterovirus D68 is a respiratory pathogen, so it's spread through respiratory secretions similar to other respiratory viruses like influenza or RSV.
AFM Symptoms and Hospital Emergency Rooms
IF I HAD A FOUR-YEAR-OLD CHILD, AND THE PEOPLE LISTENING TO THIS RADIO BROADCAST HAVE FOUR-YEAR-OLD CHILDREN, WHICH IS SORT OF THE MEDIAN AGE WHERE THIS MIGHT LIKELY OCCUR, WHAT WOULD YOU TELL PARENTS WITH FOUR YEAR OLDS TO LOOK FOR WHAT SYMPTOMS, AND THEN WHAT SHOULD THEY DO IF THOSE SYMPTOMS ARISE?
Yes, so the first thing I would say to your listeners is that thankfully this is still a relatively uncommon complication, and so, that's the good news is we're not seeing thousands and thousands of cases. So, that's somewhat reassuring in terms of that this is not super common. The second thing is that I would tell families that if they ever notice that their child is not using their arm or their leg, or they're complaining about pain in their arm or their leg, then that would be a worrisome sign that they should seek medical attention right away. Similarly, if they're having difficulty swallowing or difficulty talking, again, those would be red flags that they should seek medical attention right away.
IS IT FAIR TO SAY TO PARENTS THAT IF THEY NOTICED THAT A CHILD WAS NOT MOVING THEIR ARM OR COMPLAINING ABOUT PAIN IN THEIR ARM OR THEIR LEG, AND IT'S TEN O'CLOCK AT NIGHT OR MIDNIGHT, THAT THE BEST THING TO DO IS TO GO IMMEDIATELY TO AN EMERGENCY ENTRANCE OF A LOCAL HOSPITAL AND NOT WAIT TO THE NEXT DAY TO TRY TO GET IN TO SEE A DOCTOR?
So, if your child was not moving their arm or leg, in my opinion, would warrant a trip to the emergency room to be seen as soon as possible."
Also see:
08-26-2016 – Zika Virus Threatens Both Adult and Fetal Brain Cells. How Many Mosquito Species Can Spread Zika?
---
More Information:
06-25-2006 – Morgellons Disease: E-mail from CDC and Viewers/Listeners
06-21-2005 – CDC Reports First 2005 Human Case of West Nile Virus in Kansas
06-02-2005 – West Nile and Bird Flu: Two Increasingly Dangerous Viruses
09-29-1999 – Could Ancient Microbes in Polar Ice Cause Epidemics?
---
Websites:
Centers for Disease Control and Prevention (CDC) about AFM:  https://www.cdc.gov/acute-flaccid-myelitis/afm-surveillance.html
Children's Hospital Colorado about Acute Flaccid Myelitis: https://www.childrenscolorado.org/about/news/2016/october-2016/cdc-reports-increase-of-virus-linked-to-paralysis-in-kids/

© 1998 - 2019 by Linda Moulton Howe.
All Rights Reserved.