"Ultima Thule is probably the best time capsule we've ever had for understanding the birth of our solar system and the planets in it."
— Alan Stern, Ph.D., New Horizons Principal Investigator, Southwest Research Institute, Boulder, Colorado
January 1, 2019  Laurel, Maryland – Champagne was ready for celebration at Midnight, but the New Horizon scientists at the Johns Hopkins University Applied Physics Laboratory in Laurel, Md., waited to celebrate at 12:33 a.m., when their spacecraft would make its closest approach traveling at 32,000 mph to the farthest object humans have ever explored. That object is called Ultima Thule far out in the Kuiper Belt. It's a strangely shaped rocky body with an estimated diameter of 20 miles (30 km) and thought to be residue from the beginning of our solar system.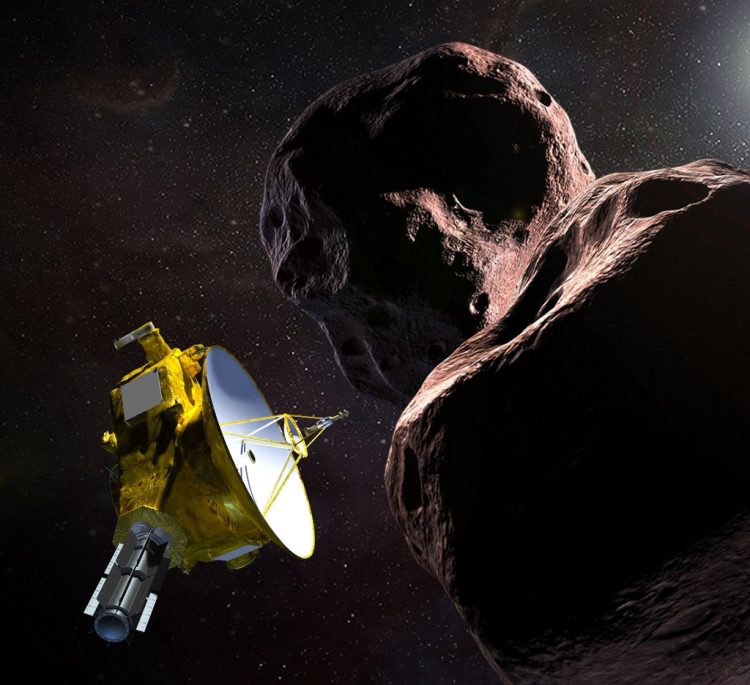 It takes more than six hours for light to travel from Earth to the Kuiper Belt, so Midnight-celebrating scientists really won't know until Tuesday morning, January 1, 2019, whether New Horizons was able to swivel its cameras as it flew by Ultima Thule in order to get images that aren't just a blur. So the next step will come at 10:28 a.m. on January 1st when scientists listen for New Horizons "phone call" from more than 4 billion miles from Earth.
First Kuiper Belt Exploration
New Horizons was launched in 2006 as NASA's first mission designed specifically to explore the outer solar system, the Kuiper belt, where sunlight is only 0.05 percent as strong as it is on Earth and temperatures are near absolute zero and have been since the beginning of our solar system 4.6 billion years ago. That means Ultima Thule has existed in a frozen state since it emerged.
"This is history-making, what we're doing, in more ways than one. Ultima Thule is probably the best time capsule we've ever had for understanding the birth of our solar system and the planets in it," says Alan Stern of the Southwest Research Institute in Boulder, Colorado.
6:30 PM December 31, 2018 – Powerful Radio Signal Sent to Ultima Thule
Six hours before New Horizons would reach Ultima Thule, scientists worked through the  Deep Space Network that NASA uses to communicate with distant spacecraft to send a powerful radio signal toward Ultima Thule, hoping the signal would interact with the rocky Thule about the same time New Horizons flew closest to study how the radio waves were reflected off the rocky body's surfaces.
Ultima Thule's Steady Brightness Is A Mystery
In August 2018, New Horizons first imaged Ultima Thule as a speck of light. Then this last week of December 2018, as New Horizons moved to its closest approach on January 1, 2019, at 12:33 AM EST, scientists assumed the rocky body would be spinning and so the light reflected off of it would brighten and dim. But Ultima Thule's brightness has remained steady the whole time.
"It's really puzzling, because we know the shape is irregular," Dr. Stern said.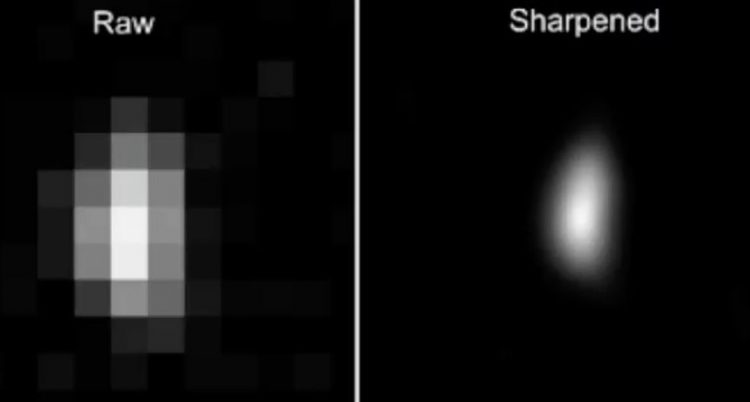 © 1998 - 2019 by Linda Moulton Howe.
All Rights Reserved.