KGRA worldwide web radio Thursday nights –
5 -7 PM Pacific / 8 – 10 PM Eastern.
http://www.kgraradio.com/portfolio view/phenomenon-radio/
Tune In  March 28th PHENOMENON Radio with Linda Moulton Howe, Reporter and Editor of Earthfiles.com. Retired USAF Tech Sgt. John Burroughs is on leave to care for his mother. Joining me Thursday night LIVE will be John Greenewald, creator of The Black Vault.com, "the largest online Freedom of Information Act (FOIA) document clearinghouse in the world." We'll dig into the past 70 years from Roswell UFOs to Project Blue Book actually designed by counterintelligence to keep the public and media away from an alien presence that was considered a serious threat to national security, including UFO intrusions in our Minuteman nuclear missile sites. John Greenewald writes:
"The UFO phenomenon remains one of the most classified topics within the holdings of the
U. S. government. Time and time again you can prove lie after lie. When the heat gets turned up, and the public is about to hear about UFO reporting regulations, the U. S. military simply deletes it all and says that it was only a coincidence. … I hope you all can see the blatant attempt outlined in this book at what is one of the biggest provable cover-ups in the history of the United States."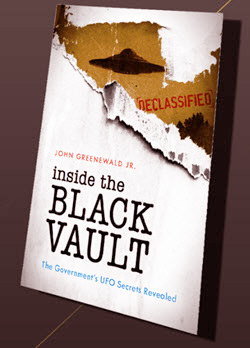 © 1998 - 2023 by Linda Moulton Howe.
All Rights Reserved.