"Maybe in 10 years, there will be organ printers in the finest hospitals around the world, and these procedures will be conducted routinely."
— Tal Dvir, Ph.D., Tel Aviv University's School of Molecular Cell Biology and Biotechnology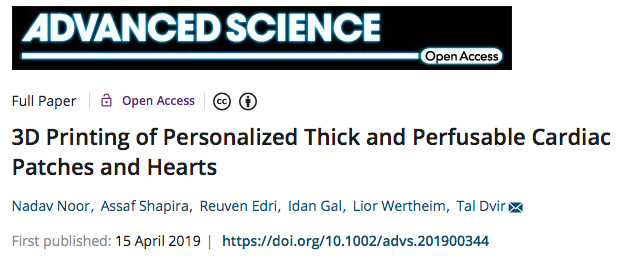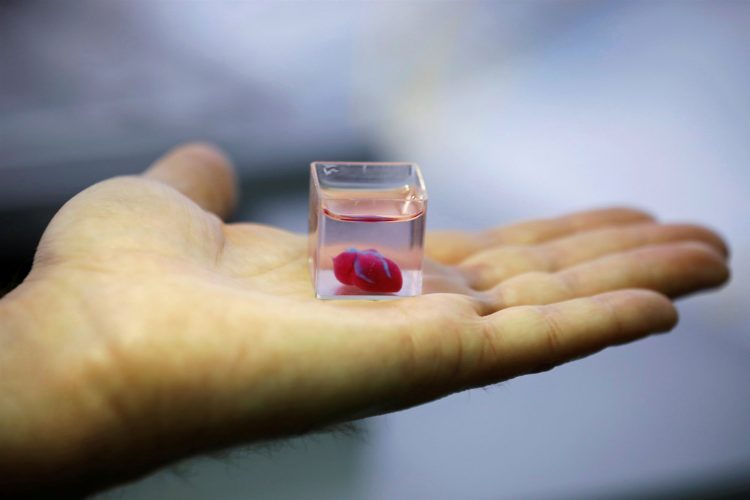 April 19, 2019 Tel Aviv, Israel – On April 15, 2019, Tel Aviv researchers lead by bioengineer Tal Dvir, Ph.D., published in Advanced Science their medical breakthrough: "3D Printing of Personalized Thick and Perfusable Cardiac Patches and Hearts." Using two types of human cells, the doctors used a 3D-printer to create cardiac patches and a small "cellularized human heart with a natural architecture." It's small, only about the size of a rabbit heart, and does not beat. But this is a major advance in the battle against heart disease, the leading cause of death in the United States and industrialized world.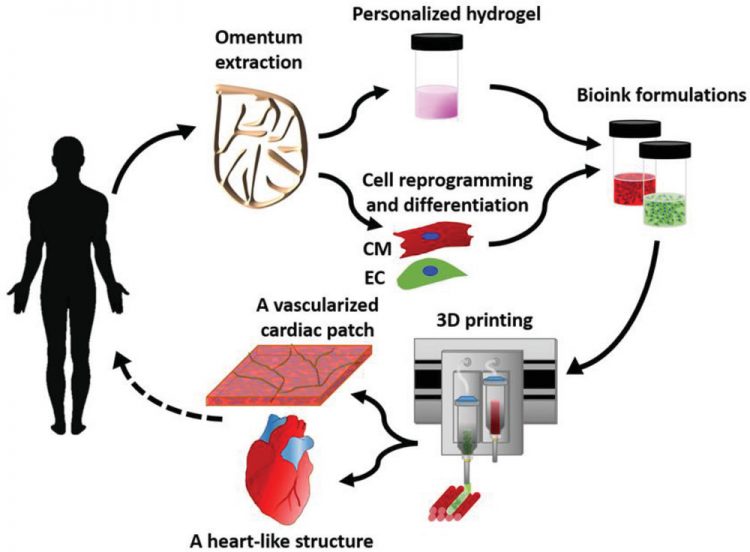 Until now, the only treatment for patients with end-stage heart failure has been heart transplants. But the number of heart donors is smaller than the number of patients who need new hearts. So this new work with cardiac tissue 3D printing could provide an alternative to waiting for heart donors.
Dr. Tal Dvir and his team explain in the recent Advanced Science journal that they were able to use abdominal fat from patients and convert the fat cells into stem cells, which could then be processed into heart cells. "The cells are reprogrammed to become pluripotent and are then differentiated to cardiomyocytes and endothelial cells, followed by encapsulation within the hydrogel to generate the bioinks used for printing."  See Websites below. The cell-containing bioinks were added to a 3D printer that made the experimental, small, experimental human heart layer by layer. The resulting engineered tissue can be transplanted back into the patient, to repair or replace injured or diseased organs without much risk of organ rejection.
Dr. Dvir thinks, "Maybe in 10 years, there will be organ printers in the finest hospitals around the world, and these procedures will be conducted routinely."
But there are yet many unknowns. For example, can a 3D printed human heart withstand blood flow under high pressure? Will the 3D engineered hearts remain stable after surgery to place them inside human chests?
This is a hopeful beginning, but as Doris Taylor, Ph.D., Director of Regenerative Medicine research at the Texas Heart Institute in Houston cautioned,  "A successful bio-artificial organ that is implanted in a human will be a major medical breakthrough. This is certainly a step that could lead to a breakthrough, but we aren't there yet."
---
More Information:
08-29-2014 – Part 1: USAF Whistleblower Says There Really Is An Underground ET Cloning and Hybridization Lab Near Dulce, New Mexico. 
06-05-2014 – Viewer Letters About E. T.-Human Hybrids
05-31-2014 – Part 2: Racheal's E. T.-Human Hybrid Eyes
05-25-2014 – Part 2:  More About "Hostile Alien Visitors" in Pres. Ronald Reagan Briefing
---
Websites:
"3D Printing of Personalized Thick and Perfusable Cardiac Patches and Hearts,"  April 15, 2019, AdvancedScience:  https://onlinelibrary.wiley.com/doi/full/10.1002/advs.201900344
Tal Dvir Lab, Tel Aviv University:  https://dvirlab.wixsite.com/dvirlab

© 1998 - 2019 by Linda Moulton Howe.
All Rights Reserved.