"We know that wild bees are greatly at risk and not doing well worldwide. … Because these species are major players in crop pollination, it raises concerns about compromising the production of key crops and the food supply in general."
— Sandra Rehan, Ph.D., Asst. Prof. of Biological Sciences, Univ. of New Hampshire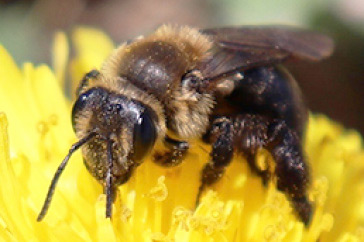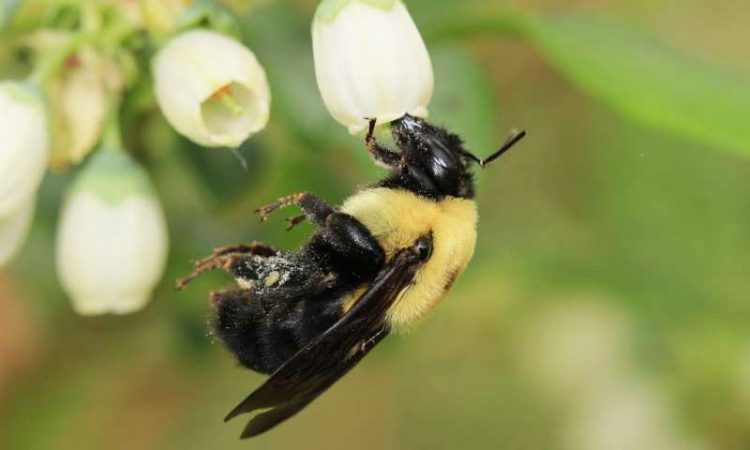 April 23, 2019  Durham, New Hampshire – Recently an alarming study of wild bees in the northeastern United States was released from the University of New Hampshire. See Websites below. Published in the journal Insect and Conservation Diversity, the scientists have "found a dramatic decline of 14 wild bee species that are important across the Northeast for the pollination of major local crops such as apples, bluerries and cranberries."
Comparing data of wild bee populations in New Hampshire from 1891 to 2016, the research confirmed that in those 125 years "all 14 of the declining wild bee species had shifted in both elevation and latitude" further north as Earth keeps warming in global climate change.
Biologist Sandra Rehan, Ph.D., Asst. Professor of Biological Sciences at the University of New Hampshire, reports, "We know that wild bees are greatly at risk and not doing well worldwide. This status assessment of wild bees shines a light on the exact species in decline, beside the well-documented bumble bees. Because these species are major players in crop pollination, it raises concerns about compromising the production of key crops and the food supply in general."
The report indicates that all 14 species of wild bees in serious decline once filled the land in more southern areas near sea level. Wild bees at higher, cooler elevations such as the White Mountains of New Hampshire still have wild bees.
Bumblebees Facing Extinction in Canada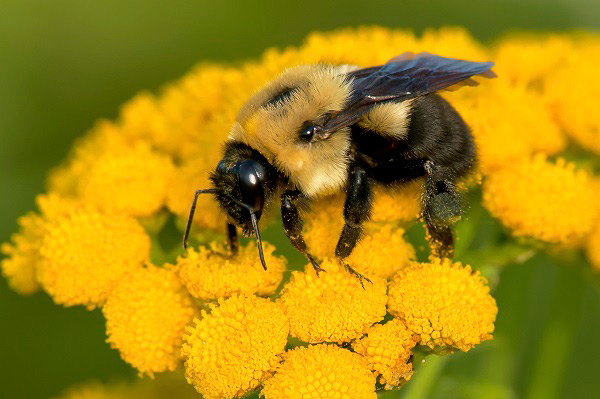 On April 17, 2019, York University scientists warned in the Journal of Insect Conservation that "the American bumblebee's area of occurrence has decreased by about 70% and its relative abundance fell by 89% from 2007 to 2016, compared to 1907 to 2006."
Asst. Prof. Sheila Colla, Ph.D., an expert in bees and endangered species in the Faculty of Environmental Studies at York University, has been studying bumbleees in southern Ontario, Canada, since the mid-2000s. She says, "This species of American bumblebees are at risk of extinction and these valuable insects are currently not protected in any way despite the drastic decline."
It's A Worldwide Problem
Another York University researcher of bumblebee declines describes a worldwide problem. Professor Laurence Packer says beyond Canada, "We've got similar declines in bumblebees on just about every continent. In Asia, we know that some bumblebees are declining. And in southern South America, there's a spectacular huge, bright orange bumblebee, but the poopulation there has gone through the floor for the last 15 to 20 years. So it's not just a local Canada issue. It's a problem worldwide."
Also see:
12-30-2018 – Why Are So Many Earth Insects Dying?
---
More Information:
04-28-2017 – First Time Nicotine-Based Pesticides Found in Tap Water While A Colorado Honey Beekeeper Loses 100% of His Colonies
11-03-2016 – Latest World Wildlife Report Shows Steep Declines — World's Vertebrate Populations Half of What They Were In 1970.
06-25-2015 – USDA Reports 2014 – 2015 Honey Bee Colony Losses Hit 42% — Obama Task Force Outlines Help for Pollinators
09-25-2014 – 314 North American Bird Species Face Extinction This Century Because Climate Is Changing Faster Than They Can Adapt
08-28-2014 – Earth Life Is Dying In A 6th Mass Extinction As Great As Asteroid Hit 65 Million Years Ago – But This Time the Cause Is Humans.
11-22-2013 – Minnesota Moose Dying Out Rapidly
11-22-2013 – Monarch Butterfly Migration At Lowest Numbers On Record
---
Websites:
"Status Changes in the Wild Bees of North-eastern North America Over 125 Years Revealed Through Museum Speciments," March 22, 2019, Journal of Insect Conservation and Diversity: https://onlinelibrary.wiley.com/doi/full/10.1111/icad.12347
"Canadian Researchers Warn of 'Cascading Impacts' As Bumblebee Species Decline," April 22, 2019, CBC:  https://www.cbc.ca/news/canada/toronto/bumblebees-decline-pollinators-1.5106260
"While We Worry About Honeybees, Other Pollinators Are Disappearing," August 3, 2018, Discover Magazine: http://blogs.discovermagazine.com/crux/2018/08/03/honeybees-pollinator-really-going-extinct/#.XL9FKZNKgk4

© 1998 - 2019 by Linda Moulton Howe.
All Rights Reserved.