"People from around the Ozarks say they heard a boom in the Branson/Mountain Home area at around 4 PM Central today, March 19, 2019."
—  Branson, Missouri's KTTS News

April 26, 2019 Albuquerque, New Mexico – Mysterious, unexplained loud booms like explosions that shake houses have persisted since 2011 around the world. Some people say the explosive boom sounds come like a compression wave from the sky downward on to houses and buildings. Other people insist the explosive booms come from below ground, even cracking cement around houses and slapping the bottoms of shoes. Also sometimes associated with the loud, mysterious booms are metallic scraping and trumpet sounds.
On March 19, 2019, there were simultaneous boom sounds heard in Omaha and Harrison, Arkansas — small towns about 20 miles apart and not far from the Arkansas and Missouri border that is shown on this map as a thin red line dividing the two states.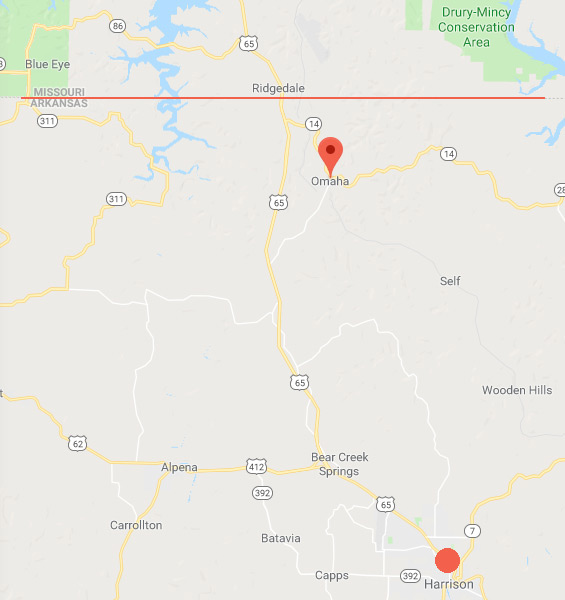 Arkansas's Harrison Police Department received a 4:28 PM Central phone call from a woman who reported, "hearing a loud boom in the area of South Sycamore in Harrison. An officer sent to investigate did not locate anything suspicious in the area. Another caller about a minute later reported the same loud boom incident. Officers said military planes had been flying over the area and might have caused a sonic boom." But there was no evidence of any military airplanes breaking the sound barrier over Harrison.
Also that same day of March 19, 2019, 40 miles north of Harrison in Branson, Missouri, KTTS News posted, "Loud Boom Heard In The Branson Area."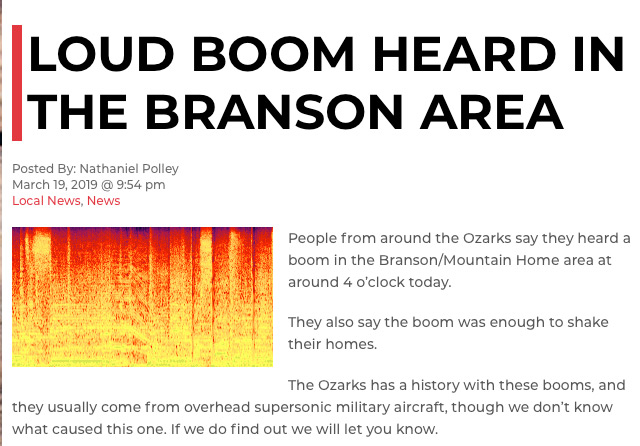 "People from around the Ozarks say they heard a boom in the Branson/Mountain Home area at around 4 PM Central today. They also say the boom was enough to shake their homes. The Ozarks has a history with these booms, and they usually come from overhead supersonic military aircraft, although we don't know what caused this one. If we do find out, we will let you know." No further follow up from news media or police to date.
But the next day on April 18th after my Earthfiles YouTube broadcast, I received an email from Omaha, Arkansas, resident Helen Pounds who heard my YouTube broadcast and wanted me to know that she and her husband, William Pounds, known as "Rocky," were stunned by a huge, explosive boom sound also the afternoon of March 19, 2019.
Helen is 66 and Rocky is 74. They have been married 43 years. William's career was in integrated circuit design for companies such as Intel and AMD and he was also a Marine. Helen was a layout designer for the semi-conductor industry and then was a medical transcriptionist for several years until retirement. The Pounds have lived in their Omaha, Arkansas, home since 1982, and have never heard what shocked them on March 19, 2019.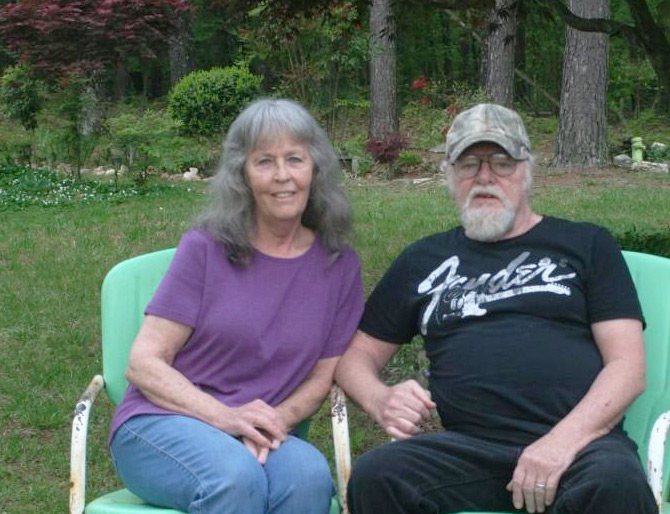 ---
Interview with Helen Pounds, Omaha, Arkansas, on March 23, 2019:
Helen Pounds, 66, Omaha, Arkansas:  "It was March 19, 2019, about 4 o'clock in the afternoon. My husband and I were standing in the living room and all of a sudden there was a large BOOM! … almost loud enough to shake the house! It sounded to me like a house exploding. We both ran outside and looked around to see if we could see any smoke or fire or anything. We live in a forrested area, so we don't have a direct view of neighbors or anybody else, but we didn't see any smoke or flames or anything. We wandered outside looking around and about 10 to 20 minutes after that happened, we heard two helicopters.
And my husband is ex-military. He said they were military helicopters. They were a lot louder than the medivac helicopters that we hear often. These were very loud. We didn't see them, but we could hear them and it sounded like they came from the south, which would be Harrison, Arkansas. They were west of us and they sort of circled around for a little bit. And then they went back off to the south.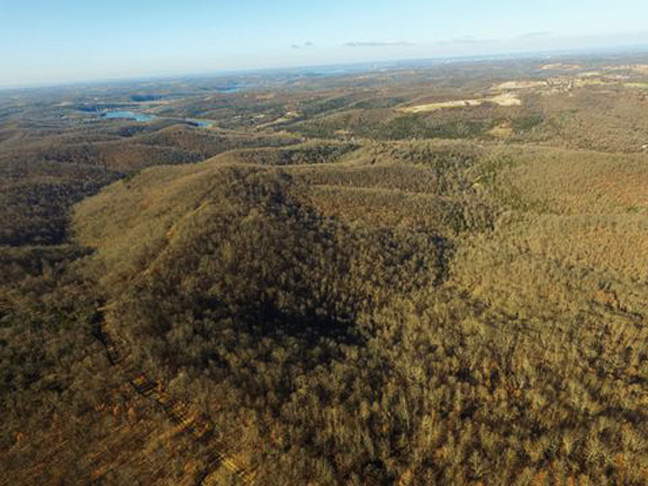 HOW CLOSE DO YOU THINK THEY WERE FROM YOU, MEANING COULD THEY HAVE BEEN VERY LOW LIKE NEAR THE TREETOPS?
Oh, yes, they were low. You could tell by the loudness of them that they were pretty low.
THAT WOULD SUGGEST THAT THE TWO HELICOPTERS THAT SHOWED UP WERE  LOOKING FOR SOMETHING ON THE GROUND?
Exactly. Exactly.
HOW LONG WERE THEY THERE?
They were in the area for about 15 minutes or so. And they seemed to be going over the same area.
DID YOU OR YOUR HUSBAND GO TO THAT AREA TO SEE IF YOU COULD FIND ANYTHING?
No, we really didn't. It's sort of a rugged area where we live and we didn't think about going over there.
HOW MANY PEOPLE LIVE IN YOUR AREA?
The town of Omaha — there's like 169 people and we're 7 miles east of there. And probably in our immediate area, there's probably about 50 families scattered out over the area.
SO, IT'S VERY RURAL
Yes, it is. In fact we're two miles off pavement.
THAT MAKES THIS EVEN MORE INTERESTING BECAUSE WHAT COULD MAKE SUCH A HUGE BOOM ?
I have no idea. It was heard north of us and south of us both (by other people).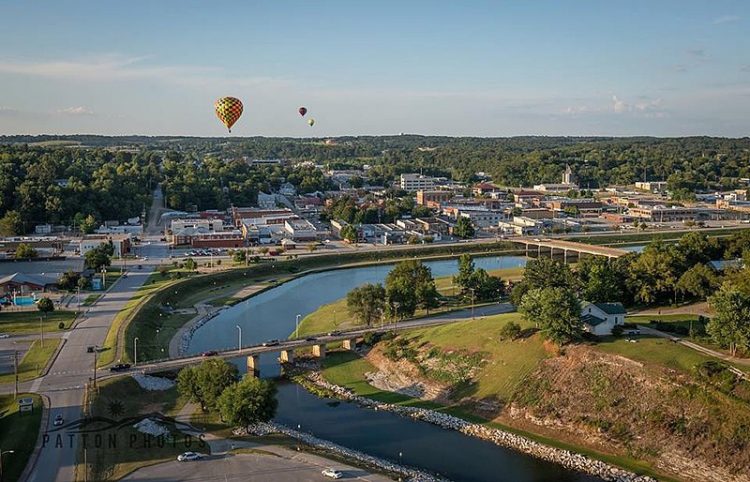 WAS THERE ANY FOLLOW UP IN NEWS SPECIFICALLY REPORTING THIS AS AN UNKNOWN MYSTERY?
No, none at all. I watched for it on the news and I looked on their website and I didn't see any follow up to it at all.
DID YOU TALK WITH ANY NEIGHBORS WHO ALSO HEARD IT?
No, I talked with a friend who lives in Harrison, Arkansas, which is about 20 miles away and she said it rattled their house there, too.
TWENTY MILES AWAY!
Twenty miles from us. They had no idea what it was and my husband or anyone he talked to had no idea what it was.
HAD YOU AND YOUR HUSBAND EVER HEARD LOUD BOOMS BEFORE MARCH 19th?
No, no. He was raised in California and he didn't think it was an earthquake. He didn't think it was a sonic boom. I didn't think it was a sonic boom, but we have no idea what it was. We've heard of no houses exploding, which is what we first thought it was, like a big gas explosion or something in a house. But we've heard nothing about it!
ISN'T THAT STRANGE?
Yes, it's very strange because there is not industry around here. There's not much – it's very rural. We have no idea what it could have been.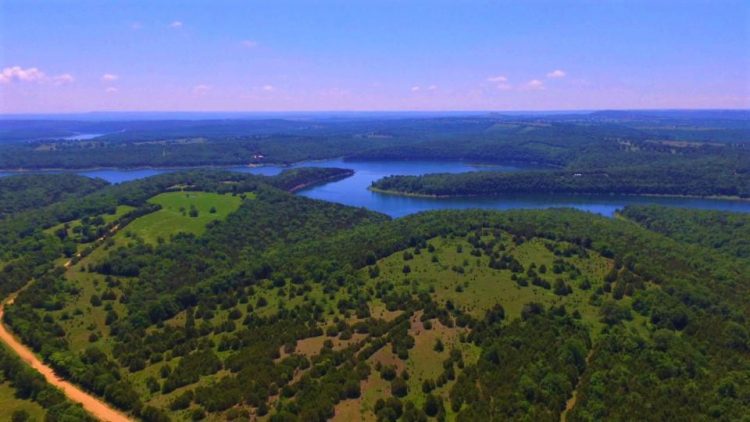 IN THE YEARS YOU HAVE LIVED IN OMAHA, ARKANSAS, SINCE 1982 TO 2019 — HAVE YOU OR YOUR HUSBAND EVER SEEN UNUSUAL LIGHT ACTIVITY IN THE SKY OR HEARD ANY OF THE NEIGHBORS IN YOUR RURAL AREA DESCRIBE SEEING SOMETHING UNIDENTIFIED?
Well, my husband did describe something coming home one night from a poker game that were lights in the sky. It was moving. And it made absolutely no sound.
Either we are being visited or they have different technology than we do. I know there is Something Else Out There besides us. There has to be."
Also see:
12-18-2018 – Mysterious Explosions Persist in Phoenix and Glendale, Arizona. Listen to audio.
---
More Information:
10-31-2018 – Eerie Bizarre Sound Recorded in Montreal October 30-31, 2018 – Listen to Looped Mp3 Here
09-24-2018 – Why U. K. Explanation for Half-Cats and Other Animal Mutilations Makes No Sense
08-04-2018 – Huge Mysterious Booms in Maryville, TN from July 30 – Aug. 4
---
Websites:
01-09-2018 – Blast of Light, Huge Boom and Ground Shaking "Over Thousands of Miles in Russia"
12-10-2017 – From Booms to Animal Mutilations to Aliens and Genetic Engineering
10-26-2017 – More Mysterious Booms and Sky Flashes in North Carolina and Australia
06-01-2017 – Another Loud, Mysterious Boom — This Time in Georgia
01-19-2017 – Unexplained, Loud, House-Shaking Boom Reported by Dozens to Mt. Holly, N.C. Police Night of Jan. 17th
12-18-2016 – Update – Eerie Metallic Sounds in Spokane, WA, and Booms in Spearfish, SD, and San Jose, CA
12-15-2016 – Part 1: Strange Booms and Eerie Metallic Sounds Are Back in Washington and Pennsylvania

© 1998 - 2019 by Linda Moulton Howe.
All Rights Reserved.