"My sliding windows were rattling in their frame and at first, I thought there was some construction work going on."
— Attorney Nicole (last name withheld), in Newton region near Singapore Botanic Gardens
April 27, 2019 Singapore, Malaysia – Facebook users in Orchard and Bukit Timah and the Hougang region on the island of Singapore posted several loud "explosion-like" sounds on Saturday from around 11:30 AM to 1:30 PM local time. See map below.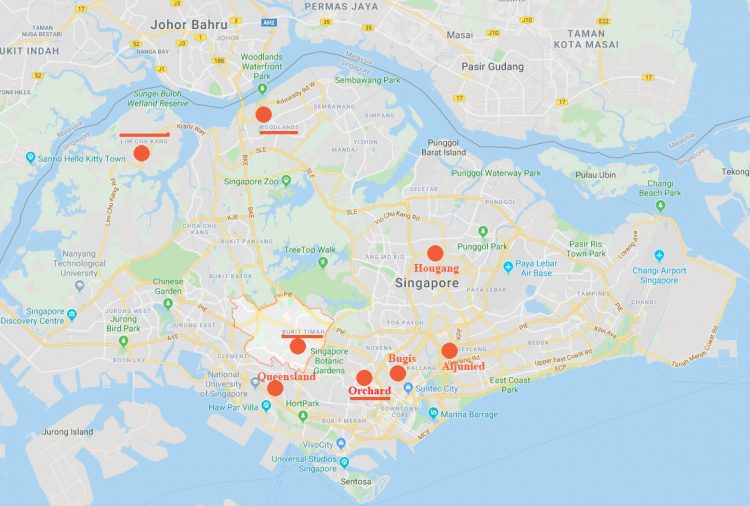 The first report was in the Novena region on Owen Road between Bukit Timah and the Singapore Botanic Gardens when resident Jessica Choo-Tan heard two "explosion-like" sounds that shook the ground and her house right before 11:30 AM. Jessica told The Straits Times that a friend of hers living next to the Novena MRT rail station also heard loud sounds and felt vibrations. Then at NOON, Jessica heard another loud sound.
Another earwitness was 48-year-old attorney Nicole (last name withheld), who "felt the house shake" in the Newton area between Singapore Botanic Gardns and Bugis on above map. She told the Straight Times, "My sliding windows were rattling in their frame and at first, I thought there was some construction work going on." Adding to the mystery, she and her neighbors who felt the vibrations did not hear any loud explosive sounds described by others.
By 1:30 PM in Singapore, police confirmed they were trying to find the sources of the strange, ground-shaking explosion sounds at the same time that Nicole felt a second shake.  "It's quite worrying," she said.
Facebook posters also described unexplained shaking and mysterious explosive sounds in Hougang, Lim Chu Kang in north region of Singapore Aljunied, Queenstown, Bugis and Woodlands. Click on map above.
Singapore Police Force

The Singapore Police Force reported it could not find any damage and that the sounds might have been related to Singapore Armed Forces (SAF)  in the Southern Islands setting off detonations during mid-day Saturday. However, other residents pointed out that earlier on April 12, 2019, several people living in the eastern part of Singapore reported on social media that they heard a loud, house-shaking boom in the early hours that woke them up. One Reddit user in Loyang, Singapore, posted that his windows shook for several seconds on April 12th. The police after those disturbing sounds attributed them to an explosion at the Pengerang Integrated Complex at 1:25 AM that morning.
But since January 2011, in the past eight years around the world in both hemispheres, there have been hundreds of mysterious loud booms that shake houses, sidewalks and foundations, sometimes cracking the cement. Booms are also associated with other weird metallic scraping and trumpet-like sounds. Police and sheriff investigators have been baffled because the normal noise suspects of military exercises, airplane sonic booms, earthquakes, mining and fracking operations and tannerite are ruled out leaving the persistent question: What is causing mysterious worldwide booms, metallic scrapings and trumpet sounds — and why?
Also see:
10-26-2017 – More Mysterious Booms and Sky Flashes in North Carolina and Australia
---
More Information:
12-18-2018 – Mysterious Explosions Persist in Phoenix and Glendale, Arizona. Listen to audio.
10-31-2018 – Eerie Bizarre Sound Recorded in Montreal October 30-31, 2018 – Listen to Looped Mp3 Here
08-04-2018 – Huge Mysterious Booms in Maryville, TN from July 30 – Aug. 4
01-09-2018 – Blast of Light, Huge Boom and Ground Shaking "Over Thousands of Miles in Russia"
---
Websites:
"Loud Noises, Vibrations Reported Across Singapore," Saturday, April 27, 2019, The Straits Times:  https://www.straitstimes.com/singapore/loud-noises-vibrations-reported-across-singapore
"Officials Are Silent As Unexplained Mystery Booms On the Rise Around the U. S.," Mysterious Universe, February 7, 2019:  https://mysteriousuniverse.org/2019/02/officials-are-silent-as-unexplained-mystery-booms-on-the-rise-around-the-us/
"Mysterious Loud Booms Are Being Heard Around the World and No One Knows Why," November 25, 2017, MNN.com: https://www.mnn.com/earth-matters/climate-weather/stories/mysterious-loud-booms-are-being-heard-around-world-and-no-one-knows-why

© 1998 - 2019 by Linda Moulton Howe.
All Rights Reserved.